Mishandled Phone Calls Are Costing You Money, from Dealer Marketing.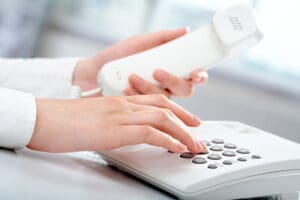 Call volumes to dealerships are up significantly, outpacing Internet leads by 4-1, according to ADP Digital. There are numerous reasons for this, including the proliferation of smart phones with easy click-to-call functionality. Also, consumers are no longer willing to trudge from dealership to dealership and are doing most, if not all, of their research online. At the same time, these customers are growing increasingly reluctant to give up their personal information via lead forms, preferring the control—and immediate gratification—of a phone call.
Based on our research, 57% of all incoming calls to dealerships are true prospects—meaning they are hot leads for sales or fixed-ops departments. Disappointingly, our research shows that the average dealership mishandles a full 41% of its incoming sales-lead calls and only converts, on average, 7% into showroom appointments. The fallout of this, and something that should prove eye-opening to both dealers and OEMs, is that mishandled phone calls result in customer defections to another brand 50% of the time.
Often the greenest salespeople are put on incoming phone duty—and, for the most part, they are not getting any training on how to effectively handle incoming phone leads. Interestingly, much time has been spent bemoaning how dealers mishandle Internet leads, with the assumption that phone leads are under control. But today's junior salespeople are likely less familiar with phone interactions than personnel a decade ago, and more likely to be in tune with digital interaction (email, text, and social media) versus working with live callers.
Click here to read the entire article >>
Author: