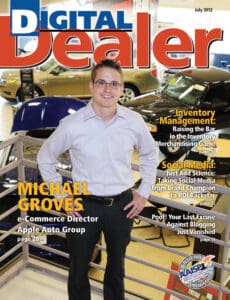 Teamwork, forward thinking in digital marketing, and focus on customer excellence have propelled Apple Auto Group's Internet sales from 75 per month to over 200 per month in three years. The numbers tell the story:
Apple Auto Group's flagship, Apple Valley Ford Lincoln, has won Ford's eCommerce Elite Award for three years running as one of the top 100 Ford dealerships nationwide in new vehicles sales from Ford and FordDirect Internet leads.
In 2011, Apple Valley Ford Lincoln was rated number 47 nationwide on Ford's eCommerce Elite list – having progressed from being among the top 400 Ford eCommerce Elite in 2007.
Among all Ford dealers nationwide, Apple Valley Ford Lincoln was rated number 27 for overall sales volume in 2011.
Team leaders underpinning this success include: Apple Auto Group Owner, Mark Gulbrandson; Marketing Director Chris Gulbrandson; Group GM Shawn McCormick; Group CFO Kim Rahbain; Apple Valley Ford Lincoln Director of Sales Mike Ellis; and Group e-Commerce Director Michael Groves.
Michael Groves recently discussed with Dealer magazine the team's recipe for success.
Click here to read the full interview with Michael and the rest of the July 2012 Digital Dealer eZine.
First, Michael, how did you get into the business of selling cars?
I worked as a contract musician throughout college and I wanted to own a home before I graduated, but right after I closed on my home loan, I found out we were losing our music contracts. I still had 10 months left in college and in order to pay my mortgage while finishing college, I started selling cars at a Toyota dealership. I quickly found my niche in e-commerce and Internet sales management.
The structure of college life taught me how to multitask and do research. My stage presence as a musician helped me build interpersonal skills for working well with customers and other employees. My business classes helped me build skills in entrepreneurship. All these combined prepared me for my role as e-commerce director.
When I graduated, I started with a group in the Twin Cities metro and worked three and a half years there, before joining Apple Auto Group three and a half years ago as e-commerce director.
Please tell us how you are driving sales results with digital marketing?
I'll start with social media, although it's just one facet of our digital marketing program.
Social media is something everybody in automotive marketing is still trying to figure out. But social media is where most customers are. I don't try to sell cars through our social media channels. I focus instead on creating engagement through fun.
For the month of May, we used social media to promote activities to support Hope Chest for Breast Cancer, a local charity. We colored all our social media platforms pink – our Facebook, Twitter and Google + pages, and our five e-commerce sites as well. Plus, we posted a redesigned Apple Auto Group logo with a pink ribbon.  During May, we donated $1 for every oil change and $10 for every set of tires we sold. We also asked for extra donations, and if individuals provided them, we put their names on the Wall of Hope at each of the dealerships.
Every week we had a Pink Out Friday. Everyone came in wearing something pink – shirts, ties, etc.  The goal of this was to create a fun environment.  Then, we'd take photos at the Wall of Hope and post those on Facebook — getting people to share and create a viral buzz about this great event.
We also have the rebates or buy-one-get-one-free offers, like everybody else has, but by focusing on a cause that's part of the community and tying that in with social media, our message becomes viral very quickly.
Another new social media site we use that is quickly becoming popular is Pinterest. We post photos there — a 1958 Corvette that is really cool, or 67 Mustang GT, and we have a community events board on it.
By creating all this awareness of our four dealerships, we can be assured that when a customer is ready to shop for a vehicle, they are going to already be aware of Apple Auto Group through social media and be willing to give us a shot.
Our blogging strategy is another key aspect of our social media efforts. We come up with topics on a monthly basis — fixed operations, or service department, or technology, and we write four to five blogs per month.  I post all the blogs on our e-commerce site, as well as on Facebook, Google +, and Twitter.
Besides your dealership awareness campaigns on social media, how else are you using digital marketing to drive consumers to your dealership?
We have five e-commerce websites: an Apple Auto Group portal and four child sites for each of our dealerships: Apple Valley Ford Lincoln, in Apple Valley, Apple Ford Shakopee and Apple Suzuki Shakopee, both in Shakopee, and Apple Chevrolet Buick Northfield, in Northfield, all in Minnesota. These five websites have traditional capabilities, and are also optimized for mobile. All are hosted by VinSolutions, which does a great job for us.  On top of that, we have just launched the Apple Auto Group App, as well.
To drive consumers to these websites, we use Haystak Digital Marketing for all of our search engine marketing (SEM) and they do a great job. Our search analyst Michael Pistell at Haystak Digital Marketing, does an amazing job. We'll talk on the phone for an hour every week, dissecting all my campaigns with multiple data points of analysis and we're continuously making tweaks, changing strategies and watching. The thing I love about Haystak Digital Marketing is they actually make the time that I want and need as a client to help me create positive results. They are a real business partner.
Video is another tool we are using to drive Internet sales results and increase engagement metrics such as time on site and lead conversion. UnityWorks! Media is our partner for all video search strategies including: new and used vehicle video walk-arounds, video search engine optimization (VSEO) for all our new and pre-owned vehicles on our YouTube Channels, and acceleration video search engine optimization (AVSEO) that focuses on new videos that are optimized on multiple third party websites to help dominate page 1 on search engines. The organic results we get from UnityWorks! Media's efforts are fantastic. They do a great job in the execution of video strategies and are very flexible with custom requests.
We are also using video as part of our Apple Auto Group Vehicle Exchange Program, which we recently launched. The program is a great way for customers to be able to trade in their vehicle for a new one, while keeping their payments low. When we tell customers about the program, via an email campaign, we add a custom video of our general manager Shawn McCormick talking about the program. As a result, read percentages improved compared to a similar campaign that did not include the video.
Videos are increasingly becoming one of the best ways to communicate with consumers and create emotional engagement. I spoke about this during a panel discussion lead by Phil Sura, VP of UnityWorks! Media, at the 12th Digital Dealer Conference: "Leveraging Video to Drive Google Organic Search and Website Conversion."
We recently finished creating some video business cards and we are using video in the follow-up processes in our global BDC.
Do you also use third party lead providers to drive sales?
We use AutoTrader quite heavily for most stores, and other lead providers for particular stores, based on brand and geographical area. We use Cars.com and Carsoup.com, which is an extremely popular regional lead provider in the Twin Cities Metro and in the Midwest. We use Cargigi which optimizes 100% of our pre-owned inventory and builds an ad on Craigslist. We use Autobytel for new car leads, and also MotorTrendCertified.com, since Apple Auto Group is a Certified MOTOR TREND dealer. Automotive.com also provides us leads, as they partner with MOTOR TREND. And, we use a small regional site for our Chevrolet dealership, called Findcars.com.
Are you happy with results from these third party lead providers?
We are always measuring, as it were, apples to apples. With any given lead provider, we analyze results as follows: How many Internet leads do they send us; how many chats; how many sales calls; how many of those leads did we set appointments for; how many showed up; how many sold; what's my leads to sold percentage?
If my Internet percentage is low this week, I look at those particular leads, or maybe my phone leads are through the roof. Why is that so? We always break down the numbers by Internet, phone and chat, and by new and used as well.
With our third party lead providers, like Cars.com or AutoTrader, it's really important to focus on how many new and used car leads we get separately. Some dealers allocate their entire spend for Cars.com or AutoTrader to just used cars. But, you'd be surprised to find you get a lot more new car traffic from those providers than you'd think.
Our goal in 2012 is to drive traffic to our own web platform that we have control over – our first party leads – and then focus on creating a higher percentage of conversion from those leads using tools like HookLogic to help increase the lead-to-show conversion metric.
How do you split up your advertising spend – traditional vs. digital?
Our global average – across all four stores – for digital vs. traditional advertising is 50/50. One store may be 70% digital, vs. 30% traditional and another store may be 70% traditional and 30% digital.
I've learned we need different strategies and focuses for each store depending on that store's location. We have two high volume Ford stores in the major metropolitan area in a southern suburb of Minneapolis-St. Paul. Then we have a Chevrolet dealership about 30 minutes south of that major metro area and a Suzuki dealership on the west side of the metro. So, we have different marketing strategies for each of these based on the geography, as well as the manufacturer.
In one store, maybe 20% of the local car buyers look at their newspaper, and the rest look at email and search on the Internet from their mobile device. So I need to optimize for that. There are other markets that require our marketing channels be way more traditional, such as radio, TV or a postcard mailer.
Once you get all these leads, how do you handle them?
We have four dealerships and one global business development center (BDC) where we handle all Internet leads, phone sales calls and sales chat, as well as all the service reservations, CSI follow-up calls, appointment reminder calls, recall calls, and reminder cards.
We get between 1,650 to 1,900 Internet leads, sales phone calls, and live chat leads per month and we usually schedule over 1,000 appointments for service reservations.
All leads go right into our CRM, and we claim leads based on which BDC team member is available for the next lead ­– vs. a round robin process. We have 60 sales consultants globally for all four stores. We have an eligibility rule for our batting order. Our sales consultants must have sold an average of 10 cars over the past 90 days and they must have a 50% closing ratio on the BDC leads that show up at the dealership, in order to stay in the batting order to get the next BDC appointment. Over 80% of our sales consultants stay eligible at any given time, so we know we are keeping it realistic.
All of this is being tracked in our CRM. We use VinSolutions globally for our CRM, our website hosting, inventory management and most of our email marketing. We're very happy with VinSolutions.
What is your response time?
We believe in e-commerce through the customer's eyes.  If I'm a customer looking for information, and I e-mail in, I'm looking for an answer to my question right away.
We don't have any auto-responders.  Within 10 minutes, our first response is in the customer's e-mail inbox. This email contains a video from our general manager along with a price quote on the vehicle the customer is interested in, plus photos of the new vehicle of interest, similar vehicles, and pre-owned vehicle options. Also included are directions to our store.
What is your follow-up process?
After our initial response to a lead, with email and phone calls, if a customer cannot commit to an appointment, we have 16 follow-up touch points that extend out to 180 days.
What is your close ratio? 
We have a 12 to 14% close ratio. In 2011, we hit 1,995 total sales for new and used cars out of our Global BDC. For 2012, we are tracking to sell over 2,500 new and used cars from BDC leads.
We have nine individuals in the BDC and Lani Jo, BDC manager for sales and service. Every one of these 9 individuals has their role. If I come in for the 3 to 8 p.m. shift, I'll make CSI calls. Everyone is cross-trained to do everyone's job, but everyone has a specific job for that day. Most of time, we have five team members taking sales leads. We start answering calls at 7 a.m. for service, and we answer calls until 9 p.m. Monday through Friday, and from 7 a.m. to 6 p.m. Saturday. One of our dealerships is open Sunday 7 a.m. to 3 p.m. for service, but in Minnesota, it's the law that all car dealerships are closed for sales on Sunday.
What do you use for analytic tools?  
A lot of our analytics come from custom reports we build in our CRM. Some reports are compiled from different tools, like Google Analytics, manufacturer data, or third party data from Polk. Plus, we have Reynolds and Reynolds as a DMS and we're able to pull different reports from them.
How do you keep up to date on all the digital technology you use at the dealership?
Every six months myself and Chris Gulbrandson, marketing director at Apple Auto Group, go to the Digital Dealer Conference. I've been to 10 of them. Also, I read and interact on automotive blogs such as DealerRefresh, founded by Jeff Kershner, which is a great resource to learn about current trends from the experts in the industry.
I'm also trying to network with individual digital marketing agents outside of the automotive industry.  I look at companies like Google, Facebook, Overstock.com, and Apple. They do so many evolutionary things that it's fun to review their current strategies.
What is your biggest challenge?
My biggest challenge on a daily basis is maintaining a strategic marketing strategy or consistent cadence to help execute current initiatives while dealing with daily 'curve balls' and staying ahead of the fast moving e-commerce space. Also, the way we communicate with customers is always changing. Five years ago we were not communicating via Facebook with customers and we were not sending them video emails. Now we have customers showing up at the dealership without us ever having talked with them on the phone. Customer interaction has changed dramatically with the social and mobile boom and it will keep on changing.
So, we have to examine our e-commerce processes through the customers' eyes and accommodate the customers accordingly.  We watch on a daily basis. What do customers really want? Well, we sell and service cars, but the way we provide consumers information changes, so our first response changes every few months.  Now our email templates need to be optimized with video and sized so customers can view the email and the video properly on a mobile device.
However, with all this fine-tuning, we still need consistency in our overall processes. I believe this is universally true. So, once you pick a process, whether it's a BDC or Internet sales people or a hybrid, you have to stick to it for awhile, in order to have it work properly and to be able to evaluate it fairly. There are too many times that people pick the process and three months go by and they say let's switch from a BDC to Internet sales people.
The only way to create success in a dealership is having a great team of people that work well together and support each other, implement processes and remain accountable to them while making minor tweaks along the way. You have to have a great support staff below you and executive management that supports what is going on and is willing to work with you through the areas that need improvement.
Apple Auto Group has been growing by leaps and bounds in the last four years because the entire team works well together towards a common goal, customer excellence.
Mark Gulbrandson, the owner of Apple Auto Group, is an amazing leader and has always supported the ongoing e-commerce efforts, along with his son Chris Gulbrandson, our marketing director. I work closely with Chris on a daily basis. Chris is a great supporter and a great motivator. As is Shawn McCormick, the global general manager for the group, who has been with the company since 1994, a year after it started. And Apple Valley Ford Lincoln Director of Sales Mike Ellis is another key team player whose efforts have driven home impressive results for our flagship dealership.
Our group is part of the Rydell group, the largest group of independently owned stores that share a common philosophy.  We embrace the Rydell philosophy that provides the best price in a negotiation free buying experience – with sales consultants paid on volume and customer satisfaction, not commission. The philosophy is based on five main areas we believe are critical to success: customer enthusiasm, employee satisfaction, financial performance, market effectiveness and ongoing improvement.
What is unique to your dealership?
I believe the major thing unique to our dealership is the customer experience we provide. It is our mission to exceed our customers' and employees' expectations and maintain their loyalty for a lifetime.
When a customer comes to our dealership, our sales people, who truly care about the customers, wow them. As a result, our customer loyalty and retention rate is extremely high.
We make shopping for a vehicle as easy as it can be by giving our customers the lowest price we'll sell the vehicle for, right up front. It's called our best price. A lot of stores have adopted this pricing strategy; the difference in our stores is it is the culture, not just a pricing gimmick. Because our sales consultants are compensated based on volume and customer satisfaction, all the uncomfortable negotiation is taken out of the process and our sales people can focus on finding customers the best possible car or truck for their needs. We were the first ones in this area to have the best price philosophy for all of our vehicles.
What is your view of the future?
The customer is in control. If the customer has a bad experience, they are going to write about it on Facebook. The average Facebook user has more than 180 "friends." So, the dealers that are not going to focus on customer excellence are going to have such a bad online reputation, that it doesn't matter how good their cars look on the show floor, or how seasoned and professional their sales consultants are.
As the digital and social era evolves, if you as a dealer do not have a positive online reputation, you're going to be in trouble. We are a certified DealerRater.com dealer for all four stores and Apple Auto Group has more than 450 reviews on DealerRater, with a 4.8 out of a possible 5.0 rating for customer service, quality of work, friendliness, price, and overall experience.
Our teamwork and our efforts in social media and digital marketing, combined with our focus on the customer experience at the dealership, are taking us efficiently and smoothly into the future and assuring us that it will be prosperous.
Author: