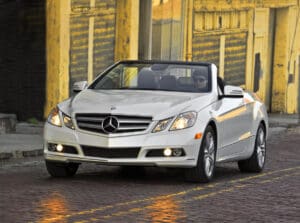 MONTVALE, N.J. — Mercedes-Benz is inviting its Facebook fans to "Best Summer," an initiative that is celebrating summertime moments surrounded by Mercedes-Benz events including most recently Mercedes-Benz Fashion Week Swim.
To participate, Facebook fans are asked to post a unique photo at www.facebook.com/mercedesbenzusa, which will enter them into a sweepstakes for a chance to win a 13 month lease of the perfect summertime convertible, a 2013 SLK250 roadster.  Fans are encouraged to capture their favorite summertime moments while incorporating a Mercedes-Benz vehicle or the Mercedes-Benz logo.
"The summer season is full of great memories that everyone wants to capture and celebrate. Through the Best Summer campaign, we have created a fun way to bring this to life for Mercedes-Benz enthusiasts," said Eric Jillard, manager of digital marketing for Mercedes-Benz USA.  "Over the next several weeks, the Mercedes-Benz three-pointed star will play host to major events providing the perfect backdrop to capture the Best Summer photos."
Mercedes-Benz Best Summer events include:
Mercedes-Benz Fashion Week Swim –

July 19 – 23

94th PGA Championship –

August 9 – 12

Pebble Beach Concours –

August 16 – 19

US Open –

August 23 – Sept 9
The Mercedes-Benz USA Facebook page is hosting the Best Summer campaign, which runs from July 19, 2012 to September 10, 2012. To enter, you must be 21 years of age with a valid driver's license.For more information or sweepstakes rules, visit: www.facebook.com/mercedesbenzusa.
About Mercedes-Benz USA
Mercedes-Benz USA (MBUSA), headquartered in Montvale, New Jersey, is responsible for the distribution, marketing and customer service for all Mercedes-Benz products in the United States. MBUSA offers drivers the most diverse line-up in the luxury segment with 14 model lines ranging from the sporty C-Class to the flagship S-Class sedans and the SLS AMG supercar.
MBUSA is also responsible for the distribution, marketing and customer service of Mercedes-Benz Sprinter Vans and smart in the US.  More information on MBUSA and its products can be found at www.mbusa.com, www.mbsprinterusa.com and www.smartusa.com
SOURCE Mercedes-Benz USA (MBUSA)
http://www.prnewswire.com/news-releases/mercedes-benz-celebrates-summer-with-best-summer-campaign-164730226.html
Author: