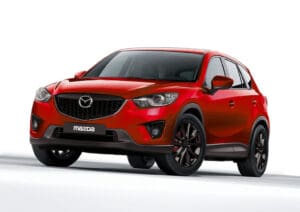 IRVINE, Calif. — Mazda North American Operations (MNAO), the company known for such iconic vehicles as the Miata and the RX-7, engineering marvels such as the rotary engine and innovative SKYACTIV Technology, and the only Asian car company to ever win the famed 24 Hours of Le Mans endurance car race, today announced the debut of a new television commercial called "Revolution".  Revolution will reinforce that even as Mazda launches new SKYACTIV environmental technologies that improve fuel efficiency through advanced engineering solutions, the company hasn't lost sight of its unique position in the marketplace as the Zoom-Zoom company, and remind the world that "If it's not worth driving, it's not worth building".
In deciding how to cut through the noise and clutter of such a high-profile sports weekend, MNAO took the innovative approach to launch Revolution from the inside out.  Starting on Friday, the company began reaching out to nearly two million Mazda employees, dealers, customers, owners, enthusiast clubs and others across the U.S. who have said they want to learn more about the company.  They were encouraged to share the spot across their personal social networks, as Mazda shares it across its networks.  Beginning on game day, Sunday Feb. 5, Revolution will play on television in select local markets and be launched on Mazda's Facebook and YouTube pages.  Starting on Monday, Feb. 6, Revolution will run in strong national and local television and web rotations.
"Mazda has always been a company that defies convention," said Don Romano, Chief Marketing Officer for MNAO.  "When we sat down to decide where we were going to debut our new brand message, we knew that, with this being one of the biggest sports and advertising weekends of the year, we needed a new and innovative approach."
Romano continued, "Our owners and the Mazda family are our best resource – they're knowledgeable, informed, passionate and spend, on average, more time researching their purchase and influencing others'.  Other companies are working hard to reach these sorts of customers, but we're proud that these trend-setters already know that Mazda offers a combination of innovative technology, stand-out styling, exceptional value and class-leading fuel efficiency and dynamics.  This message is proof-positive for them, and a rallying cry for everyone else."
The Revolution television spot will run as both a :30 and :60 second piece produced by Mazda's communications partner, The Garage Team Mazda, based in Irvine, Calif.  The piece features the edgy beat of blues legend Bo Diddley singing the striking "Road Runner", and shows image of many of the icons that make up automotive lore and memories – cars like the Miata, RX-7, Le Mans race-winning 787B, 1967 Mazda Cosmo, all the way up to modern interpretations of the Mazda brand such as the 2012 SKYACTIV Technology-equipped Mazda3 and 2013 Mazda CX-5 compact crossover SUV.  It reminds viewers again that "if it's not worth driving, it's not worth building", and that those are the only cars and SUVs that the company will produce.
The spot is a disarming call-to-action aimed at a key psychographic slice of the American public — people of all ages who like to drive.  "If you believe a car is purely transportation, then a Mazda is not the right choice for you," added Romano.  "But if the thrill of a car that hugs the road, a car that reacts to your inputs as if you were hard-wired to it, a car that makes you glance over your shoulder and smile as you walk away from it, then this spot is aimed at you."
Two examples of Mazda's approach to environmental engineering through its SKYACTIV Technology platform can be seen in the 2012 Mazda3, the first car to achieve 40 mpg on the highway, but still be fun to drive, and the soon-to-be-launched CX-5, which will achieve the highest highway fuel economy of any SUV available in the U.S., as well as the best combined fuel economy of any non-hybrid SUV.
Before it makes its broadcast debut on Sunday, Revolution can be previewed on Mazda's YouTube channel, www.youtube.com/Mazda, or on the company's Facebook page at www.facebook.com/Mazda.  For media interested in downloading a copy of Revolution, which can be embedded in Web pages or used in streaming newscasts, go to www.thenewsmarket.com/mazdarevolution.
Mazda North American Operations is headquartered in Irvine, Calif. and oversees the sales, marketing, parts and customer service support of Mazda vehicles in the United States, Canada and Mexico through nearly 900 dealers.  Operations in Canada are managed by Mazda Canada, Inc., located in Ontario; and in Mexico by Mazda Motor de Mexico in Mexico City.
Author: