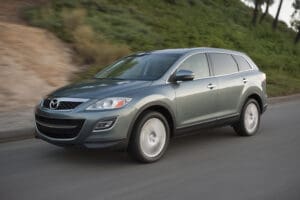 Mazda SKYACTIV TECHNOLOGY accounts for more than half of total vehicle sales for the month of July
IRVINE, Calif. — Mazda North American Operations (MNAO) today reported July U.S. sales of 19,318
vehicles
, representing a decrease of 7.0 percent versus last year. Year-to-date sales through July are up 13.9 percent (13.9 percent DSR) versus last year, with 163,115 vehicles sold.
Key July sales notes:
In the U.S., since the addition of the Mazda CX-5 to the SKYACTIV TECHNOLOGY vehicle line-up, SKYACTIV vehicle sales have increased from 24.0 percent (February 2012) to 60.0 perecent of total vehicle sales for the month of July.
MX-5 Miata continued to stay hot this Summer with an increase of 3.7 percent over July of 2011.
Mazda Motor de Mexico (MMdM) reported July sales, of 1,942 vehicles, down 14.0 percent versus July of last year.
Mazda North American Operations is headquartered in Irvine, Calif., and oversees the sales, marketing, parts and customer service support of Mazda vehicles in the United States and Mexico through more than 700 dealers.  Operations in Mexico are managed by Mazda Motor de Mexico in Mexico City.
For more information on Mazda vehicles, visit the online Mazda media center at www.mazdausamedia.com. Product B-roll may be ordered online by visiting The News Market at www.thenewsmarket.com/mazda.
Month-To-Date
Year-To-Date
Jul
Jul
%
% MTD
Jul
Jul
%
% YTD
2012
2011
Change
DSR
2012
2011
Change
DSR
Mazda2
905
1,072
(15.6)%
(8.8)%
11,056
8,512
29.9%
29.9%
Mazda3
9,027
9,288
(2.8)%
5.0%
68,554
60,832
12.7%
12.7%
Mazda5
994
1,186
(16.2)%
(9.5)%
7,939
12,967
(38.8)%
(38.8)%
Mazda6
1,289
2,543
(49.3)%
(45.3)%
26,658
18,115
47.2%
47.2%
MX-5 Miata
590
569
3.7%
12.0%
4,016
3,654
9.9%
9.9%
RX-8
–
65
(100.0)%
(100.0)%
80
544
(85.3)%
(85.3)%
CX-5
4,208
–
N/A
N/A
20,239
–
N/A
N/A
CX-7
324
3,152
(89.7)%
(88.9)%
10,983
18,738
(41.4)%
(41.4)%
CX-9
1,979
2,640
(25.0)%
(19.0)%
13,087
18,179
(28.0)%
(28.0)%
Tribute
2
268
(99.3)%
(99.2)%
503
1,621
(69.0)%
(69.0)%
Total Vehicles
CARS
12,805
14,723
(13.0)%
(6.1)%
118,303
104,624
13.1%
13.1%
TRUCKS

6,513

6,060

7.5%

16.1%

44,812

38,538

16.3%

16.3%
TOTAL
19,318
20,783
(7.0)%
0.4%
163,115
143,162
13.9%
13.9%
MEMO:
IMPORT CAR
11,516
12,180
(5.5)%
91,645
86,509
5.9%
IMPORT TRUCK
6,511
5,792

#

12.4%

44,309
36,917

20.0%

IMPORT TOTAL
18,027
17,972
0.3%
135,954
123,426
10.2%
DOMESTIC CAR
1,289
2,543
(49.3)%
26,658
18,115
47.2%
DOMESTIC TRUCK
2
268

(99.3)%

503
1,621

(69.0)%

DOMESTIC TOTALS
1,291
2,811
(54.1)%
27,161
19,736
37.6%
Selling Days
25
27
180
180
SOURCE Mazda North American Operations
Author: