Customers who have struggled to find detailed vehicle condition reports with consistent imaging quality can rest easier thanks to Manheim's investment in its new Enhanced Vehicle Imaging Suite. The new product not only offers the highest resolution image quality, but also delivers merchandising-type images that support customers' digital marketing strategies. The improved package offers customers up to 15 vehicle images, 'heat map' graphics that help buyers quickly assess vehicle condition and a dedicated photo staff with the goal of ensuring consistent image quality and standards across all Manheim locations. The offering was unveiled during the company's Client Advisory Board Meeting held on May 14 in Napa Valley, Calif.
"Through customer research, we found that getting detailed condition reports with great vehicle images remained an ongoing point of frustration," said Bonnie Hensler, vice president of product development for Manheim. "Customers told us that having access to images that clearly and quickly assess what is wrong or special about a vehicle would give them greater confidence when buying and selling. This feedback guided our investment and development actions."
As getting the best vehicle images involves precise operational standards, Manheim gave its top customers a firsthand look at how the process works through a live, onsite demo. This included having attendees use the new imaging technology to take pictures of vehicles and compare them to the photos taken by Manheim's professional photographers. While this exercise was designed as a fun contest, the goal was to show the rigor, quality standards and the commitment to process integrity that are the foundations of the new product offering.
"In 2009, we started selling our vehicles primarily online, and by doing this we found there was a big gap with the amount of vehicles being sold and the quality of the photos," said Mike Reid, Toyota Financial Services' national manager of remarketing. "That's when we started looking at the quality of our imaging process, to ensure we were delivering a good quality product to our customers. Through our partnership with Manheim, the Enhanced Vehicle Imaging process has helped us move forward in doing this, and the zoom capability is a cool feature."
The product roll out will begin with commercial customers such as Toyota Financial Services, and will be completed for OVE.com and Manheim.com, and at 20 Manheim operating locations in early July. The roll out will expand throughout 2014 as customers sign up and dealer requirements are refined.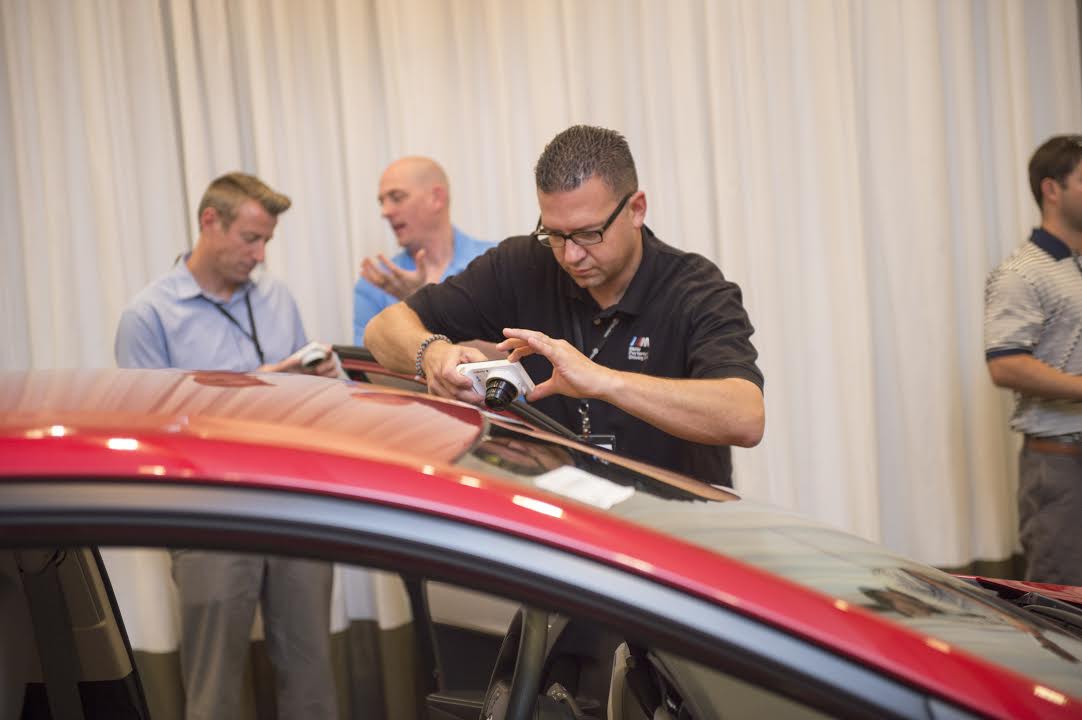 Rich Perkowski, field remarketing manager at BMW Financial Services, takes picture of vehicle at CAB.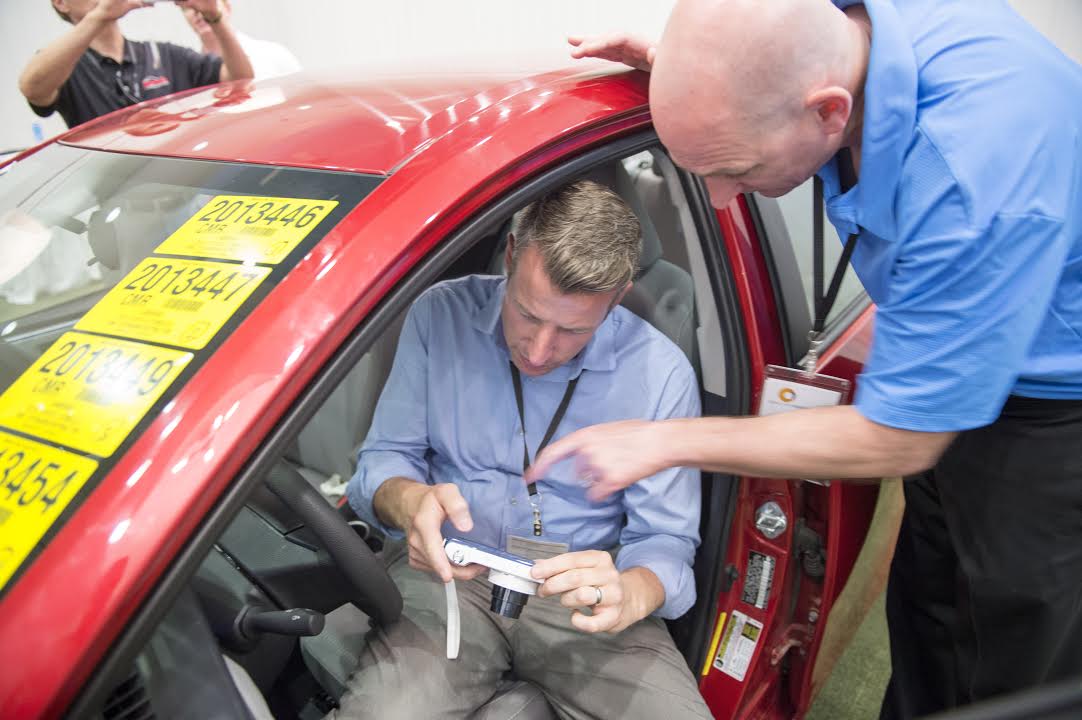 Patrick Moore, auction services-field operations manager of Primeritus Financial Services Inc., (left) looks over vehicle image as Joe Bruening, senior product manager at Manheim looks on.
About Manheim (www.manheim.com)
Manheim is the leading global provider of vehicle remarketing services, connecting buyers and sellers of used vehicles to the largest wholesale used-vehicle marketplace. The company helps dealer and commercial customers achieve results by providing physical and digital auction channels, data analysis, financing, transportation and mobile products and solutions.
Manheim pioneered in-lane vehicle auctions and has been an innovator in both digital and mobile auction platforms. Manheim registers nearly 8 million used vehicles annually, facilitating transactions representing more than $50 billion in value. Manheim's research and consulting arm, Manheim Consulting, provides industry-leading market intelligence and publishes the widely recognized annual Used Car Market Report. The company offers dealer financing though NextGear Capital, Inc., and transportation services through Ready Auto Transport.
Headquartered in Atlanta, Manheim has more than 20,000 employees in 107 worldwide sites and generates annual revenues of more than $2.5 billion. A subsidiary of Cox Enterprises, Manheim participates in "Go Green with Manheim," the company's sustainability program.
Author: