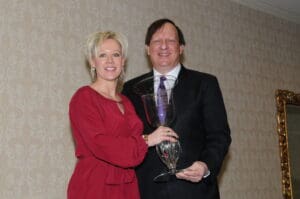 ATLANTA – Manheim presented its eighth annual Barbara Cox Anthony Automotive Woman of the Year Award today to Rachel M. Richards, vice president of retail strategy and chief marketing officer for Sonic Automotive. The honor recognizes the diverse contributions Richards has made to the automotive industry and service to her Charlotte, N.C. community. Manheim President Sandy Schwartz presented the award during Northwood University's annual breakfast at the National Automobile Dealers Association convention in Las Vegas.
"Rachel is a passionate advocate for our industry, her customers and her community," said Schwartz. "In addition to her many professional accomplishments, she has been instrumental in developing innovative business solutions, demonstrating a commitment to automotive education and serving as a role model to women in this industry. I'm looking forward to personally presenting her this award on behalf of Manheim and Cox Enterprises."
Richards joined Sonic in 2006 as the director of retail strategy and project management. In this role, she redefined the Fortune 400 company's retail online and digital strategy, as well as helped develop dealer management system business requirements and processes. Prior to joining Sonic, Richards held various field, regional management and corporate positions within Ford Motor Company and the Ford Motor Credit Company.
"I am truly honored to receive this very prestigious award and be recognized for my accomplishments in our field. Upon entering the automotive industry, after my graduation from college, I would never have dreamed that my contributions and body of work would be recognized and honored in this way. I am grateful for having the opportunity to have learned from many hard working and very smart men and women and that I continue to work with so many wonderful people in this great industry of ours. Giving back to those that work and aspire to enter the automotive industry is very important to me. Knowing that in conjunction with this award, a scholarship is granted to a deserving college student makes it even more special!"
Richards is a member of the Women's Automotive Association International, which recognizes the achievements of women in the industry, as well as provides counsel and education on automotive careers. She was honored with an Automotive Excellence Award last year by Auto Remarketing as one of the top ten women in automotive remarketing, as well as named one of the Top 100 Leading Women in the North American Auto Industry in 2010. A year earlier, Richards was recognized as a recipient of the Top 25 Women in Business Achievement award in Charlotte, NC.
In addition to her dedication to the automotive industry, Richards gives back to her community as a Girl Scout leader, supporter of Habitat for Humanity, annual sponsor of CHAMP (Children Achieving Maximum Potential), which enables underprivileged children to participate in an afterschool educational and mentoring program, as well as numerous volunteer activities throughout her daughter's school years.
Richards is in excellent company as previous winners of Manheim's Barbara Cox Anthony Automotive Woman of the Year Award include: Tamara Darvish, executive vice president of DARCARS Automotive Group; Lorraine Schultz, Women's Automotive Association International's founder and chief executive officer; Independent Dealership owner Sandra Moss; Toyota executive Tracey Doi; Pam Nicholson, Enterprise Rent-A-Car executive vice president and chief operating officer; Maguire Automotive Group President Marcy H. Maguire; and Columbus Fair Auto Auction owner Alexis Jacobs.
In conjunction with the award presented to Richards, Manheim will make a scholarship contribution to a deserving junior or senior student at Northwood University.
About Manheim (www.manheim.com)
Manheim is the world's leading provider of vehicle remarketing services. Through its 118 worldwide wholesale operating locations, Manheim impacts every stage of a used vehicle's life cycle, helping commercial sellers and automobile dealers maximize the full value of their vehicles. Drawing from its auction transaction volume, Manheim Consulting publishes the annual Used Car Market Report, the definitive source of data for the used car industry.  Manheim Consulting offers a wide range of services including custom analytics, business optimization and macro economic analysis.
Manheim is the online vehicle remarketing leader, connecting buyers and sellers to the world's largest, most comprehensive wholesale marketplace through its extensive in-lane and online offerings.  Manheim.com receives nearly 900,000 visits each week.
Additionally, Manheim offers services including reconditioning, certification, inspections, dealer financing, title management and marshaling, among others. Through its wide array of services and technologies, industry publications, customer support and educational offerings, Manheim gives its customers maximum control over how they buy and sell vehicles, helping them to conduct business in the most efficient way possible. In 2011, Manheim handled nearly 8 million used vehicles, facilitating transactions worth more than $50 billion in value.
Headquartered in Atlanta, Manheim is a subsidiary of Cox Enterprises, a leading communications, media and automotive services company.
Author: