Lista International Corporation presents its newly redesigned Automotive Service Bay System, specially designed for automotive service and repair. This system allows technicians to perform more efficiently and productively, with their efforts supported by workbenches that provide plenty of room and optimal organization. These service bays are ideal for technician, assembly and tear down applications.
Unlike one-size-does-not-fit-all workbenches that are not built around specific auto service department space and pace, Lista service bays can be custom configured with a range of drawer sizes, bases, worksurfaces, overhead storage cabinets, and much more. They have proven to stand up to the harsh punishment of daily use. Lista's Automotive Service Bays come with a durable, attractive stainless steel worksurface and optional stainless steel backsplash, and are available with other optional worksurfaces, including butcher block and galvanized steel.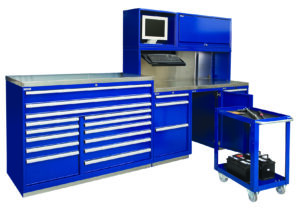 Above worksurface accessories allow users to custom configure their service bays with overhead cabinets, shelving, computer display area with retractable keyboard tray, and other accessories for the ideal workstation. Overhead cabinets allow convenient access to binders, manuals, supplies and other bulky items. Optional mobile carts safely store and transport tools and other items to the point of repair. They can be stored out of the way beneath the workbench in Lista's cart garage when not in use.
Built-in or mobile Lista toolboxes are large capacity and highly durable, with fully welded drawer and housing construction, heavy-duty casters with a 1,200 lb. capacity each, and 440 lb. capacity full-extension drawers. Additional optional components include lift control cabinets, hose reel cabinets, sink cabinets, lockers and more.                                               
To find out more about Lista Automotive Service Bay Systems, call or write: Lista International Corporation, 106 Lowland Street, Holliston, MA 01746; TEL 1-800-722-3020; FAX 508-626-0353; E-MAIL sales@listaintl.com. Visit Lista's automotive web site at www.lista-automotive.com.
Author: