The average person only retains 10 percent of what they read, but 50 percent of what they see. This is why it's so important for retailers to show rather than tell. Online video allows consumers to understand more content more quickly, in a simple and easy way. Not to mention, video is 53X more likely to rank on the first page than any textual page within the google search footprint. Building this trust and credibility fosters a strong relationship between your store and your audience – something that Lexus and Subaru of Pembroke pines is doing well.
According to an eMarketer study, forty-five percent of business executives expressed interest in video marketing, and 22 percent of those executives said they were frustrated by finding a means to accomplish it. Dealers share a common desire to get this element of their marketing right, and doing so requires time – a limited luxury for dealers.
Jesse Walker, Internet Marketing Director at Lexus and Subaru of Pembroke Pines, listened to all the latest statistics on Video Marketing two years ago. Walker has an extensive background in SEO and upon joining the store two years ago knew that there was work to be done in this area. A comprehensive targeted video marketing strategy was his dealership's chance to stay ahead of the competition, amongst the ever- changing rules of search engine marketing. The video marketing strategy would soon catapult his store into the number 2 position for Lexus nationally.
In 2012, Jesse and his team implemented a new targeted video marketing strategy designed to increase website traffic and capture more interest from customers driving competitive brands. Today, overall website traffic is up 150 percent and their strategy drives 20,000 visitors a month to their dealership. Previously, Jesse was closing on 5 percent of his web visitors and now he is closing on 15 percent of web visitors.

"Not only does this strategy drive more traffic to my site, it drives more quality leads, which is a key reason our closing rate has gone up," said Walker. This is not surprising according to a Google Study, which found that almost 50 percent of online video watchers visited a dealer afterwards.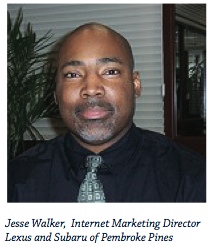 Lexus and Subaru of Pembroke Pines competes against four neighboring Lexus dealers and five Subaru Dealers within 30 miles of his store. One of these competitors is JM Lexus, the top Lexus store in the country. Considering this market position, getting on page one of search results has never been more important.
Not only do dealers compete against other dealerships, they also compete against used car websites such as Cars.com. In addition to appearing first on page one, Lexus and Subaru of Pembroke Pines find value in targeting in-market shoppers actively searching online. Their system monitors the most popular search phrases that are being used by consumers. These search terms are then used to create OEM compliant, dealership-specific videos that are optimized to appear on page one and distributed to the major search engines.
"Using this strategy effectively involves taking traffic from competitors, so we targeted competitive brand vehicles like Audi, Mercedes and BMW for Lexus, and Nissan and Mitsubishi for Subaru. Our search method is specific, with most of the traffic coming from 10 of our top 150 phrases. We cast a wide net," said Walker.
Recently, the Subaru part of Lexus and Subaru of Pembroke Pines broke the record for new car sales. In just two years, they went from selling 28 cars per month, to 108 car per month. Targeting conquest trade- ins using side-by-side comparison videos that promote the competitive advantages of every model sold continue to propel the dealership to achieve these results. These videos are then optimized to appear ahead of competition when in-market customers search for competitive makes and models. Every one of these dealer-specific videos is custom and uniquely created to work in unison with all past and future video content. This creates a cumulative impact that begins producing results on day one.
"What I like about this strategy is that I can make changes constantly. My eyes cannot be everywhere on the Internet so the flexibility with this program is extremely helpful," said Walker.
Consistency is certainly one of the most impressive parts of this SEO Strategy – it has taken them to the top of the search engines for the most used search terms in their market.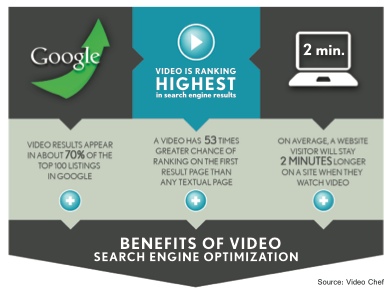 "This is a very big deal," says AJ LeBlanc, co-founder and Managing Partner of Car-mercial.com, the strategic partner that Lexus and Subaru of Pembroke Pines uses for its targeted video marketing strategy, "advertisers are still figuring out the benefits of online video so the product offering is slim. Similarly, many dealers have not made the commitment to it. If you're using VSEO, there is a good chance your competition is not."
Lexus and Subaru of Pembroke Pines certainly has the top shelf credentials in their market. They are the #2 Lexus store in the United States and the most profitable service store in the Country. They are part of the Elite of Lexus, an awards category for Dealerships exceeding rigorous Lexus operational and certification standards. They also received Subaru's Stellar award for demonstrating excellence in customer-focused areas. "In the last two years we've gone from the number 7 store to the number 2 store in the U.S.," said Walker, "we've even won an award for our body shop. I'm excited about how far we've come and am even more excited about our success in the future."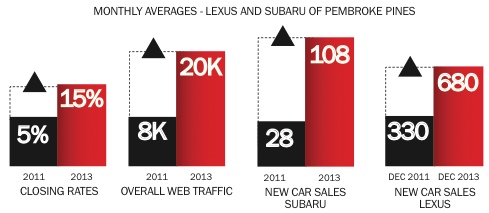 Author: