Chances are your business is doing pretty well right now, but there is also a good chance that there are a few areas in which your operation could improve. What if you had an opportunity to get away from your store for a few days and really focus on the issues that you need to address to drive growth and improve profitability?
It could be a specific topic you would like to improve on such as:
Or maybe you would benefit from working one on one with a leading expert to hone your business in Google Strategies, Facebook Strategies, Mobile apps, e-newsletters , Search Engine Optimization (SEO), Social media strategies, BDC processes, Video strategies, Telephone scripts or Service mobile strategies?
What if you could meet with other dealers and managers from outside your market that are going through the same issues you are. Sit down together and compare notes, metrics, discuss vendors and what is working and what to avoid?
How about new technology that is helping dealerships attract, retain and engage more customers. With so many new vendors in the market today, it is nearly impossible to keep up with them all, what if you could see over 100 in the same place outlining how their services, applications and technology can benefit your business?
All of this and more can be accomplished in a matter of days at the 13th Digital Dealer Conference & Exposition.
With over 100 sessions, workshops and case studies, you can target the topics that mean the most to you delivered in Social Media, Fixed Operations and Pre-Owned Tracks in Fundamental, Intermediate, and Advanced: http://www.digitaldealerconference.com/tracks/
View and download the complete agenda http://www.ddwebinar.com/dd13/agenda_dd13.pdf
View sessions by topic: http://www.digitaldealerconference.com/sessionsbytopic/
Preview the thought leaders: http://www.digitaldealerconference.com/speakers/
Through the debut of Digital Dealer Learning Labs, you can sit down with a pre-eminent expert and work one-on-one on your business.
http://www.digitaldealerconference.com/learninglabs/
Plus, with the introduction of Digital Dealer Innovation Hours, in a few hours you can learn about ten new products and if they may be right for your store.
http://www.digitaldealerconference.com/innovation-hours/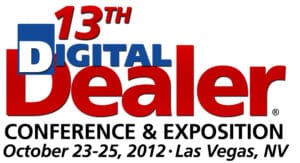 The 13th Digital Dealer Conference & Exposition also will feature the industry's premier peer to peer networking opportunities and so much more. Check out your favorite travel site, you'll see that there are many affordable flights to Las Vegas. Plus there are discounted hotel rooms available at the Mirage. There is still time to plan your Digital Dealer experience and no better way to work on your business.
Author: