These days there sure are a lot of new solutions for your dealership to consider. With such a plethora of vendors, applications and new technology available it is nearly impossible to keep up with them all. What if someone you trusted selected a couple of dozen of the best/hottest/newest products and you could watch demonstrations, set in up in speed dating style, to learn about how the new solution might help your dealership? 8-10 minute focused demos, no obligations, just learn about the benefits of the product and ask a few questions to figure out if you see a fit with your business. And then move on to the next product, visit the vendor later for a more in-depth demonstration/presentation for the technology that you deem a potential fit at your store(s). But see ten products within 2 ½ hours and gain a much better understanding of the new solutions you should really consider implementing in your business.
Solutions for areas that directly influence dealership profitability such as:

Auction tools:
Auction Genius makes purchasing used vehicles from auctions more easy, efficient and profitable for dealers.

Customer engagement and CRM:
Autowall is the first and only interactive customer community designed by people who developed and sold CRM for sixteen years.  Check it out, you will be amazed.
IntellaCar is the iPad solution that accelerates dealership sales and enhances the customer experience.
OptionSoft CRM's processes allow you to know what questions your customer will ask before they do!
Market Scan's mDesking is the industry's most powerful 'Desking' solution and dramatically reduces the time of negotiation and enables dealerships to find the perfect payment solution for every consumer with complete transparency and unmatched speed.
VinLens™ is technology that tracks behaviors in real-time. 

e-Commerce tools:
DealerMatch is an innovative community where dealers buy, sell and trade with other dealers and it lets dealers leverage their good reputation and connections to buy and sell faster, making more money from dealer-to-dealer exchanges.
Inventory management:
Edmunds' Premier Dealer Program is an opportunity for you to highlight your new and used car inventory listing to over 18 million unique monthly shoppers.
Kelley Blue Book's all-new KBB.com Classifieds was released in June 2012 and gives dealerships the opportunity to present their new- and used-vehicle inventory to millions of active in-market car buyers on KBB.com.
Mobile marketing and mobile apps:
DealerApp Vantage's Virtual Service Manager (V.S.M) enables the dealership's customers to schedule a service appointment through their application.
Reputation management:
SOCIALDEALER is the first-of-its-kind reputation monitoring service to help automotive dealers and manufacturers monitor the top ten review sites.
Sales tools, training and incentive management:
AIS Rebates has introduced the next generation Incentive Management System – Digital IRS allowing dealers to instantly see all payment options based on the various deal transaction scenarios, e.g., using Manufacturer retail supported rates, Bank retail financing, Manufacturer supported lease, and more.
DrivingLoyalty.com provides a sales retention solution that analyzes the entire customer database, segments and creates the best purchase and lease options available.
ProCreditExpress' Instant Screen is a revolutionary new system to start and control the sales process.
Showroom Magnet combines behavioral marketing with gift card incentives to produce targeted offers beyond the website to Craigslist postings, social based viral referrals and dynamically generated customer online brochures to get more leads, more shows and, most importantly,  more sales
Team Velocity's Perfect Prospect Technology identifies the customers statistically most likely to buy or service with the dealership now.
SEO and optimization tools:
Site Search by Dealer e-Process is a website search engine within the newly released AMMP platform.

Telephone training:
CallRevu allows your dealership to increase profitability and gain customers for life.  We listen to every phone call so you never miss an opportunity to save a deal or save a customer.  

Video marketing:
CarMercial creates custom videos that work like websites targeting customers looking for new, used, service, finance, and reputation management search phrases on organic page 1 search listings.
Flick Fusion's Video Generation System brings inventory videos to life.
The Vboost mission is to create hundreds of Viral Video Marketing Messages every month that promote the dealership brand and deliver these messages at the emotional high points of the car buying experience in a way that customers are compelled to upload/share them with friends and family.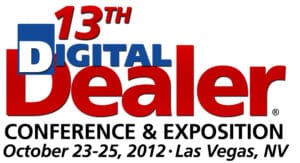 These solutions and more will be showcased in Digital Dealer Innovation Hours at the 13th Digital Dealer Conference & Exposition. The upcoming event will introduce a new way to learn about new technology…Digital Dealer Innovation Hours are nothing but product demonstrations, no rapport building, no criteria setting, no asking about your business, just quick, 8-10 minute demonstrations of the newest and hottest products, technologies and applications. Pick 10 companies that you want to just show you the technology. In a matter of hours you'll have a better understanding if the new solutions are right for your store.
The 13th Digital Dealer Conference & Exposition also will feature Digital Dealer Learning Labs, one-on-one coaching for dealership attendees to work with an expert on a number of key subjects such a Google and Facebook strategies. Further Digital Dealer Case Studies will break down how an actual dealership utilized a particular product, service or technology to their advantage.
Showcasing more than 100 sessions and workshops, more than 100 technology-focused exhibitors, Peer Networking Roundtables and dinner; Digital Dealer provides the ultimate learning and networking environment.
With over 1,100 flights per day to Las Vegas there are still great deals from your favorite airport and discounted rooms are available at the Mirage.
Don't let another Digital Dealer Conference & Exposition pass you by, for information on the industry's premier automotive digital strategy conference visit www.DigitalDealerConference.com.
Author: