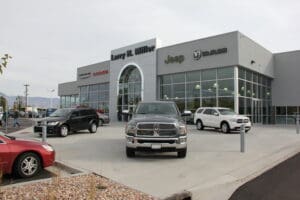 SALT LAKE CITY – Tony Schnurr, president of the Larry H. Miller Automotive Group, announced today a grand opening and ribbon cutting celebration for the new Larry H. Miller Chrysler Jeep Dodge Ram Riverdale dealership on Tuesday, November 15 at 1 p.m. MT.  The dealership is located at 1481 West Riverdale Road in Riverdale, Utah, and will serve customers primarily from the Roy, Weber/Ogden, Riverdale and Clearfield areas.
"This is a great opportunity for our company and the residents of the Riverdale community," stated Schnurr.  "We look forward to continuing to serve our customers with the same values, quality and excellence they have come to expect from the Larry H. Miller name."
The grand opening festivities will feature Larry H. Miller Group of Companies CEO Greg Miller.  Riverdale Mayor Bruce Burrows; Reid Bigland, head of Dodge brand, president and chief executive officer – Chrysler Canada Inc. and Head of U.S. Sales, Chrysler Group LLC; and Dave Englen, Chrysler Group, Phoenix Business Center manager will also be in attendance for the celebration.
"Our new facility and increased presence in the Riverdale market will add to the success we have already been fortunate enough to experience," shared Troy Bullard, general manager.  "We have great employees, great customers and a great product.   It'll be exciting to start this brand new chapter with such a winning combination."
The ribbon cutting is hosted by the Ogden/Weber Chamber of Commerce and will include light refreshments.
The new Larry H. Miller Chrysler Jeep Dodge Ram Riverdale will provide its customers with the latest in customer service innovations.   Featuring an expanded customer waiting lounge and guest service area, the location also includes three times the available service bays from the present location.  Placed conveniently at the top of Riverdale to allow easy access for consumers, the dealership will showcase the new product line up that Chrysler is producing.
The dealership's general manager, Troy Bullard, has been with the Larry H. Miller Group for six years, including serving as general manager of Larry H. Miller Chrysler Jeep Dodge Ram in Bountiful.  Bullard is currently on the board of Weber County Boys and Girls Club and has served on the Clearfield High School Community Council.
The Larry H. Miller Group of Companies employs approximately 4,000 individuals in its automotive operations in the state of Utah.
Larry H. Miller Chrysler Jeep Dodge Ram – Riverdale
1481 West Riverdale Road, Riverdale, UT  84405
Sales:   (801) 398-2800
Service:  (801) 398-2850
Parts:   (801) 398-2863
Monday – Saturday: 9 a.m. – 9 p.m.; Sunday: Closed
Larry H. Miller Chrysler Jeep Dodge Ram – Riverdale was purchased January 4, 2010.  Construction for their brand new facility began on November 25, 2010.
Author: