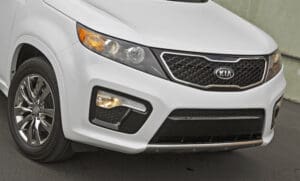 Annual Sales Up 17.8 Percent; Optima and Sorento Top October Sales
IRVINE, Calif. — Kia Motors America (KMA) today announced best-ever October sales with 42,452 units sold, a 12.6-percent increase over the same period in 2011.  October once again saw KMA's U.S.-built* vehicles – the Optima midsize sedan and Sorento CUV – take the top sales honors.  Kia's year-to-date sales are up 17.8-percent over 2011.
Awareness, perception and consideration for the Kia brand continue to improve through a series of high-profile partnerships and initiatives.  In October, Kia debuted a new Optima ad campaign featuring NBA superstar and brand ambassador Blake Griffin, and unveiled four Justice League superhero-inspired custom cars at the Specialty Equipment Market Association (SEMA) Show.
"The Kia brand continues to grow and mature in the U.S. market and with seven all-new and refreshed vehicles scheduled to arrive in showrooms in 2013, including the all-new 2014 Forte sedan and redesigned Sorento that will be unveiled at this month's Los Angeles Auto Show, Kia will continue its efforts to advance value to new levels of sophistication," said Byung Mo Ahn, group president and CEO of KMA and Kia Motors Manufacturing Georgia.
* The Sorento and Optima GDI (EX Trims and certain LX Trims only) and GDI Turbo are built in the United States from U.S. and globally sourced parts. 
Kia's Unprecedented Growth
Kia Motors is one of the world's fastest moving global automotive brands; from 2009-2011 Kia launched more new vehicles in the U.S. than any other automaker, and under the guidance of chief design officer Peter Schreyer earned a reputation as an industry leader in automotive styling.  Kia Motors America's full line of fuel-efficient and fun-to-drive cars and CUVs has earned critical acclaim and dramatically increased consumer awareness, perception and consideration for the brand.  In 2011, KMA recorded its 17th consecutive year of market share growth, thanks in part to the largest increase of any major brand in perceived quality[1] and the industry's highest brand loyalty ranking[2].  Kia's U.S.-based manufacturing facility in West Point, Georgia – KMMG – is responsible for the creation of more than 10,000 plant and supplier jobs and builds two of the company's best-selling vehicles in the U.S. – the Sorento CUV and Optima midsize sedan*.  Kia's value and technology-laden lineup also includes the Sportage compact CUV, Soul urban passenger vehicle, Optima Hybrid, Forte compact sedan, Forte 5-door compact hatchback, Forte Koup two-door coupe, Rio and Rio 5-door sub-compacts and Sedona minivan.
About Kia Motors America
Kia Motors America is the marketing and distribution arm of Kia Motors Corporation based in Seoul, South Korea. KMA offers a complete line of vehicles through more than 755 dealers throughout the United States and serves as the "Official Automotive Partner" of the NBA and LPGA. In 2011, KMA recorded its best-ever annual sales total and became one of the fastest growing car companies in the U.S.[3] Kia is poised to continue its momentum and will continue to build the brand through design innovation, quality, value, advanced safety features and new technologies.
Information about Kia Motors America and its full vehicle line-up is available at its website – www.kia.com. For media information, including photography, visit www.kiamedia.com.
---
* The Sorento and Optima GDI (EX Trims and certain LX Trims only) and GDI Turbo are built in the United States from U.S. and globally sourced parts. 
[1] Source:  Automotive Lease Guide Spring 2011 Perceived Quality Study. [2] Source: Experian Automotive Q2 2011 market analysis. [3] Based on 5-year cumulative growth between 12-month retail sales for periods ending September 2007 and September 2012 of all U.S. automotive brands.
MONTH OF OCTOBER

YEAR-TO-DATE

Model

2012
2011
2012
2011
Rio
2,623
2,005
35,438
15,797
Spectra
–
–
–
1
Forte
5,911
4,712
67,139
67,429
Optima
12,948
8,616
127,676
64,353
Amanti
–
–
–
1
Sportage
2,223
3,519
32,392
40,628
Sorento
9,615
10,178
97,779
109,903
Sedona
1,144
1,541
15,598
20,776
Rondo
–
–
–
44
Borrego
–
10
–
385
Soul
7,988
7,109
101,344
85,778
Total
42,452
37,690
477,366
405,095
SOURCE Kia Motors America
Author: