Hispanics are the fastest growing consumer group in America representing more than 56 million people and growing to 66 million by 2020. At their current growth rate, the US Census Bureau predicts that Hispanics will represent 30 percent of our country's total population by the year 2050.
This is significant because studies have shown that Hispanic consumers purchase more often, return more often and refer more often than non-Hispanic consumers. According to a recent Polk study, growth in new vehicle sales amongst Hispanic consumers outpaces non-Hispanics by 58 percent (18 percent vs. 11 percent). Yet, the unique way American Hispanics consume media gives marketers the opportunity to reach these highly desirable consumers with significantly fewer advertising sources and with a much smaller advertising budget. This unique combination of high growth, high value and low cost is why many experts have deemed Hispanic marketing the largest untapped market opportunity in the auto industry today.
"Many dealerships are completely unequipped to engage with the American Hispanic community. This has created a tremendous opportunity for those of us who are." says Chris Roberts, President of Kendall Toyota and Lexus in Miami, Florida.
Although most dealerships understand the benefits of increasing their Hispanic market share, the challenges associated with marketing to Spanish-language consumers often prevent them from capitalizing on this huge opportunity.
To address these challenges and to help dealerships capitalize on this unprecedented opportunity, AutoAmigo, one of America's leading automotive technology companies has partnered with Univision, America's largest Hispanic media network, to create the country's first, fully turnkey Hispanic auto buying program. This program eliminates most of the challenges associated with marketing to Spanish-language consumers and provides dealerships with the tools they need to effectively and easily attract, sell, service and retain Hispanic customers.
TOP 5 CHALLENGES

1. Strategy. The majority of dealerships in the US do not have a formalized strategy for attracting and serving Hispanic customers.

2. Message. English language marketing messages often do not translate well into Spanish and fail to resonate with Hispanic audiences for cultural reasons. Most dealerships do not have the expertise in-house to effectively communicate with this culturally diverse population.

3. Reach. English language media sources only reach a fraction of America's Hispanic population.

4. Process. Hispanic consumers engage with dealerships differently than non-Hispanic consumers. Many dealerships do not have the staff, processes and training to effectively interact with Spanish speaking consumers.

5. Financing. Hispanic consumers often have unique circumstances that are not accommodated by traditional banks / lenders. Although there are many lenders who specialize in servicing these loans, many dealerships have not taken advantage of the opportunity to expand their financing options.
"There are lots of providers in the English market but for the Hispanic market there is only AutoAmigo and I am glad Univision got behind this," said Roberts. "Combining the unduplicated reach of Univision with a turnkey sales process that allows us to close leads at over 40% was a brilliant strategy."
The key to this program's success is the way that it addresses all of the challenges listed above with a single, easy to execute solution. As long as a dealership meets the qualifying criteria for participating in the program, they receive a turn-key Hispanic marketing solution that includes all of the essential elements necessary for long-term success with Hispanic consumers – traditional and digital promotion, software, call center, training, alternative lending options, reporting, and mobile-based closing tools.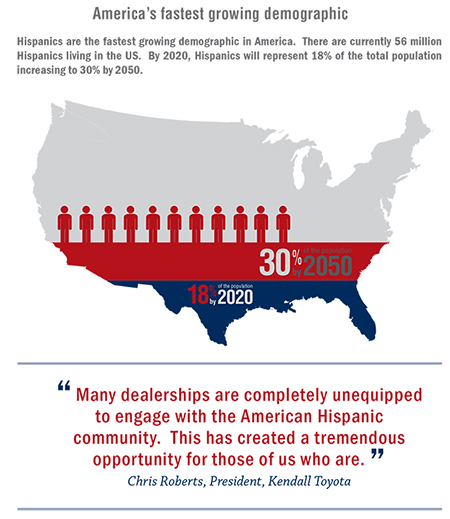 Here's how the Program works:
STEP 1: Univision uses its TV, radio and Website network, which reaches 96 percent of the Hispanic market, to promote the AutoAmigo buying program through Univision Celebrities, who are influential in Hispanic media.
STEP 2: Customers use the AutoAmigo Website and mobile app to research and shop for the car they want in both English and Spanish.
STEP 3: Customers are directed to call a Spanish-language call center where they are welcomed and connected to an automotive expert who gathers information about their current and desired vehicle, gets the customer preapproved when possible and schedules an appointment with a certified AutoAmigo dealership.
STEP 4: Customers visit a certified dealership where the dealership's program manager uses AutoAmigo's mobile app to scan the manufacturer's window sticker to provide the customer with the retail price, the average market price, and the AutoAmigo price that is set by the dealer.
STEP 5: The certified dealership delivers the vehicle for a fair, pre-negotiated price to a customer who has a high probability of telling their family and friends about this exciting new way to buy a car.

According to a recent study by IHS Automotive (Formerly R.L. POLK), customers are responding very well to this approach. Average closing rates for AutoAmigo leads nationally are up to three times that of traditional leads with top performers claiming upwards of 40 percent. Program loyalty is also high. 62 percent of all members who bought a car from any source bought from the referred AutoAmigo Dealer.
"This process is completely different from other lead providers, the appointment coordinators (from the AutoAmigo call center) call you as soon as they confirm an appointment. It's much better than a lead that you hope comes in. These customers come in and close," said Jenny Gonzales, Internet Director at Kendall Toyota, "The customers love it!."
Like customers, Dealerships are also winning big. If a dealership is selected to take part in the program, they receive exclusive leads while putting zero marketing dollars at risk. They simply pay a flat fee of $350 for every vehicle they sell through the program.
AutoAmigo's bilingual call center follows up with every lead to help increase appointment rates and show rates as well as to survey each customer that visits a certified dealership so that those who do not purchase on their initial visit eventually purchase from their program in the future.
"When that customer reaches us through AutoAmigo we are confident it is a deal because they trust AutoAmigo and Univision and they know they are going to get a great deal," says Roberts, "We have already sold over 80 cars that we probably would have never seen. It complements our TV and radio on Univision and adds incremental sales."
"It is important to us that AutoAmigo be a true win-win for the dealerships, as well as the customers," said Chad Collier, Founder and CEO of AutoAmigo. "Other programs sacrifice dealers' interests in favor of the customer. Our system gives customers a transparent, hassle-free experience but it also generates front and back end profit for the dealerships."
Author: