KBB.com research reveals most and least popular auto brands and segments by U.S. region, announces Kelley Blue Book www.kbb.com, the leading provider of new and used car information. Research from Kelley Blue Book Market Intelligence, based on KBB.com traffic of more than 10 million U.S. adults, reveal in-market new-car shoppers from the Western region of the U.S. are 85 percent more likely to consider Tesla than shoppers from other regions. Out of all regions, Southerners are the least influenced by brand when shopping for a car as evidenced by a relatively small 17 percent preference for Infiniti over other brands. Perhaps manufacturers have the ability to conquest market share in the South since these shoppers are not as loyal to any specific automaker. On the other hand, Midwest shoppers are 64 percent more likely to consider Chrysler and Northeast shoppers are 56 percent more likely to consider Subaru. The KBB.com Market Intelligence research found the top brands most shopped in specific U.S. regions are often headquartered or have assembly plants in that area, suggesting shoppers have strong brand loyalty and are influenced to research the manufacturers with local ties to their region.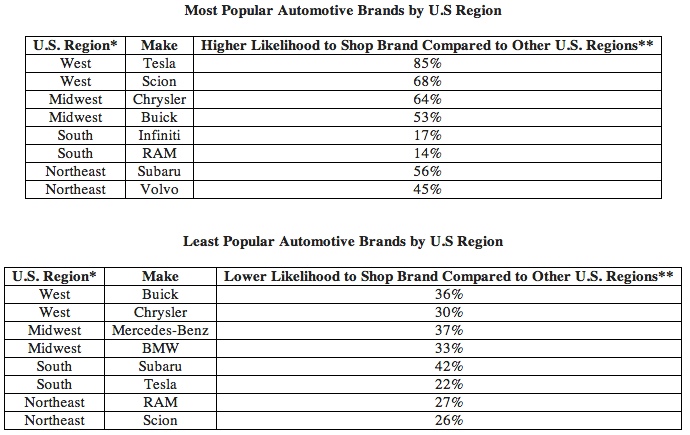 "It seems what is popular in one region is overlooked in another," said Arthur Henry, analyst at Kelley Blue Book. "Westerners prefer fuel-efficient brands with style, such as Tesla and Scion, but those same brands are shunned in the South and Northeast. Those living in the South gravitate toward brands that are manufactured in the same region. Shoppers from the Midwest also have an affinity for brands headquartered or produced in their own backyard."
Although the domestic automakers have very low market penetration in the West, both Chrysler and Buick resonate with Midwestern shoppers more than in any other region, due to brand loyalty and their overall support for the American brands. Midwestern new-car shoppers are 64 percent and 53 percent more likely to consider Chrysler and Buick, respectively. While Midwesterners are more likely to shop for domestic, non-luxury brands, they are least likely to shop for import luxury brands, such as Mercedes-Benz and BMW, and all compact luxury cars.
"Known as the truck belt in America, the KBB.com data reveals Southern shoppers are more likely to consider RAM models than shoppers from any other U.S. region," said Karl Brauer, senior analyst at Kelley Blue Book. "While Southerners are drawn to the ruggedness and durability the RAM truck brand offers, they also are more likely to shop for a traditional luxury brand like Infiniti than shoppers from other parts of the country due to its headquarters in Tennessee."

KBB.com research also found Western new-car shoppers are 66 percent more likely to consider a hybrid car, Midwest car shoppers are 42 percent more likely to consider a full-size crossover, Southern shoppers are 41 percent more likely to consider a full-size sport utility, followed by the Northeast which is 20 percent more likely to shop for a compact crossover.
"Western-based new-car shoppers more likely to shop for a hybrid car and least likely to shop for a full-size crossover, as a result of higher gas prices in states like California," said Brauer.
"Westerners today are not only budget-conscious at the gas pump, they appear more environmentally mindful than ever before, and we are seeing this translate to the car they are shopping."
In addition, the KBB.com data revealed major differences in the popular and unpopular segments for each U.S. region, which is similar to the data results for the auto brands.
"Based on actual shopping data on KBB.com, hybrids are synonymous with the West, as SUVs are with the South," said Henry. "Seeing the key drivers motivating shoppers are topography, metropolitan density and government regulations, it is not surprising compact crossovers are preferred over full-size SUVs in the Northeast. This shows when brand choice is layered on top of segment preferences, manufacturers like Subaru rise to the top with its four-wheel drive options, along with Volvo and its high safety ratings, which help both brands drive interest in this region."
To see KBB.com coverage of the most and least popular auto brands and segments by U.S. region, including an infographic, please visit http://www.kbb.com/car-news/all-the-latest/car-tastes-compared/2000010180/.
For more information and news from Kelley Blue Book's KBB.com, visit www.kbb.com/media/, follow us on Twitter at www.twitter.com/kelleybluebook (or @kelleybluebook), like our page on Facebook at www.facebook.com/kbb, and get updates on Google+ at https://plus.google.com/+kbb.
*West States: Alaska, Arizona, California, Colorado, Hawaii, Idaho, Montana, Nevada, New Mexico, Oregon, Utah, Washington and Wyoming; Midwest States: Illinois, Indiana, Iowa, Kansas, Michigan, Minnesota, Missouri, Nebraska, North Dakota, Ohio, South Dakota and Wisconsin; South States: Alabama, Arkansas, Delaware, District of Columbia, Florida, Georgia, Kentucky, Louisiana, Maryland, Mississippi, North Carolina, Oklahoma, South Carolina, Tennessee, Texas, Virginia, West Virginia; Northeast States: Connecticut, Maine, Massachusetts, New Hampshire, New Jersey, New York, Pennsylvania, Rhode Island and Vermont
**Data sourced from KBB.com October 2012 – September 2013.
About Kelley Blue Book (www.kbb.com)
Founded in 1926, Kelley Blue Book, The Trusted Resource®, is the only vehicle valuation and information source trusted and relied upon by both consumers and the automotive industry. Each week the company provides the most market-reflective values in the industry on its top-rated website KBB.com, including its famous Blue Book® Trade-In and Suggested Retail Values, and Fair Purchase Price, which reports what others are paying for new cars this week. The company also provides vehicle pricing and values through various products and services available to car dealers, auto manufacturers, finance and insurance companies, and governmental agencies. For two years running, Kelley Blue Book's KBB.com ranked highest in its category for brand equity and was named Online Auto Shopping Brand of the Year in the 2012 and 2013 Harris Poll EquiTrend® study. Kelley Blue Book Co., Inc. is a subsidiary of AutoTrader Group, which includes AutoTrader.com, vAuto, VinSolutions and HomeNet Automotive. AutoTrader Group is a majority-owned subsidiary of Cox Enterprises.
Author: