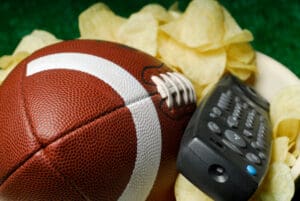 Historical Advertising Data Showcases Super Bowl's Biggest Spenders, Rising Ad Rates, Competitive Clutter and First-Time Advertisers
New York, NY – On February 5th, two football teams will take the field in Indianapolis to vie for the Super Bowl championship trophy. Millions of TV viewers will tune in for the game and many will also attentively watch and critique the Super Bowl commercials airing during breaks in the gridiron action. While one football team will emerge a singular winner, the competition among advertisers is likely to produce multiple claims of victory according to the scorecard used. Ultimately, each marketer will determine for itself whether the Super Bowl was an effective marketing investment.
Kantar Media has mined its extensive database to report on the psast 10 years of Super Bowl advertising. From 2002 through 2011, the Super Bowl game has generated $1.72 billion of network advertising sales from more than 125 marketers.
Top Five Super Bowl Advertisers
The top five Super Bowl advertisers of the past 10 years have spent $636.6 million on advertising during the game, accounting for 37 percent of total advertising revenue.  Anheuser-Busch InBev and Pepsico lead the pack, followed by General Motors, Walt Disney and Coca-Cola.
The Price of Advertising
The average rate for a 30-second advertisement in the Super Bowl has increased by 40 percent during the past decade, reaching $3.1 million last year. Higher pricing is expected for the 2012 game with NBC claiming a sticker price of $3.5 million for a 30-second unit.
The actual amount paid by individual marketers will vary depending on where the ad runs in the game, how much commercial time is purchased and whether the advertiser opts for a larger package that includes spots in the pre-game and/or post-game coverage.
More Advertising, More Clutter
Over the past ten years, the volume of commercial time in the game has been edging upwards even as the price of advertising has become more expensive. The Fox telecast of the 2011 Super Bowl contained 46 minutes, 10 seconds of network ads, the second largest amount in history. This included paying sponsors, commercial messages from the NFL, plus "house ads" aired by Fox to promote its own shows. A total of 96 individual messages were aired.
Longer Length Commercials
Despite the high cost of air time in the Super Bowl, a significant proportion of advertisers opt to spend extra by running longer length commercials in an effort to further engage viewers and boost return on investment. In each of the past four years, there have been at least ten advertisements of 60 seconds or longer.
By comparison, the normal proportion of long form ads on a broadcast network is about six percent.
First Time Advertisers
Typically about 20 percent of the Super Bowl ad lineup is composed of first-time advertisers, providing a steady influx of new faces eager for the recognition and brand-building opportunity of the Super Bowl spotlight. In 2011 the proportion dropped to 14 percent as only four marketers (Best Buy, Carmax, Groupon and Salesforce.com) made their debut, the fewest since 2003.
Three marketers have publicly confirmed their first-time participation for the 2012 game: Century 21, Dannon and the movie studio Relativity Media.
Small Players on a Big Stage
The flow of first-time advertisers has produced a parallel trend: an expanding parade of small marketers who invest a hefty chunk of their annual budget in the Super Bowl. In 2011, nearly one-third of the Super Bowl advertisers put more than 10 percent of their full-year media budgets into the game. 
The most leveraged sponsor in the 2011 Super Bowl was Careerbuilder. Its estimated 2011 total ad spending was $9.8 million and the Super Bowl accounted for $3.1 million (31 percent) of the amount. HomeAway (29 percent) and Salesforce.com (23 percent) rounded out the top three companies in this ranking.
Top Super Bowl Advertising Categories
Over the past decade, the Super Bowl has attracted a bevy of different movie studio, automotive and dot-com companies, making these the most populous and competitive ad categories.
Competitive message clutter within the motion picture sector is more severe than the table implies because studios habitually use their inventory to promote multiple films. Last year, there were ads for ten different films.
Gridlock: Another Auto Traffic Jam
The 2011 Super Bowl smashed all records for auto manufacturer advertising with a staggering $77.5 million spent on 18 messages for nine different brands. The 2012 game will have another glut of car ads.  Based on corporate announcements, at least eight different auto nameplates (Audi, Cadillac, Chevy, Honda, Hyundai, Kia, Toyota and Volkswagen) will go head-to-head.
With so many competing messages, it will be that much harder for any individual automaker to stand out from the pack.
How Large Is The Super Bowl Versus Other Sport Franchises?
Major League Baseball's World Series and the NCAA Men's Basketball Championship are two other high profile sporting events that attract significant interest from TV advertisers.  But how do these compare to the Super Bowl in terms of ad spend?
The World Series is comprised of four to seven games. March Madness peaks with the semi-finals and championship on its final weekend, a total of three games. The Super Bowl, of course, is a single telecast. In recent years, it has been pulling away from March Madness and exceeds the World Series in years when the Fall Classic lasts five games or fewer.
About Kantar Media
Kantar Media provides strategic advice and competitive intelligence to the world's leading brands, publishers, agencies and industry bodies, helping them navigate and succeed in a rapidly evolving media industry. This includes analysis of paid media opportunities; counsel on brand reputation, corporate management and consumer engagement through owned media; and, evaluating consumers' reactions in earned media.  Kantar Media provides clients with a broad range of insights, from audience research, competitive intelligence, vital consumer behavior and digital insights to marketing effectiveness and online influence. Our experts currently work with 22,000 companies tracking 3 million brands in 50 countries. www.KantarMediaNA.com
Author: