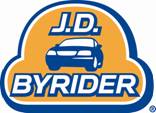 INDIANAPOLIS – J.D. Byrider, the nation's leading used car sales and finance enterprise, closed its first asset-backed securitization today. "Entering the securitization market has been our focus for almost a year, and this deal allows us to access a much larger pool of capital to fund our growth," said Steve Wedding, CEO of J.D. Byrider. "With 20 company-owned stores, we now have the critical mass needed to take advantage of this opportunity. As we continue to develop and acquire additional stores, regularly accessing the securitization market will be essential."
 
The $145 million deal was led by RBS Securities Inc. The issuance was rated by both S&P and DBRS, and the ratings on the notes ranged from AA to BB. 
 
"Though this is our first securitization, we are very pleased that the rating agencies recognized our 20 years of consistent performance and industry leadership by granting us a AA rating. We are also very pleased with the reception from the investment community," said Bill Brunner, CFO of J.D. Byrider. "Accessing this large financing market is important for our continued growth and it helps us to further diversify our financing sources. Going forward, our existing bank group will continue to fund our new contract originations, and we expect to be back in the ABS market at least annually."
 
J.D. Byrider was acquired by Altamont Capital Partners one year ago, and since that time, the company has added 13 stores and four new franchise groups. Growth is coming from company store and existing franchisee expansion, as well as the addition of new franchisees. Currently, J.D. Byrider operates 116 franchised- and 20 company-owned dealerships in 30 states.
 
The company expects expansion to continue in several markets, and those interested in acquiring a franchise are encouraged to visit franchise.jdbyrider.com. 
 
 
# # #
 
 
 
About J.D. ByriderFounded in 1989, J.D. Byrider is the nation's leading used car sales and finance enterprise. The company was founded to serve customers with special auto financing needs and to ensure that they receive the same quality service in every J.D. Byrider dealership. With nearly 925,000 consumers matched to quality, affordable vehicles and a franchise system servicing a total of approximately $975 million in contracts, the company continues its focus on reliability and customer satisfaction. Headquartered near Indianapolis in Carmel, Ind., J.D. Byrider consists of 116 franchised- and 20 company-owned dealerships in 30 states. Visit www.jdbyrider.com to learn more.
 
About Altamont Capital Partners
Altamont Capital Partners is a private investment firm based in the San Francisco Bay Area with approximately $500 million of capital under management. Altamont is focused on investing in middle market businesses where it can partner with leading management teams to help its portfolio companies reach their full potential. The firm's principals have significant experience building business success stories across a range of industries, including financial services, consumer/retail, industrials, healthcare and business services.
CONFIDENTIAL NOTICE: This e-mail message from Borshoff (including all attachments) is for the sole use of the intended recipient(s) and may contain confidential and privileged information. Any unauthorized review, use, disclosure, copying or distribution is strictly prohibited. If you are not the intended recipient, please contact the sender by reply e-mail and destroy all copies of the original message.
Author: