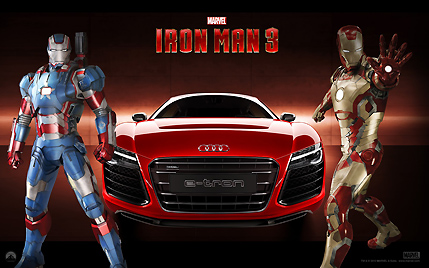 We won't say it was only because American movie-goers wanted to get their first look at the Audi R8 e-tron in action. But Iron Man 3 posted the second-biggest domestic opening of any movie, all-time, when it debuted on U.S. screens last weekend.
And the movie already has produced a world-wide gross that is higher than the total for Iron Man 2.
Disney and Marvel grossed an estimated $175 million from screenings in North America that started on Thursday night and ran through Sunday. Iron Man 3 features Robert Downey Jr. as Iron Man and his alter ego, industrialist Tony Stark; Gwyneth Paltrow as his girlfriend, Pepper Potts; and the R8 e-tron and Audi S7 Sportback as their rides, respectively.
Movie-industry analysts predicted that Iron Man 3 is on track already to gross more than $1 billion, though perhaps not to match the worldwide total of $1.5 billion for Avengers.
Audi has been promoting the movie and its vehicles in the flick with nationwide TV ads in the U.S., featuring the Stark character and the Audi R8 e-tron, as well as with an online comic-book contest with Marvel.
Disney executives told the Wall Street Journal that they believe the continuity of the story line in the Iron Man trilogy, and incorporating The Avengers as well, boosted box-office.
That continuity applies to the presence of the Audi brand and vehicles in all three Iron Man movies, too, including the third straight appearance by a version of R8 as the superhero's preferred mode of transportation – when he's not in his Iron Man suit.
Author: