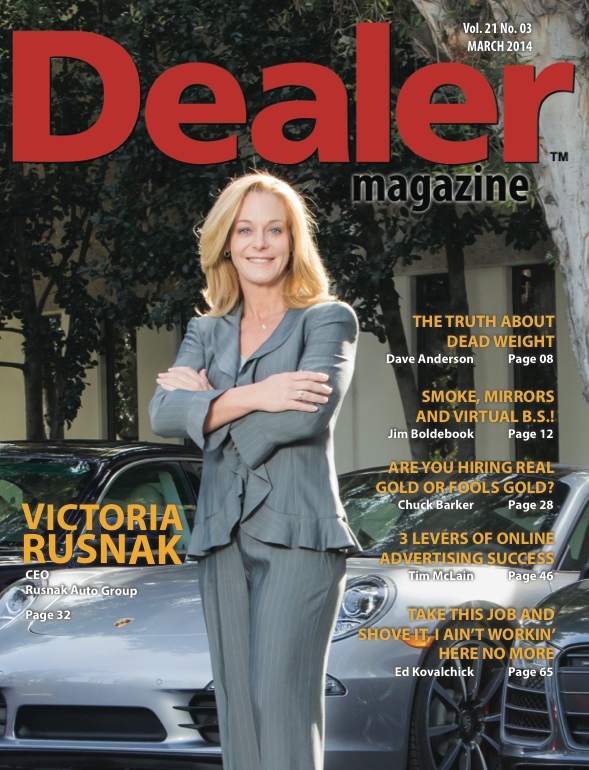 In June of 2013, Victoria Rusnak took over as CEO and president of the Rusnak Auto Group, one of the top 100 dealer groups in the country with approximately $800 million in annual revenue. Since 2009, she has served on California's influential New Motor Vehicle Board.
Her father, Paul Rusnak, started the group in the early 1960's with a small Triumph dealership which he grew into a luxury automotive powerhouse in southern California over the last 50 years. Today, the Rusnak Automotive Group consists of 14 dealerships selling 11 different brands – Audi, Bentley, BMW, Hyundai, Jaguar, Land Rover, Maserati, Mercedes-Benz, Porsche, Rolls Royce and Volvo.
Growing up in the car business, Victoria initially opted for a career in environmental law but through the process of helping her father close their Chrysler dealership in 2005, she decided to return to the family business to help carry on her father's legacy.
Dealer Magazine talked with Victoria from her office in Pasadena about implementing a more corporate structure within the Rusnak Group without losing the entrepreneurial heritage her father had built. She also is active in raising awareness about the opportunities the automotive retail industry has for women.
A Dealer Magazine exclusive interview with Victoria Rusnak
Victoria, with your father already a successful dealer when you were born in 1968, were you around the business much growing up?
I was. I literally grew up in the business. As a young a child I spent a lot of time at the dealership, especially on Saturdays, because my Dad worked so hard that was the only time I could see him.
As I got older and was in college, I sold cars and worked on several corporate initiatives like helping write the first employee handbook when I was in law school.
Throughout my early years, I had several touch points with the business, but I didn't get involved on a real professional level until 2006. I had been helping my father with some legal work for the company and that blossomed into getting involved with some of the operational aspects of the business. That put me in position to start learning the business.
You went to law school and became an attorney. Was that part of the plan, and did you always want to work in the car business?
I can't say I always thought I would end up in the car business. I went to business school at USC because I was interested in business. I guess at that point, I thought I would eventually end up working in the business.
But while in business school I decided to go to law school to learn the rules of business. While in law school at Gonzaga, I was exposed to a lot of areas beyond business. I became interested in natural resource law. As a result, I detoured a bit from business law and got a Masters in environmental law from George Washington Law with the goal of someday working internationally in environmental business law.
While getting my masters, I met the man who would eventually become my husband and that sidelined me a little. Once I became a wife and mother, I stopped working in the corporate world until my children started school.
After settling in Seattle for my husband's medical practice, I opened a small law firm specializing in business and real estate law. It was at that time I began helping my father's business on legal matters and quickly realized our business had grown large and there was little in the way of succession planning. Long story short, my family moved back to LA in 2006 for me to take a leadership role as COO.
Obviously that was a big position for someone with little retail experience however my credentials, and genes, landed me there. Not one to sit back, I quickly got a corporate team in place and enrolled in NADA's General Management Dealer Academy.
I spent a week in classroom instruction about a specific department and then return to the dealership focussing on that department between classes. I learned a lot during that year and it was integral in my ability to lead a sales organization.
At the same time you were attending the Dealer Academy, you were working as COO of Rusnak?
I was. My father had started the company as a single dealership in the 1950's. There had been a lot of quick growth in what was an entrepreneurial setting. One of the tasks I gave myself as COO was to implement a more professional infrastructure that could handle continued growth.
What areas did you begin working on?
We implemented a professional HR structure, streamlined our accounting processes, formalized our in-house advertising team, invested in new technology in all departments from phones to computers to systems. It was an intense and demanding time in my career those first two and a half years.
We've talked before, Victoria, about being a woman in this business. For a while you were a stay-at-home mom, and then you started your own business – a private practice law firm – and now you're running one of the largest dealer groups in the country.
Yes.
Of course, being a dealer's kid, you had some advantages. But you had to work hard to get into position to be where you are today. I don't think your father is the kind of person to hand over the reins to someone not capable.
Yes, I think you're right. For me, I think I have an entrepreneurial heritage and mindset with just the right amount of influence from my father – and certainly my mother who didn't work in the office but helped my dad tremendously as a networker. So much of this business is networking.
Looking back, I've always enjoyed the process of starting a company and laying the foundation for growing it. As an attorney I worked with many clients helping them write business plans and developing corporate structures.
I do that now, only on a bigger scale. The same principles apply.
Does that experience give you credibility when you talk to young women who might be in a similar situation about careers and finding ways to creatively position themselves even while taking time out to raise small children?
Without a doubt. You know, one my bigger initiatives in the car business is to help create opportunities for women. There is such a lack of women in the retail side of the car business. Much of that is because of the many barriers that need to be broken and stereotypes we need to demystify about the business.
There are so many great earning opportunities working at a dealership with a wide variety of positions. However, the history of the business is so male-dominated it's been hard for women to break through.
Certainly, women like Mary Barra who is now running General Motors, give a lot of credibility to women in general in positions of leadership. Unfortunately, on the retail side, women haven't been able to make the necessary changes. Of course, there are the forerunners in the women who fell into it when their spouses passed away – and who have done great job. We just haven't seen enough women on the retail side.
I think I'm uniquely positioned – as an executive, professional female, a mother, and as a daughter to an automotive patriarch if you will, to carry the torch in helping spread the word about the opportunities for women in the automotive retail industry.
Slowly but surely, as I attend various manufacturer meetings we're having more conversations about this topic.
I'm looking forward to doing that.
What are some of the initiatives you're working on to do that?
Awareness is probably the biggest area we need to work on. I think a recent study shows that women hold about 18% of the jobs in the automotive retail sector today. In our own organization of 750 employees, it's 26%.
I recently held a roundtable of women who work at Rusnak because I wanted to hear from them how they got into the business and what their ideas are for recruiting other women into the industry.
It's important to note this is not about leveling a playing field, though. It's about recruiting employees to help us provide better service to our customers. Research shows that more than 50% of all car buyers are women and that many of them would prefer a woman sales person.
Are you going to continue those roundtables?
Absolutely. I'm calling them, "Women in the Car Biz." It was an interesting lunch roundtable. At the next one, we're going to talk about mentoring – not just women mentoring women, but ways we can have men mentoring women.
It's something we're focused on. We recently won an award and were recognized by the Women's Choice Awards for our efforts in making Rusnak a female-friendly organization.
Again, this isn't about women's liberation or anything like that. It's about sound business principles that work for us. For example, the last four years, our top-selling associate in our Audi store has been a woman. Every month, she has been the top-selling salesperson.
You're also in the middle of re-branding the Rusnak Group.
We are. We place a high premium on listening to our associates and our customers. We did an internal survey with our associates and then we surveyed our customers and the people who decided not to do business with us.
We decided we needed to talk with many of these people face-to-face, so we conducted a series of focus groups to learn what we're doing well and what we need to improve.
There were women in the focus group who indicated we are doing a good job in creating a woman-friendly environment in both the sales and service departments. I was happy to hear that because when you ask the question, you sort of hold your breath wondering what kind of answer you'll get.
The industry seems to be making some headway. A few a years ago with Tracy Jones being elected as chairman of NADA and last year with Jenell Ross running AIADA (American International Dealers Assn.).
True. I met Tracy at one of my first manufacturer's meetings and she has been somewhat of mentor to me with her taking over the dealership from her dad. She's always been so supportive and kind to me.
It's a process. You really have to stick it out in the trenches to earn the respect of your peers and the manufacturers – whether you're a man or a woman. But it is a little more difficult for a woman in this business.
One of the biggest challenges for dealers today with all of the compliance issues and regulations, is transitioning to being a more professional – or corporate – organization. Walk us through your game plan and how you're making those changes at Rusnak.
I think my education and experience as a business lawyer helped. Often times, it's a fresh pair of eyes that is so important.
When I came on the scene here, it didn't take me long to ascertain that for us to continue growing we were going to have to implement a corporate structure.
I saw that as being a competitive advantage for us over smaller dealers – especially in California, which is such a heavily regulated state. With technology as it was becoming more important to running the business, we had the resources to invest in the right solutions.
I adopted many principles from a professor from UCLA, Eric Flamholtz, who had written a book with Yvonne Randle called, Growing Pains – Transitioning from an Entrepreneurship to a Professionally Managed Firm. We engaged in organization wide strategic planning and leadership development, as well as began to grow a more team oriented culture.
Between these initiatives and the development of a more professional practices and sophisticated software, I believe we were able to navigate the corporate downturn much easier than it could have been.
I can't prove that, but I do believe that.
The truth is, independently owned dealer groups like ours will have to continue to evolve and grow in this area if they want to be able to compete with the public dealer groups.
You do, as a private company, have some advantages over the public groups, though.
You're right. I just left a meeting where I made that exact comment. It's a competitive advantage for us in that we can be more flexible and nimble as a private company while still operating at a more professional level.
My advice to smaller dealer groups is to jump in now and start bringing some of those corporate structures or professional practices to the organization.
What are your biggest challenges today?
From an industry perspective, I think there are two. One is recruiting and retaining good talent – whether we're recruiting women or not. When the economy went south – a lot of people left the car business, and I don't know that we've been able to regain some of that talent. People saw how hard the industry got hit and that hurts with attracting good people from outside the industry.
A second challenge is the manufacturer-dealer relationship and specifically the facility requirements. I spend a lot of my time working cooperatively with manufacturers to come up with solutions that grow our volumes and provide for a better customer experience, while still retaining profitability for a healthy growing dealer group.
I'd say at least 40% of my time is spent on facility and construction issues negotiating with architectural and construction partners – both our own and the OEM's.
As we're talking, I think we can add a third challenge – all of the consumer protection regulations that dealers manage today. I wished the consumer could see the level of regulation and effort we put into being compliant. The automotive retail space is one of the most regulated and compliant industries in the country. We work hard and spend a lot of resources in making sure our customers are treated fairly.
As you look at the future of this industry, Victoria, what are a couple of areas you think automotive retail will change in the next few years?
The sales process will definitely change. When you combine the increasing pressure on the finance department and the push to be able to conduct the transaction online the sales process is going to change significantly.
I can't tell you exactly what it's going to look like right now because it's still developing. It might not be the sales staff, then the sales desk and then F&I like it is today. We'll probably have to deal with customers in multiple ways.
It's not just in sales. Some of the initiative the OEMs are getting ready to roll out with advanced technology are going to streamline the service process.
I don't think the industry is really looking at these two areas yet. We're talking about them but when you have an industry where certain processes have been ingrained for so long, it's hard to think outside of the box.
Growing up in the business, you obviously had the opportunity to watch your father build one of the most successful dealer groups in the country. What are some of the things you learned from him?
That there is no free lunch and you have to work hard for everything you get. It is a good question. I was raised by immigrant parents – my father came here when he was 14 years old and nothing was free for him.
Obviously, I led a very fortunate life when I was growing up because of my father's success but I have to say, I had to earn everything I got – whether it was my education or working in the business, and that was good for me.
I also learned that to be a good leader you have to be a risk taker. You have to surround yourself with people who have the autonomy and ability to do their jobs. You also have to have patience.
Recently you ran for office for the 41st assembly seat in Pasadena in 2012. Was that a result of your serving on the California New Motor Vehicle Board?
Actually, no. During my young adult life, I've always been interested in politics and at one time my dream job would have been to be ambassador to a foreign country. When the opportunity to run came up and with the support of my family, decided to go for it.
When I look back at it, I'm grateful for the opportunity. It was a wonderful experience. It taught me a lot and helped me get that out of my system.
Even though I didn't prevail, it made me a stronger person and that's already translated to my personal and business life. I was fortunate to have had the ability and courage to do it.
The appointment by Governor Schwarzenegger in 2009 to the vehicle board was an honor. I was reappointed by Governor Brown and recently was elected vice-president of the board. It's an opportunity to give back using my experience as an attorney and head of a large dealer group.
Author: