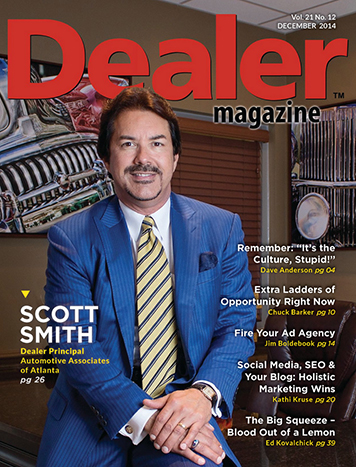 Scott Smith is the Owner of Nissan of Newnan, Nissan South Morrow, Nissan Union City, Kia Union City, Kia Cobb County, and Toyota Union City. The six dealerships he owns are all at or near the top in sales efficiency and service retention in the state of Georgia. Two of his three Nissan dealerships are in the top five; his two Kia stores are one and two – and have been for four consecutive years. Meanwhile, his Toyota dealership – which was in last place when acquired in 2010 – is number one in both sales effectiveness and in service retention in Georgia.
Smith started selling cars at age 20 and bought his first dealership – a Nissan store – when he was 30 years old with the help of the Ken Page Automotive Group. He and Page are partners to this day.
Dealer magazine had the opportunity to speak with Smith. He shared his secret for creating a culture in each of his stores that expects – and demands success.

An exclusive Dealer magazine interview with Scott Smith.
Scott, when did you know you wanted to be a dealer?
I'm a car guy and it's in my DNA. Early on, I knew I would be successful. Both my parents were Phd educators. Early on my father taught me the value of having a subsidized income. Basically, he flipped antique cars.
When I was 14 and 15, I did a full restoration of a Datsun 1600. It became a show car. I bought it, restored it, and doubled my money. After that, I was hooked. While I was in college, I took a year off to sell cars but planned to return and get my MBA. But then, as I saw the other guys around me and the type of money they were making, I realized I could do much better.
Those lessons and tools I learned early in life helped me become a leader very early. Within that first year, I began working in the finance department learning how to structure deals and then became the finance director for all three stores.
Early on, I also saw that the car business was a stimulating industry. I love the fact that I meet new people every day; there's new product constantly, and new technologies. It's new challenges and it's exciting.
As I was working my early years for the Ken Page Automotive Group, I learned a lot of valuable lessons from Ken Page and his father Bill Page Sr. They taught me the ins and outs of the business, and I owe a lot of my success to them.
You have a growing organization. Are you looking for more stores?
Because of our success we're in a good position to add stores. I have a belief that we need to sell the brand first, and we manage that way. We've been able to add a couple of new open Nissan points because of our track record.
Several dealers manage to the balance sheet – which is good – but I believe in creating a culture that focuses on the sale. Everything starts with the car being sold. Because of our culture, every one of our six stores are at the top in sales efficiency and customer retention in the state of Georgia.
Our Toyota store was dead last in the region when we acquired it in 2010. Now it is number one in sales efficiency and service retention. Two of our three Nissan stores are in the top five. Our Kia of Cobb County store had been number two years in a row but has been second the last two years to our Kia of Union City store.
I want future challenges and opportunities. The manufacturers constantly are bringing us new opportunities because of our success. Nissan, who is a good partner for us, wants 10% market share in the U.S. in the next couple of years. Both of my stores are at 20% market share this year. I started with Nissan so that's where my roots are. I am very excited about the new management team at Nissan North America and the direction Nissan is heading. We are looking to add more stores and will.
That level of success is intriguing – especially across that many stores. How have you built that?
First of all, it's about being engaged. Other dealers reach a pinnacle in their careers and then take up golf or another hobby. I have no hobbies. Other than my family – which includes four great children – I've committed my life to the auto industry.
I've learned success is not owned – it's leased and the rent is due every day. I look around and see a lot of stores whose dealers are disengaged. I work hard to keep my fingers on the pulse of the group. It helps us to head of potential problems at the pass and it helps us maintain our intensity. I come in every day and try speak to with as many employees as possible – from the porters to our managers.
I try to lead by example by staying upbeat and positive while demanding results. We also recognize excellence. Doing that means I can – with credibility — call out in confidence when someone needs to be reprimanded and moved back on track.
I have one computer in one office where I may spend 15 minutes a day in. I don't have an office at each of our stores. We do have offices in them but they are mainly for meetings when the manufacturer comes to town.
This is probably the biggest key to my success. I believe in the 'Entrepreneurial Spirit' that a real 'Car Guy' brings to a dealership is invaluable. My office is the showroom floor, service department, and the meetings with my managers. The money might be counted upstairs in an accounting office, but it's made looking at the customer in the eye; looking at my employees in the eye, being in their heads, knowing what's going on.
You've had three open points – all of which have turned out successful. How have you been able to replicate that success as you add new stores?
You're right. Our three open points have been very successful. We jump right in immediately and put the right people in place. We'll move people from an existing store into the new one because I believe that helps generate the energy and consistency necessary for success. They know the process and what's needed to be successful. Consistency in everything breeds results.
We make sure we have a team that is diversified and matches our customer base and we're aggressive in every aspect of the business. We work hard to create that energy. You can't put a price tag on the environment. The secret there is to have happy and satisfied employees. Several stores have a revolving door of employees and just change management as often as they change underwear when things aren't working.
I shop the competition each month and maybe one in 10 has that energy level that attracts employees and customers. A lot of these stores are drab and are missing direction. It's what I call the CFO syndrome. While CFO's are a necessity in helping us follow procedures, letting them have control in the sales department contributes to a lifeless culture – a salesperson becomes just another cog in a company and are just a vehicle away from having their legs knocked out from underneath them. And they know it.
You've managed to avoid that sort of culture.
If I walk into one of my stores and don't feel that energy, I work to recapture it immediately. I find out what the problem is and fix it. We don't let it continue. We get out ahead of that cancer – whatever it is — before it spreads.
You cannot put a price tag on having that entrepreneur in the dealership who has built the right team, putting the right sales people and the right managers in place, building it from the ground up. The synergy of that is incredible.
Our Culture and 'Belief System' is all based on being 'Truly Exceptional' and providing the customer with the best possible product and service we can deliver. It is the customer that pays us for the job we do. I try to catch people doing things right! In our company, "Your attitude determines your altitude."
After 20 years in the Atlanta market, our reputation precedes us. That allows us to attract top talent from the outside. But we also grow from within. More than 50% of our staff has been with us more than 10 years. For me, I measure my success not just through the lens of my career, but also in helping others realize and fulfil their dreams.
So we do a lot of promoting from within. Our service director for all of our stores started as porter and has been with us more than 20 years. We've had more than 30 employees move up into general sales managers, general managers, and finance management roles. These things speak to the type of environment we've created here. And it shows that we value loyalty above all else.
How does that type of philosophy affect profitability?
Of course, we all want return on investment. But you can't save your way to profitability. All of my stores are above the industry average. We're going to sell more than 14,000 vehicles this year and generate more than $350 million in revenue.
Now, it is a moving target especially in today's digital age and we are on top of that like there is no tomorrow. It's not just about selling cars, it's about driving traffic. So we have business development centers in each of our stores to help drive that traffic. They are centralized and focus on both sales and service. Each of our stores also has a digital department.
We also bring in consultants to help train our people. We want to make sure we are performing in every way and staying ahead of the pack in customer satisfaction.
Your stores have won numerous awards.
Yes, we have. For the last 15 years, we've won the President's Award for Kia almost every year we've been in business. It's the same for Toyota.
Our Nissan stores have won the Circle of Excellence awards almost every year. That takes into account customer satisfaction, service retention, and facility.
We invest a ton of money in our facilities. We have a full time maintenance team that is cleaning and updating all the time. We're also painting constantly. I want stores that look and feel clean. All of our ceiling tiles are new, the tile grout looks clean, and the stores smell crisp. It's part of the buying experience. Customers come in and see a clean, crisp facility and then see employees with smiles on their faces.
We're also number one in the state of Georgia for auto policies with Allstate since we've created the ValueMax Rental 400+ units.
How many employees do you have?
Across all six of our stores, we have 570 employees. We greatly value the 'TEAM' and the individuals who helped build this exceptional company. They are our greatest success and assets. From the GM's, Fixed Directors, Accounting directors on down, they do an exceptional job.
What does 2015 look like for your group?
As I mentioned, we're targeting 14,000 sales this year. For 2015, our objective is 15,800, and I believe we'll hit it. We have the newest Nissan point in the region in Newnan, which opened on June 1. It's already number one in the region on meeting sales objectives. We're at 330% of our sales objective in the first four months of the store being opened.
Again, it goes back to our team. I took people from some of our other stores and promoted them in the new Nissan store. There is nothing like young, raw ambition — giving people the training and the resources to fulfill their dreams and watching them do that.
I value our people above everything. We accentuate their positives and help them work through the areas they need to improve. It's about leadership. I require each of my managers to replace themselves. They have to be able to train and mentor the people they are leading.
Let's talk about the Toyota dealership that you acquired in 2010. It was a troubled dealership, right?
It was. It was dead last in the region in every category. It had seven previous owners and had been owned by Southeast Toyota twice. In four short years, it's become the number three Toyota dealership in the district and we've more than doubled our sales as well as our parts and service sales. It's become number one in sales and service in the state and number one in service retention in the district.
We've accomplished this by putting the right people in place – doing the things we've already talked about. Also, we embraced the community when we came in, and the previous owners had failed to do that. We've raised more than $300,000 over the last few years for various charities – Sisters of Choice, Helping Hands, and others. We hold concerts regularly with a local radio station to help raise money. We do it consistently and we do it well.
With Nissan, we've been in the south Atlanta market for 20 years. Just the other day, we had one of our first customers – a Delta pilot – come back in and buy his seventh car from us. I was the sales guy 20 years ago that had sold him his first car, and he's returned every time.
We also have a gentleman who lives in Jacksonville – five hours away who bought a vehicle from us. He drives that five hours each time to bring his car back to get serviced by us – that shows how we approach treating our customers.
What do you think the next three to five years will bring?
What won't change is that people will still sell to people. What I don't know is the impact the electric vehicle will have on our industry. Will it remain a niche product or will it go mainstream? My concern is the effect it could have on profitability it becomes a mainstream product.
Looking at sales, I think the next three years will continue to be strong. I'm confident the next five years in the industry will be successful for the dealers who stay engaged and close to their business. More people own cars that are 11 years old or more. I think dealers are prepared today and that we'll continue to set sales records for the years to come.
Author: