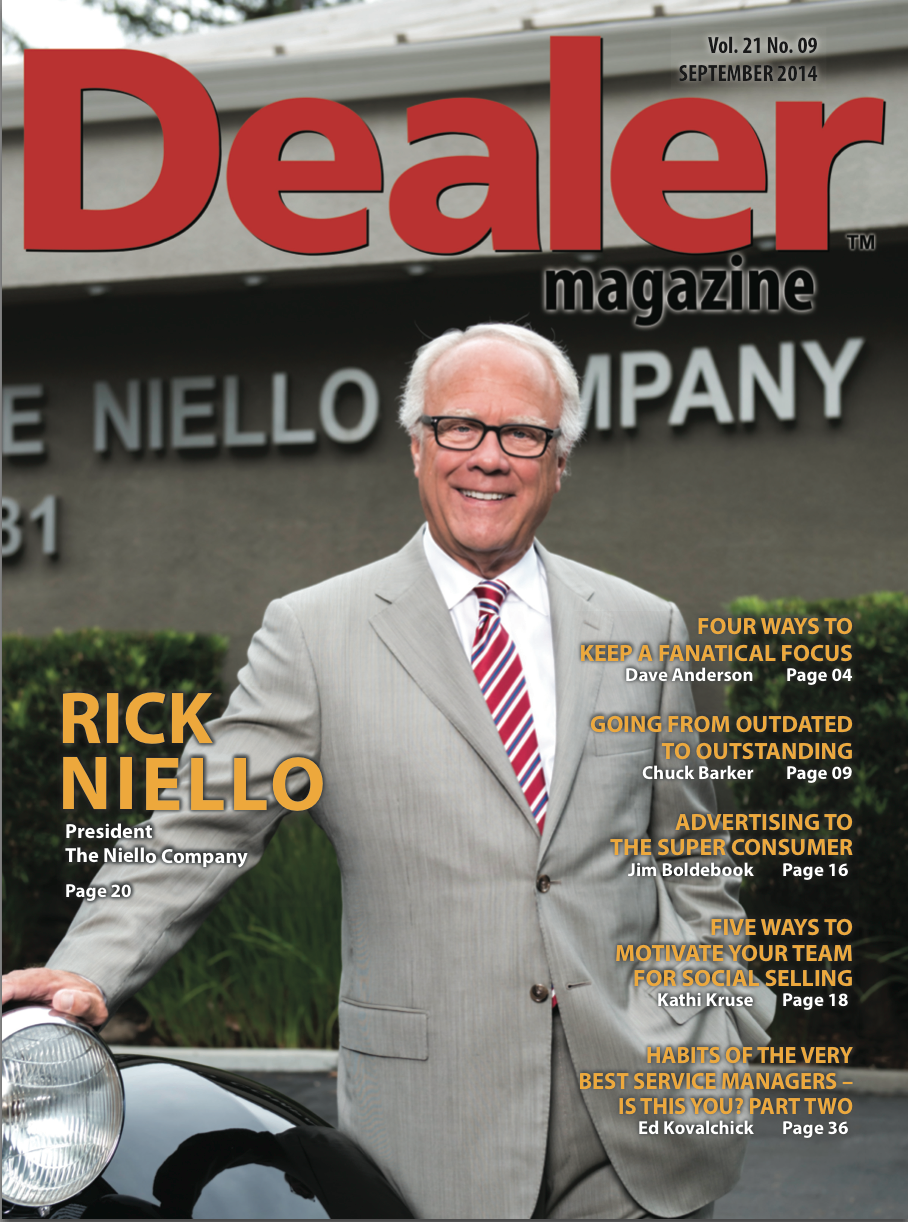 Rick Niello is known as one of the automotive industry's true gentlemen – a leader with character and integrity.
As President of the Niello Company, Rick has built an organization that is known for being one of the best dealer groups to work for in the country. In 2013, he was one of Time Magazine's Quality Dealer of the Year nominees in addition to being named Sacramento's Dealer of the Year.
The Niello Company roots back to 1921 when Louis Niello, Rick Niello's grandfather, opened a Packard and Pierce-Arrow dealership in San Francisco.
After a small hiatus following World War II, Niello's father, Richard Sr., bought a Volkswagen store in 1955 in Sacramento, CA.
Rick took over as President in 1995 and alongside his brothers, David and Roger, have built the group into a powerhouse in the Sacramento market with 13 dealerships selling Audi, Acura, BME, Fiat, Infiniti, Jaguar, Land Rover, Maserati, MINI, Porsche, and Volkswagen.
In conversations with Niello, it becomes quickly apparent how important people are to him – employees and customers alike. All 700 employees embrace the concept of not tolerating an unhappy customer. It's one of their driving core values – embracing the customer enthusiastically.
Niello regularly has lunch with an employee – whether it's a General Manager or an employee that washes cars, using that time to solicit feedback about the company. It's one of the many great ideas Dealer magazine learned from our interview with Rick.
An exclusive Dealer magazine interview with Rick Niello
Let's start at the beginning. Your family has been in the business for a long time, correct?
Yes. The original Niello Company was started by my Grandfather in 1921 when he became a Packard and Pierce-Arrow dealer in San Francisco. That continued until the '40s, when both of the brands demised.
My father, who was in the Navy during World War II, went to work for General Motors in San Francisco after the war.
In 1955, he had an opportunity buy a Volkswagen dealership in Sacramento with a partner. They amicably split and went their own ways in 1961. Over time, my father added Porsche and Audi. So that's the genesis of how the Niello Co. got its start.
There was a time lapse of a few years between the Packard Pierce-Arrow dealerships and the VW store. But we generally refer to the Niello Co. as starting in 1921.
There's a great picture of your father in his navy uniform on the website, tell us about him.
My dad is 92 and incredibly active. I would describe him as an incredibly interested and motivated student of the business. He loves to visit the stores and he especially loves the people aspect of the business. And he drives around in a convertible Porsche 911.
I do have two partners in the business. My brother Roger who is active in the political world, a California assemblyman and a Director of Sacramento. He currently is the President of the Chamber for the Sacramento region.
My other brother, David, who is the company's Vice President, runs the Infiniti store in Concord, which is the one store we own outside of Sacramento. He's involved with all of my decision making for the entire group.
We also have our CFO Martin Camsey, who's really more than a CFO. He's involved operationally. We have enough moving parts and he's instrumental in helping to manage all of that.
Did you always want to be a car dealer?
Well, after graduation – I went to the Menlo School of Business – and in those days we had that little thing called the draft, so I joined the reserves. During my Army time, I had some time to reflect and decide what I wanted to do.
I didn't really know that much about the car business but the people aspect of it intrigued me. So while I was in the Army and living in San Francisco, I went to the VW dealer there – Carlsen Volkswagen — and told him what I was doing and that I wanted to apply for a job. This was about 1969 or 1970.
I worked there for four or five years and really enjoyed it. So I got my feet on the ground outside of the family business.
I had this thought that if I go to work for my father and did well, people would think "Of course. What do you expect? He's the boss' son." And what if I didn't do well? They would think the same thing. I figured it was lose-lose proposition. But it worked out well for me starting with a different dealer.
After your time at Carlsen, you then began working for your father?
Yes. I was working in F&I at my father's VW store when we acquired a BMW franchise in the '70s. I worked as the Sales Manager there for a while, and then I became the General Manager at the Porsche Audi store, in 1976. That was my first general management position. We were a much smaller and different company back then.
Today we have 13 dealerships along with the collision center and our management offices with 700 employees. We're also building a facility for our classic cars.
I never really envisioned getting this big. But when I took over the company about 18 years ago, we didn't really stand for anything. We had a lot of product but no real focus. I determined the Niello brand would stand for luxury, so we got rid of the dealerships whose brands did not fit that message, and worked to acquire the ones that do. That's really paid off for us. We can speak with one voice to the market.
What is your management structure? Is it centralized, or do the dealerships have a measure of autonomy?
Our General Managers aren't micro-managed by any stretch of the imagination. We do keep in close contact with them via frequent meetings. We do get busy at the management company, so we do have to discipline ourselves to get out and visit the stores.
We do have this thing that I like to call a Report Card that comes out every month in the form of a financial statement and we do spend a lot of time poring over those statements.
We do have centralized control over the dealerships. In addition to the General Manager, each store has an Office Manager that reports to the management company.
But we aren't centralized with payroll or banking. Each store has their own banking relationships. There is close accountability over the stores, though.
The management company has 20 employees and has legal, IT, clerical, and administrative. I don't think we could run all of our operations without this type of approach.
One other area our management company helps in is screening all of the various vendors in the market place. We don't want our General Managers tied up with talking to vendors and trying to determine which solutions to use.
Most of our General Managers go to 20 Groups, but we want to be careful to not reinvent the store every time they come back with what may be a great idea, because there are a lot of ideas – good ideas.
One thing we've learned is that a good dealership can make almost any technology or solution work for them.
I think you're right. With the right people and the right leadership, the odds of success are quite a bit higher.
I think the theory of KISS in the technological world has merit. (Keep It Simple Stupid)
It's interesting as we talk to different dealers to hear the different philosophies and structures of each group.
We have our core values, our mission statement, and our vision; those are posted at each store visible to the customers so they can see what the Niello Co. is all about. And we live by those values. We don't just preach them. We are focused on our employees and on our customers.
From the outside looking in, especially with four of your 13 dealerships receiving the award of being some of the best dealerships to work for in the country, it seems like those values are certainly more than nice sounding sentences on a poster in your stores.
We are proud of that – some of our stores are multiple winners. That's a tremendous recruiting and retention tool. We're the only ones in the region to have won it, so it does provide us with a great edge.
What's your secret to developing that kind of environment?
Well, I'd have to go back to what we were just talking about – our core values, our mission statement, and our vision. Our employees have very high buy in to what we're doing at Niello. We have very little turnover.
We communicate all the time with our employees. I always have lunch with an employee – whether it's a General Manager or a person who washes cars. I try to spend as much time as I can with our employees. One way I do that is to take advantage of my lunch hour. It ends up being a positive experience for me and I believe, for the employees.
Is there one thing that you've learned or something you may have changed as result of one of your lunches?
I think that happens often because they provide a great opportunity to receive feedback from an employee in a specific department. Most of the time, we get fantastic ideas and that helps us be a much stronger company.
Rick, every company has a vision statement and a mission statement. Your success has to be driven by more than just that.
Here's an example of how our mission and vision drive what we do – We absolutely will not tolerate an unhappy customer. We treat our employees the same we treat our customers – there is no distinction when it comes to fairness or treatment.
We will not have an unhappy customer. In the Sacramento region, we have 12 dealerships that offer basically the same type of vehicle to the upper segment of the market. We look at it as providing our customers with different flavors of luxury.
If one of our customers has an unpleasant experience, it doesn't just indict that one store. The Niello name is heavily associated with all of the dealerships, so that bad experience gets translated across the entire company.
So our General Managers know, there is not one General Manager in this company that is going to deprive another one of the stores from potential business.
There is no room at all for an unhappy customer anywhere in the company. They know each other, they communicate, and we have to make sure the Niello message is loud and clear.
I talk about it a lot and we hold our people accountable. It filters down through the organization.
So, what is your mission statement?
I'm glad you asked. Every employee has a laminated card in their wallet with this information. It is: We are committed to providing distinctive automotive products and exceptional service while treating our customers and employees with unyielding integrity.
Our vision statement is: To be Northern California's leading automobile dealer for the products we represent. We're not always there from a volume standpoint, but we are trying.
We've talked about our core values, and these are critical for us. We are a team; We respect each other; We encourage self-improvement; We hold high expectations; We embrace change; We enthusiastically value our customer; We support our community.
How do you make sure your customers are happy?
To start off, when a customer buys a car from us we want that experience to be memorable and smooth. We want to develop that relationship between them and the sales and service departments at the dealership so it becomes a lifetime relationship.
We want to make sure experience is seamless from department to department. Also, we want it to be seamless from store to store. So each dealership operates with the same philosophy – total focus on the customer and developing that relationship.
Our people do very well with that. I've had General Managers call me occasionally wanting to know how to handle a specific customer issue. Often, the answer is to look at the values – enthusiastically embrace the customer. That answers a lot of questions on what we should do.
The seamless experience is getting a lot of attention in the industry today. Is there anything that you're doing that's unique to create that seamless transaction process today?
You're right. Reducing the transaction time is an area a lot of people are talking about as way to create that seamless experience. Obviously, we all would like to bring that time it takes to buy a vehicle down. The challenge for us is the complexity of vehicles we sell. We sell either Japanese or European vehicles – no domestics.
The complexity of the European vehicles, especially, is daunting for the customer. During the delivery process, it can become a technological overload for them as we try to explain the features.
So we encourage our customers once they purchase the vehicle, to drive it for a week or so and make a list of the things that may be giving them trouble and then bring it back in for us to help explain and teach them how to use those features.
Now, about the specific mechanics of the sales process, we have certain things we have to do from a compliance perspective. But I think, letting the customer know that we know their time is valuable and that we will try to get them in and out as quickly as we can. Being sensitive to that, and letting the customer know that, goes a long way.
Having the customer drive the vehicle for a week and making their own list of the technological features they want to know more about or learn how to do is a novel idea.
What we've learned is that as we're explaining all of the technological features of the vehicle to our customers, it becomes overwhelming to them. Really, what they're thinking about is getting the vehicle home, driving it, and showing it off to their family and friends.
This follow up visit really has become a critical part of the entire transaction process for us.
What's your favorite part of the business?
I love cars and enjoy all of the ones we sell, but what I like most is the fact that I'm not in the car business per se, I'm in the people business. I spend 98% of my time on people issues and that's what I really enjoy.
I'm 67 and I love the people component and can't imagine not being in that arena.
Let's flip that question – What's the most challenging part for you?
The most challenging part I think, is probably the recovery period of our market. We're in the Sacramento and in close proximity to the Bay area. And we are close to Silicon Valley, which might be the strongest market in the country.
But in Sacramento, our recovery has been consistent but not as quick or strong as areas like Silicon Valley or some of the areas in Los Angeles or Texas.
For us, the challenge is in the market demands and making sure we have enough of the right inventory – both in new and used. We always seem to be a little short on the new side.
For the brands we sell, the inventory is getting more complicated as the number of vehicles on each platform continue to proliferate. But finding enough vehicles to fill those holes is becoming more challenging.
But I don't find any of the challenges not to be fun. Of course, we have the day-to-day issues that are unexpected and we deal with them. I enjoy what I do so the challenges aren't really challenges for me.
As we're talking about this, one area that probably has become the most challenging are the facility requirements from the manufacturers. Especially with the cars we carry, the manufacturers feel the same way, and that has led to expensive facility demands.
At our management company, we have a Property Manager today that manages the architects and contractors to make sure we're complying with what the manufacturer wants.
Every dealer I talk to say the facility issues are the most challenging aspects they have to deal with today and believe they are overwhelming. As soon as you complete one, the manufacturer comes in with another demand or look. It's terribly expensive and can get bothersome.
I would agree with them. I think we're seeing some of that play out as some dealers are exiting the business and selling their businesses. Retirement is not an option I'm interested in, though.
For me, I think any industry or business has its own set of unique challenges, though. Welcome to the business world.
I can't imagine doing anything else. We're not looking to sell, but are putting together deals to buy more stores that I can't give you details on now. We did have Maserati for a number of years, and were recently approached to take Fiat, which we did, and have done very well with it.
We are centralized in one market – except for the store in Concord. We do have a very strong position in a nice-sized and stable market. That may be one of the most important aspects of the Niello Co.
Often, I'll have friends ask how I can do business in California. I tell them it's what I know and that I'm happy doing business here. It's where I grew up and Sacramento is a great area.
Talk to us about your classic car collection.
We recently purchased a 14,000 sq. ft. facility to house the 25 classic vehicles we currently have. We have a couple of gentlemen that research and restore the classic vehicles we find.
We do have a couple of Packards to honor my grandfather's business. Right now, we're looking for a Pierce Arrow to add to the collection.
The building will be simple but functional with catering and restroom facilities. It will also be used for events – such as company events or charitable organizations.
We've held for the last 11 years what we call the Niello Concours at Seranno. We draw a crowd of 5,000 people and last year had an inventory of over $100 million worth of classic vehicles.
It comes right on the heels of the Concourse at Pebble Beach. The judges from there come to our event and judge our vehicles. We also do an event there at Pebble Beach, where many of our manufacturers and customers come to. So it's a good marketing arena for us.
Thank you Mr. Rick Niello for taking the time for this interview and sharing your success with our readers.
Author: