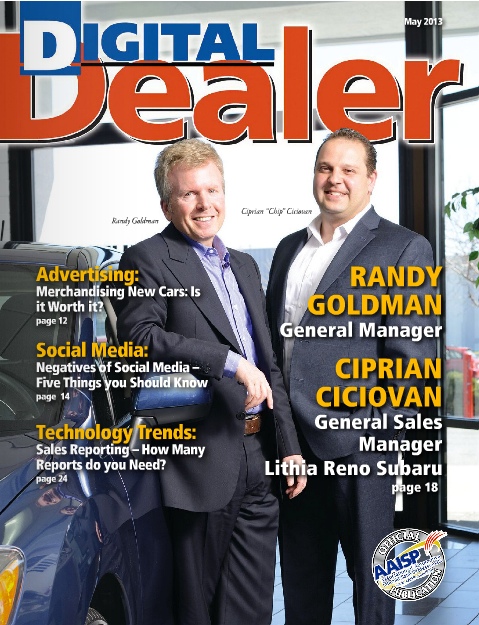 Lithia Reno Subaru was the number five Subaru dealership nationwide in 2012 in new car sales volume among more than 600 Subaru franchises. The dealership saw an increase of 36.2 % in new car sales last year,
Internet sales for the store represented 44% of their total sales for 2012 — up 37.8% from 2011. Overall sales for 2012 were more than $54 million, up 26.7% from 2011 sales of $43 million.
Randy Goldman, general manager, and Ciprian "Chip" Ciciovan, general sales manager, recently discussed with Dealer magazine the secrets to the dealership's success.
Lithia Reno Subaru's Internet and overall sales numbers keep rising. What is the formula for your success?
Randy: We foster a sales culture at this store. We've created an environment where it is as easy as possible for the salespeople to sell cars. That really is what sets us apart. It's hard to create a sales culture. But, you'll find that stores that sell a lot of cars have a sales culture.
A key component of our sales culture is this: We always say 'Yes' to the customer. We won't pass on a new car deal. If the salespeople believe that management is going to say 'Yes' to the deal, you get more sales. This is how you create a sales culture.
Manager involvement in the deal making is another key element of our sales culture. It starts at the top with the general manager making sure that the salespeople know we're going to backstop them and they are not alone. We're not just sending them out there on the floor with us sitting behind the curtain like the Wizard of Oz. If they can't make the deal, they know that management is going to step up and help them make the deal, no matter what it costs us. As managers, we do a good job of meeting and greeting customers, and helping the salespeople reach a deal, whenever they need our help. That's just another way of saying we all work together as a team – one big extended family.
My General Sales Manager, Chip Ciciovan, has been here a little over 10 years. We work so well together, managing this dealership, I like to say: I'm the "G" and he's the "M."
Another important member of our team is our office manager, Cindy Costello. I don't want someone who just says 'yes' to me. I want someone to tell me what I need to know. She does that.
My sales managers and F&I managers have heart and passion for their work. You don't have to know it all, but you have to have heart and passion. And, everyone who works at the dealership in every role is supporting the salespeople.
We're not angels, but we are very proud of this and we say this to our managers all the time: Our dealership is like a second family. We are responsible for over 60 employees here. We need to take our sales seriously. If we don't make it easy for the salesperson to sell the car and for the service person to take care of the customer — if they can't make a living — they're not going to be able to support their families. Sales is the heart of the store and when you are selling cars, it's only natural that you're going to have growth in all the other departments.
Another key element of our sales culture is really a no-brainer: We answer our own phones. Phones are a big deal here. Today, with everyone having cell phones, you don't have friends or family members calling the main number of the dealership. It's only customers calling the store today. So who is best to answer the phone? The salespeople and our sales managers! We don't need an operator. We don't transfer calls back and forth. Answering our own phones is what separates us from dealerships that don't do the volume business that we do.
Lithia gives us all the tools to make the dealership successful. Then Lithia lets their general managers run their own stores with their own personalities. It's a great recipe for success.
What is your biggest challenge?
Randy: Our biggest challenge is saying 'Yes' to every customer and still making a profit. Obviously, we're in business to make a profit. But, we don't make a lot of money per car.
So, in always saying 'Yes,' you are going for volume?
That's exactly correct. Once you enter that world of volume, it's hard to say: "Let's sell fewer cars and make more money.' It's fun when you are busy. The most fun we can provide for our sales staff is to help them make money by making a deal. We treat our sales staff with respect and dignity. That's a given, but everything else doesn't matter if they can't make a living. We don't just make all the deals for the customers' sake; we do it for our salespeople. In saying 'Yes,' we're taking care of our salespeople. That's how we prove that we care about them; everything else is just words.
We also have another challenge — keeping new salespeople. About half of our crew has been here more than five years, but it's always a challenge to get young salespeople through the first few months of selling, when it can be discouraging and the learning curve is steep.
Randy, how did you get into the business?
Randy: I've been in this business for 30 years. Sales has always come naturally to me. After I graduated with a bachelor's degree from Sierra Nevada College, I came to Reno and have been in the car business here ever since. I joined Lithia Reno Subaru as general manager in 2001.
How much of your business is Internet sales?
Randy: Internet sales for the store represented 44% of our total sales for 2012 – up 37.8% from 2011. The Internet is growing like crazy. I meet almost every customer that comes onto our showroom floor and I'd say that seven out of 10 customers have visited our website first.
We don't have an Internet Director. We have an Internet department with three Internet salespeople and they also work deals on the floor. This is a work in progress and we're growing and learning. In total, we have 18 salespeople.
How do you manage your sales leads?
Chip: ELEADS is our CRM. We've had it for eight months. It's a great tool. It helps us tremendously with follow-up and it's better than anything else we've had before it, when it comes to customer lead management.
It helps us be very responsive. We try to respond to Internet leads in less than 30 minutes and we've been very successful in accomplishing this. We follow up intensively for two weeks, and after that, we follow up as long as possible. For a lot of people, the buying process for an expensive item sometimes takes three to six months. So, for us, there are many opportunities in long term follow-up.
Where do most of your leads come from?
Randy: We get 48% of our Internet sales leads from our Dealer.com hosted website, 29% from Subaru, and the rest from our third-party lead providers.
Each month, we see over 600-plus leads and another 1,700-plus calls from Internet tracked phone numbers. We have an 8% closing rate for these leads.
We've had Dealer.com for our website provider for seven years and we like them very much. They do our SEO and work with the marketing department in updating the site for us.
Chip: For third-party lead providers, we use Cars.com, AutoTrader, and Costco; we've had great success with all of these.
Most of our customers are from the Reno and Tahoe area – within a 70-mile radius from the store, but we are also capturing fly-ins from as far away as San Francisco.
How do you keep current with technology?
Chip: We work with the marketing and operation departments, and together we try new products and services. We are always looking for great new ways we can train, or ways we can enhance our customer's experience in our store. Also, a year ago, we had the opportunity to send three people from each Lithia dealership to Google's and Facebook's corporate offices for training in their products and services. That was really great.
Randy: When we hear about things that work at other dealerships, we try to implement those things here too. We don't waste time trying to re-invent the wheel. If something another dealership is doing looks good, we try it here.
How do you handle social media?
Chip: We manage our Facebook pages and other social media sites, using our tools from Dealer.com. They help us post useful information and coupons for our customers.
We have a substantial number of reviews on DealerRater.com. For the past year, we ranked number one locally in customer satisfaction on DealerRater.
Besides our presence on social media, we are very involved with our local community. We organize participation of our dealership team in local marathons and hold adoption events for pets, among other events.
Randy: Every month, we feature a different local charity in our advertisements. It's hard to measure the results from that – both in terms of goodwill for us, and benefits to the community, but we are doing a good thing and people appreciate it.
We've also won our fair share of awards. We've received the Signature Subaru Dealer award for 2009 -2012 and the Subaru Difference Certified – Sales and Service Satisfaction award – ending February 2013 above 100% of region in both categories.
And all of these things contribute to our great reputation as a dealership that puts people first.
Randy, your new car sales numbers are fantastic. How are doing with used car sales?
Randy: The used car market is hotter than hot and we are learning and growing and getting better all the time with used car sales. We run two to one, new car sales to used car sales. We take everything in and we try to sell everything on our lot for the best price.
Keeping all the cars we get in trade — all kinds of cars — and pricing them correctly on the Internet is the key to selling more vehicles. I believe anything sells at the right price. Whereas we didn't keep everything in years past, now we're keeping everything, The only cars that we sell to the auction are cars that can't make it through the shop, because there's just too much work involved, or if certain cars haven't sold in 90 to 100 days, then we sell those cars to the auction or to our sister stores.
What digital tools do you use to manage all this?
Chip: We use FirstLook for our used car inventory management and it works really well for us. We use all the guides for appraising and pricing. We use Kelley Blue Book, Black Book and Manheim.
I especially like to use Black Book; it's a really good guide. I've always thought that a vehicle's value is only what someone just sold it for. Manheim Auction represents that.
What other vendors have been instrumental in your dealership's success?
Randy: Having the right vendor is important because they are partners. We have used ADP for our DMS for more than 10 years, and we are very happy with that. ADP is great. And, we use RouteOne as our tool for financing and we are very satisfied with that.
We heard you recently remodeled your dealership.
Randy: We are a signature facility and brought the dealership up to the standards required by Subaru in 2011. We remodeled our service department with a new lounge, a snack bar, WiFi, and two areas for privacy. Our CSI has improved over the last year because of this.
Randy, what is your vision of the future for the industry?
The Internet will be increasingly important. Every day it amazes me how people are using the Internet to watch prices more and more closely. As well as we do in this area, there's room for improvement. There's so much opportunity.
What is your vision for the dealership?
Randy: Our vision is to increase our market share year over year. Last year, we were number five in the country for Subaru new car sales. This year we want to be number one. We sold over 1,700 new units last year and we are hoping to beat that number substantially in 2013.
Author: