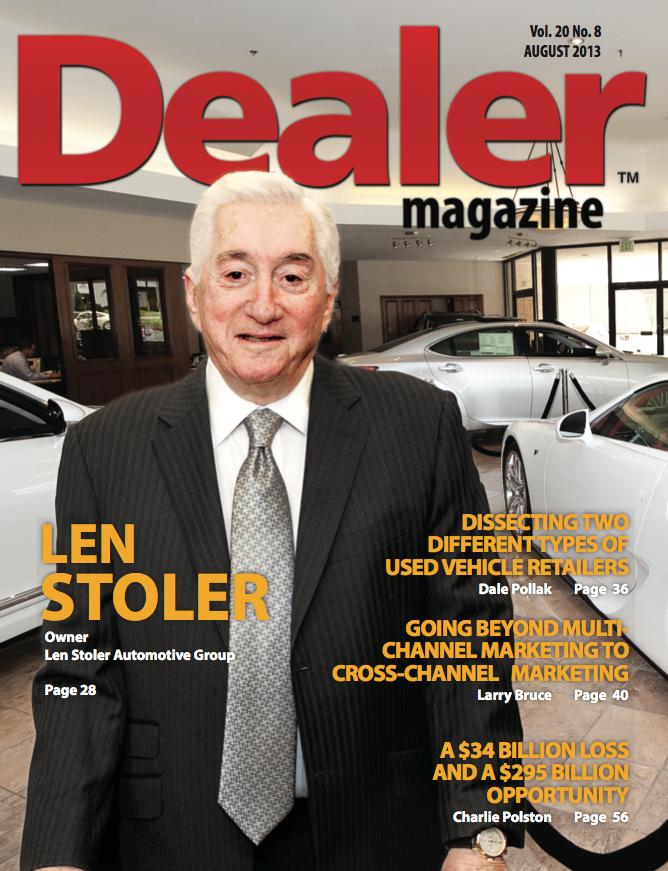 For more than 40 years Len Stoler has been an automotive institution in Maryland. What began as a small Ford dealership in Owings Mill in 1968 has turned into a regional powerhouse with 12 dealerships representing 14 franchises while selling more than 12,000 vehicles a year.
The brands the Len Stoler Automotive Group sell today include Audi, BMW, Chevrolet, Chrysler, Dodge, Ford, Hyundai, Jeep, Lexus, Nissan, Porsche, Scion and Toyota.
Employing a strategy early on that focused on owning real estate enabled the Stoler Group to have the capital and means to add dealerships and grow the business. Add to that a culture that preaches and practices integrity with treating the customer right makes the Len Stoler Group a company with a well-earned reputation that's experienced a lot of success through the years.
Dealer magazine recently talked with Len Stoler about how he's built one of the top dealer groups in the country.
How did the Len Stoler Automotive Group get its start?
It was in 1968 when I started with Ford's Dealer Development Program. I had been in the business prior to this – first working at a used car dealership and then as a general manager of Maryland Volkswagen here in Baltimore. So my background was in the automotive business.
Did you grow up in the business?
No. I actually was in the Air Force and when I came out I applied to Johns Hopkins University. I only needed another year to become an electrical engineer. But in those days they had a resident Jewish quota, which was filled at the time. So I was told to come back next September and reapply.
So I was just biding my time and I bumped into a friend that I hadn't seen from high school who was in the used car business. He told me I should come work for him. I told him no because I didn't want to be a used car dealer. I was set on becoming an electrical engineer. But he kept beating me up about it. So I told him I'd do it for a few months until school started.
I'm going to guess that John Hopkins is still waiting.
Yes, needless to say I never did go back to school. I was living at home with my parents and I didn't really need the money from the used car job. My friend was paying me a weekly salary but I just kept putting the checks into a drawer at home.
One day he said to me, "Len, if you're not cashing your checks I can't balance my checkbook." I told him, "Sam, if I cash my checks you're going to be out of the business. How about if I give you back the checks and we become partners?" He agreed to that.
How long were you partners with him?
Well, that lasted for about a year and a half and then I went and opened my own used car lot. From there I went to Maryland Volkswagen as a general manager.
That's a great story. It's funny how life turns.
Isn't it, really? Just think if I had finished my electrical engineering degree I'd be making $100,000 by now.
Right. Maybe, if you hadn't been laid off at some point.
True, true.
You started with Ford's Dealer Development Program with one dealership in 1968. And now you have 12 dealerships representing 14 franchises. Did you always envision growing to become this big?
No, it actually just came about this way over the years. I saw early on that manufacturers were looking around for people who had all their life savings in one dealership and usually the dealer was at the store 12 to 14 hours — you know from 9:00 to 9:00 or later. But I noticed that was slowly turning into a pipe dream, mainly because dealerships were becoming so expensive that the typical dealer couldn't afford to buy them any longer.
It was clear to me that the manufacturers were beginning to turn to people who had the capital to buy dealerships and build facilities for them.
How did you leverage that?
Well, I began to acquire land and as I did that, I was able to acquire dealerships. That's how I took advantage of what was happening. And so I took advantage of that fact and as I was able to acquire land I was able to acquire dealerships.
It seems like that goes in cycles. For awhile, dealers were looking to lease their land. Now the trend has gone back to owning the land and the buildings. But that's been your strategy all along.
That's right. Our original site with that first Ford store was about seven and a half acres. The dealership was very old and very small. Meanwhile, I finally got permission to put a Porsche/Audi franchise next door. That took me quite a bit of doing to convince Ford to allow me to section off part of the property. But they did allow it. And it became a Porsche/Audi dealer on the same property with Ford. That really was our first step into growing.
Is it still there today?
Yes, it is. It's still there today.
And there's been no push back through the years? The manufacturers are fine with that set up?
No, that's right. You could say I've had some complaints raised occasionally, but they say the way we are configured now in the Owings Mills area is fine. Today, I have ten and a half acres with six dealerships on that property. So we've really built out.
How has the business changed since you started as a dealer to now?
Oh my goodness. You know I've got an interesting story about that. Not too many years ago I held a meeting with all of my managers at a downtown hotel. We had a big blackboard in front of us. I drew some lines down the across the board and asked the managers to list ways cars have changed through the years.
The hands shot up immediately – things like ABS brakes, fuel injection, computers and other things. They couldn't get the words out fast enough. As fast as they were saying it I was trying to write it.
And then I asked them to name ways the customer has changed through the years. More knowledgeable, Internet, consumer protection laws – along with several other things.
My third question was to have them name the ways we had changed. And it was dead silence. I told them, "See, this is why we're here tonight."
So what came out of that meeting? What were some of the initiatives you came up with?
We began changing the way we interacted with customers. First of all, I have a great team of people and I had very good people back then also. But the fact is, I don't want the salesmen ever saying no to anybody. I don't want the service writers saying no to anybody.
If we have to tell a customer no, I want it to be a manager – someone who has the bigger picture, knows some of the financials and maybe has a more complete view of everything just by virtue of their position. And managers are better equipped to both determine that answer and deliver it to the customer.
But you know, maybe no isn't the correct answer. Maybe the better answer is "Perhaps," or "Yes, we can do that." What's the difference if it costs a few dollars more or less? And the manager will make that decision much more easily sometimes than a salesman or a service writer can.
That's an insightful interesting change. You mentioned the vehicles have become more technologically advanced. Is that an issue today – walking customers through the telematics of the vehicle? I have to assume that creates a challenge in the delivery process.
Well, it is really more of a challenge today. As a matter of fact, the cars are getting so complex that on delivery there's so much more to explain to a customer. And the average customer has been in the showroom for a while negotiating the deal, signing paperwork, getting the F&I done – all the stuff you need to do to buy a car. They quickly lose patience. The attitude is, "Look, I've been driving all these years. I know and I'll come back later if I need to." The truth is, they just want to get out of the showroom as soon as possible.
We've actually turned that into an advantage for us. We'll explain as much about the vehicle at delivery as the customer allows us to.
But then about two weeks or so later, we'll invite them to a customer appreciation night. We make it real nice for them – finger foods, coffee, wine – things like that. We'll have the vehicles set up and the sales and service team will go over the vehicle in detail explaining how to do all of the things such as programming the navigation and such.
The customers love it. There's no selling that goes on. Everything is for the benefit of the customer. And that helps us extend our touch with the customer and build that relationship.
What are some industry changes you're planning for now as you look at the next five or so years?
Well, I'm not sure what's going to be changing exactly, but I can envision that we're going to continue going through a period where we see the number of dealers get smaller, but the ones who remain get larger. I can see a scenario where more dealers will have companion stores.
But you have to remember also that dealers like me have a tremendous investment in the status quo. All of us  most of us own our own buildings and these are single purpose buildings. So if the industry really were to change — for an example, if the franchise laws were to allow someone other than dealers to sell cars we would be in a lot of trouble, because our facilities just are not designed for anything else.
We're seeing that battle right now play out with Tesla.
True, we are seeing that. I don't think that Tesla is going to prevail in this matter at all. I think that most state laws are designed with the dealership in mind and the status quo in mind. And I don't think that they're going to be able to make it with that model.
You mentioned real estate, facilities and capital as factors that enabled you to grow and add dealerships. What are some other things that enabled your growth just from a personal and leadership philosophy?
Before I answer that, a key part of our real estate strategy was being able to put a lot of dealerships in proximity to one another. We've been able to have one central office, which does all the bookkeeping for all of the dealerships. We've been able to create tremendous economies of scale for quite a bit of our office and management operations.
I was also able to have one body shop that takes care of the work for all of our dealerships. Those kinds of things have helped us be successful.
To answer your question, I made up my mind early on – even before CSI became the norm for the industry — that the higher the level of service you render the higher degree of sales you'll make and the more money you'll be able to put in the bank. And we've made it a point to do that.
You mentioned the strength of your team. How do you go about finding and keeping good employees?
That's one of the most difficult parts of my job – hiring and training employees. We have developed a culture here over the years. Because we are large enough now that we have a number of managers and when we hire somebody from outside the company we'll put them under someone for 20 or 30 days until they see how we do things. So much of what we do here is "untrain" somebody from previous habits.
I hear that from so many dealers. Finding the right employees is the toughest part of owning a dealership.
Oh, yes. Hiring and then training. Motivation seems to be a regular problem too when it comes to entry level positions. We try to find people that understand good results come from putting in the hard work and effort that's needed.
I imagine that one of the aspects of owning a group is developing outlets for your employees to grow professionally. And part of that probably includes expanding. Are you looking to add to your number of stores?
Well, it depends if it makes sense. We're not interested in adding dealerships just to add to the number. It has to make sense. It has to be something that we can get to easily and can control — that we can put a manager in that knows how we do business. All of these factors have to fall in place.
Knowing what you know today, if you could talk to yourself 40 years ago, what would you tell yourself?
Oh, boy, that's a hard one. I have to think about that. I would say that once you discover what's right in business, what's ethical in business and what's profitable in business stick with it. And don't change. Don't let the bad months come and all of a sudden you've got a new philosophy. Stick with one approach.
This is one of the things that I think also separates good manufacturers from some of the other ones — regardless of any changes at the top their philosophy remains the same. The good manufacturers are ones that stay determined and focused.
Talking about ethics, how hard is it in your position or how hard has it been in your position to maintain a level of integrity as a business  as a person in the car business? The public has such a skewed view of dealerships and of the industry.
Right. I think it's principle. And it comes down to who you hire also. In the very beginning the hiring process or the training process you have to begin with character. That's number one.
If you don't have character you can't build on anything — just forget about it. Take a person with character and put them into this environment, this culture that we've built here through the years and you're going to have a business with integrity. The employee sees we're not just talking about this. We're doing it. When they see us go the extra mile for a customer or to not charge something that we had no right doing — or when they see us pay the price so to speak for retention then all of a sudden they become empowered. And they recognize and understand what it takes to be successful here. We encourage that. We just don't want nickel and dime customers. We would rather say, "Take it it's yours."
Do you spend a lot on training?
Absolutely. We have spent an awful amount of money on training. We send the mechanics all over the country for training depending upon the franchise. And we don't mind doing that if as long as the employee shows a willingness to stay here and let us have the fruits of his labor, so to speak. We won't do that with an employee that's not worthy, somebody that comes in late and leaves early. We look for dedicated people and we really nurture that.
You made it through the recession pretty well and positioned for growth. What do you attribute that to – in addition to some of thing we've already talked about?
Well, first of all you have to remember that as I told you we've got very good people here.
I'm very proud of our management team. We have wonderful franchises. You know we pretty much go across the entire price spectrum from the BMW and Lexus brands to Ford, Chevrolet and Chrysler. It's a pretty good array of franchises. So I'm not going to say we're recession proof, but we do run 108 percent service absorption, which means that we don't rely on sales only to make a profit.
How many new car and used car sales do you typically within a year?
Let's see now. Let's say we do about 8,000 new. And let's say 4,000 used. More than 12,000 cars a year.
I bet a group such as yours – great reputation, strong team, attractive brands and vibrant sales – has had its share of acquisition offers.
Yes. We've fielded some offers in the past, but nothing really serious. Probably because I'm not serious about selling. Even though I've been around a long time and I'm a dinosaur, I still enjoy what I do. And I can't imagine selling. I can't imagine how I would fill my day if I wasn't doing this.
Author: