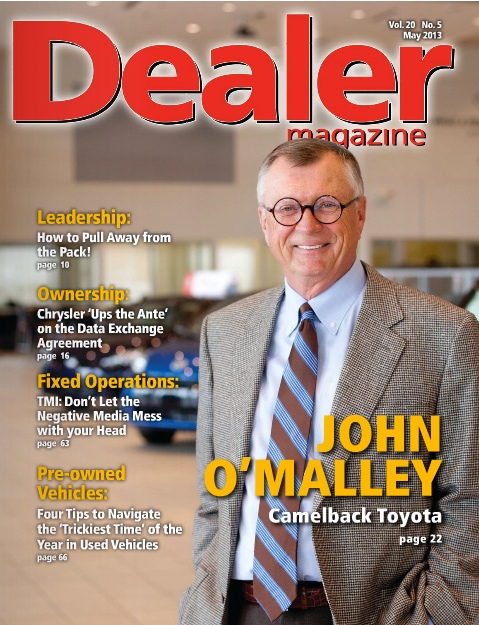 Camelback Toyota was among the top 50 dealerships nationwide with $146 million in sales revenue — selling 4,630 new and used vehicles in 2011. And the numbers for 2012 are equally impressive.
The dealership recently won Toyota's President's Cabinet Award for the second year in a row – an honor given annually to only 12 Toyota stores nationwide.
Since its founding in 1988, the store has won 15 Toyota President's Awards, 11 Toyota Customer Service Advisory Board, and 12 Toyota Board of Governors Awards.
In 2012, Camelback Toyota ranked 24th in the country in Toyota sales.
John O'Malley, general manager and partner at Camelback Toyota, recently shared with Dealer magazine his secret sauce for success and it's all about exceptional customer service generating repeat and referral business.
John, how did you get into the automotive business?
I've been in the car business since 1983. After finishing college, I was in the hotel business for 10 years. I always liked Phoenix and got the opportunity to come here to sell cars. I started out at another dealership in sales, and then became assistant manager, used car manager, and general sales manager. I joined Camelback Toyota as general manager 1989 and I became a partner here in 1991.
Please tell us a little about the history of dealership.
My partner Larry Van Tuyl purchased the dealership in the fall of 1988. We've grown exponentially over the years. We started in a five-acre facility and then crossed the street to a seven and a half acre lot, and three years ago we moved down the street to a 10 acre lot.
Prior to 2008, we were selling about 700 cars a month, new and used. Then the economic turndown hit us all. From 2008 to 2011, that number probably decreased by 40%. During the last year and a half, since the economy has come back, we are also back on track.
Year over year, 2011 to 2012, we're up 30% in sales, and so far, 2013 over 2012, we are up about 12%. We're currently averaging 160 used car sales per month and 320 new car sales per month. Internet sales are about 35 to 40 % of the new car sales number and about 20% of our used car sales number.
What is your management style?
My management style is to let the department heads do their jobs and run their departments. I'm not a micro-manager.
But, I am hands-on. I love the action. I sold two cars yesterday, in two and a half hours, because the lady had done business with me before. It's a lot of fun.
I'm here six days a week and I like to interact with my managers about their decisions and I encourage them to come up with new ideas and innovations that might work. One thing we've never been reluctant to do here is change. We've always understood that change is inevitable and good, and so we try to change with the times and economic conditions.
Phoenix is a city of change. There's lots of population turnover. We realized early on in the history of the dealership that we needed to build a culture of customer service here that would foster repeat business with long term residents, and bring in, by way of referrals, the newcomers. So, we devote a lot of time to delivering exceptional customer service and growing our repeat and referral business. We really thrive on that from our parts to our service to our body shop and of course, our sales department.
We have a tremendous following through our service drive. We have 47,000 active units in operation and so we have a great customer base. We sell 50 to 60 cars a month just from our regular service customers coming in and talking with our service advisors who point them to our sales group.
With our excellent service reputation, we have referral business with people coming from all directions, really. We have customers come here from as far away as Tucson or Flagstaff. We even have people come from other states. A couple of our Internet sales people are assigned to cover that. We've had people come from as far away as Florida, California, New Mexico, the Midwest and the Great Plains states. We do regular business with people in Montana. I'd say five to 10 cars a month, are sold to out-of-state customers.
What software tools have helped manage your repeat and referral business?
We use DealerSocket as our CRM. When I think back 20 years, if we would have had that available to us, there were things we could have done even better then. Today, with DealerSocket's capabilities – with customer phone calls being recorded, with customer information readily available such as customers' propensity to trade cars, etc. — our ability to follow up with our customers is very much improved. We were one of the first to use DealerSocket when it came out, six or seven years ago. And, DealerSocket continues to develop technology for us as we ask them for things. With DealerSocket, we can see the appointments that showed, or didn't show. We can see customers that called or e-mailed us that we didn't call back, etc. So, it's given us the opportunity to be more efficient.
We also have ADP's Web Desking which allows us to make the total transaction transparent for the customer – thus providing a better customer experience. So we're quoting trades and terms, and providing documents, so the customer really has the opportunity now to see what it's all about. The old fashioned story-telling and the sales sharpies have gone by the wayside.
Do you consider yourself a pioneer in using new technology?
I'm a pioneer, just because I'm the oldest guy on the street. Twenty-five years ago we Baby Boomers were managing all Baby Boomers; now we are managing four different generations. The last couple of generations can't operate without technology. Besides having generational diversity in sales management, the customers we're serving today encompass four or five different generations. So, we also have diversity in our customers. We've got everyone from the customer who does all their business on the iPhone to the customer who's been with us 20 years that calls us and makes the deal on the phone. But, from A to Z, it's all positive.
How do you keep up with technology?
I rely on my staff and our IT people. I have rudimentary skills on everything, but I'm not an expert. I rely on our young people and our controller partner, John Fern, who has been with us for 18 years. He stays up on technology; he uses his insights to bring what's the latest that will work best in our dealership for our employees and customers.
What is your biggest challenge?
The biggest challenge we have is keeping young salespeople until they can accept our culture. Our turnover here is very low and we are proud of that. But if we hire a young person as a sales rep, we need 90 to 120 days for that person to acclimate to our culture. Sometimes they get disillusioned in the first 30 or 45 days and they don't think it's as easy as they thought it was going to be.
However, we have 220 employees at Camelback Toyota and we're very proud of the fact that 84 of those people have been here five years or more, 40 have been here 10 years or more, and 10 are approaching the 20 year mark.
That said, our biggest challenge is still educating and training the new people coming into the business.
How do you train your people?
Toyota is very instrumental in product training, training for product launches and lease training. The local Toyota Dealer Association provides two trainers who go to all nine Toyota stores in the area and train at each store once or twice a month. They are very knowledgeable and high energy people.
For technology training, we have an in-house DealerSocket trainer.
We also have our own in-house system of training, where new sales people are trained for one week on how we want our salespeople to handle the customers. Then new sales people are assigned to an assistant sales manager, who supervises five or six of them at a time. So they get a lot of individual attention. Our managers have shift meetings for training purposes, and we have training for our finance people. So somebody is at training all the time here.
What advice would you give a young person getting into the business?
I tell young people, when you go to look for a job, the number one question to ask is how long has the person in charge been there. Everyone has a song saying come with us and we'll promote you right away and make you rich. But, if they've only been there a short time themselves, that's not credible.
Be selective. I say pick the product, pick the location, go to the Internet and find out how many awards the store has won. Find out if it is really a people place. If it is, ask for the job.
Bring a good work ethic to your new job. I was born and raised in South Dakota cattle ranch country and I brought a good work ethic with me when I came here.
Then once you've joined the dealership talk to someone who is successful there. Listen to them and try to emulate them. Keep your eye on the path ahead. Sometimes people forget to tell their supervisor that they'd like to have the job at the next level. Ask your supervisor what you have to do to earn that promotion.
And, this is very important: Find a mentor who wants to take you under his or her wing.
It sounds like you take a lot of pride in training and mentoring people.
I do. I love coaching and teaching. One particular success story we have here is a young man named Ross Erler who started as a salesperson 10 years ago and has advanced through all the departments to become our general sales manager. He's only 32, but he has embraced the business and the customers, so he's been able to advance rapidly. He's enrolled in Van Tuyl dealer school in Dallas, where he goes four times a year for a week.
He'll graduate in June and be ready for a general manager/partner position should one arise in the Van Tuyl Group.
Tell us more about your dealership's operations and how that generates repeat and referral business.
Our upper management's dedication to the business, to our culture and to the customers really sets us apart from other dealerships, and is the reason why we have so much repeat and referral business.
We are dedicated to being responsive to customers. So, we have 50 regular salespeople, and 15 Internet salespeople. We have a BDC with 12 stations and a BDC manager, who works like a hall monitor. She's very enthusiastic and watches and listens to what the sales people are doing and helps them with incoming calls as well as outgoing calls. The 15 Internet salespeople rotate in and out of the BDC as needed, but they have their own cubicles, phones and lines for incoming Internet calls.
Sales BDC is for business development. If a customer calls and says they want to speak to a new car salesperson, that customer is channeled into the BDC to talk to a new car salesperson there.
We answer any phone call within three to five rings and response time to leads coming in through the CRM is probably 30 minutes on average. Once a lead is in our DealerSocket CRM, it's live until the manager takes it off. That allows us to follow up on a lead for 30 or 120 days; it depends on the request of the customer. If the customer says, 'I'm not ready to be serious for three months,' then we demote the lead in DealerSocket and it comes to the forefront again in three months when the customer is ready to be active.
Besides being responsive to customers, in what other ways are you working to generate repeat and referral business?
Our management team's commitment to our customers is head and shoulders above most places. We do everything with the customer in mind – including creating for the customers a very comfortable experience at our facility.
We recently spent $28 million to build our new dealership. We were fortunate to get the corner of Camelback and 16th Streets in Phoenix in late 2008. There was a dealership that closed and we cleared the lot and were able to build a new facility of 135,000 square feet, with a big showroom. We put the sales towers out in the middle of the showroom, so there are no glass walls. It's very transparent. The customer can come right up and speak to the manager. We do the deals right out in the open.
Does that first class look and open feel make a real difference in attracting and retaining customers?
I do feel it makes a difference, but I have to qualify that. We've been in some small facilities, prior to opening our new one, and we have always had outdoor delivery in Phoenix. In July, it can be 115 degrees and it's a little dusty. And yet, we still won the Toyota President's awards in those facilities.
Now we have this beautiful indoor garage that's air-conditioned and computerized and the cars are up on the screen, and we are still getting the Toyota President's awards.
I explain it this way to my managers: When you check into the Holiday Inn you expect it to be clean and to get a fair price for a room, and when you check into the Ritz, you expect just that much more in personal service. We can't do the same things here that we did in the other facilities, because when people come in here, they expect more from us.
Yes, a beautiful new facility does attract customers and it's warm and welcoming, but it is still the people that have to meet the customers' expectations.
All our people are oriented towards meeting the customers' expectations. We have lots of people that started here as sales people and as we grew, our people grew. Everyone of the people in our F&I office started as a sales person here first. So, they know how to treat people; they know our culture; and they know how to respect the customer. So, in a lot of cases, customers that are coming back bought cars from the very people that are now handling their financial business. We have 10 people in F&I — six managers, and a director and assistant director, and two assistants to process paperwork. We use ADP, which I believe is better than a few of their competitors.
One of the main goals in our F&I department is to shorten up the time the customer has to spend here. In the old days, if you asked a customer what was the most important thing in buying a car, they would say price. But, these days, I think they would say saving time, and second in importance would be how they are treated. Then price would be third, fourth or fifth on the list. But, it's still important.
That's why we use Toyota Financial Services in Phoenix as a vendor for vehicle loans and we feel this is a real service to our customers as well. Toyota Financial Services exercises common sense when qualifying car buyers for loans. When the economy is bad, they are there to help dealers and their customers. They have a tremendous management staff. They will look at the customers themselves: How long have they been on their jobs? How long have they lived at their home address? And they make their loans accordingly. They don't just look at all the bad stuff that sometimes happens to good people.
Because we are so customer focused, we have Kim McKay, our customer relations manager, who has been here 15 years, and she's dedicated to overseeing customer service. And, we have our Service Director, Eric Murphy, who has been here 20 years. Our Parts Director, Gary Miller, started here as a warehouse worker and he's been here 18 years. Our customers know these people and trust them.
We are the friendly dealership. Every Saturday we have a party on the patio here and cook hamburgers, and hot dogs and put music on the big speakers — we like to feed and entertain the customers and our employees.
We're very involved with the local community.
We support many local charities; but, our management team is partial to veterans and children. You can't be everything to everybody, but we've been able to make a difference with the Crisis Nursery and with the veterans groups.
The Crisis Nursery is the valley's longest serving children's center and our people go there to sit with kids and read to them. Last Christmas, we raised $23,500 in donations for Crisis Nursery just from the people who work here. We are also very involved with the Phoenix Children's Hospital along with our dealer group, The Valley Toyota Dealers Association.
We've raised funds for the Old Breed Detachment, a U.S. Marines veterans group, and we provide cars for the VFW and American Legion parades. We buy baseball tickets where the proceeds go for homeless vets, and we provide curriers to provide water to the shelters. We heard a statistic last year that there were 2,200 homeless vets in Phoenix. That just breaks my heart. Society should be doing more for these men and women who have served to protect our freedoms.
With all this outreach to the community, do you even need to advertise your dealership?
Our advertising budget is actually rather low. We don't spend an inordinate amount of money on advertising. We do a basic Saturday newspaper ad and a couple of years ago we did some grass roots radio commercials using my grandson who was 13 at the time and the advertising agency principal's daughter who was 11. The concept was basically: My grandpa wants you to know this is what we've got at Camelback Toyota. We were doing something no one else was doing and it clicked.
We generally do a week's worth of advertising a month on the radio. We also do direct mail. We may say: Come in and have a hot dog and take a test drive, and we'll give you a $25 Target gift certificate. We take this approach because we think action begets action.
Our website generates more traffic and calls than our advertising, but we do spend a little bit on banners and search engine marketing. Van Tuyl Marketing hosts and maintains our website, along with our own IT people. We have input on prices. We talk to our Van Tuyl representative once a week and she has a pulse on the market. Van Tuyl provides the creative for our ads, and makes sure everything is right according to Arizona and Toyota legal requirements, so when we run an ad we don't have to worry about it.
We don't spend any advertising money on third-party leads; because the leads go to multiple dealerships, we feel they aren't going to bring us the ROI.
About $250 per car sold is what we target for advertising and that includes service, and parts, and advertising and SEM.
What is your vision for your dealership for the next five years?
My vision for the next five years is to continue to grow. We need to grow our entire Scion department. We need to make sure we're keeping up on new products. I believe Toyota has the best management it's ever had. It's got new products coming and we need to stay on top of this and be knowledgeable about them, so we can best serve our customers.
We'll continue to grow by the same repeat and referral business that has made us so strong in the past. In the next five years, there's going to be thousands and thousands of new drivers in Phoenix, and our job will be to influence their parents and relatives to bring those new drivers to us for their first car. That's the challenge for the next five years.
Author: