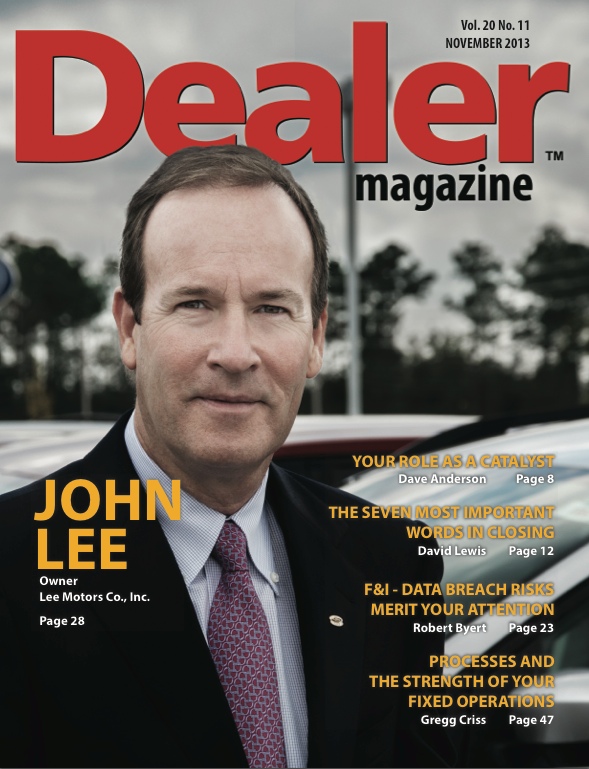 With $5,000 in his pocket, World War II veteran James Lee bought a small Ford dealership in Elm City, NC in 1953.
His son John, born six years later, would ride his bike after school to the small dealership that didn't even have a showroom. He fell in love with the business at age six.
In those early years, he cleaned toilets, swept floors and worked in the tobacco fields for the local farmers, while learning from his dad how to work hard and treat people right.
At age 20, while still in college, John found himself running the dealership after his dad died. At the time, the dealership had fewer than 25 employees and John had yet to sell his first car.
He and his wife, Lynn, have turned that small business into Lee Motor Group, which now has 10 dealerships in four states, including one of the top-selling Hyundai dealerships in the country. Seven of the stores were open points awarded to Lee Motor Group. With the addition of a corporate airplane and helicopter, John and his President, Tim Varnell, are able to visit and manage the stores on a timely basis.
Continuing a practice he began when he first took over the store, John still gives his personal phone number to every customer who buys from the dealerships in North Carolina.
He credits hard work, integrity and treating people right for the extraordinary success he's experienced through the years.
John, walk us through the early history of your organization, when you first started with your father and then the transformation to when you took over the dealership.
I grew up in the car business. Before becoming a Ford dealer, my father, James Lee, started working at a Ford plant in Norfolk, VA, after he got out of the Navy in 1946. A couple of years later, he had an opportunity to work for a couple of small dealers in the northeastern part of North Carolina — this was in the late '40s and early '50s. In 1953, with $5,000, he bought an almost-closed small Ford dealership in Elm City, NC. It was a town of about 1,000 people, located between two fairly good-sized mid-markets, Wilson and Rocky Mount.
I was born about six years later in 1959 – the third of three children – and grew up in that small town. I could ride my bicycle to school. I would also ride my bicycle down to the original dealership — Lee Motor Company. Truth is, it was a very small dealership – wasn't even big enough for a showroom. My dad might have had 12 employees.
I was able to spend a lot of time there. I certainly had an interest from day one in the business. I liked being around a car dealership and being in back in the service department with the mechanics or watching how cars were sold.
My father had a great personality. People really liked him. People trusted him. He could talk to anybody. He treated everybody the same, which is, by the way, how I've always wanted to conduct my life in dealing with people.
He had a real good trade with farmers. He could talk to a farmer that had been in the field for 14 or 15 hours or he could talk to a local banker. And he always treated them the same. I had the good fortune to watch that growing up. He was somewhat old-fashioned – a World War II veteran. But for whatever reason, whenever I hung out there, he never told me to go home or go play ball somewhere. He was very happy to have me be there and to sit in his office to watch and listen to him, which was great because I just was very interested in — enthralled you could say — with the car business.
What was your first real job at the dealership?
Well, of course, I've done it all. After Elm City, we moved to Wilson in 1967, and about three years later, he had built a facility on a major highway, Highway 301, which is the main north-south route.
To answer your question, I really did do everything. I cleaned commodes. I scrubbed floors. I swept. I said "Hello" to customers. I washed cars, changed oil, did tune-up jobs. You name it, I've done it. But the proudest thing I can say in my life, outside of my family, is that I can never remember not having a job. We lived in the country. I grew up "putting in tobacco," which is what we called it. I worked in the tobacco fields and on a hog farm. I bagged groceries. I know these jobs aren't related to the car business, but you name it, I've done it. I'm proud of the fact that the good Lord gave me a drive to work, and that my father and parents were hard-working people. I saw that and it inspired me. If you want something, you have to work for it. And that's exactly what I did.
John, how do those lessons of work experience translate to your experience now as an owner?
Well, I'm attracted to people who have a good work ethic. I'm able to recognize an individual who really wants to put in the time to make a difference. There are all sorts of clichés in our business. You can work smart, you can work hard, but I believe you have to work hard and smart.
This is a very demanding business. We have to be on our best game when people are getting off work, and we have to be prepared. I've always prided myself in being able to pick employees who have a strong work ethic and want to put in the time to make a difference and to improve themselves.
Let's fast forward from 1970 up to 2013 – 43 years later. You began as a single point Ford dealership with a family. You've grown to an amazing size. Tell us about the challenges you've had getting to this point.
Let's see. I had never worked in any kind of white collar situation in the dealership until my father became sick in 1979. He was only 56 when he passed away.
So I never was really able to watch him conduct a sales meeting or a managers' meeting. Up until the day he died, I was doing manual labor stuff. I was cleaning the shop or whatever I was involved in at the time. I never sold cars for him, never managed a department for him because he died when I was pretty young.
My now wife, Lynn, and I were both at separate colleges when he passed away in March of 1980. We were married in June of that year – we were both sophomores at the time when I took over the day-to-day operations. The thing that really helped me the most is having the support at home. Although we were young and didn't have a lot, I had a tremendous amount of support from Lynn in the early days. She never complained about the hours I worked. She might not have been always happy about it — I worked seven days a week in those days. If you remember, it was almost a liability to be a Ford dealer so we had to work extra hard.
Back then, interest rates got to 22 percent for a period of about two to three weeks. It was just an awful time. But it was a fortunate time for me because getting through that helped me see there wasn't a situation we couldn't get through.
We have one child – a daughter we adopted in 2006. If she comes to me in 20 years and says that she really wants to be in the car business, I'd say that's great. But we're going to set it up in a way where she'll have to struggle for it a little bit because those early struggles really laid the foundation for me.
How did you start to grow the business?
My wife and I both graduated in 1982 from Atlantic Christian College, which is now Barton College. About that time I heard that Datsun was going to be opening a point in Wilson. I wasn't even out of college yet. I went up to Portsmouth, VA, where their regional office was. I told them I was the Ford dealer in Wilson and that I'd like an opportunity to sell their brand. I just kept after them until they gave me the point.
I was 22 years old, graduating from college when I got the letter of intent. I rented a little building, put some gravel on the ground and the cars started coming in. People were following the car haulers because they really wanted imports at that time. That was a very big break. I had been used to struggling to sell cars and then, all of a sudden, I get this little Japanese product that gets great gas mileage and it just flies off the shelves. That was certainly a turning point.
How many dealerships do you have today?
We have ten locations in four states. We have a Ford and Lincoln dealership along with Chrysler Dodge Jeep and Ram. We also have one Nissan location, two Hyundai stores and five Kia stores.
When I look back at our growth, I'm probably proudest that seven of our locations were open points. I just look at that as being a tremendous compliment to what we've done and how we've done things because, as you know, manufacturers don't give out open points lightly. They think long and hard about it because it is truly a tremendous gift to give someone an organization — an opportunity like that.
How many employees do you have today?
It's between 400 and 500.
What kind training do you use at the dealerships? Is it consistent across the group or is it based on each dealership?
Well, it is different from dealership to dealership. We don't have a specific Lee Motor Group University that we have in Wilson. For us, the manufacturers are doing such a good job now of keeping dealers abreast of the trends.
We do train internally though, through our sales meetings and we have an employee manual that we're proud of. Essentially, it's a set of guidelines on how to treat customers and each other and that's what we try to live by. We strive to live by the golden rule. Honesty and integrity are the cornerstones of what we do.
I'm sure there are times we're human and fall short but I'm convinced that it's never intentional. We have great CSI scores. Really, I'm proud of the character of our organization.
John, you obviously couldn't get to your size with that many locations and doing as well as you're doing at so many locations without good leadership. Tell us about your leadership development and the people who are helping you make things happen.
We've had the good fortune to often use people from within our organization.
The President of Lee Motor Group is Tim Varnell and he's been with me since 1985. He graduated from college on a Sunday and then came to work as a salesperson at Lee Motor Company on the next Monday morning. He was raised like me, in a rural situation, a country boy raised on a farm. His work ethic is good and he has strong character. Because of that, we have been able to attract good people — the right kind of people with whom we wanted to build our organization.
And there's the loyalty factor. Tim has never worked for or with anybody in the business but me. We just grew up together, learning through trial and error what the right things to do are. We both were always committed to doing the right thing.
Our controller has been with us for 30 years. She started working for us right out of high school as a data entry clerk.
Those are examples of how we've been able to keep and retain people. That's a big advantage and has made a tremendous difference in what we do. We've grown up together, we've laughed together, cried together, worked hard together, been scared together, celebrated together. That's just how we've done things.
How often do you get together with your key leaders?
I talk to my key people almost daily. We get together with our managers in a 20-group-like format two to three times a year and talk about what we want to accomplish the next quarter and the next year. We find out what's working in one store and we talk about how it could work in another store. But that's a challenge in itself because our markets are very different, and we are spread out.
We go as far as Auburn, AL, to the west and as far south as Savannah, GA, and as far north as Wilson, NC, and everything in between. Every market has its hot and cold points. But getting together and making sure that we hold everybody accountable in treating the customer right is key for us. We want our stores to have the best possible CSI scores. We're not shooting for 90 percent — we're shooting for 100 percent.

I don't believe in over-meeting, but I believe in getting together and making sure that we're all on the right track. By the end of the month, the managers submit their goals for the upcoming month in writing and how they're going to meet those goals.
You have good planning and have some great continuity with all of your markets, despite the different regions and franchises. How do you keep your hands around the marketing that you use and keep it consistent?
We use the research that our advertising firm, Creative Broadcast Concepts, provides for us in most of our markets. It's a little different with our Kia stores in Alabama and Georgia because of their proximity to the Kia plant, but in the other markets, we rely on the research. For example, in Charleston for the last 10 years we've relied on radio because their research said we should. History will tell you that we've been very successful there using radio.
We know that print is not working like it used to and we know electronic media and Internet are. So that's where we focus our efforts. But I'm a firm believer in the philosophy that cars get sold one car at a time, one vehicle at a time. You can have the prettiest marketing plan and a better mousetrap, but where the rubber hits the road is when that salesperson meets and greets that customer with a big smile and a happy face and makes him feel that he's the most important person in the world.
Are you looking to make acquisitions?
We are. I don't think I'd want anything in Alaska or Hawaii because I wouldn't want to take the time to visit. But I've had the pleasure of having been involved with aviation since I was 22 years old. We're able to fly our corporate aircraft to visit our stores. There's not a week that goes by that our airplane and helicopter aren't in the air. The old saying that the best fertilizer for any business is the owner's feet? That's what we like to do. If I visit a store and sit in the sales tower and – or visit the service lane during rush hour, I'm going to learn a lot about what we're doing right and what we might not be doing right. So we believe in getting out and keeping our fingers on the pulse. We know what our cash is every day, we know what our sales are every day, we track our grosses, and we always are looking at expenses, especially when times are good because that's when they creep up on you. That's just the nature of the business. You know, business is good and money's flowing in and that's when your expenses tend to get somewhat out of control. We stay on top of things with our visits.
Did you encounter much of a downturn during the recession a few years ago?
Well, they were trying times, but we had the right brands. We didn't lose a franchise because we didn't have GM or Chrysler at the time. The South Korean brands – Hyundai and Kia — made inroads during the recession because of the perception of value, and that perception is reality. The brands we have today are all cutting-edge. The manufacturers are serious about quality, styling and taking care of the customer. We remained profitable through it all. But it took a lot of discipline. It took some sleepless nights and hard decisions on our part, but we did it, and have come out stronger.
With all of the digital information available to the consumer, is it more difficult to get a deal done today? Or is it the same as before?
I think it's easier. All of us make better decisions when we are better informed, and I think the consumer today is just better informed. It's probably more competitive than it's ever been, but I like the fact that the consumer is more educated today even though it may put a lot of pressure on your gross profit. In the end, it is a better environment.
We still think gross profit on used cars is a state of mind. The beauty of that market is that there are no two used cars exactly alike. The difference may be just subtle. It may be mileage, but you have to find the car that the customer really wants. It's a different scenario with new cars because the new car customer is typically better informed about the new product.
A two-part question. One, what do you see as the greatest challenge to the Lee dealerships over the next few years? And then, second, the greatest challenge to our industry overall. Or are they similar?
Specifically for us, keeping our expenses in line is one challenge. How do we manage insurance with Obamacare? How do we deal with the cost of having our valued employees get older? How to keep everybody motivated, to keep everybody attuned to change and wanting to be cutting-edge and aggressive? How do I stay motivated as I get older? Tim and I have to make sure we keep our game faces on every day of the year.
From an industry perspective, every dealer shares with me a concern regarding gross profit on new vehicles. I think we're doing a better job on service and getting customers to come back. Our used car departments can be as good as we want them to be. It just depends on how committed we are to them.
But I think the biggest challenges are keeping our expenses down and our returns up especially when it comes to real estate.
One final question, John. Think about your most loyal customer — the repeat customer who refers friends and family and is an ambassador for you. What drives that loyalty?
Consistency on our part. For 30 years, every customer in Wilson, new and used, has received a personal letter from me with my cell phone number. If I had a customer call me at midnight because his car wasn't starting, I would either get out of bed to help him myself or I would send somebody to help him. Our customers know that we're here for them and we're going to take care of them because that's what we do. It is not atypical for us to drive two hours and leave a loaner car for a customer who might only do a couple of hundred dollars' worth of work in our shop. It's what we like to do. It builds value and it builds loyalty in our name.
Anybody in our business can scream low price, low price but what we're trying to do is build a brand. We want to be competitive, but we want to get you in our family to show you how you're going be treated. In our other markets – I have a partner who runs our Kia stores in Georgia and Alabama – our stores are branded differently which means customers don't know who I am
There's a story that's probably important to me that sums up my philosophy. I was 20 years old in 1980. I was like a deer in headlights after my father's passing — going in and taking over a very small Ford dealership with 25 employees. Times were tough. We weren't sure that we were going to survive. I was still in college taking classes and still had yet to sell a car. I was in the store after class when a farmer wearing well-worn bib overalls with stains came in. Even in 1980 in a farming community, bib overalls were not that common. I smiled at him, shook his hand and I introduced myself. It's my first time attempting to sell a car. My very first customer and he buys the car. It was a 1979 leftover two-door Ford sedan. As I gave him the keys, he said, "Son, I want to tell you something. The reason that I bought this car from you is you didn't act like I could not buy because I was wearing my overalls."
He was a farmer and that was his work attire. The lesson I learned that day was to never prequalify and judge a book by its cover. And that has stuck with me all my life.
The richest people that I've ever known were rich because they were happy, they knew who they were. It has nothing to do with the wealth or assets they own.
That was the best life lesson. If I had already been in the business for three or four years, I might not have even waited on him or I would have prequalified him. And I would have never ended up with the sale. Well, he paid in cash — $100 bills.
That's a great story, John. Thank you for taking the time to share with us your story.
Author: