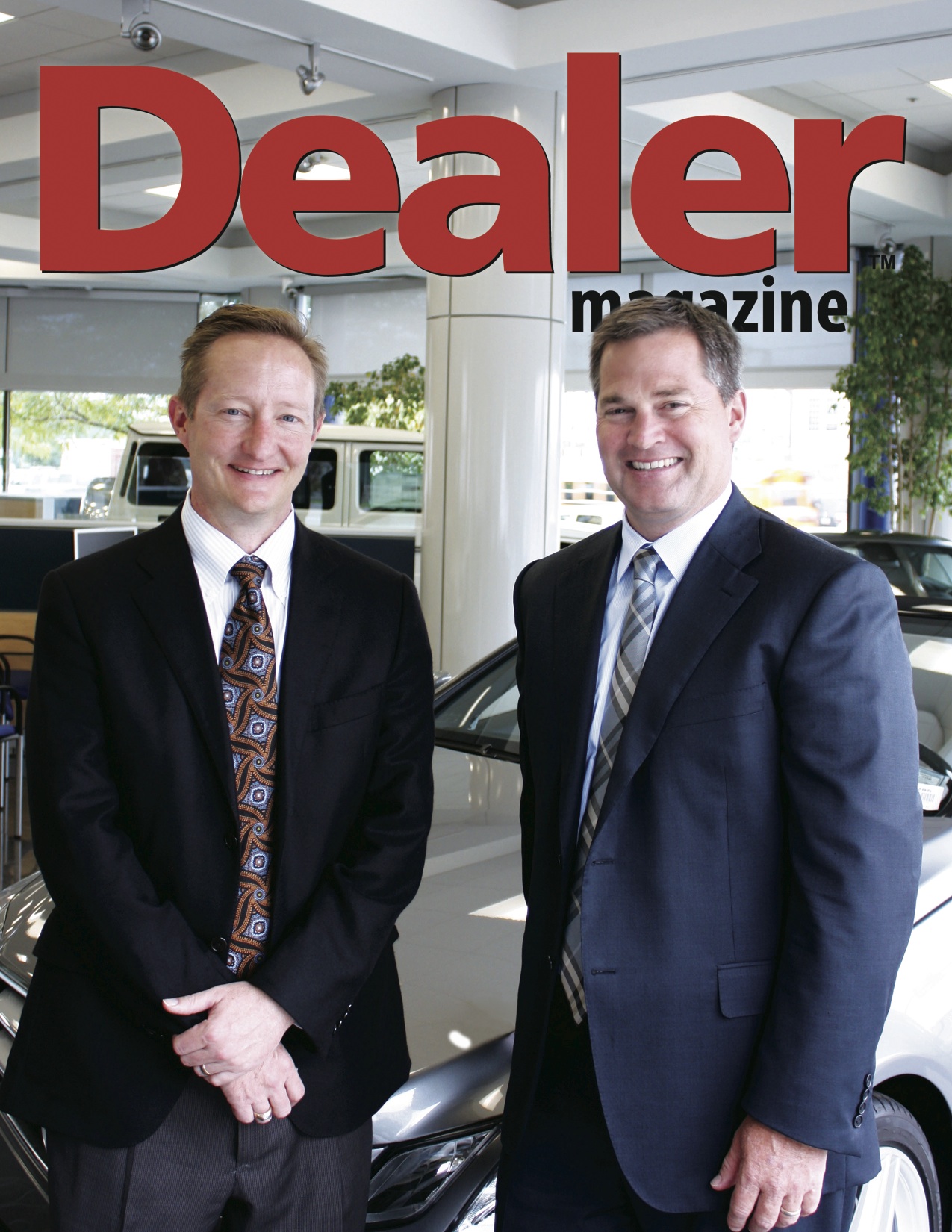 Ken Garff was a service attendant at a Shell station when it exploded one day in 1931. While waiting for it to be rebuilt, he started selling used cars and never looked back. Eighty one years ago Ken started his own business in Salt Lake City. Today the Ken Garff Automotive Group is one of the top dealer groups in the country generating more than $2.1 billion in 2012 on 61,775 new and used vehicle sales.
This year, the group is on pace to sell more than 84,000 cars. It's also been the most aggressive of all the privately held groups acquiring five stores in 2013 with several other deals in the pipeline.
Ken Garff's son Robert oversees all of the Ken Garff Enterprises today as chairman while his son John serves as CEO of the entire Ken Garff empire.
Dealer magazine recently talked with John Garff and Brett Hopkins who is the CEO of Ken Garff Automotive Group, which is part of Ken Garff Enterprises.
Garff Enterprises is growing this year. You've made several acquisitions, including two stores in Culver City, CA.
John Garff: Yes we did from Group 1 Automotive – the Miller Honda and Miller Toyota stores. Culver City has really revitalized the last couple of years. We're pretty excited about it.
Brett Hopkins: This year we purchased a Honda store in Houston, the Toyota-Honda store in Culver City, Ferrari-Maserati in Salt Lake City, and another Chevrolet store in Salt Lake. And then at the end of 2012 we purchased a Ford store in Houston and a Chrysler store in Houston.
We have 44 rooftops and 77 franchises now.
You're one of the largest groups in the country, are you looking to continue growing through acquisitions?
John Garff: I think we'll continue looking for targeted and strategic acquisitions in markets that make sense — in current markets where we already have platforms, and in new markets as well.
Does location influence your decision to purchase a dealership?
John Garff: You know ideally closer to home is better. But we have a lot of stores in Houston, Des Moines and in southern California. We'll continue to look for opportunities in those markets. It just depends on the opportunity and what the right fit is.
Brett Hopkins: I'll echo what John says. We have an appetite for growth. And we have an infrastructure in place that would support growth. But at the same time we're taking a disciplined approach. Fortunately, we're not in a race and we don't have to acquire X number of stores every year.
But we recognize the need to get into some new markets, and we have a few out there that we're targeting. Whenever you go into a new market, though, you have to do so with quite a bit of caution because cause there's a lot of unknown.
John Garff: One thing I'd add is that throughout the country there's an aging dealer body and a lot of dealers that don't necessarily have a succession plan.
And I believe we can add value or provide a benefit for dealers that are looking for an exit — stores that have been successful and require a lot of capital to purchase them. And in some cases there aren't a lot of buyers, for those bigger stores because of the capital requirements. I think we can provide a solution for people that don't have that succession plan.
What's your process when you buy a store for implementing your philosophy – the Ken Garff way of doing business?
Brett Hopkins: I would say our secret to success is in our people. We attract and we hire the right people. The processes are really the easy part, getting the right people in the dealerships who are going to take care of our customers – that is critical to us. And so when we look at a store we're looking at the reputation and history. But as we consider how to move forward, we look at how we can get the very best people in there to implement and execute our brand.
We've spent a lot of time on retooling the last three or four years working hard to become much more employee-centric and customer-centric. Our goal in each of our dealerships is to create lifetime customers, and we achieve this by providing an unsurpassed experience to every customer every time. And so as we go into a dealership and we establish our processes, they're geared around this objective. We make sure we have people in place that are aligned with our goals and willing to step a little bit outside of the industry norm to achieve these goals.
When you're say "stepping outside the industry norm," provide us with an example or two of how you do that.
Brett Hopkins: Well, one of the things that John and I say frequently to our employees, is that we want to provide an un-car-buying experience, or an un-service-like experience.
In the past that experience is driven very much by the salesperson or the service advisor, but we believe with the Internet and the amount of information available to the customer, the entire transaction and that whole customer experience has to start with listening and asking questions. And that sounds very easy on the surface but it's very difficult to change those habits and to start that process with the customer by listening and understanding what their needs are and then, customizing a solution to meet their needs, to achieve that unsurpassed experience in the eyes of that customer.
You mentioned attracting and hiring. That seems to be one of the biggest challenges that dealers, and especially groups of your size, mention. Do you have a secret sauce there?
John Garff: I wish we did have a secret sauce. But I think the secret sauce is the process of developing – and Brett touched on it a little bit — that employee-centric philosophy where we put our employees first. And that's a journey. We realize that's not going happen overnight.
But we feel like if we have a best-in-class employee experience, an unsurpassed employee experience that ultimately will attract people through word of mouth and through reputation. We believe those two means are more powerful than sorting through stacks of resumes of people that are trying to jump from job to job.
Brett Hopkins: I would add talent attracts talent, so the better that we can be holistically as a company, the better chance we have of attracting some of the best talent in the industry. And like John said, we don't have a secret sauce, but we're working hard on developing — it's still under construction — a personality profile for some of the key positions within our dealerships. And as we transition to this unsurpassed experience and what the customer is looking for in the car buying experience, we do need a certain personality of leaders within our dealerships. And we're playing around with that, trying to figure it out and fine tune it.
How do you create that first-class employee experience?
John Garff: First, we listen to our employees. We have meetings in which they provide feedback and suggestions. And we take those seriously. It's a grassroots way for us to listen to our employees.
Second, in each store we have what we call Champions that basically are the voice of the employee. Every employee has a Champion. They work in teams and are inter-mixed throughout the various departments. Their ideas, attitudes and opinions get shared from a grassroots level. I think that's changed our culture for the better.
We also have what we call the Driver of Excellence award which is an Employee of the Month award. So we have 12 winners a year from each store. We do a random drawing, and we take one of those 12 people from each store to Cabo with their spouse or significant other.
Brett Hopkins: Another thing we started a couple of years ago is our Volunteer Time Off program. We call it our VTO day. We ask our employees to volunteer in the community. They represent our company and then share their experiences with other employees. It's been a big success for us.
We've also overhauled our New Employee Orientation. In the past, we just sat new employees down and had them complete a bunch of paperwork.
Now we spend about three hours with the employees teaching them about our brand, our culture, the way we do business and the high bar that we've set. We're trying to set the tone at the beginning that we're not an ordinary company.
We're a professional organization and we have lofty goals. And for our employees to represent our company with our customers is a real honor and we expect them to take it seriously.
We've been able to refine the process to where it's really one of the highlights in the hiring process.
Also, we're trying to encourage our employees to provide feedback regardless of what level they are in the organization. We recognize that we do silly things in our dealerships just because we've always done it that way. And you know, these things don't make sense, but over the years we've just done it that way and that's why we do it today. And we've charged our employees with identifying those areas where we do silly things and escalate them up to management with a recommendation of how we can do better. Of course the goal there is to empower our employees to contribute regardless of their position in helping make us a better auto group so that we can better serve our customers.
John, as you grew up in the business, is it something you envisioned doing for the rest of your life?
John Garff: I'm probably like a lot of others that grow up in the business. I would say my story is typical. I started sweeping the shop floor when I was ten, filing, stocking parts and detailing cars.
I started selling cars when I was 16 and paid for college doing that. So it was in my blood from day one. And the thing that drove me as much as anything was the chance to work with my dad and grandpa in the business. I got my undergraduate degree at University of Utah and my MBA at Kellogg at Northwestern, but my sights were always on coming back to the business.
How old were you when you sold your first car?
John Garff: Oh, I was about 15. I wasn't of age legally to sell them. But I went down and did all the paperwork and got my first commission and got a little taste of it. It was quite fun.
Do you remember the car?
John Garff: I do. It was a blue Saab 900 Turbo that I sold to a neighbor of mine. It was a total spoon deal for my dad because it was all set up. But I made $300 on the thing. As a 15-year old that was a ton of money and I couldn't believe it.
When I turned 16 I worked the whole summer selling cars and had a couple of zero paychecks – which I always laugh about. That was before minimum wage was created.
The zero paycheck – which I put on my wall – was sort of a funny motivator for me. But I made a lot of money that summer selling cars.
You also were involved in starting Vehix.com, right?
John Garff: Yes. After I came back from graduate school, the Internet was taking off. At the time it was AutoMall USA. We changed the name to Vehix.com and we were able to get AT&T to invest in it. (Editor's Note: Vehix.com — one of the early lead providers – eventually was part of a group of companies acquired by Comcast in 2008, which shut it down three years later.)
When did you become CEO of the Ken Garff Enterprises?
John Garff: It would've been 2006. I was still on the board at Vehix at the time.
Brett, you have an interesting background.
Brett Hopkins: Well, I was working through 2002 as the CFO of the Salt Lake Olympics, and actually Bob — Robert Garff — John's dad, was the chairman of the board for the Olympics. And he sat on a few committees that I ran. Once the Olympics were over he said, "You know, you really ought to think about coming and working for us."
And at the time the car industry was about the furthest thing from my mind. I had a job offer in New York but I'd already lived in a big city. Prior to the Olympics I was working overseas in Paris, France and I really didn't want to go back to a big city. I wanted to stay in Salt Lake but I wasn't too excited about the auto industry.
John and I were actually Sigma Chi brothers at the University of Utah back in the late '80's. We both went on LDS missions, and so we kind of overlapped there and missed each other, but we were acquaintances and we were fraternity brothers. So once the Olympics were over we started talking. He was finishing up at Vehix and I was finishing up the Olympics. It was actually June of 2002 when John left Vehix and came over to Garff as the COO, and I left the Olympics and came over as the CFO.
And, it's pretty much evolved to where he is now the CEO over Garff Enterprises and I'm the CEO over the auto group.
The auto industry for me has been a lot of fun. Rarely do you find a business as exciting as a dealership where you've got so many different profit centers in the same business that you can manage to optimize. We've had a lot of fun since 2002. I think our profits are up 20 times since then. We just kind of keep our eyes closed and keep marching forward.
Don't look down, right?
Brett Hopkins: That's right. We try not to look down. We hired a good CFO and we think he stays awake all night worrying about things. We've got a good risk manager. You could say we require he stay awake and worry about things so John and I can sleep tight.
Talk about the types of risk that's involved.
Brett Hopkins: First, our vice president of risk oversees all of our insurance and the potential claims we might encounter.
We put in place different safety plans and try to mitigate our risks. And one of the tough facts for John and I to swallow is that the bigger we get, the more expensive our insurance becomes and obviously the more exposed we are to claims. Those could be customer claims, employee claims. They could be losses in assets associated with hurricanes, tornadoes, hailstorms, theft, vandalism — all sorts of things.
Because of all those things, we need to have someone who's dedicated to keep the mitigation of that risk top of mind and part of all of our operational processes.
John, you mentioned earlier the value you can bring to dealers who do not have a succession plan, But it's also the fact that this is an industry where the business has changed so much in the last ten years. The risk has become much more difficult and expensive to manage. The industry is almost becoming better suited for organizations like yours that are bigger and have the resources to do that.
John Garff: Yes, I think there's definitely opportunity. And if you look at it, the way our business was run and optimized even 10, 20 years ago, it is very different from today.
There are many more challenges and regulations and that makes it increasingly difficult for standalone stores to compete head to head.
We're seeing some big moves, groups like Sonic and AutoNation going to a national branding strategy. Sonic's going to one price shopping. Do you think the industry is going to move in that direction or is it going to be different groups trying or experimenting with these ideas?
John Garff: Well, the one thing for certain is the Internet was definitely — and is a game changer, no question about it. The proliferation of information is changing the game.
And it will forever change our business. Those that adapt to the transparency– the open, honest transparent transactions with customers and in the relationships with employees, are going to win.
How do you get there? There's probably 100 ways to get there, and people will do lots of different things like the ones you mentioned. But it's those that get there quicker on recognizing the value of the employee and the customer that will lead the way. I think that is where the action is.
Brett Hopkins: Ten years ago, the dealers had all the answers. We had all the information. And the customers were kind of in the dark. That has changed, and we are less focused on the transaction now and more focused on that customer experience. And again, that's where providing that unsurpassed experience so that we can create lifetime customers that will come back to our dealerships again and again and again — not just to buy a car, but really for us to provide for al of their automotive needs. And in order for us to accomplish that, the customer has to trust us. They have to see us as being unique, being different, and they have to trust us.
As there is more information, more transparency available – along with so many entities trying to get their piece of the transaction – how do you manage the pressure on profitability?
Brett Hopkins: I'm fairly new to the car industry — I think I'm 11 years old with my auto experience. When I first started, I leaned on all of the NADA averages, the NADA metrics, which I exaggerated somewhat as being the 300-year old best practices or the 300-year old metrics.
And, in today's world, those metrics are becoming more difficult to attain as the business is changing. We met with a third party advertiser recently that introduced to us their new software which lets a customer see the MSRP, the invoice and what the actual selling price over the last 90 days was on a specific new car. From our vantage point, you look at that and your first reaction is to be a little frustrated.
At the same time our health expenses are going up, our insurance costs are going up, and yet it seems like our margins are going down. But you know, all industries have those challenges and we can't stew over it for too long.
We have to put our heads down and figure out how to adapt and do things differently. And that's a work in process. As a result, I would say that our organizational chart within the dealership today looks very different than it looked ten years ago. We're having to leverage SEO, SEM along with social and reputation management.
But it's not a science. It's an art, and we have to make tradeoffs. And those are being driven by what the customer wants. And that's one area where we've improved or at least we've become more focused over the last couple of years — listening more to our customers, understanding what their needs are and their desires, and then going back into our business model and adapting.
John Garff: The better we are with that, the better we'll be able to deliver that ultimate experience, because every customer will have different expectations. And that's where there's no playbook. There's no right answer. Every customer is unique. Let's embrace that and let's have that be our guide.
Now, that's a lifelong journey. How we get there and how we change takes 3,400 employees and getting everybody to follow in a line.
It's not easy but we're committed to it. We believe in it. We believe it's the right way to do business.
As you look out to the future, what do you see the greatest changes will be in the industry?
John Garff: From an industry perspective, I think there's no doubt that the biggest change is the MPG issue and the fact that every manufacturer is focused on that in one way or another, whether it's a CNG car, an electric vehicle, a diesel, a whatever.
It's something that's important to the whole industry that's what's driving a lot of the innovation right now, at least from a manufacturing standpoint.
But I think a different answer to the question would be how some of the manufacturers are changing. Companies like Toyota have become very progressive. I think Chrysler has been very progressive in how they've come out of the ashes of that bankruptcy. And, frankly, I think that has been very inspiring.
And there are some other great stories. Ford and Honda come to mind.
But I think in the end strong manufacturers such as Toyota are investing and believe in the importance of their dealer body. And I think that that's similar to the culture we aspire to — the power is in the people.
They're starting to focus on the service and retention part of the business. Retention is going to be a big deal for the entire industry.
I would love to see our industry improve at retaining the customer and frankly taking business from independent shops. A lot of times we're so focused about taking business from each other, but I think there's such a huge opportunity out there that if our industry sees that, I think the business's future is very bright. And we'll just take it from the independent shops rather than from each other. That's where the rising tides raise all boats in our industry. That's one thing I think we could do better together.
It's a great industry because of the innovation and the opportunity that exists to exponentially grow the business.
Brett Hopkins: Absolutely. John and I keep saying we come into work every morning and we've just got a smile and we've got to pinch ourselves. It's a fun place to be right now. You know, we're very fortunate to have the opportunity. The stars are aligned right now and if you're not successful today in the auto industry, then maybe you should go try something else.
Author: