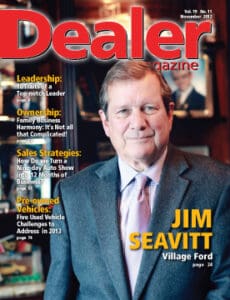 Not many dealerships can say their original showroom's façade was designed by Henry Ford, or that the chandelier hanging there now was a gift from him. Then again, not many dealerships are candidates for the national registry of historic buildings.
But, Village Ford in Dearborn, MI, can boast all that.
And, its long, distinguished history is crowned with present day success: Village Ford Dearborn is the 22nd largest Ford Dealer in sales volume nationwide today.
Its owner, Jim Seavitt, is not one to rest on laurels — past or present. Seavitt is currently chairman of the North American International Auto Show; on the board of directors of both Ford Dealer Advertising and the Ford Dealer Association; and a member of the Ford Marketing Dealer Advisory Board.
Seavitt is also co-chairman of Henry Ford Hospital's Get Your Heart Racing Fund and has raised more than $900,000 for the cardiology department there. Last year, he helped rent the Ford Motor Company Proving Grounds to give donors test drives with professional race car drivers, Parnelli Jones and Tanner Foust, and honorary fundraiser chairman, Ford CEO Alan Mulally.
Click here to read the rest of Jim's story and the November 2012 issue of Dealer magazine.
Jim, tell us more about your dealership and how you got into the business.
I'm the first generation in my family in the car business. My father was an attorney. I grew up in Allen Park, a neighboring suburb, and I went to Michigan State. Then I went to law school for a year and a half, but decided it was not the path I wanted. So, I tried the car business.
In April, 1973, I was hired by Hines Park Lincoln Mercury as one of the first in the city F&I managers. In six months, I became sales manager, and within one year I was general sales manager.
In 1982, I bought Village Ford, with Ford Motor Company; I was a dealer development dealer. I put in $150,000 and Ford Motor Company put in $850,000. I bought Ford out in two and a half years.
The dealership I bought at that time was called Stuart Wilson Ford and it dated back to 1947, which was the year of my birth. In 1947, Stuart Wilson had built this unique building with a rotunda to imitate The Ford Rotunda, which was built for the 1934 Chicago World's Fair as an exhibit to promote the Ford Motor Company. That rotunda was moved back to Dearborn after the fair, and later burned down.
So, our rotunda showroom was designed by Henry Ford, who died, ironically, in 1947. So, I was born, Ford died, and the dealership was rebuilt all in the same year. I'm going to try to get this building dedicated as a historical site.
With all your roles in industry organizations, how do you manage such as successful dealership?
I travel to New York, Chicago, L.A., Geneva, Frankfurt, and Paris for auto shows every year. I know I can be out of town and not worry about the dealership, because Bob Wheat, our general sales manager, is at the helm. Bob has worked here for 30 years, and we've known each other for 40 years. Bob was at my wedding, and we can finish each other's sentences.
Bob does a great job of managing the sales staff. He also does a fantastic job with training – probably because he's a great writer and speaker — he could have been a great actor or preacher too.
How has the dealership grown over the years?
When we started here, the owner before us was selling 1,200 cars per year, and we built that business up to 5,000 cars per year in 1999, during the heydays. Then came 2008 and the recession. Currently, we sell 2,700 cars per year. We have 24 new car sales people and 5 used car sales people. We are the 22nd largest Ford Dealer in sales volume in the U.S.
We started here with two acres and we now have 12. We have just the one franchise with eight rooftops: two service garages, two body shops, and three parts. We are a big parts wholesaler. We do $1 million a month in parts sales.
How many cars do you sell per month as a result of sales leads from the Internet?
We sold 58 new cars and 10 used cars on the Internet last month that we can track. Hundreds of e-mails and phone calls come in based on the Internet. I believe the Internet is still misunderstood. People aren't buying the car on the Internet. They are getting information on the Internet, which leads to a sale. But typically the Internet lead ends up becoming a phone call and we track those calls coming in to a sale. We've got a database of 40,000 people on the Internet that we can get in touch with at the push of a button.
Last year, we decided we wanted real control over our Internet sales leads in the truck market. So, we hired Netsertive and they placed our ad in targeted Internet sites that had F Series traffic, and our traffic rose 40% and we sold twice as many trucks as the prior quarter. I asked Bob: How did the F Series go from doing 10 to 20 trucks per month in sales and the answer was: 'Netsertive did it for us.'
Your dealership's track record for sales is impressive. What about awards?
We've won every award Ford has put up. We are most proud that we have 6 Triple Crowns. To win a Triple Crown, a dealership has to have won a Premier Parts, a Top 100 and President's Award all in the same year. Not too many dealerships do that. Last year we were among 10 dealerships who won the Triple Crown out of 3,800 Ford dealers nationwide.
Since we opened in 1982, we've won 26 Ford Top 100 in Sales Awards, 10 Premier Parts Awards — which means we are in the top two dealers selling Ford parts nationwide – plus, eight Ford Partners in Quality Awards and 13 Ford President's Awards for CSI.
What is your management style and how has that contributed to your success?
We have 180 people, including part time. Half are what we call productive staff – technicians, service advisors and salespeople – and half are support staff – management and support personnel.
I meet every new employee and we spend a half hour in my office talking about Village Ford and what we stand for. My number one concern is making sure the employee is happy working here. If they are, then we will win awards. I don't win the awards; they are won by our employees. If you treat your employees extremely well, then employee satisfaction will equal customer satisfaction.
To promote employee happiness and morale, we do several things.
For one, we have "camp." Camp means getting away from the dealership and getting to know each other. By that I mean, the parts department goes bowling, plays miniature golf, or does other activities. The service department plays softball and golf every week. Sales has a "Ryder Cup" golf outing every year, against the parts and the service department. Also the sales department has many incentive trips.
A lot of times we have camp with both the service and parts departments. Do you know how different the technicians are from the parts guys? It's like night and day. A parts guy is detailed, I call him blue – we had a seminar here one time that characterized personality types by color – and the technicians are red hot, impetuous and impulsive. Every day these totally different personality types deal with each other. So, as a manager, you have to help them get to know and like one another. That way the technician doesn't think that the parts guy is not going to knock himself out to get the part.
Another thing we do to make employees happy is celebrate anniversaries. This year the dealership is 30 years old, so we celebrated. I rented Dearborn Country Club and invited every employee there with their spouses. I invited Alan Mulally and Jim Farley who were there for 2 hours to speak to and mingle with our employees.
I have 38 people that have 25 to 30 years with me and each one of them got their choice of a paid trip to Las Vegas, Orlando, Scottsdale, or Myrtle Beach.
My management style is I treat my employees like I'd like to be treated.
Also, I want my managers to look upon the business as if it were their own. My body shop manager used to run his own body shop. He's independent. I don't tell him how to run that body shop. Other than being accountable for the expense structure and profitability, he runs it.
The best thing I did as a young dealer was to pick the right people. My parts manager retired two years ago, after 28 years, and he trained the person behind him and she is phenomenal. He taught her well, and so I've learned to be sure you've got the second person in place in all departments.
Benefits are another important thing we do for employee morale. We shop health insurance every year to try to keep prices in check for our employees. My next benefit enhancement will be to pay a larger portion of our employee's health insurance.
We have a 401k. I had participated in that, giving employees 20% of their first couple of thousand dollars, but as a result of the recession, I had to stop doing that temporarily.
We also have a generous vacation plan. All employees get three weeks per year, after two years.
What is your biggest challenge today?
Making sure our employees continue to grow. I'm 65. A lot of my management team is over 60. Some of my sales people are over 65, and I've got one salesperson who is 70. So my challenge will be replacing these very valuable people when they retire and finding quality young people to train to take their place.
How important is training?
It's very important. I'm lucky to have people here who are good at training. One person in particular, Kim Ferguson, does a great job training our new sales people.
For instance, my son just came to work here. He had been working at Koons in Falls Church, in the Washington, D.C. area. He's still got it in his heart to get a masters degree, but he came in here after three months in another dealership and had to learn an entirely different selling process and computer process.
Kim just took him under her wings and helped him get acclimated. Sales managers are often too busy to help a new sales person learn the phone system, the computer system, and the dealership style of operating. It's nice to have a sales person like Kim around.
Sounds like you have great company spirit there.
We are a very team-oriented dealership. When people come onboard, we have them take an aptitude test. We are looking for team players in the truest sense. If you are extremely competitive, you're not going to work on the sales team here.
Describe the sales process that has brought you success.
We are a one-price dealership. We get our commission from Ford. The only variable for a customer will be the trade-in. We do 97% of our business with Ford employee plans and x plans (friends and neighbors). We have a variety of plans for employees, retirees, and suppliers, but they are all under the one price umbrella.
Today, 70% of our customers are leasing customers. Four years ago, we stopped leasing, but now we're back to leasing which is very profitable for Ford. I love seeing a customer every two years. We don't sell a lot of products that we could sell if they bought the car. But, isn't it nice to know that every two years that leasing portfolio is coming up and you'll have an 80% chance of closing that customer again! And we are able to get people sometimes six months ahead of time, because of the strong used car market.
What is unique about your dealership?
Our BDC, which we've had running for seven years, has four great people that handle every new car phone call, every Internet lead, every service appointment, every thank-you for purchasing and thank-you for a service call.
Plus, our BDC calls every non-closed service customer and they are very aggressive with Internet sales leads. We are on Craigslist, AutoTrader.com, Cars.com and a number of suppliers. We call these Internet leads back right away. It's all very fast-paced. We have Internet leads that come in from all over the country. The Internet has become the channel for taking advantage of a national market. This is especially true when we have in inventory a unique or high demand car. For instance, this month we had a Camaro convertible that attracted a customer from Ohio.
We have a consulting firm, Halfman Consulting, that writes scripts for BDC personnel to use on our phone calls. Every call is recorded for quality of care, and improvement, and Dan Halfman listens in on our BDC's phone calls and will coach our BDC personnel to continuously improve their techniques. Our BDC is supposed to sell an appointment, not a car. They really do a good job of that. When they try to sell a car, Dan will correct them and say: 'That's not what you are supposed to be doing.'
Tell us how you came through the recession of 2008?
We had to tighten our belts. Ford cut its white-collar workers in Dearborn by 50% and I had to follow suit. We had 248 employees in 2008 and now we have 180. We had to stop contributing matching funds to the 401k, and we had to ask employees to pay a little more of their health insurance. By doing things like that, we remained profitable during the economic downturn.
What is your vision for the industry and your own dealership?
More technology changes are coming. I have an IT person who works full time. MyFord Touch is tough to get your arms around, so I have a full time staff member who tells our customers upon delivery how to use the technology in the car. If I don't, our customers won't know how to work even the air-conditioning. Technology poses a huge challenge and change in the way we sell cars. The sophistication of our products and services are going to require training for an ever increasing level of skill and competence. The biggest challenge for most dealers, including ourselves, is finding people who have or can acquire that competence.
Marketing in today's technology world is also a challenge and it's changing all the time. We are doing more with Internet advertising and that is taking more away from traditional media, but we still do a lot of direct mail. It's the way we communicate that a customer may be able to get out of their lease six months early.
We also do TV and radio. We are doing less spot TV and more sports buys – Michigan state football and basketball, and Red Wings Hockey.
As for newspaper advertising, when they had the strike 27 years ago at the Detroit Free Press, the blue-collar workers who buy our cars did not want us advertising in the newspaper. So, all of a sudden, I'm out of the newspaper ads, and guess what, I'm not losing business. So, we switched most of our advertising out of newspapers 27 years ago.
What do you see for the immediate future?
It's going to be very exciting for the next six months. We're getting a lot of C-MAXs and other hybrids and electric cars, and Ford is going to build enough Fusions to challenge Camry. That's big. And it helps us recruit more salespeople and keep growing.
Author: