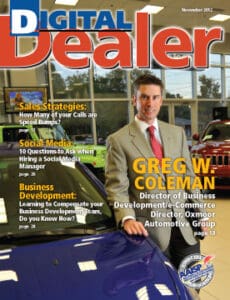 Greg Coleman, director of business development/e-commerce director for Oxmoor Auto Group, is way ahead of the curve.
Oxmoor Auto Group had 4,088 Internet new and used car sale units in 2011 and was among the top 15 dealership groups nationwide in Internet sales. And 2012 is on track for even higher numbers.
This family-owned dealership is 20 years old, with six franchises in Louisville, KY – Chrysler, Mazda, Ford, Toyota, and two Hyundai stores – as well as a large collision center.
Greg recently shared, in a Digital Dealer Webinar, the top 50 best practices that he's drawn from Digital Dealer Conferences and implemented at the Oxmoor Auto Group to help him move the needle with Internet/BDC sales.
Click here to read the rest of Greg's story and the November 2012 issue of Digital Dealer magazine.
Greg, before you share your strategy for success with Dealer magazine readers, please describe how you got into the business of marketing cars.
I was working in marketing for a trade show and museum company in Dayton, Ohio. I traveled all over the country. But, after 9/11, the trade show business slowed down. So, I left that job and moved back home to Kentucky, and was in the process of transitioning into a new job – marketing for a printing company in Lexington, KY. But, I wasn't slated to start there for four months.
I felt I needed to work in the meantime and fell into the car business when I interviewed for a marketing and Internet position with a dealership. After my first paycheck, working as that dealership's Internet manager, I never pursued the other marketing job.
The first thing I did as Internet manager was to learn as much as possible from those who were successful. I attended seminars and educational events, like the Digital Dealer Conference, and I read everything I could get my hands on related to the digital side of the automotive industry. I learned how to differentiate our dealership from the competition and maximize untapped opportunities.
When and why did you make the move to Oxmoor Automotive Group?
A friend of mine I had worked with at another group recruited me in 2010. Knowing and trusting him, I knew that this would be the right place to excel in this business.
Your group is among the top 15 nationwide in Internet sales. Tell us about your structure and processes.
I'm Director of Business Development / E-Commerce Director for six stores:  Ford Lincoln, Chrysler Dodge Jeep Ram, Toyota Scion, Mazda, and two Hyundai franchises. They are all in Louisville; five are on Shelbyville Road, and the second Hyundai is across town.
Our corporate offices are out of our Toyota dealership, which is the largest store and a central hub for everything. There are dedicated people I work with at each store.
We have roughly 35 Internet salespeople – including the 15 staff members in our BDC, who just work Internet traffic – plus we have an in-house photographer and some administrative personnel.
All Internet and BDC traffic, as well as lot traffic, is tracked through ELEADS, our CRM provider.  ELEADS does a great job for us. We started with ELEADS two years ago. Prior to that, the group had a CRM for the Internet department, but the sales floor itself didn't have any consistent CRM, so we looked at all the providers out there.  ELEADS was simple to use for the Internet staff and sales floor, and it's a great tool for the sales managers.
How many Internet leads do you get per month?
Around 3,500 Internet sales leads come in per month. We try to maintain roughly a ratio of 100 leads per associate. So we are seeing continuous growth in personnel in our Internet department. To maintain the proper process and procedure, we need all the manpower we can get. There are always more things to follow up on.
The success of 2011 was based on five stores, and we just opened the 6th store in February. We had been working out of a trailer in the parking lot of that store, and moved into the new building in April. So now we're up and running with six franchises and that added growth in personnel, as well as sales.
What is your closing ratio for Internet Sales?
Our closing ratio for Internet sales in 2011 was 13.23%.
Prior to that, we didn't have any consistent tracking measures for our Internet operations. However, with our increased sales numbers in 2011 and a solid way to measure results, we feel we had tremendous growth directly correlated with our Internet sales structure and process.
Internet sales are doing fantastic for 2012, and we are continuing to put in place more processes that are helping us move the needle to exceed previous year sales.
We average 370 Internet sales per month, with 52% new car sales and 48% used.
Our Mazda store is number one in the state, by far, and has been consistently one of the top 20 dealers in the country in sales volume for Mazda. Our new Chrysler store is number one in the state in sales volume for Chrysler dealerships and our Toyota franchise is third in the state for Toyota sales overall.
How are you driving Internet leads?
The Oxmoor Auto Group does anything we can first to engage customers and then to keep in touch with them after the sales process.  As an overall approach, we look at other successful dealer groups and we take the time to research the competition and create our own mix of the best of the best practices in marketing and media.
First of all, our websites are extremely effective. We use ClickMotive for website hosting and SEO. We have the central hub: www.oxmoorautogroup.com, and each store has its own website. Overall, we are very pleased with ClickMotive's performance. With their ongoing help, we build custom pages on our sites with rich SEO content.  ClickMotive has a great platform for organic SEO.
We have also used the Louisville Courier-Journal, and its parent company, Gannett, which offers a package deal with integrated SEO and paid search services (SEM), as well.
Since we have such a great organic search engine presence, and rank so high, we recently cut back on SEM. With paid search, it was difficult to know whether we were getting the bang for our buck or whether we were just spinning our wheels, because we ranked so high anyway with our SEO efforts.
So far, the most success we have had is with our microsites, which I have created in-house to drive unique visitors to our websites. A microsite is an individual web page or group of related pages which function as a discrete entity within an existing website or to complement an offline activity. Sometimes they are called landing pages and they are specific to a given advertising campaign. Consumers will land on them when they click the URL in the ad.
We have a total of 15 microsites, including customer referral club sites for a couple of the stores.
We use these referral clubs to generate a tremendous amount of business. One of the problems we had in the past with referral programs was verifying that a given customer was legitimately a referral. So many times you might go through the entire sales process and not find out they were a referral until the end.  This leaves the dealer in an awkward spot.
So, we created an entire referral program to be consistent. It works like this: You have to go to our website and register as the person making the referral, and register the person you are referring. It comes through as an Internet lead and we can track all these referrals, and pay the person who referred the customer accordingly. We can market this to customers, and make it easy to submit online. We pay referrers $200 per car sold, and we send them a check after we get their social security numbers. This system eliminates the gray area.  And, it's great to have all the information we need online, about the referrer and referee and how much the car cost, etc.
The referral clubs have given us a lot of benefits in addition to what we created them for. For instance, our Oxmoor Toyota Referral Club does very well on Google. It pushes bad reviews off the page one search engine results page.
Another example of our microsites is our KentuckyScionClub.com, which drives more Scion traffic. That microsite offers news and events that dealership is hosting.  As a Scion franchise, you have to do so many events per year and creating the club and its website counts, and gives us a reason to get in touch with Scion customers and encourage them to visit our website.
Another club we have is SkyActivLive.com, a Mazda club for SkyActiv vehicles. We put a car on display at the local mall, and created a website for it that people could access by scanning a QR code on the car.
Oxmoor also has a special Internet Only Partner Pricing Program offered to employees of 46 companies and organizations, including municipalities, schools and universities, manufacturers, the U.S. Postal Service, Wal-Mart, Kroger, Amazon.com, and Churchill Downs.
What percentage of your Internet sales leads come from your websites and microsites?
For all of our dealerships combined, our own websites and microsites give us 34% of our Internet leads; leads from manufacturers account for 16%, and everything else comes from third-party lead providers. We use AutoTrader.com, Cars.com, Autobytel, Dealix, AutoUSA, Black Book, TrueCar and now Kelly Blue Book. All are excellent providers that continually show tremendous ROI.
What role does advertising play in driving traffic to your websites?
Each of our stores has their own marketing budget to drive traffic to their own sites. We also have some group-wide messages to drive traffic to the group site. We use several advertisers: Rutledge Integrated Marketing, out of Iowa; Big Time Advertising, in South Bend, Indiana, and locally, Max Design and Marketing, in Louisville.  We also get ads from Toyota corporate. They do some of our radio, TV and newspaper ads and since we have consistent messaging, we frequently use these same ads online too.
What is the mix of your advertising budget – digital versus traditional?
At this time, traditional media still accounts for the overwhelming majority of our advertising budget. Each store is a little bit different, but from an overall standpoint, 19% of our budget is for digital/Internet, versus 81% traditional.
TV and radio are still a big part of our mix. In a lot of markets, we hear that newspapers are fading out or dying, but for our market, newspapers still play a big and important role.  The Louisville Courier-Journal still does well for us. It's very widely read, maybe because the Louisville market encompasses many surrounding counties.
Besides advertising, we produce newsletters. We have tried a mix of newsletter providers, and a couple of our stores do their own newsletters. Mostly, we use IMN, as our newsletter provider. We like what they do. It's nice to see the reporting they make available: You can see what articles are most read and what links were clicked back to your site and you can see what's working. It's almost like Google Analytics. When we do a newsletter in-house, we can't do the tracking that IMN provides. It is a valuable tool.
Once you get all these leads, how quickly do you respond to them?
Our response time to Internet leads is within minutes of receiving the lead on average. Now we are equipped with text messaging on cell phones and alerts are sent in when leads arrive to ensure a quick response.
We believe the best response is a personal response and strive to make that the most common form of contact. However, through our CRM, we are able to develop automated model up and model down responses, which we love – not only giving customers quick responses, but options as well.
We have developed a library of templates for every type of sales and service situation and its followup and it's worked really well because of the integration throughout the dealership. It's worked well across the board.
How long do you follow up on a lead?
We have a term of "buy or die". Those are the only two ways we will stop following up with a lead. Even after they buy, we continually follow up for referrals and repeat business. We know that a lot of dealers will give up too early in the customer buying cycle; by continually following up over several months, we differentiate ourselves and pick up those extra deals.
 What are you doing with social media?
We utilize Facebook, Twitter, YouTube and even LinkedIn to communicate with our employees, customers, and potential customers. We feel it is very important to maximize these tools in today's marketplace.
For instance, with our Toyota franchise, we had a contest on Facebook, to encourage our customers to do fun testimonial videos about their experiences with Toyota. We asked them to put those videos on our Facebook page and then encourage their friends to "like" their videos. Whoever got the most likes for their video would get a prize – a $200 gas card. We hoped that would get more people to follow our Facebook pages, who might otherwise not have known we existed.
We also put notices for the contest in our newsletter, and in an email campaign to put our name in front of people. For this campaign, we had a custom page – microsite — on the website, as well as on Facebook.
How about Twitter?
We use Twitter as a tool to monitor responses from customers. Periodically, we type our stores' names in Twitter to see if anybody is talking about us on Twitter. Sometimes you can interact with customers who have had a negative experience and engage them on Twitter and we can hopefully fix their problem and turn that to a positive. The last thing you want is a bad review out there ­– somebody having a bad experience and telling all their friends about it. So, we monitor that as much as possible.
We've also tied our Facebook page into Twitter, so anything we put on Facebook pushes over onto Twitter. We don't try to do anything different on Twitter. We have to have a presence there, but we find it difficult to track the effectiveness of trying to sell a vehicle on Twitter. There are companies that say they'll do that for you, but I don't think we are at the point where it would justify the additional costs. It's simple for us to manage Twitter ourselves right now.
What are you doing about online reputation management?
We are DealerRater Certified with all of our franchises, so we can manage reviews effectively, and DealerRater is a nice tool to be able to monitor and respond to customers with. We also monitor Google and other review listings and make every attempt to respond to both positive and negative reviews.
How do you keep current on the latest Internet sales and marketing tools?
I read a variety of industry publications, such as Dealer magazine and its e-newsletters, and I am a member of a variety of online dealer associations, which publish regular news articles and vendor reviews.
What are some of the tools you use that you would recommend to other Internet directors?
We use vAuto for vehicle appraising. It's a great tool; it interacts with all our other systems, so it's seamless from desking managers to sales people. The latest version with the provision tool provides information on not only where you stand in the market, as far as your price, or what vehicles are going for, but also it grades each vehicle based on market demand in your territory, and nationally. So, it makes it simple with an "a," "b," or "c" grade. vAuto has changed a lot about the used car market as a whole.
We use HomeNet for inventory postings, and we think they do a great job. For our DMS, we use ADP, which is very functional and integrated throughout sales and service for the entire group. I've already mentioned how effective ELEADS is as our CRM.
I have a comprehensive tracking system that measures performance and ROI for all of these solutions and I like what I see.
What is your biggest challenge?
Staying ahead of the competition in an ever-changing marketplace and keeping up with technology.  As soon as you relax and think you have everything under control, the entire market changes and moves on. So we are constantly updating and training, and all our competitors are doing the same. You can never relax on a competitive edge, because it can change tomorrow.
Once a month we mystery shop local competition and larger dealerships across country to get an idea of how they are approaching customers. We look at their websites and their advertising messages, and how they are placing on AutoTrader. Constant vigilance is so important.
What is your typical day like?
No day is like the previous one. I go in daily with a plan and then work as hard as I can to eventually get everything accomplished – from running reports and ensuring that our entire inventory is online and marketed correctly, to checking that all customer inquiries have been handled.
What do you see for the future?
More and more business will be generated from the Internet for our group and the industry as a whole.
Author: