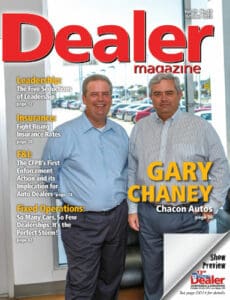 Gary Chaney and his dealership group, Chacon Autos, operate two Suzuki franchises and eight independent used vehicle stores in Dallas and San Antonio, TX. Chacon Autos, with its heavy focus in Buy-Here/Pay-Here operations, offers Dealer magazine readers unique insight into a franchised dealer's successful organization who's used vehicle sales and service is its bread and butter.
Click here for the rest of Gary's story and the October 2012 issue of Digital Dealer magazine.
Gary, tell us about your group's history.
My dad started a used car dealership partnership with two other men in 1958 on Ross Avenue in Dallas, Texas.  In 1986, they decided to part, with Dad starting his own dealership. My brother Darrell and I started working for Dad in 1987. We took control of the company in 1992 and started expanding in the state of Texas. Today we have 10 locations – Suzuki dealerships in New Braunfels, TX, near San Antonio and in Dallas, and eight stand-alone buy-here/pay-here (BHPH) locations as well.   We retail about 5,000 vehicles a year from these stores.
In many ways, our challenges are no different from other dealers. In fact, I was reading a recent issue of Dealer magazine where a dealer was discussing the challenge of finding used inventory. Everybody's fighting for the same vehicles.
Describe your BHPH operations.
Our stores' inventories have as few as 25 vehicles and up to 100. We carry a higher-priced vehicle than most BHPH operations. Our typical unit retails for $16,000 to $17,000, and most of them carry the remainder of a factory warranty. Collections in the BHPH market are critical, and we operate collect staffs in Dallas and San Antonio to remind customers when payment is due and to work with them to ensure payment. We process all notes ourselves and customers make their payments here. However, if a customer buys a car in Grand Prairie, they can make a payment in Ft. Worth, or Lewisville, or wherever we have a location in the Dallas area; the same thing is true for the San Antonio area.
We finance almost 99 percent of the used vehicles we sell to our customers.  We have $50 million in loans from several banks. We service all the accounts.  We don't assign titles or notes; we hold them here.
A typical finance term here is 36 months. Our goal is to structure the term and payment so by the time the vehicle has 125,000 miles on it, it's paid in full.
Our larger locations, including the two Suzuki franchises, operate repair facilities. If repairs are not covered by warranty, we will often lend to the customer to be able to afford repairs. Our clientele rarely buy service contracts, as their cost layered atop the vehicle cost often makes the deal unworkable.
The customer relationship is truly with your dealerships.
The strategy has been successful for us.  About 30 percent of our business is repeat. Customers come back and as their kids mature they buy from us too. In fact, we have had some customers returning for the last 50 years.
Most are sub-prime buyers, though about 5 percent of them could and often do obtain financing through other lenders or banks. Ours are the customers the new car dealers cannot get financed. Our strategy is to make sure these buyers have the kind of commitment to take on investments like these. Our collection staffs include people who have walked where many of our customers have, where some sort of problem in their lives has affected their finances in such a way that they're struggling. Moreover, these consumers simply cannot get financed through typical financing means, so we provide that service.

It must be a challenge for them to make a down payment.
Yes, it can be. However, we ask for 15 percent of our retail as down payment. Their trade can go toward that. Surprisingly, when customers see the quality of the cars we sell, if they don't have all the money they save it up and come back a month or two later ready to purchase the car.   

What is a typical BHPH customer credit score?
We do look at credit scores, but they mean nothing, really, in this business. Most of our customers' scores would be in the 600 or less range. We qualify customers in other ways, which are more important to this business. In the BHPH business, you have to listen carefully to every customer's story. That's part of our success – we really listen and learn what has happened to the customer and what's currently going on with them. There's usually a reasonable explanation for why they're at the place they are.
For example, their car broke down and they could afford only the repair or the payment. Or, they lost a job or the husband left. Most people need transportation and they want to pay for it.  You just have to find out what their situation is. Many of them had homes and no longer do. Their credit is terrible, but that's because some lender put them in a house that they couldn't afford. They've lost their house and car and now they need another car.
What do you listen for in their stories?
We listen to see if the customer is telling the truth. We sit down with them for 10 minutes and after that time we have learned whether they're being truthful and would be a good customer for us.
As in the new-car business, our customers want more vehicle than they can afford. Our job is to steer them into the vehicle they can afford. We realize they prefer the $21,000 model with all the nice options but they need to be put into the $12,000 model. Look, it's our problem, not our banks' if we put the customer into too much car that they can't afford, because we hold the notes and we have to collect or seek to gain control of the car again.
You manage their expectations.
That's right. In this business we're selling more than cars.  We're selling the truth about the price point of the car they can afford.

To manage collections, do you install starter-interrupt devices on vehicles?
No, we don't. With the web and all the technology today, it's easy to find people who might want to evade us, but that is a rare occurrence for us. We keep in touch via email and text and remind them of collections issues the same way.  After a payment is eight days past due, we just pick up the phone and call to make a friendly reminder.  Our account reps are trained not to harass people.  This is not about being mean to people or threatening them. Customers don't want to skip out on you; they want to make their payments and manage their bills as best they can.  Our dollar loss is from repossessions, meaning the cost to reclaim the vehicle, so our losses are better than the average of the United States. Some of this loss is due to the quality of vehicles we sell.
Your focus is used cars, not your new-car operations. 
BHPH has been and continues to be our core business. We know it best, but we had been losing customers to new-car dealers offering entry-level and lower-priced vehicles, so we opened the first Suzuki store in 2003. We do get some good trades through the new-car franchises and that gives us access to other lenders and other groups of customers.
We thought the new stores would also mean extra sales, and we did get extra sales until 2008. We've found Suzuki less than focused on its North American operations and since the downturn we've focused on what we know and do best at, BHPH.
The Dallas Suzuki store is also our largest BHPH operation, as 95 percent of the volume there is used vehicles. They'll retail about 70 units there this month.

These are full-service Suzuki stores.
Yes, but most service work there is for our BHPH customers. We have service facilities at the San Antonio Suzuki store too, as well as at our two largest BHPH operations. As service operations, we don't operate them as a new-car dealer would, as profit centers. We run them to keep our customers' cars running and to support our reconditioning needs.
Most inventory comes from the auctions, and we use Manheim and Adesa in Dallas and San Antonio — or wherever in the United States we can get them.  We also rely on America's Auto Auction and occasionally on the GSA auction.
The Chacon name – its origin?
When the business first started in '58, there were at first just two partners.  The Chacon name is compiled from their last names, 'Chaney' and 'Conway.'
Perhaps this is something a little unusual that we do as a family:  all generations  — my children as well as Darrell's – who are involved in the business attend our banking meetings, attend both state and national ADA events and are very much engaged in the day-to-day operations of the business. My son is working here; he graduated from Texas A&M and he's managing our San Antonio area for us.  My daughter Stefani handles our Human Resources. She also has a CPA license. My brother's oldest son Josh works for us managing aspects of our Dallas operations.
How do you market? 
Our marketing is referrals, word-of-mouth and our web site, www.chaconautos.com, plus our consumer engagement on Facebook and Twitter. We also use an occasional billboard.
You love this business…
I wouldn't trade it. I'm envious of the new car dealers and while we're not as good as they are in new-car sales, we're much better in the BHPH business.
Author: