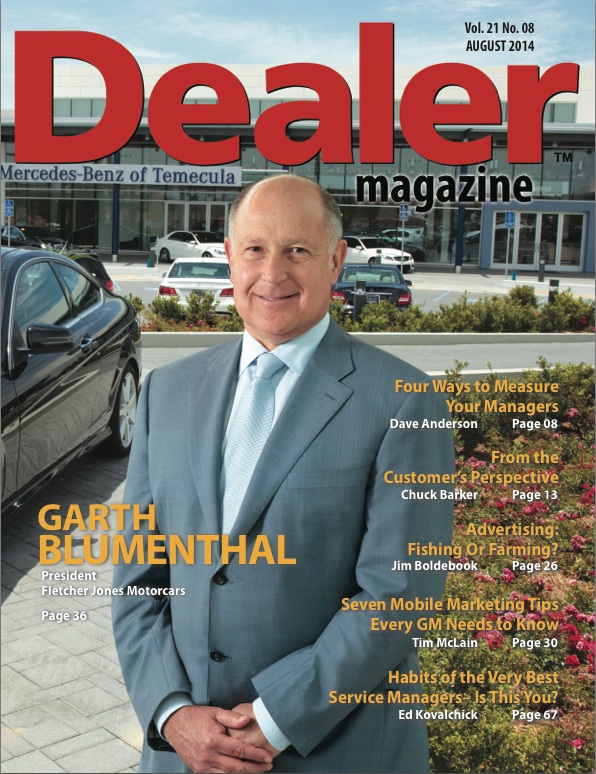 The Fletcher Jones Automotive Group opened its long-awaited Mercedes Benz store in Temecula, CA on April 18, 2014. It joins the group's other 16 dealerships that generated more than $1.8 billion in revenue with more than 31,000 new and used vehicles retailed in 2013.
It's one of nearly 50 dealer groups in the U.S. that generated more than $1 billion in 2013. Fletcher Jones began the company in 1947 as a used-car store in downtown Los Angeles. His son, Fletcher "Ted," has overseen the group's remarkable growth since the early 90's.
The group has stores in Hawaii, Southern California, and Chicago.
Garth Blumenthal, the General Manager of the Newport store, is a partner with Jones in the new venture in Temecula. He's arguably one of the top operators in the industry and is part of a formidable team assembled by Ted Jones over the years.
The Newport store was bankrupt and had a terrible reputation in 1991 when Jones acquired it. An intense focus on the guest – not customer – experience implemented by Jones and executed by Blumenthal, along with innovative approaches to technology has turned it into the top dealership in the country.
Blumenthal, who is South African, has been with the Newport Mercedes store since the beginning.
Dealer magazine visited with Blumenthal at the dealership in Temecula just a few weeks after its grand opening.
An exclusive interview Dealer magazine interview with Garth Blumenthal
Garth, the store in Newport, Fletcher Jones Motor Cars has been Mercedes Benz's top selling dealership in the U.S. for 15 consecutive years now.
Yes, we have. It's been fun and we have no intention of relinquishing that. It's a case of constantly reinventing and making all kinds of adjustments.
I love sports and I think it's a lot like being a basketball coach. They have to look at the game film and then make adjustments in practice and during the game.
For us, we're making adjustments constantly throughout the month.
Give us an example of an adjustment you've made.
Last month, we took the bottom 12 sales guys who were struggling – these were sales people who might have been good on the demo and building value, but weren't able to transition to getting a commitment and paired them with the top 12 sales people.
That's made a huge difference this month. Training, mentoring, talking with guests, and getting involved with them to gauge their interest and helping transition them to a commitment.
Sometimes it's a question of confidence for people who are good at the soft sell but have trouble with closing it.
How do you build that team concept? How do the top 12 salespeople like being paired with the others?
Right. It's all about pride first. Knowing and understanding that you really are on a team and that team is bigger than any one individual.
We have incredible salespeople and we try to appeal to their community sense and their willingness to mentor. We appeal to their egos. They want to show how good they really are – taking that customer who you thought wasn't ready to buy and getting it done.
So that's really working for us and is an example of an adjustment we've made.
Another example is pay plans. I believe they drive behavior so we implement those drivers to help us hit certain targets. We might set a monthly bonus at 18 cars and then move it to 20 the next month. If we need to move 10%, we'll move our sales people 10%. Of course, there is pushback, but they ultimately get it done.
But at the core of our play plan is the guest satisfaction score. It's really not about how many cars you sell, but, instead, it's about retention. And what does that mean? It's how many people are coming back year after year.
That's the game today. Everyone is looking at retention. And we have systems that feed into that, whether it's Auto Alert or Next Up, these companies are playing off of the retention.
Walk us through how that works.
Before we get to that point, we really have to focus on the guest. I think if you're a dealer or a General Manager, you have to open your mind to the fact that a closed floor environment is the way to go.
Why do I say that? Most owners or general managers can't tell you how many people walked into their business on any given day because they're leaving it up to the sales managers and the managers don't have a system to measure that. What's interesting about Next Up is that it actually increases a store's opportunities because it forces you to collect and log that customer information.
We made a conscious decision in 2010 to shut the floor. Then last year we determined that the salesperson can't be the first person to go out and greet a guest.
So our managers are the first to greet customers. I want to make sure the greeting is done correctly – a warm greeting, an introduction, a refreshment – before we even start looking at vehicles.
I wanted to make sure the manager handled the greeting so the salesperson wasn't pre-qualifying and dismissing potential opportunities before they even came inside.
That's what happens on an open floor – salespeople determining a person isn't a buyer.
We're working on that here in the Temecula store. We've only been open for a few weeks now.
You've been preparing the dealership here for about five years, right?
It was actually back in 2006 when we started planning this. We got the letter of intent from Mercedes and intended on being open in 2009 or 2010. But then we all know what happened. So we decided to sit back and see what was going to happen.
Did Mercedes pressure you to step up the pace while it was delayed?
Of course, Mercedes wanted to have a presence here and wanted us to be open, but they understood the mitigating circumstances. They were good partners with us throughout the process.
We agreed on a target date and actually beat that date – that was once we had reset the target date.
How long was the construction process?
It was one year from the time we broke ground – we broke ground on April 1 and opened a year later on April 18.
Are you still in growth mode? Are you looking to add stores?
We would like to. We have the land here and would like to add another German brand. We have relationships with Porsche and Audi in other places.
There is a lot of opportunity.
(Editor's note: Fletcher Jones has sold two stores earlier this year – a Jaguar Land Rover store in Hawaii and the Toyota store in Las Vegas which was bought by David Wilson for $125 million.)
There have been a couple of recent studies – I think NADA's annual data report is one, that shows profitability may have plateaued even though revenues still continue to hit record levels.
I think it's because they aren't paying attention to processes. Our Newport store isn't seeing that dynamic. We had a record year in 2013 for profitability.
We're able to do that because we're looking at people first – we draw a triangle with people, processes, and technology and at the center is our guest experiences.
As I've mentioned, we're constantly refining our processes. If we have the right processes and the right guest experience, then I think the profitability follows.
Let's talk about the technology and the future of our industry the next few years. Everyone is talking about the seamless transaction process. How do we as an industry get to that point – and can we even get there?
If you're an automotive group with the resources and a great understanding of what needs to be done and what works, then I think you can customize something that helps get you to that point.
The issue is, there is no one system out there that does everything we need it to do. So in our case, we've worked with a few vendors and have come up with a way for the different systems to communicate so that it is seamless – or at least, from our perspective, it is seamless.
That of course begins with the guest's view that the right hand knows what the left hand is doing so that it is transparent and seamless. So we've preferred to take our platform and have a few systems or software firms that we work with that fully understand what we're trying to do and customize it specifically to our business.
What everyone is after – especially Mercedes – is an interface. We have had our interface for about five years now.
People will call me and ask for us to sell or provide them with the interface. Of course, the manufacturer is telling them we have this interface. From a competitive perspective, that's not something we want to share. We've invested a lot of money and time building it.
What some of these other groups are trying to do with the transaction process is ambitious. What they do might not work for Fletcher Jones. It would hard for us to move to another system.
That makes a system like that much less marketable for a big company such as Microsoft or ADP or Reynolds and Reynolds or anyone else that tries to develop that.
Now, we're able to make small adjustments, such as adding in xTime into the process – those things aren't affecting the core structure, but are more like a plug and play.
We use ADP for fixed operations and accounting and Advent for finance. Our CRM – Momentum – works well with Next Up and Auto Alert.
Over the next few years, it seems F&I is where the most innovation will take place – especially as more companies experiment with processes that shorten the transaction process.
It's interesting – and I hear this from dealers – that the Internet has destroyed profitability but I think the opposite is true.
Before, we would have to go through a long education process for our customers but today they are coming in much more transaction ready. They'll still want to do the test drive and we want to build value and trust, but at the end of the day, it's much easier because we're not having to dispel the belief that we're making 50% profit on the sale. Now they have a much better idea of the range we have.
What we've done successfully is make everything we do about the Fletcher Jones Preferred Owner program – the benefits practice. We provide a lot of added value for people doing business with us, so it's much less about the price and payment.
Of course, they can still negotiate and get the best price, but now they're also getting thousands of dollars of benefits with us – free loaner car, free car washes, free airport parking. All these benefits tend to diffuse the discussion about price.
What's really important is how we treat people including in the service department.
You're in the process of developing a service call center.
Yes – that's in our Newport Beach location. We handle the calls for half of the Fletcher Jones dealerships and will soon be add the others.
On the sales BDC, we also run that through Newport Beach, but only for a few of the stores now.
You just returned from Europe with the manufacturers. What did you see there that we aren't doing here?
Well, I think we're ahead of Europe by a good 10 years in systems and processes – maybe not so much with the United Kingdom but certainly in the rest of Europe.
Europe has some interesting plays in automotive retail, such as Audi's 3-D floor to ceiling display wall. Are we going to see some of those things here?
I think so. But those developments are mainly for display, and not so much transaction or process. We still have to build that emotional connection with the consumer and hopefully get them into the car to test drive.
It's cliché, but true – "The feel of the wheel seals the deal." I still believe if you can test drive 90% of the people – which is hard to do, by the way – you'll get 50% of those as proposals, as they call them in Europe, or write ups here.
Looking at the future, where do you see the industry being?
One of the things we've been working on here for 10 years is developing product specialists. Without a doubt, the salespeople can be your biggest asset and can be your weakest link because they want to talk about price often before the guest does. Sometimes, they'll rush the steps and often miss important steps in the sales process.
Using a product specialist that knows everything about the vehicle, then it comes back to profitability. If sales people doesn't know much about the product, what are they going to talk about? Price.
So better educated salespeople leads to greater profitability?
Absolutely. As we've used product specialists, sales assistants, and delivery specialists, none of whom actually sell the vehicle, our CSI scores have gone up. It takes the guest experience off the charts.
Our CSI in Newport right now is 981 for sales and 992 in Temecula. So when you tell me someone's not profitable, I'd look at management and the processes they use.
There is an absolute correlation.
So looking down the road, I think product specialists will do much of the leg work, continue to build the value of the relationship, and when the guest is in love with enough to own it, they'll sit down with a senior salesperson to work out the financial details.
It's going to be more of a consultative approach in the future.
Walk us through your sales process.
The guest is greeted by a concierge person or a manager and is welcomed to come in. They'll offer the guest a beverage and sit down with them and begin to build the relationship finding out about them.
Once we have enough information that will help us guide the guest, a product specialist or salesperson will walk through the desired vehicle including a test drive.
A very important part is our Next Up software, which helps us manage the activities of the product specialists and salespeople closely.
At all times, our salespersons are on a three-person 45 minute power rotation. If they haven't had an opportunity in a 45 minute period, they then begin working the phones.
If a salesperson doesn't enter the guest information, they don't get put into another rotation until that's done.
Once a deal is agreed to and the credit application is approved, that's when our F&I managers get involved. That's because there are legal documents and we want to make sure those are accurate.
How important is the time of transaction?
I think it's personal and different for each guest. It depends on how quickly a person wants to move. We have to be respectful of a person's time. Do they know what they want? Are they an experienced buyer? All those things come into play.
I know everyone is measuring the time today, and it's important, but it's more important to understand the cues given by the guest.
It goes back to profitability again. If a person doesn't understand the value of a purchase, they'll have a tougher time paying for it. That's why it's important to take the time to build and explain the value to the guest.
What's it been like personally for you, coming from South Africa, and joining the Fletcher Jones group, and then becoming one of the top salespeople in the country, and then as general manager of what's become what may be the top dealership in the country – and now a partner?
Ted has given me a great opportunity. This has been a dream but I had not really ever thought of becoming a partner until recent years. I didn't come to America thinking I'd be a dealer. But I love the brand and I love people.
Mercedes has been on fire. The launch of the CLA seems to be a homerun. It's a great battle between Mercedes and BMW for the number one position.
True. Newport has had a great a month (April) and so has Mercedes. The CLA created another segment for us, and we'll be in new segments as the brand moves forward.
What are some challenges being number one in the market?
Everyone takes shots at us. But again, it comes down constant improvement. It's difficult to always be raising your game but without sounding arrogant, we're really not competing against other dealers, but more so against our potential.
It's hard to motivate once you're number one for a while. So you have to find ways to keep the team focused and motivated. My role is to keep them engaged and on target.
How do you keep that competitive spirit?
Well, we set ambitious goals each month. But we also track and measure everything. Closing ratios and unreported shows – we need to be at 40% for closing ratios and we have bonuses for hitting that.
There is money to be made individually but also on the team's results. On a daily basis I look at the number of appointments set – both for sales and service. The number of appointments is an absolute indicator of how the day is going to go.
We measure everything – demos, write ups, phone calls, emails, CSI – everything.
Are you at a point where you know if you apply a certain lever in one area, it will create a specific result?
Yes –particularly in marketing. When we want to move a certain vehicle or model, we can target that with a direct mail piece and can absolutely predict what will happen.
The majority of our advertising of course is online and includes social media, which is very important for us. But we still do a lot of radio – including satellite and Pandora. Of course, cable TV is important. But we do a lot of newspaper also, despite all the discussion about its death. But we have to be open-minded.
Congratulations, Garth on the grand opening and on what continues to be an astounding run with Mercedes.
Author: