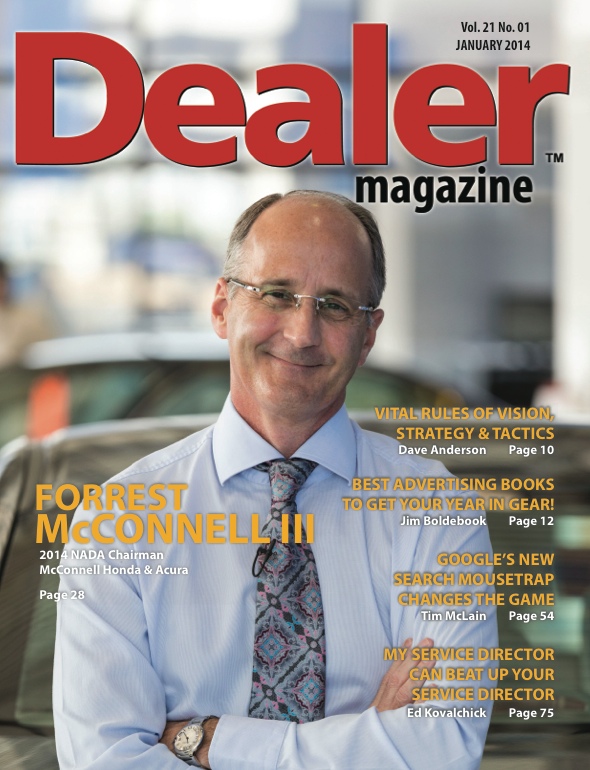 Forrest McConnell III is the 2014 National Automobile Dealers Association Chairman succeeding David Westcott. Forrest enters the role this year at a critical time for NADA and the nation's new-car dealers.
The franchise system is under pressure from new players wanting to sell directly to customers while the Consumer Financial Protection Bureau is threatening to eliminate competition from the automotive financing sector by pushing the concept of a flat fee system. How NADA manages these, and other challenges, will affect the future of the automotive retail system for years to come.
Forrest has been a dealer since 1987 but also grew up in the business. He also happens to be an attorney. His grandfather started as a Hupmobile and Scripps Booth dealer in 1919. Forrest started selling cars at age 16 and fell in love with the dealership business. Today, he runs what is McConnell Honda & Acura in Montgomery, AL, with his brother William. He's had a long relationship with Honda, serving as its national dealer council chairman and sitting on the future products committee for 19 years.
Dealer Magazine recently interviewed him while he was in New York at an NADA 20 Group meeting.
An exclusive Dealer Magazine Interview with Forrest McConnell III.
Forrest, congratulations on being elected as chairman of the National Automobile Dealers Association. At what point did you decide to get involved with NADA?
Thank you. To answer your question, several years ago John McEleney, who was NADA chairman in 2009, asked me to chair the regulatory affairs committee.
I'm also an attorney and I think that's what really got me interested. I saw first-hand the sheer volume of regulatory issues and the effect that regulators have on our businesses – and with so many dealerships being small businesses, I recognized the need to be involved.
We have such a stellar and incredible legal team at NADA and it's been great working with them.
Why did you decide to run for chairman?
The strong leadership of the past NADA chairmen inspired me during my six years on the board. Many of them gave me guidance on what to expect with the job. Past NADA Chairman Ed Tonkin, in particular, and I had lengthy discussions. Ed encouraged me to run. All of the previous NADA chairmen have been very supportive to each other. As I looked at it, I saw that we as dealers really need to be our own advocates in Washington. We certainly don't want to rely on the folks in DC (federal government) to make the decision on how best to communicate our viewpoint. It has been a lot of fun so far. It certainly has been challenging, but I really enjoy it.
Was there one driving issue for you? I know the past few years has been tumultuous and a challenge for the dealers and NADA on the legal front. But was there one moment or one issue where you said, "Okay, that's enough. I have to get involved?"
Again, I think it was the immense volume of regulatory issues that have been clobbering the dealer body the last few years that caused me to want to get involved. Today, the biggest issue is the challenge posed by the Consumer Financial Protection Bureau (CFPB). They want to take away the right of the consumer to be able to negotiate for a lower financing rate.
As I look at the CFPB, I see an agency that essentially doesn't have someone to answer to. Just the way it's structured in how it gets funded – receiving its funding from the Federal Reserve as opposed to Congress, means Congress has little oversight of the agency. How does that affect your approach?
That is one of the issues. It is an extremely powerful bureau and certainly has more autonomy than the typical Washington agency. But everybody needs to answer – or needs to justify what they do and why they do it. I know that's one of the areas we're working on – getting the CFPB to be more transparent.
The interesting thing here is, the dealer finance model really does work. It's been successful over the years and it provides the customer access to financing they would never have if the dealer wasn't involved. It reduces the cost of financing for customers – just because of the competition involved. So it's a great system for our customers. One of my big concerns is that the government basically is eliminating the customer's right to negotiate for a better rate.
The flat fee system that everyone is talking about is not good for the customer.
NADA has been fighting this battle for a few years now. As you move into the chairmanship, is it a case of continuing that battle of educating government and the CFPB about the industry?
I think it has to be a continuing process. The CFPB is ill-informed about our business and how the dealer finance model helps our customers. Their current thinking about the flat fee model isn't right. Switching to a flat fee system will hurt competition and in the end will raise car payments for the customer, and of course, that doesn't help dealers.
The other issue is that the CFPB hasn't done a study or any research on whether the flat fee model would really help the customer. If you want to mandate a change on how financing is currently done, then you should study and understand the effect your changes will have on the customer. What we have now is not broken. If the government removes the competitive aspect in which there are more than 17,000 dealers vying for customer business by finding more competitive financing rates, how is that good for the customer?
It's an anti-competitive approach.
Every day we're introducing customers to lenders they didn't know about, and as a result, helping them find more competitive financing rates. That's the dealer doing that.
Dealers help arrange the financing for more than 80% of the car purchases in this country. Customers are free to shop banks and credit unions for themselves, but they come back to the dealer to help arrange the financing because it's more convenient and ends up being less expensive for them.
What are some other areas that as chairman, you want to focus on this year?
I do want to continue promoting the franchise system. It's a system that works and does promote competition. When a dealer sells a car, that's just the start of the relationship with the customer. I know many of my customers on first-name basis. They buy a new car every five to six years. In the meantime, they're bringing the vehicle in for service. Whether it's regular service and maintenance, recall notices, warranty issues, or learning how to pair their phone to the car, whatever it is – that is what our business is built on – the long term relationship with the customer.
If you do a good job in the six years they own the vehicle, they're going to come back and buy from you again. The retention and repeat business is the key to our business. But that's not a one-day deal.
Certainly, today, Tesla is making the most noise about moving in on the franchise system and bypassing the dealer.
First of all, Tesla, like most manufacturers, builds a very nice vehicle. So I have nothing against their cars or Tesla. But their approach in wanting to sell directly to the customer eliminates competition. You know, a Ford dealer's toughest competition is the Ford dealer down the street. Now think about it – who benefits from that? The customer does. If only the manufacturer can price a car and the customer can't shop around, that's not good for the customer.
It comes back to servicing the customer and the independent dealer does that best. During the sales process with providing test drives, title registration, financing and then the servicing of the vehicle.
I was a service manager for two years and I learned the importance of keeping the customer happy. If you do, they'll come back to you. If not, they'll go to a competitor.
That is a compelling argument – protecting the franchise system by regulating the manufacturer and restricting how they can sell to the customer, actually promotes a healthier competitive arena.
That's right. If an auto manufacturer owns all of the stores in a local area, it can command a higher price for their vehicles. Under the system today, dealers compete with each other. Competition is good. It makes us better, forces us to service the customer better, and keeps prices in line. If a customer doesn't like our pricing or our service, there's always another dealer down the street they can go to.
You have to wonder, if the dealer wasn't there, who is going to handle the recall? What happens if a manufacturer goes away? There's been a lot of automakers that have gone out of business over the years. My family has owned a lot of those brands – and guess what? We're still taking care of those customers and servicing their cars.
Dealers have a vested interest in taking care of that customer.
Another important aspect to the franchise system is that we as local businesses are tied at the hip to our local communities. We generate nearly 14% of all the retail sales tax collected in the United States. We put millions of dollars back into our communities to help pay for the firemen and police and other local services.
There's been a lot of conversation recently about customer data and the protection of it. Is that an area you're focusing on?
Data is a top line issue as well. Being a lawyer, I think it's important that we help dealers protect their data and comply with all the rules that govern them in this area.
We've been doing a lot of work here and continue to do so. We recently put out a memo detailing the importance of compliance in the data area, and how dealers can protect themselves.
At the convention, we'll have workshops dedicated to this topic. We also have done webinars regarding data compliance. It is a compliance issue and we want to make sure dealers understand the steps they need to take to make sure they're legally protected and compliant.
Forrest, you mentioned being a service manager at one time. How did you get into the dealership business?
I'm a third generation dealer. My grandfather and his brother started the business in 1919. They saved $3,000 selling cars in Atlanta and decided to open up a dealership in Montgomery, AL.
They opened a Hupmobile and a Scripps Booth dealership. They started out doing that and made it through the Depression. They added DeSoto and Plymouth, and were the distributor for the brand in Alabama and the panhandle of Florida until DeSoto went out of business.
My dad added Honda in 1973. At the time we also had Chrysler and BMW. But he dropped Chrysler in 1979 when the automaker was having all of the financial troubles.
My dad turned the cars in and returned the parts, but Chrysler didn't have the money to pay him. He would call them and say he needed the check but they told him they didn't have the money.
I think the only person happier than Lee Iacocca at the time when Chrysler got the bailout in 1980 was my father. He got his check not long after that.
Growing up in the business, did you always want to be a dealer?
I started at age 14 washing cars and doing janitorial work. When I was 16, for some reason my dad let me talk him into letting me sell cars on the weekends, after school and in the summers. I absolutely fell in love with it.
Then I went to college and started helping with some of the managerial stuff in the summer.
After college, I went to law school. I loved it, passed the bar, but I loved business more. In my second year of law school, I opened a rental company and ran that long distance from Tuscaloosa and the University of Alabama.
I just enjoyed business more and kept working in the dealership. In 1987, I opened an Acura franchise on my own.
I took the $150,000 I had saved up from the rental and leasing business I had started and used that as the down payment for the Acura store. My dad cosigned the loan, but he made sure I was the guy lying awake at night worrying about paying that mortgage.
Later on, I was awarded an Infiniti franchise. A while later, I moved Honda to be with Acura. I ended up having to sell Infiniti because of the manufacturer demands when I moved Honda. You know how that goes, but it worked out for me, although I would have kept Infiniti had I been able to find a way to do it.
You picked a good franchise.
I've had a long and tremendous relationship with Honda. I've served as the dealer council chairman along with being on the future product committee for 19 years. I had to give that up though when I was elected chairman of NADA.
It's a great company and I've enjoyed working with them.
Who's going to mind the store while you serve as chairman?
I work with my brother William who's 10 years younger than me. He's my partner and is going to be pulling that boat solo for the next year. I love working with him. He's a smart businessman and has a MBA.
I've been lucky my entire life. You don't get to pick your parents, but mine were great. I got to work with my dad for 10 years. He's still alive at 86 years old and although he doesn't work, he still loves talking about the business. He'll be at the convention this year.
I was lucky. I got to work with both my grandfather and my father. My wife is great and has been with me the entire way and we have great kids. One son is working in Washington for a congressman 40 hours a week while going to law school at night. I told him he wouldn't be able to keep up that schedule, but he's proving me wrong. Our other son is getting ready to graduate from SMU and also is interested in politics.
The best thing about this business is the people I get to meet and the relationships I've had with customers and with other people in the business.
What's the toughest part of the business?
I would say the details of the compliance issues are what I like the least. I still love the business. It's not easy but it's been great and never boring business.
When I was working for my dad, he let go of his service manager at the time. He had been there for 22 years and was good with customers. He just wasn't great with other employees.
I asked my dad who was going to replace him. He looked at me and said, "You are starting tomorrow morning."
So I did that for two years. That was probably the best training I had in the business – along with the NADA 20 Groups I've been a part of.
Several years ago I was talking with Jimmy Ellis in Atlanta. Jim Ellis's son, and he said something similar. He had spent time in the service department and as a service advisor and said it was the best training he had. If I remember correctly, he said it was the front lines and the best place to learn how to take care of and manage customers.
The Ellis' are great dealers in Atlanta. Jimmy was absolutely right. It is the front lines. But that is where you develop the customer relationships through the years. Again, that shows the importance of the franchise system. We're the ones on the ground, looking that customer in the eye.
Forrest, what changes do you see happening in the industry over the next few years?
Obviously, technology is changing the business and how we interact with customers, but regardless of how it changes, our success will still be about how we take care of the customer. That will never change, even as the tools we use change. I think the franchise system will still be in place for years as it has for the previous 100 years.
Author: