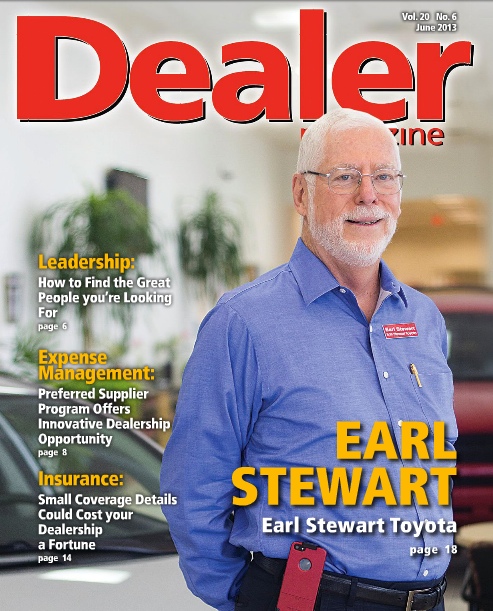 Earl Stewart began selling cars in 1968 at his father's Pontiac dealership after a short career as an electronics engineer. Today, he's the owner of the successful Earl Stewart Toyota in the small town of Lake Park, FL, just north of West Palm Beach.
His dealership has been named to the Toyota President's Cabinet four times, an exclusive honor reserved for only 12 dealerships a year. It's also been a recipient of Toyota's President's award at least 12 years and member of its Board of Governors for four consecutive years.
His Red Phone has become an icon with customers who know they can use it to call Earl at any time. His unprecedented accessibility has helped his store become a leader in customer satisfaction.
He's not as popular with fellow dealers, though. He's become an industry conscience of sorts, pushing dealers to adopt business practices that are ethical, transparent and friendly to customers.
Dealer magazine caught up with Earl as he was taking a rare break fishing with his wife Nancy on their boat.
Did you hook a big one this afternoon?
No, my wife is down here with me so we're alternating. We did some island hopping today. The day before yesterday we didn't have too good a day, but we found out where the fish are. So tomorrow we're going to find them.
You mean you found out where they're not?
We know where they're not, exactly. Well, I did catch a big dolphin and a barracuda, but I'm looking for a Marlin, I'd like a nice Marlin. So we need to go a little further South than where we were on Monday.
If you don't mind me asking, what kind of boat do you have?
I've got a 60-foot Hatteras Sportfish.
Great. You're known in Florida for your Toyota store. Do you have others?
Well, currently I just have the one — my Toyota dealership in North Palm Beach. At one point I did have half-dozen stores. Some dealers are always trying to get more stores.
Why did you go the other direction?
Going back about 15 years or so, I was growing. I have three sons that were in the business but at the time, I had reached a point where I felt they didn't want to enter the business with me. One was interested, the others weren't.
My plan was to have each of them take one of my stores. I had a Pontiac dealership — and of course I'm glad I sold that one. I also had a Mazda dealership and the Toyota dealership, along with a used car lot and even diversified with some other companies — a telephone company, a tropical foliage nursery and a daily rental company.
But because sons didn't have any interest in the businesses at the time I was just going to get out of the business and retire. So I started selling franchises.
But then things changed. My sons weren't real proud to be a car dealer or to be in the business and that was probably the primary motivation for what I've done and a lot of the changes I made. We had some heart to hearts and talked about some things, and that's when I began to evolve and change in the way I do business.
How would you describe that evolution now? Where you were and what's different now?
Well, the evolution continues. The name of my boat is Kaizen, which is a Japanese word that means continuous improvement. We're trying to get better and better as we go along.
I made some quantum leaps in the past when I dropped my dealer fee about 12 years ago. I just made another quantum leap in October of last year when I went one-price.
Those are big changes.
Yes, and the funny thing is, I tried the oneprice strategy once about 20 years ago when it first became avant-garde because that was
a big thing. I remember being on the JD Power panel for pioneer dealers who were doing one-price. And it turned out to be a miserable failure for us.
It lasted two years, and then I went back to the normal negotiation process.
But the one-price fit in to what I was doing and the evolution because I found that I had built a brand in my market that was similar to what CarMax did with their brand. They built a company to sell used cars, although they do have some new car franchises. They built such an image of trust and reliability that when they said, "We're going to give you one price," they do, and people trust them.
They meant it.
We tried it again last year and our volume has actually gone up since we've gone to oneprice. Our volume's gone up and we're actually more profitable.
So it's a series of changes that we've made, not just in the way that we treat our customers but also the way we treat our employees. Every time I get interviewed on the subject, I always say I don't have any secrets. All I'm doing is what most other companies say they do, and we just really do it.
I have such a personal focus and devotion to what I do that I'm able to make it work.
Tell us how you measure the results.
Toyota does a survey with J.D. Power called the Rejecter Survey. They interview your customers over the past 90 days. Every 90 days
they do a new one. They also interview all the other customers of your fellow Toyota dealers in your market.
So they'll survey the six or seven Toyota dealers in my market including me, and they'll track the same customers as they go from store to store.
And I think that's where they get the word "rejecter" because sometimes customers come into your store and they don't buy, instead they buy from your competition.
I'm going to guess that your dealership performed well in the survey.
So when they did this national survey, JD Power and Toyota told us they wanted to talk with us because we had such outstanding results. Of all the dealers, our closing ratio was higher than just about every other dealer. And our sales satisfaction was second only to Longo Toyota.
They wanted to know our system. I felt kind of silly when all I could tell them, "My system is, I'm really, really nice to my customers." Really, it sounds, it sounds simplistic and stupid, but it's the execution that works.
How do you execute it?
Well, we truly, truly live it. It's a religion with us. We're the largest volume car dealer in the market. We outsell all the other dealers, including all the other brands.
And we're in the smallest part of the market. We're in a little town call Lake Park. We say we're in North Palm Beach because nobody's heard of Lake Park. We're right next to North Palm Beach. But the town of Lake Park has only got 9,000 people. So we pump out many cars north, south and west — we can't pump them out east because we're on the coast.
But we dominate Palm Beach County, and for that matter, the counties north of me, Martin County and Saint Lucie.
You want to be very nice to your customers, and obviously at your store that starts at the very top. How do you get that philosophy to the other levels of your management, and for that matter, even to your sales and service people in a way they can execute it?
Well, it's something we preach daily. We have a management meeting once a week with all my key managers, and much of our focus is on customer satisfaction. In fact, the agenda item on our weekly management meeting is employees and customers for life. We stole that term from Carl Sewell. (Editor's note: Carl Sewell owns several dealerships in Texas and wrote the book Customers for Life: How to Turn that One-time Buyer into a Lifetime Customer).
We talk about how we treat each other with courtesy and respect just like we treat our customers. We measure ourselves, we survey ourselves and we have brainstorming sessions on how we can improve our customer satisfaction.
There's an old saying, "Measure it and it will grow." I firmly believe that, whether it's sales performance or customer satisfaction.
Tell us about the Red Phone.
You probably read about it in Chuck Barker's (a long time columnist for Dealer magazine) other interviews of me. I came up with the idea of the Red Phone about 10 years ago. I guess it's red because I was born in 1940 and was young man during the Cold War with the Kennedy/Khrushchev era with the nuclear threat and the red phone.
And I'm thinking red phone — I wonder if I can put a bright red phone on the showroom floor right in front of the receptionist with a big sign that says, "The buck stops here. If you're not completely satisfied, please pick up this phone and you'll be directly connected to Earl Stewart."
So I bounced it off my sons and some other people and they said, "There's not enough time in the day, because everybody's going to be picking that phone up. You know, it's a nice idea but it's not practical."
So I said, "Okay, let's try it, if it doesn't work, we'll take it out." So that was the genesis of the red phone.
We put it in and it worked extremely well. I have customers call me on the red phone just to see if I'll really answer it. And then I get customers who call me for compliments. The testing and the compliments outweigh the real complaints.
I've put them in the cashier's cage in the service department. And I put one in the service drive, body shop and used car department.
It's the first thing you see when you come in to my dealership, the first thing the service customer sees is a large lifelike, life size cutout of me, and the red phone, with the statement, "The buck stops here – if you're not completely satisfied, please pick up this phone and you'll be directly connected to me." So anywhere a customer is in my dealership, they can pick up that phone.
The Red Phone sort of defines Earl Stewart now.
That surprised me. The red phone became our icon. I think it's because I'm an owner of a large successful company that allows every
customer to have direct access to me.
So I expanded on that. We have a company policy nobody — including me — has a secretary or an assistant. When you call anybody in my dealership, if it's the guy that's washing the cars or the service director or Earl Stewart, the call goes directly through with no screening. Nobody asks, "May I ask who's calling? May I ask the nature of your call?"
And if we're not in the dealership then the call is put through to the cellphone. So everybody in my dealership, 141 employees at last count, is directly accessible at all times.
I also give my business card to every customer that we sell a car to, and I have my real home telephone number on the business card.
That takes commitment.
When I came up with the idea, my wife Nancy said, "Oh no, count me out of this one. You get another number. I've got a life too."
But actually she works in the company with me and is a co-host on my radio show. We found that people are respectful and thoughtful. We get very few calls on our home phone. And the number of red phone calls varies. On a busy day I'll get maybe 20. Other days I'll get one or two, maybe none. But people know that I'll answer it.
And I've got so much repeat business now that my regular customers don't pick up the phone all the time. The ones that pick it up are probably the new customers that just want to see if I'll really answer the phone. And I make a thing of it. If I'm in the shower, I break my neck to answer that phone.
And I don't bat a thousand, obviously I'm not answering the red phone now because I'm in the Bahamas, but my son does. But if I'm in the United States – I might be in New York or Las Vegas at a meeting – if I'm a place where I have phone service, I will answer that phone any time. And it's become, as I say, the icon of my dealership, the red phone.
I can walk anywhere in Palm Beach County – I could go to the supermarket, I could go to the department store, gas station, wherever I am, people say, "Hey, Earl, where's your red phone?" "Who's answering the red phone?" And I spin around and show them the red phone on my hip.
The fact that your team and employees know if there's a problem a customer can go to you. Do you think that gives them a higher level of accountability in making sure they do everything they can to make that customer satisfied?
Oh, sure. That red phone is a deterrent. People know – it's a symbol not only of the customer but to our employees. All of my
employees have one eye on that phone all the time. When someone makes a beeline for that phone, an employee will often intercept them before they get there.
Customers often say, "I just want to see if Mr. Stewart will really answer the phone." But if they have a real complaint, the employee will take care of them.
But we have a cardinal rule — that's the reason the red phone's there — if people want to use it, let them use it. I want them to do that. That's part of the legend, part of the symbol.
Let's talk about your one price strategy.How much effect does that have on your staff being able to keep the customer satisfied? Do you think you could do it to the same level if you're negotiating?
It's actually worked better. When we started it I was more concerned about my salespeople because I have great salespeople.
When we first started back in October, we said we're going to run both pay plans. We paid our people on the commission and on the one-price plan.
The one price plan is a salary plus a volume bonus. Now, they're all making as much money or more now than they did before. The volume is up and the total gross is up, and based on volume and their salary, they're actually making more money.
They have time now — the haggle/hassle, the back and forth, the game is gone — to devote to taking care of the customer. It cuts the transaction time in half. Customers love it.
Is there a downside?
Here's a hard bitter pill that we had to swallow, but if you understand, it's not really a bitter pill. I told my sons that we would lose some business because we would not vary from our price. You have to be true to it.
That's what so many dealers do today with the one-price. It's not really one-price. If you say one price, you cut the deal by $500 now you've lost the customer's trust.
We're using market studies and market pricing to make sure we're competitive. We do have our lowest price, and that really truly is our lowest price. That's not to say that we can't put a lower price on it next week or next month. We look at the factory incentives, we look at supply and demand, and we look at all the things that any retailer looks at when they set prices. Macy's, Bloomingdale's and Target don't have the same prices on their products all the time. So we change it, and we shop our competition all the time. We do physical shopping, we do internet shopping, and we try to stay at or below our competition on all our makes and on all our models.
We know we'll lose some business if the customer finds a car elsewhere for cheaper. But, you know, some of them come back. Some of them, because our brand and the trust will come back and actually pay us a little more – not a lot more – than they'll pay another dealer. But to be totally honest, some don't.
Two weeks ago, a customer came back from a dealer in Orlando, which is about 200 miles away, who beat a deal on a Sienna by about $600.00. I was shocked.
I'm thinking we made a mistake when we priced this. So I looked into it and found that the dealer in Orlando was thinking, "It's plus business. This guy's from North Palm Beach, we'll never see him again. It's a counter offer and we've got this step incentive." So he quoted him net cost, net net, after all incentives.
I told the customer, "You've got a really good price there." In fact I knew it was legitimate because he had a copy of the seller/buyers order. "You've got a legitimate offer, it's a great price, and you ought to buy that car. I'm sorry, I really am sorry, we dropped the ball. It's a great buy for you."
I shook his hand, and he smiled, I smiled. I went back to my office, and about half an hour later my son came back said, "Guess what?" He bought the car from us."
So he weighed the $600 savings against going to Orlando and coming all the way back. That doesn't happen very often, I mean, not for $600 bucks.
Today I'm number one in percent of objective and sales efficiency. I'm number three in sales efficiency in Southeast Toyota. I'm number one in my market of all the Toyota dealers, 12 Toyota dealers in my market, and I'm number one. And my percent of objective, every month, I'm always number one. It really works.
It's going to go more and more that way as there's increasingly more transparency in the process. As the prices are out there for everybody to see and as customers are coming into the store knowing more about a particular vehicle than the salesperson does.
You're right. In fact, we put the price on the internet. And that was the thing that really terrified my sons.
When customers call, we give them our bottom line price on the phone. We give them our bottom line price on the internet, and when they walk in, we give them the bottom line price.
It's just like buying a TV set at Target. You're going to get one price and that's it. People like the simplicity. We're finally, in the 21st century in retail, and the other car dealers are back in the 20th century. They haven't stepped up to the way people need to buy products.
It's interesting that this scared your sons. Usually it's the other way around – the child trying to the parent to move in this direction, but it was the opposite for you.
Well, my oldest son and I really see eye to eye a lot. My middle son, he was the one that originally wanted to come in the business and he's been in the business with me for a long time. He's a real car guy, and he's the one that gets real nervous. My youngest son is kind of in between those two. So I'd say we have an interesting relationship. I like it because we don't always agree on everything, but we have really a productive relationship. It helps everybody to have that kind of a dialogue.
We test marketed one-price when we first started. I told my sons, "I've through this. I've failed miserably, lost a lot of money when I was a Pontiac dealer with one-price. So it's scary."
But I told them we've got to be true to it. It will be one price. And that means making sure we're pricing the vehicles right.
So 30 days goes by and it was really working well. And then we did another one — 30 days — that worked well. We tested for 90 days — October, November and December. And we decided to announce in February that we were making the move for good. We had become a one-price store.
You mentioned a radio show you do every week. Tell us about that.
I've been doing a one-hour live talk show with my wife Nancy for five or six years. It's called "Earl Stewart on Cars" and we talk about how to buy a car, how to lease a car, how to service a car without being taken advantage of by your car dealer. It's, you know, real story on cars.
People call in they relate their experiences with car dealers — good ones and bad ones.
We do a mystery shop somewhere in the South Florida market. I send a mystery shopper and every week, and we shop all different kinds of dealerships. Then we tell it like it is.
We name names, we talk about the experience. We have our recommended buy lists and our don't buy lists. When a dealer does a good job he gets on the good guy list; when he does a bad job he gets on the bad guy list. And that's the highlight of the show; listeners really enjoy that.
We're on Sea View Radio AM 960, and 106.9 FM and 95.9 FM for one hour on Saturdays at 9:00 am.
What's it like when you run into your fellow dealers who might have been not portrayed so positively on your radio show?
I've had dealers drop their dealer fee because of me and I've seen dealers change their advertising because of me. Some of the bait and switch stuff has been modified.
I know I'm not popular. I'll never get elected president of the Florida Automobile Dealers Association, I can tell you that.
But I, you know, I'd rather be popular with my customers. Everybody tells me I should run for public office. My customers love me. Even the people that don't buy Toyotas love me because they see I'm changing the way business is done in the market.
So it, it's tough. I still have friends that are car dealers, if they look at me I think maybe some of them don't like me but they respect me. You've got to respect success.
I agree I sell Toyotas, and that's part of the reason for my success. But by the same token, there are three other Toyota dealers in my market that are in much larger population centers and I'm outselling them.
You also blog, right?
Yes, on EarlStewartonCars.com. I'm also on Twitter (Earloncars) and on Facebook.
My sons do more of the day-to-day operation now. I've become the icon and spokesman for the business. I really spend probably more time speaking at Rotary Clubs, Kiwanis Clubs, condominium associations, churches, synagogues, schools, and colleges – all over.
How did you get started in the business?
It's kind of a strange story because I wanted to be a physicist. After graduating from high school in '58, I went to the University of Florida and got a bachelor's in physics.
And then I got my master's of science in industrial administration at Purdue. So I went to work out of college, uh, for Westinghouse as an electronics engineer. My father had the Pontiac dealership that he started in 1937.
In the late sixties he asked me if I would consider coming into the business. At that time, I'd just been promoted and moved to Pittsburgh. My wife and I didn't like the area so we decided to give the car business in Florida a try in 1968.
When you joined your father in the business where, did you start at the dealership?
Selling used cars and I did parts and service. Like a lot of dealers' sons I went to the dealership management school in Flint, MI, for General Motors and Pontiac.
I took to it like a duck to water and really enjoyed it. But then here's I think an important part, just to be honest about it.
I did business pretty bad. In the introduction on my radio show, I refer to myself as a recovering car dealer. My book is called, Confessions of a Recovering Car Dealer.
I learned the business the wrong way from my dad, God bless him, but that's the way business was done then. We clocked odometers, we bugged offices and listened to husbands and wives talk about what they were going to eat.
Back in the sixties and seventies that was standard operating procedure. I remember the time the FBI raided a bunch of dealers in Texas because they were bugging the closing offices. The kind of the stuff that went on back in those days I can't believe that I was a part of it. But everybody did it, and it just seemed like that's the way the car business was done.
So, I saw the dark side of the car business and, and I was completely guilty. I didn't feel bad about it. I enjoyed it.
Today there are a lot of really good dealers out there who run great operations. But there are still some that don't. I've seen the other side and I've come over and that's the reason I truly am a recovering car dealer.
And it's wrong, and I'm sorry I did it. So I try to tell dealers here's a better way to do it and this is what, the way you should do it.
Dealers I've known for years – I'm not going to mention any names but some you would recognize – will say, "Earl, I, I respect and admire what you're doing, and I would like to do that." And there talking not so much about one-price but about dropping the dealer fee.
A lot of dealers would love to drop the dealer fee but they're scared to death. And it was a scary thing. When I dropped the dealer fee, I call it a quantum leap. That was the hardest thing I ever did. My dealer fee was $495 a car. I was selling a couple of hundred cars a month new and probably 75 used. And you multiply $495 times 275 cars, that's a lot of money.
And it's not uncommon in Florida to have some dealers who charge a $1,000 fee. And if they sell 200 cars new and auto car used of 300 times $1,000, that's $300,000 right to the bottom line because the dealer fee goes right to the bottom line. How do you, cut your profit by $300,000 a month and survive? So it is a scary thing to do.
Author: