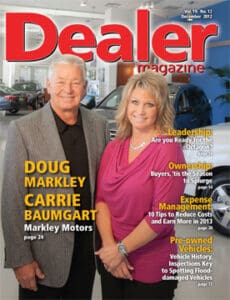 Markley Motors is among the top 300 dealerships nationwide in sales volume.
Markley Motors Dealer Doug Markley and his daughter, Chief Operating Officer Carrie Baumgart, talked with Dealer magazine recently about how they've stayed profitable through good times and bad, and how, recently, Markley's fixed operations department has become a robust engine driving up revenues.
What is the biggest challenge to your dealership today?
Doug: Our biggest challenge is that the retail car industry, and our business specifically, have changed tremendously in the last four years. In 2009, when General Motors made the decision to no longer build Saturn and Pontiac vehicles, we lost 2 Saturn franchises and a Pontiac franchise. That seriously affected our sales volume.
Markley Motors is still among the top 300 dealerships nationwide in sales volume, but our variable operations sales have remained rather flat.
Carrie: We now have only two dealerships in the group — the Buick GMC and the Honda stores, both in Ft. Collins. However, I think we can anticipate an increase in sales volume in 2013.
We had a lot of trouble last year with the Tsunami and product availability from Honda. This year has been better in that sense, so we have sold a lot more Hondas. But, our GM business has remained flat. I think a lot of that had to do with the fact that our Buick GMC dealership wasn't very visible, even though we're on the main street in Ft. Collins. It was somewhat hidden by our Honda dealership that has been remodeled.
But, in the last month, since we remodeled our Buick GMC dealership, we've seen a lot more traffic in there. That should help increase our sales volume. The Buick GMC store is still in the same location and we did not increase the store size, but we did make the store front bigger and more visible. You can see it very well from the main street now.
What's happening with your sales revenues in fixed operations?
Doug: That's the good news. Even though we have a way to go in terms of increasing our new and used car sales volume, we have an unbelievably outstanding fixed operations program.
Our service department, body shop and parts department have excelled over the past four years and are carrying the load to cover the dealership's fixed expenses. They have helped us remain profitable through some very tough times.
What things in particular have you done to make your fixed ops excel?
Carrie: In the body shop, specifically, we have instituted new processes. Working with insurance companies can be very difficult at times and it's very hard to make a body shop profitable. But through our processes, we've made tremendous strides. We're a direct repair facility for all the major insurance companies and we have good relationships with them.
Basically, our success boils down to our excellent customer service. Gregg, our Body Shop production manager, follows each service and body shop job from start to finish and time stamps it. As a result, we are able to give real-time information to our customers.
We strive to make our customer service the best it can be, and I believe that's what has kept us profitable, and on track to exceed each prior months projections. Basically it all wraps around customer service.
Can you describe something specific about your customer service?
Doug: We just completed renovating our Buick GMC facility to meet GM's image standards. A year and a half ago we completed our renovation of our Honda facility. We've spent $4 million in renovation in the past three and a half years. The brick and mortar part of the place has vastly improved.
At our Honda facility, we built a 6,000-square-foot reception area for service customers. Twelve cars can come in where it's heated in winter or cooled in summer. Our greeter meets customers, takes their information and escorts them to the waiting area. If we can keep customers coming to us for oil changes, tire rotations, and other maintenance, we can retain those customers for life.
We have absolutely embraced quick service. For instance, our quick lube process is terrific. In 30-minutes, we do an oil change, a 20-step inspection, a front end alignment check with Hunter Alignment Equipment, which takes less than a minute to produce a read out, and we run the car through our car wash – all at a competitive price.
Consequently, we average, between the two dealerships, 180 repair orders a day, most of which are customer pay. Warranties have mostly gone by the wayside, because cars are built better these days.
We used to analyze sales per repair order. We don't pay attention to that anymore. We look at sales volume and hours, and we obviously sell other services. Since we bought this Hunter Alignment Equipment, we've gone from 74 to 300 front-end alignments per month. That's a big increase.
Our service advisors are a key ingredient to our success. That's such an important position, because they interface with our customers a heck of a lot more than anybody else in the business. Our service advisors are a terrific group of people and they are well paid.
We spent a lot of time training them on customer relations and how to disclose everything we are doing to the car.
Carrie: Typically we get some of this training through the manufacturer. Our Honda reps come here and do one-on-one training with our advisors for fixed operations, and the same with GM. But a lot of our training comes from our own sales team.
We're a soft sell in service. We show the customer what's wrong. We're not a high pressure dealership. Our customers really appreciate that. We'll disclose everything. We'll walk a customer out back and show them the problems. We're not hiding anything from anybody.
I think over time – over 76 years – we've earned a lot of trust from the people of Northern Colorado, so our retention for Honda service is right at 70% and our retention for GM is right at 50%, which is way higher than the national average. We're very proud of that.
To keep competitive in our pricing, we mystery shop our competitors, and the independents consistently. People think service at dealerships cost more money. When, in fact, it doesn't. We are right in line with everyone else. We make sure we stay on top of that.
Another factor in our success in our fixed operations area is the way we market to our service customers through e-mail. We have over 60,000 emails in our database and our customers look forward to getting notifications of our service specials every month.
What are you doing to increase new and used car sales?
Doug: We are still searching for ways to get our sales volume back up to where it was in 2007 and 2008, and I'm sure most dealers in the country are. Obviously losing the Saturn and Pontiac franchises hurt our sales volume.
My biggest job right now is to figure out how to market and advertise our business to the people of Northern Colorado. The old traditional methods of advertising — newspapers, TV and radio – don't have the impact they used to have. It doesn't pay for us to buy Network TV in Northern Colorado, because we are in the Denver television market (Denver is 60 miles south of us). We'd be paying too much for those spots. So we buy local cable television, radio and some newspaper.
There's another marketing challenge — reaching the younger generation. Very few people under the age of 40 read a newspaper anymore. They get their news online. When they are interested in purchasing a car, they get their information online. So, our challenge is how can we better market through the Internet. We're on a learning curve with that and trying to do the best we can. We do have an excellent website.
What is your dealership's split between traditional and digital ad dollars?
Carrie: It's about 60-40 traditional right now, but I believe in the next year, it will go 60-40 in favor of digital.
Doug, how would you describe your management style?
Doug: Management style? Hmm… Maybe you ought to talk to our management team and see what they say.
Carrie: My Dad is too modest. I can elaborate on that. My Dad is dealer principal and we have a general manager, Roger Belisle, and a fixed operations manager, Terry Brunk, and so many more and we all consult one another, make decisions after coming to a consensus, and work very well as a team. My Dad empowers our management team completely.
Doug: We enjoy the planning process — mapping out the way we want to go. We have very good discussions. One of my managers said to me with a chuckle, 'You give me just enough room to hang myself.' That's true. I hired my managers and expect them to do a job, and I don't want to get in their way. If I disagree with some of their decisions, we have a conversation about it and sometimes it goes my way and sometimes it doesn't, and that's ok. I really am proud of our management team. They do a terrific job. And so do all our employees.
Carrie: We have 165 employees. Being family owned and operated, we care about our employees. We try to make everyone here feel part of the family. Our employees are our number one priority, so we really invest in them. Happy employees are productive and glad to come to work every day, and that makes for happy customers.
What is your turnover rate?
Carrie: Our turnover rate is 10%, and that is mostly through sales and our service wash bay. We've got a lot of people who have been here many years. For instance, our Honda manager has been here over 30 years.
Doug: Longevity here is unbelievable. I've got an administrative assistant, Judi Payton, who is my right hand person — other than my daughters and my son – who has been with us since she graduated from high school and she's 74 years old now.
Our general manager has been here nine years. Our fixed ops manager has been here 12 years. Our service manager has been here 19 years. Our parts manager just retired after 40 years with us and he did an excellent job of training his replacement, and his replacement has worked for us 15 years and is doing a terrific job.
Carrie: Our retired parts manager just couldn't stay away. He's back here working part time.
Doug: We have sales people who have been with us for over 15 years. Tom Wadlington has been here more than 26 years.
Carrie: Gary Ihle has been here 22 years. We have a lot of salespeople who have a lot of longevity with Markley motors.
Doug, what do you see for the future of the industry?
Doug: The Industry is changing because of government regulations. It will be interesting to see how we can get to 50 miles per gallon corporate average fuel economy over the next 10 to 12 years. I don't know what the answers are, but we obviously depend upon our manufacturers to come up with the right answers for that.
But, we need to continually change and be on top of all the new and innovative technology that comes along.
How do you stay current with technology?
Carrie: Our Internet Manager, Tim Northburg, is at the Digital Dealer Conference in Las Vegas right now, as we speak.
Doug: Also, Carrie and our general manager are members of a 20 group and that's a good source for getting information from all over the country about what new things are on the horizon. It's nice to have other dealers try things out to see whether they work or not. I was a member of a 20 group for 25 years, and I retired from that a few years ago. So, I'm delighted that our general manager and my daughter are involved in one. We also stay current through NADA and the Colorado Dealers Association.
What technology vendors have contributed to your dealership's success?
Carrie: @utoRevenue who does our e-mail marketing has just been outstanding to work with. It's a very inexpensive effort, and the return on investment is rather large. They help us schedule and build emails for whatever we want to promote every month. They are there whenever we need them to help us. We use @utoRevenue for all of our email marketing.
We use Hunter Alignment Equipment for our front end alignment checks, and that has increased our front end alignment business by 400%.
We also use Dynatron, which provides us with data and information so that we can drill down and find solutions to better market, merchandise and measure our service department's performance.
Doug: Another national company that has helped us so much is IBISWorld. Our Fixed Operations Manager Terry Brunk gets a lot of information through IBISWorld Social Media Data Mining Services that he uses in the process of making decisions on how to run the service and body shop operations. He could teach classes on how to run a service and body shop operation.
What are you doing with social media?
Carrie: We use Foursquare, Facebook, Twitter, you name it, we're on it. My brother Justin Markley helps manage that area and keeps us on track. I don't know that social media sells cars, but it keeps us in front of our customers. We do promotional things, give-aways — fun things.
The wave of the future is buying cars on the Internet. My daughter's generation doesn't do anything without technology, whereas my Dad got his first computer last October. The gap in the two generations is astronomical. We really need to continuously keep up with new ways to market to the younger generation through technology.
My brother Justin and our Internet manager, Tim Northburg, are on top of that area. Every vendor and consultant that comes here presents the biggest ideas and newest technology. Justin and Tim weed through all of those and present the best to our management group and we come to a consensus and we try something new. We try some amazing technology.
One of the best things we've done is marketing through our email customer database. It's huge, 60,000 contacts, and that's really helped generate a lot of service business as well as new and used car sales, and it's very inexpensive.
Do you have any plans for acquiring any new dealerships?
Carrie: We've always got our feelers out. We've got a lot of good dealers in Northern Colorado.
You probably have won a lot of awards over the years.
Doug: My father was a Time Magazine Quality Award Winner and over the years we've won many other awards. We've been a six-time winner of Buick "Best in Class" Award; a four-time Saturn Summit Award Recipient; and we've received the GMC Five-Star Award; the Pontiac Masters Award; The Saturn Pioneer Award; the Honda Presidents Award and the Better Business Bureau Award.
Doug, tell us a little about your dealership's history.
Doug: Five generations of the Markley family have worked at Markley Motors, since it was founded by Ferd Markley in 1936 in Ft. Collins, CO. Now, fifth-generation Ashlee, my granddaughter and Carrie's daughter, is working here part-time. She is a junior at Colorado State University and she works answering the phones nights and weekends, when she needs gas money. That's a pattern that's been repeated many times in our dealership's history.
Doug, when did you start working at the dealership?
I started at Markley Motors just after I graduated from the University of Kansas in 1968. I took over for my Dad, Gene, and became president and the dealer on our dealer agreements with Honda and General Motors in 1982. My Dad's going to celebrate his 90th birthday in January, and we just celebrated our 76th year in business. I hope I'm around to celebrate our 100th.
Carrie, when did you start here?
Carrie: I started here when I was in high school working various odds and ends jobs -earning gas money, like my daughter. Then, at 18, I worked full time as a service advisor, while studying at Front Range Community College. I worked in our service department for five years, and then moved into the marketing department for 10 and a half years. I graduated from NADA Dealer Academy in 2006. I've been working alongside my Dad and our general manager ever since. I've worked in every role in the dealership – except as a technician.
What is it like, as father and daughter, working together?
Doug: Well, I love it, but you're going to have to talk to Carrie.
Carrie: I absolutely love it. But, when I was younger, I didn't have any desire to work in this business. I always thought that being in the car business was too much work, because Dad was gone a lot. His heart and soul was in this place and he put in a lot of hours.
But as I started working here in high school and doing odd jobs, I got a feel for the dealership, and gradually started liking it more and more. And when I worked in the marketing area, I absolutely fell in love with this business.
As my sister, brother and I got older, Dad started talking to us a little bit more about the business and it sparked an interest in all of us. I think it's just in our blood because we all love to come to work every day. My sister, Cindy DeGroot, is our marketing director and my brother, Justin Markley, is currently working in our Internet department. Other family members work here as well. My husband, Eric Baumgart, whom I met at work here, is our used car manager, and my sister's husband, Gregg DeGroot, is one of our body shop managers.
I love watching my Dad interact with everyone. He's amazing with the manufacturers, the community, and our employees. So I try to follow his lead in that aspect. Markley Motors is a fun place to work. We are easy-going people and we take pride in our business, our employees, our customers and our community. I've learned all that from my Dad and grandfather.
Doug, what traditions from prior generations of Markleys have you carried forward?
Doug: The one thing my grandfather started and my father continued on with and inbred in my head is the importance of being involved with our community. It's been so good to us that we try to be as good as we possibly can in return. We work with a lot of charities in Northern Colorado, having to do with children, healthcare and the elderly.
One of the community organizations that really touches the heart strings is Respite Care in Ft. Collins. They provide care for physically and mentally handicapped children and respite for their parents who are their caregivers. We've given Respite Care a new car for the past 10 years that they sell raffle tickets for. That has been a successful means of fundraising for them.
Carrie: We get involved in every good cause that we possibly can in our community. We have a very vital partnership with our community.
Doug: I'm proud of that and I'm proud of the fact that my children wanted to be involved in this business. It's a joy for me to see they are active and passionate about the business. We are the second oldest dealer in the state of Colorado. It was fun to celebrate our 76th anniversary this year and gosh I hope I live long enough to watch them celebrate their 100th anniversary. I'm going to take very good care of myself.
Over the past two years, Carrie has grown into the position of chief operating officer, and head of the dealership and I've become semi-retired. From January to May, my wife and I are at our home in Palm Desert, California. I love to golf and I can sleep at night, because I'm not at all concerned about the way this place is being run and that feels very good to me.
The Digital Dealer Virtual Expo Runs Wednesday Dec 5th – 11th, 2012 | Dealership Personnel Register Free.
Author: