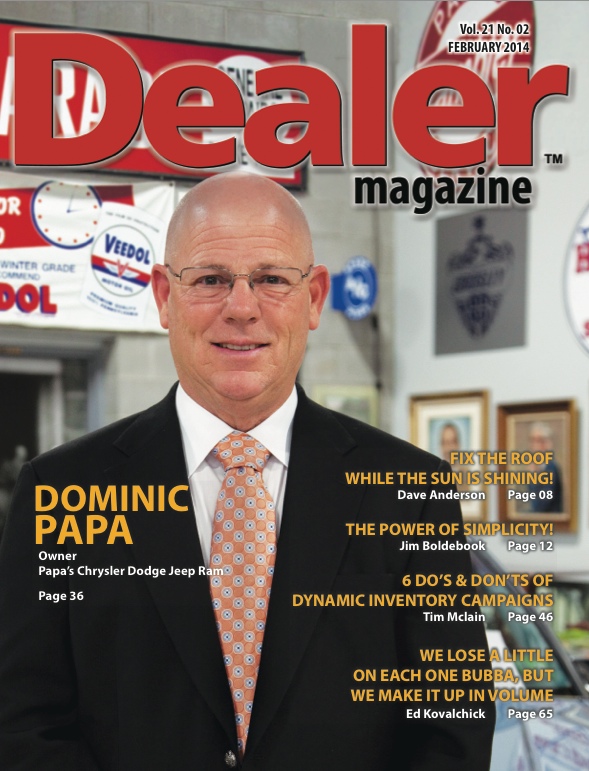 For 66 years, Papa's dealerships have been a mainstay in Connecticut. Adding Dodge and Jeep in 1967, and then Chrysler in 1988, Papa's has become the top selling Chrysler dealership in the New England area and in the state of Connecticut.
It's also been one of Chrysler's leaders in CSI through the years.
It has sold over 125,000 cars since brothers Dom and Eugene Papa first opened as a service facility in 1947.
Today, Dominic Papa, Dom's son, runs the dealership which consists of a 72,000 sq. ft. facility housing a classic car museum, complete with a replica of the original 1947 gas station, a barber shop, full-line restaurant, and even a movie theater!
The dealership has built a reputation in the community that relies on repeat and referral business. It was that business that enabled it to survive the dark days of 2009 and 2010.
A philosophy of hard work, treating customers and employees right and being the best has made this family-owned business – in one of the country's most competitive markets – a leader in the automotive retail industry.
An exclusive Dealer Magazine interview with Dominic Papa
The Papa organization goes back several years, Dominic. Did your father start the dealership?
It was my father Dom and my uncle Eugene who started it in 1947 — about 66 years ago. First, my uncle came out of the military and he started a service facility. My father followed him out of the military a short time later.
They got together and ran that service facility for a while, pumping some gas and selling used cars. I guess the first car they ever sold was the Crossley. Then they started selling Hudsons, and after that it was the Rambler.
In 1966, we added Dodge and then Jeep the following year – which has become the crux of our new car business. In 1988, we added Chrysler which lead to us becoming the largest Chrysler dealer in Connecticut.
So now it's you and Ken, your brother, running the dealership?
Well, my father retired in the '80's. I came in first and started in the sales department. Actually, we grew up in the business so obviously we started washing cars and working in the parts department and the body shop – the typical things you do when your father owns a dealership.
I started getting into sales and management in the '80's while Ken was still in school. He came into the business after I did. We spent about 25 years together as partners.
He semi-retired a couple years ago to pursue other opportunities that he wanted to do. So, the last four or five years I've been running the store.
Dom, did you think you always wanted to get into the business when you were growing up working in the back or did you have other ideas?
Well, originally it was my father and my uncle that were in the business. My father had two boys and my uncle had a boy. Of course, in the early days even our mothers were in the business working as bookkeepers, doing deals, managing the money and keeping it organized.
At that time, being a much smaller business, it seemed a little crowded and I wasn't sure there was enough room for everybody.
In the early 70's after graduating high school, I decided I wanted to be an airline pilot. I went to school in Daytona Beach at Embry-Riddle and got a bachelor of science degree along with all of my licenses – private, commercial and instrument licenses.
I putzed around with it for a year or two and found that it wasn't as easy as I thought to find work in that area.
It was about that time my father's health started to deteriorate and he needed some help at the store. My uncle retired at 50 leaving my father with the business.
It was then that I decided it would be best if I got involved back in the business and that was around 1981.
Are you still able to fly? Do you still enjoy flying?
I haven't been in an aircraft for a number of years now but I still have my license.
The Papa dealership is known for its uniqueness, what have you done with the facility?
We've done a lot that to differentiate us from other dealers. I would say that's been part of our success. People like coming here to look around and see what we have to offer.
We have a large facility that we built in 2005 and 2006 so we have a lot of room to do some of those unique things. For one, we have a full blown barbershop that's open Tuesday through Saturday which does very well. A lot of people come in just to get a haircut.
We also have a full diner that's open for breakfast and lunch – it closes at 5:00 – but we have everything. We also serve turkey at Thanksgiving and ham on Christmas.
Our museum is also a big draw. We have several collectable cars from the '60s and '70s – Challengers, Chargers, an old Viper and an old A100. It also has a lot of memorabilia going back to 1947 when the first store opened, including an old pinball arcade.
You also have a movie theater. I'm not sure I've ever heard of a dealership having a barbershop or a movie theater.
Yes, it's pretty unique. A lot of people hear about it and come in just to see it. Those people tell other people so there's a lot of word of mouth advertising.
That's good advertising for you.
Once people come in here and they start looking around they're amazed at what they see and how relaxed it is. It doesn't feel like a car dealership — it almost feels like going to the mall or something.
Everything is themed. All the walls are designed with the look and feel of being an old, classic building, or an old Cape Cod or a stadium look. So people come in and spend time here. They're not so quick to leave.
How did you come with the idea to add these unique touches?
Well, when we found the facility we were buying, we saw we were going to have a lot of room and thought we could do some things differently. So we did a bunch of focus groups with employees and customers to hear what they thought.
They had a lot of suggestions. My brother Ken is a big Disney advocate and spent a lot of time there going through their training in their university.
So some of these things probably came from Disney. Others came from our associates getting together and throwing some ideas around. One thing led to another led to another led to another and we ended up with something unique.
Tell us about the movie theater.
We tie it to the business and play off it with selling cars. We have what we call the Concession Stand. It looks like one you would have seen in the '50 and '60s at a classic drive-in movie theater.
We have movie posters and advertisements for hot dogs, hamburgers and cold drinks. Sitting inside the concession stand is our management staff. We kind of play off the idea that is where the concessions are made on the deal.
So whether it's a new car or used car, the customer can go to the concession stand and that's where we make our concessions and put together the deal.
Above the concession stand, we have a big movie screen that is similar to ones you see at the drive-in. And over the years we've played races like the Daytona 500 on TV. We've done some themed movies such as horror movies on Halloween and Christmas movies on Christmas. We also use it for events like the Special Olympics that we're heavily involved with.
It's also a great way for us to convey information to our customers or people shopping in the dealership.
I would say through the years it's driven a lot of business our way by having people come in and be in contact with our employees in a friendly fun way.
What would you tell someone today looking to own a dealership?
Well, I would tell them it's not as easy as it looks. There's a lot of work involved along with a lot of money to make it happen.
So the business has been around since 1947. Your family has survived a lot of tough times.
Yeah, we have. In 2002 we decided to move from our original facility and it took us a couple of years to find the right place. We ended up renovating an existing building – it was sort of a strip mall that we revamped. It was big – about 72,000 sq. ft.
We were able to move in 2005. Business was slow for us from 2005 to 2008. You could say we struggled to makes ends meet. Then in 2008 and 2009 we were hit with Chrysler's bankruptcy. We ended up using a bunch of cash that we had saved to get through it. We did survive and now things are starting to get much better.
Were there some nervous days especially in May 2009 when they (Chrysler and General Motors) were determining which dealers to keep?
Oh, there were plenty of nervous days. At the time, no one knew if they were going to make it or if the government would bail them out. We were waiting and finally the bailout happened, but then we had to wait for that letter to see if we were going to be one of the dealers chosen to move on.
Luckily for us we had a very good track record. We were always the leader in sales in Connecticut even though we had endured some tough years.
Not sure how much of that was due to luck or your long term planning.
Right. We were always a leader in service and parts as well, and that paid off for us.
It was another year or two before things finally got straightened out and we were able to make some progress. But it was a tough three years at least.
If it wasn't for our longevity and the fact that we've been here for 66 years, I don't think we would have survived the last downturn in 2009-2010. It was only because of our loyal and repeat customers who needed us as much as we needed them.
You mentioned using a lot of cash to survive. Was that just your long term vision of setting aside money for when times were hard?
Well, my father was always a saver. He always planned for a rainy day and he brought us up the same way. So yes, we had a fair amount of cash put aside for tough times. But when we built this new facility we kind of put everything into it and didn't really cut back. I guess we spent a little extra money at the time. When it came time to get into that rainy day fund, it wasn't as much as I would have wanted.
The other challenge was that we had a lot of money tied up with Chrysler Financial for floor planning. But when they went bankrupt that prevented us from getting our money back when we needed it.
It was tough. I think everyone was in survival mode at that time.
Papa's was one of the dealerships early on to see how important the Internet was going to be in the industry.
I think we've always been ahead of the curve. I recognized about 25 years ago that leasing was going to become popular. I made sure we went to school on that and were one of the first dealers to lease vehicles in Connecticut. That turned out to be a big part of our business.
We recognized the same thing with the Internet. Certainly there were misconceptions early on that people would be able to push a button and buy a vehicle online and we know that didn't happen.
We knew it was still going to be important so we went to school on that also. We wanted to lead, not coming from behind.
The Internet is still hard to understand. We go to the seminars, such as Digital Dealer, and we work hard on it every day. We spend a lot of time and money trying to get it right.
How tough is it being a family owned business in this industry today?
There are plusses and minuses. When you're working with family in a family owned business it can be difficult because there are different personalities, different ideas, different mindsets.
You have to compromise and play the middle of the road sometimes.
Being a family owned business is a lot more hands on. You take ownership a lot more. When people say they're happy, you're happy. But when people say they're not happy you're disappointed you weren't able to satisfy them.
I tend to look at things a little bit more personal. I'm disappointed when things don't go right and we're constantly trying to make things better. My sister works here and helps with the integration with our partners and is great with team building.
What's your favorite part about the business today?
You know, that's a really good question. I still love the business and the always changing aspects of it — the different cars, the different people, the challenges.
As a hand-on business owner, how would you describe your leadership style?
I like to hold my managers accountable for their individual departments. I like to get involved and help them solve issues when necessary.
They do a pretty good job of resolving customer issues. We're a business that's well respected in the community. We've had a very good track record with the factory and customers. We pride ourselves on having a lot of repeat and referral business.
We've had that philosophy from day one. It's the way my father and his brother ran it and taught us. Again, we do take it a little bit more personal sometimes.
It takes many, many year to get that. Papas is a brand here – when you come here to buy a car, you expect certain things. And 99.9 percent of the time you get them because we believe that also.
Growing up watching your dad run the store what are some of the things you learned?
My father always apologized for the fact that he wasn't home enough and that he missed a lot of the things while we were growing up. Of course the reason why he did that was because he spent his entire life building a business taken from a two-bay garage to the biggest Chrysler dealership in the state.
Coming from an Italian heritage, that's the way his father taught him — if you want something in life you have to make it happen and it's not going to happen unless you do it.
In turn, he instilled that in us from the time that we were 10 to 11 years old when we were at the dealership washing cars,working in the body shop, or brushing snow off. He made sure that we worked hard.
I have to say that I live by the same standards as that. It's also what's been instilled in our employees.
We have a lot of people who have been here for 20, 30 even 40 years. Our warranty administrator and our body shop foreman have both been here for 40 years.
Our employees take pride in their work here.
You mentioned your involvement with Special Olympics.
We're currently doing a lot with Special Olympics. That's been our focus for the last couple of years. I just enjoy doing it. I love the kids and the smiles on their faces and all the hugs we get.
One of the things we do is a Dream Cruise which is a fundraiser for Special Olympics. We take about 35 to 40 kids in classic cars on a Sunday morning and caravan them from Children's Hospital to the Special Olympics destination.
It's one of those things we do as part of our community. We've been around for 66 years and we're looking forward to another 66 years.
You mention the future. What are some things about this industry that you see changing?
Well, if I've learned one thing over the last 30 to 35 years is it's really about back to the basics – one car and one customer at a time. Treat them like you want to be treated and you'll do okay.
Although it needs to be a high volume business and you know it's important for us to turn numbers – because of where the margins are at today — one sale at a time, one repair order at a time, one customer at a time. Today more so than ever that's what people are looking for. If you treat them the right way, you'll be successful.
But what do I see for the next three to five years? For us, I see more opportunities. Our service department is going to be used more. People will be buying cars like they were six or seven years ago.
I also see the Internet playing a more important role. I don't see customers ordering and buying cars online and getting them delivered to their door. I know General Motors is talking about that right now and they seem to think that that's something that's going to happen and will be part of the future. I'm just not sure about that, but who knows? It's hard to say.
Cars are certainly getting better and I'm confident this is going to a great business and industry for years to come.
Author: