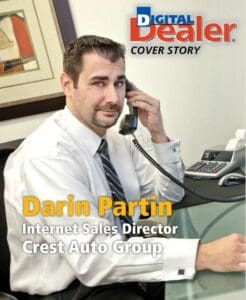 Darin Partin, Internet sales director for Crest Auto Group, in Plano, Texas, doesn't worry at all about beating the competition. Partin and his team are focused on beating their own record. Based on their sales numbers, that strategy is working to their advantage.
Crest Auto Group, with its two franchises, Crest Cadillac and Crest Infiniti, is among the top 26 dealers nationwide for new and used car Internet sales units. In 2010, Crest Auto Group sold over 2,000 new and used car Internet sales units.
For 2011, the group has done even better, finally breaking into the 200-plus Internet sales units per month, with a monthly closing ratio ranging between 16 and 20%.
Darin Partin recently shared with Digital Dealer magazine his strategy and tactics for helping his Internet sales and marketing team beat its own records.
Click here to read Darin's full story and the rest of the January 2012 Digital Dealer magazine. 
Darin, first please tell us how you got into the car business?
Family and friends have always told me that's what I should do. Even when I was a child, I was always bartering – trading MatchBox cars.  So, they told me that's what I'd be cut out for and I pursued it from there.
I worked at dealerships in Atlanta, GA, originally. Then I was recruited by CarMax and they relocated me to Texas. I spent a couple of years here for CarMax, and then was recruited to a traditional dealership.
I worked in various positions at a couple of Toyota stores in the Dallas-Fort Worth Metroplex and found I not only had a knack for online marketing, but excelled at that.
Then, while looking for a change, I was put in touch with the general manager at Crest Auto. I interviewed and started at Crest in October 2008, as Internet sales director.
How have you grown the Internet sales business here?
When I first got here, I spent time getting a feel for Crest and the scope of its business — seeing what our presence was online. It became apparent the store had a lot of opportunity online. I began to reorganize the department to lower the number of leads handled by each sales person and I implemented strict customer follow-up procedures –both with the goal of improving our close ratio.
I did a lot of training on how to handle an Internet lead and how to handle a phone call.  And I grew it from there. When I started here, five or six were handling Internet leads. Now we have 18 handling Internet leads.
How many Internet sales leads per month do you get and where do they come from?
We average 1,200 leads per month.  Twenty percent come from third-party lead providers, and 80% come from our own websites.
We use only the third-party lead providers that I would say are necessary. But, I think the leads that are most effective are the ones coming from our own websites. We take a very hands-on approach to our websites.
We have a landing page that links to two websites – www.crestcadillactx.com and www.crestinfiniti.com, as well as our new mobile website. We update the websites ourselves, using the marketing team at our consultant, Van Tuyl Group, Inc.
What do you do about SEO to drive traffic to your websites?
We do all our SEO working with our consultant, Van Tuyl Group, Inc. We don't use an SEO vendor. I don't think there's any real secret to effectively managing SEO. I think it involves constant monitoring and constantly trying new optimizations and then seeing what works. It's important to not be afraid to try something new.
I've seen the way Google changes its algorithms. It's something that you almost cannot keep up with and they do that on purpose. So, there's not any one SEO method that wins so much as constantly looking at your analytics and seeing how your ad words and pay-per-click campaigns are working, or not, and then making week-to-week or day-to-day changes to improve performance.
I spend a lot of time reviewing the analytics myself, along with the Van Tuyl Group, Inc. marketing team.
What do you think about using microsites to augment your web traffic strategy?
Microsites are one thing I hear a lot of people talking about.  But, I am not a big believer in microsites.  They just give you one more thing to spend money on. I want to see all my analytics for each of our websites coming from those websites, not multiple microsites.
What are you doing to pull in leads using mobile technology?
We have a completely optimized mobile site that we spend SEO and SEM money on. Our mobile site started as a place for scheduling service appointments, but it's grown into a site for helping our customers do many things – including getting a value on their trade-ins, and shopping inventory.
The leads we get from it still come predominantly from scheduling service appointments, but the amount of inquiries for sales is definitely growing month in and month out. Plus, we have iPhone, Android and BlackBerry apps for inventory and specials that link into our mobile web site. It's all working very well for us.
How do you process all these leads?
We use a CRM that encompasses almost every aspect of what we do to close leads. We use it to distribute our sales leads in round-robin fashion to our sales team.  We have created several custom follow up campaigns and schedules ourselves in order to maintain the level of follow up we want.
What is your typical response time to Internet sales leads?
Our response time to Internet sales leads is always under 10 minutes.
But, focusing on response time too heavily is a mistake. Quality of response is much more important than the actual time you get back to someone. If I'm the customer and I receive an email back from you in two minutes, but it doesn't address what I need, it's the same as not responding to me at all.
I don't subscribe to using templates or automated responses for this. So each response to a customer is totally customized. A short personalized email, direct and to the point is what we do first.
I personally believe in looking at an Internet lead the same as if the customer walked through the front door.  With an Internet lead, you just have a different tool initially to use to communicate, instead of having face-to-face contact. The moment that you view an Internet lead as something different, typically it becomes more difficult to deal with.
So, it follows, I don't have any devoted Internet sales people. My Internet salespeople are also my floor salespeople. Once salespeople prove themselves on the sales floor, then, they are also added to the Internet team.
What is your biggest challenge as Internet Director?
Our biggest challenge in the Internet business is consistent, long-term follow-up. We typically follow a customer for 120 days. That's the ongoing thing you have to work at every single day to get better at.
Toward that end, we have sales training every morning with a rotation of trainers and I'm in that rotation. It's essentially 30 minutes where we go over proper follow-up, new trends, what we've observed, areas of opportunity, where the guys need help, and what they are struggling with – the gamut of things from meet and greet to negotiation handling, to closing the deal. The daily sales meeting encompasses every part of our process.
I firmly believe that you receive an Internet lead to set an appointment, not to sell a car. The interaction part of the process, the follow-up phone call, is the most important thing.
You've got to get the customer here first to look at the car. That's your opportunity to show them what's good about that car. That's very hard to do via computer.
So, you feel very strongly that the personal touch is still necessary in Internet selling?
Selling cars is a people-oriented business and the one element we'll never be able to take out is the people element. I know one day it will get to the point where you are signing paperwork via a computer, but you still can't replace the salesperson and when people deal with people you have to trust each other.
If you treat your customers right — and this is one thing my GM says, and I firmly believe — if you present someone with all the options in the selling process, they'll make the right decision. And, if you do that, people will learn that they can trust you. They'll see you are just another person making a living to support your family, and they will help you in your endeavor.
If you ask them to go out and write a review for you, they will. They will contribute to your success, once they know you. That personal relationship is very important.
How does that carry over online? What are you doing for online reputation management?
What's out there about you online is, in a sense, everything you are. It's very important. We are currently engaged in an aggressive campaign on Google to get more people talking about us online – to get more customer reviews. Reviews optimize extremely well on any search engine and will help drive traffic to our websites.
Crest Infiniti has about 87 reviews on DealerRater.com and a 4.9 overall rating out of a possible 5.0 for customer service, quality of work, friendliness, overall experience and price. Crest Cadillac has 20 reviews on DealerRater.com and a 4.8 overall rating.
To help remind our customers to review us online, we pass out postcards at the dealership, but we are finding mobile technology is opening up even greater opportunities for us in terms of people being more apt to write a review.  A Google Places app allows people to write reviews spontaneously — when they are in the moment.
Social media also serves as a review platform and is another place where we want to keep our name out in front of people.
What are you doing with the social media giants Facebook and Twitter?
We've seen some tremendous results from a new initiative we've taken with Facebook in the past four months.  We've gone from 100 fans to 4,000 fans on Facebook. We are using a social media marketing company and they've done a lot of really good work on both Facebook and Twitter since they started working for us several months ago.
They do daily content updates and put a lot of action items online — asking people to talk about their favorite movies and music — all things to start and keep a conversation going online.
They are very contest and game driven. They run games for us with iPads and iTunes gift cards for prizes and that's been working very well for us too.
So you are reaching out to the younger market?
It would seem so with the contests we've done, but with the people who participate and show up to pick up the prize, it would not seem so.  The customers showing up for the prizes are 40 and 50-year-olds.  It seems that everyone is on social media.
I believe social media will get us a lot further than some of the bigger, more expensive advertising campaigns we could do.
Are you still doing traditional advertising?
About 60% of our advertising budget is digital and 40% traditional. We do a few radio spots, but we haven't done newspaper advertising in quite a while. So the 40% is going mostly into TV spots on a variety of local cable TV channels.
We actually do the creative for these with our consultant, Van Tuyl Group, Inc., and a local advertising agency.
While we are still doing some traditional advertising, we are focusing heavily on digital marketing. My general manager Mike Brosin completely understands and knows how important and impactful the digital realm is and that's just one of the reasons it's great to work for him.
How do you stay up-to-date on digital sales and marketing techniques and technology?
I regularly read the Digital Dealer magazine. And I read all those myriad emails Internet managers get from vendors. Over the years, I've found good ideas in them too.
And I'm never afraid to listen to what someone has to say and not make the assumption that I know more than they do. We take input from our entire staff, not just the sales staff, but our service technicians, porters, everyone at the dealership.
One of our biggest keys to success is that our team and our general manager, Mike Brosin, are not afraid to try something new and see what happens.
None of our success would be possible, if I didn't have a general manager who completely understands and sees what Internet business can do. That's probably the most impactful factor that gives me the ability to grow our business – having a general manager who gets it and sees the potential.
What is your vision for the future?
Right now, depending on time of year and other things going on, our close ratio has varied from as low as 16% to as high as 20%.  In 2010, we were selling between 170 and 180 Internet units per month and, in 2011, more than 200 Internet units per month.
When you are closing at 16 to 20%, there's so much room for growth! Granted I know what typical close ratios are, and I know what we have is good. But there's still a lot of room to move.
My vision is this: I'd like to see a 30% close ratio. I think it's feasible. In my mind, every time I reach a goal, I immediately move it up. I think the worst thing you can do in this business is gauge yourself off of your competition. I don't think it's fair to look at your competition and try to beat them. I think you have to be in constant pursuit of beating yourself, besting yourself every day.
As a team, that's our biggest pursuit. We set our own internal numbers and keep trying to best them. So for 2012, I'd like to be well into the 20-plus percent close ratio and my next mark is 250 Internet sales units per month.
It's all about constant, predictable and moving growth — always pursuing the next step of a limitless staircase.
Author: