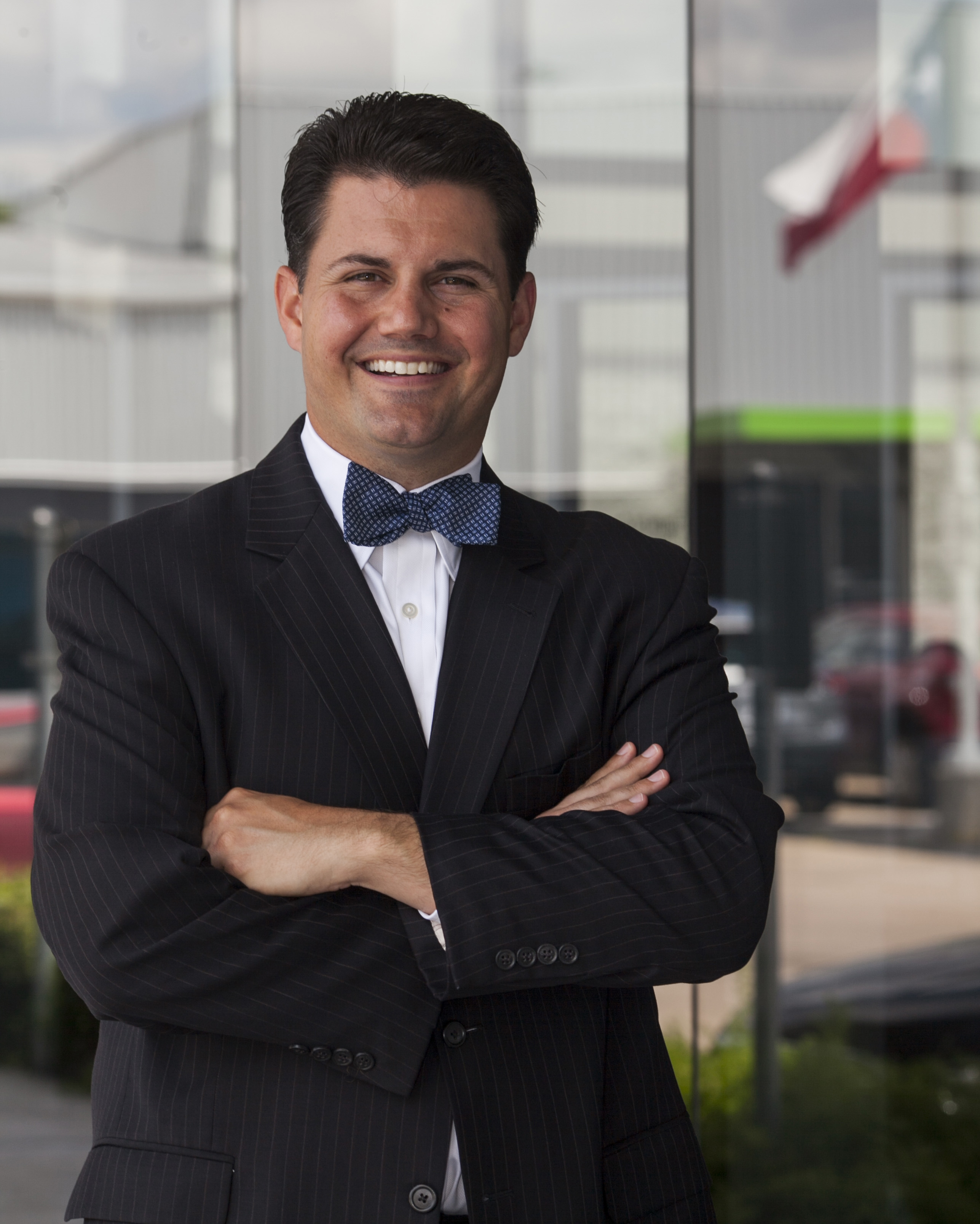 Chase Smith Jr. is the President and Co-owner of the Russell & Smith Automotive Group in Houston, TX, selling the Ford, Honda and Mazda brands.
He's also a silent partner in Streater-Smith Honda Nissan in Conroe, TX. He comes from a rich pedigree in the automotive retail business beginning with his great grandfather in 1917.
A servant-first mentality combined with a sharp business vision honed while working at the Carl Sewell Automotive Group for several years has helped him lead Russell & Smith to explosive growth the last two years while increasing revenue by more than $50 million a year. Russell & Smith also has become a parts juggernaut nationally in all three of its brands.
Dealer magazine recently talked with Chase in a wide-ranging conversation about his dealer group and the industry.
Your family has quite a pedigree in the automotive business.
We do have a long history in the industry. My great grandfather WC Smith started Yorktown Motors which was located in Yorktown, TX in 1917. It started as a Cadillac franchise and later became a Buick and Chevrolet franchise.
In 1945 after serving in WWII, my grandfather WC Smith Jr. joined his father at Yorktown Motors. He and his wife Lenora raised their five children there until 1964. In 1965, they moved to Houston, TX, and bought Russell and Smith Ford. Four of his five children became car dealers (my father Charles, my uncle Bill, My Aunt Len (one of the first female dealers in TX), and my uncle and current partner Mike.
My uncle Bill was at Russell & Smith for 21 years before I bought him out more than a year ago. Charles began at Russell & Smith before starting a Pontiac store that turned into 14 franchises. He later helped start Group 1 Automotive.
Len Smith, who was my aunt, was the general manager and partner of what became Streater-Smith Honda & Nissan from1984-1995. In 2006, I bought the Smith interest out and that was when I first became a dealer.
My other uncle, Mike Smith became a dealer at 26 years old and grew his business into multiple franchises.
You probably started in the business at an early age.
That is true. I worked at my Dad's dealership when I was 13 sanding and painting the dealership fencing. When I was 15-16 years old in the summers, I would work in the parts department stocking, pulling, and making parts deliveries.
Later I worked as an intern for Gulf States Toyota and then worked for Group 1.
When I graduated from Baylor in December of 2000 I went to work for the Sewell organization in Dallas instead of working in the family business.
Why did you make that decision?
I wanted to prove myself and work my way up. I didn't want to be a dealer's son.
What did you do while at the Sewell organization?
I started in sales and later worked as an F&I manager. Then I was promoted to assistant sales manager and then sales director. Much of my time there I worked as a pre-owned director.
Then you left Sewell for a little while to work at Russell & Smith, your family's store?
I decided to help my uncle Bill out when his partner, Bubba Russell died. He needed some help and some control at the Ford store in Houston so I agreed and worked as a general sales manager there for a year and a half.
You returned to Sewell after that. What caused you to make that decision?
Well, I wanted more experience. I talked to Carl Sewell and went back to work at the group for another four years. During that time, he wanted me to open a new Cadillac store with a couple of other managers, which brought me back to Houston.
Meanwhile, I was looking for a store to buy and had an opportunity to buy into one. But my uncle called me and said, "Instead of buying one store, why don't you buy interest into three?" And I thought that sounded like a better bet. Besides, it has my name on it.
Carl Sewell wrote the definitive book on customer relationships, Customers for Life. What are some things you learned while working at his dealer group?
I certainly learned a lot from the Sewell organization. Reading the book is one thing, but living the culture is another. It was a great experience.
One thing I learned is that we're here to serve the customer. We have to have a servant's heart. Second, keep your people accountable. Third, you have to have great communication. Your people need to know what they need to accomplish on a daily basis. A fourth thing is to hire the right people because winners run with winners.
I like the part about having a servant's heart.
Yes. You know, I or my vice president interviews anybody moving into a management or front line position because I want to see if they have a servant's heart. And second, I want to see if they are the type of person I'd invite to my dinner table.
Several dealers might not take the time to get involved in the hiring process, but our employees are the ones who define the dealership, its culture and set its reputation in the community, so I think it's really important.
I asked you what you learned at Sewell. What about the things you learned while working at your family's stores?
When I started working there, it was my uncle Bill and my uncle Charles, who by that time had sold his stores as part of the roll up in the creation of Group 1. I would say, one, it was very humbling living the legacy of four generations at the dealership.
Second, I saw we had a lot of loyal customers who believed in what we were trying to achieve, a great customer experience and a great work atmosphere.
How did you translate the lessons of what you've learned into your experience as an owner?
It was clear to me that for 75 years, the dealership did a lot of things right, one of which was being conservative. But I also knew we had a lot of opportunity because of our brands – Ford and Honda – and because of our market.
But when I returned to Russell & Smith as an owner, I had some questions for the employees because I wanted to see what the real heartbeat of the store was.
I wanted to know what our employees knew about their positions and whether they could read a financial statement. I also wanted to see if I had effectively communicated our vision and did they understand the vision. Did our employees believe in themselves and in the organization? Did we have that right people and did they have the tools to accomplish the vision?
Second, I wanted to know how our leaders were trained. Several stores promote from within. What happens is that the managers learn from their predecessors. But they're learning how to manage, not lead.
I found we had a gap in that area, along with our communication, so I established a couple of things to help us grow. It all comes down to having good communication and having the right people in place.
I set a lofty vision for us to grow 25% a year. And we invested in training. We partnered with the University of Houston to provide training in leadership to our staff. I would rather invest in people's education than in bonuses. Because when you invest in people's education, they can increase their own income.
Are you meeting your goals?
It's working. Last year (2012) we grew more than 25% and had the best year in the history of Russell & Smith. And this year, we're on pace to exceed that by September. We've set the same goal for 2014, and that would have been unthinkable a few years ago.
We have several things in our favor. In parts, we're the top seller in the country for Ford; fourth for Honda and in the top 10 for Mazda. And we're Honda's 40th best selling store.
Between our three stores, in 2012 we sold 6,500 vehicles new and used. This year we're on pace for more than 7,000. And in 2014, our goal is to sell more than 7,500 vehicles.
I didn't realize you are number one in parts sales for Ford. You're competing with vibrant parts operations in that area – Sam Pack's Five Star Ford in Dallas and David Kimmerle's Sanderson Ford in Arizona.
That's right. Last year, we grew our parts sales more than 35% and we're doing the same this year. In 2012, we averaged $3.3 million a month in parts sales for Ford. This year, we're averaging $4.4 million a month.
Overall, we sold $54 million in parts last year. This year we're on pace for $65 million.
We have a huge parts depot about two miles from the dealership. We have $7.3 million worth of monthly inventory for Ford alone. In the last 20 years, we've grown our parts inventory from $2 million to $9 million.
The real story is that 90% of that inventory is 90 days or newer, so that tells you the huge turn rate we have.
That's the secret to a strong parts operation, isn't it? Turning that inventory as quickly as possible?
You want to know the real secret? It's having great logistics and serving the business to business customer as well as you serve the retail customer.
That business is depending on us delivering that part quickly and undamaged because they have customers depending on them. Ford's been a great partner for us in that area.
How many total employees do you have?
Let me give you some numbers that will show you the growth track we're on. Two years ago, we had 247 employees with a net income of $170 million. In 2012, we had 312 employees with $240 million in net income. As I said earlier, we're going to exceed that this year.
Did you encounter much of a downturn during the recession a couple of years ago?
We did see a downturn in sales, but our history of being conservative helped us survive through the years and even gain market share during recessions. This most recent one we didn't have to lay any of our employees off during that time which was a great feat for us.
I have two thoughts every day when I drive into work: How can we better serve the customer and how can I remove any roadblocks hindering our employees' growth. As you can probably tell, I'm really passionate about helping our employees. Why be a business owner if you don't care about your employees?
The reason I asked that question is because a $50 million year-over-year growth is not simply due to a rebounding economy. That takes an almost radical implementation of a strong and clear business vision.
Yes. As we continue moving toward our vision in 2014, we have to continue training. We have to continue to limit our turnover. We have to keep our focus of building a culture of excellence and education. We have to have a great marketing strategy and we have to be innovative.
One thing I ask each department manager is, "What is one thing you're doing today you weren't doing six months ago?" And they know they need to have an answer. If they can't answer that, we're not growing.
I also established a report card system in which I give employees five key goals to hit. And we grade them on it. If they hit all five it's an A. Four, it's a B, three is a C, two is a D and one is an F. Having those conversations is real impactful for us.
As you continue to grow and with your focus on employee development, have you found that you have to develop opportunities for them to grow professionally as well as make sure you retain key talent?
That is correct. We changed our structure from having department managers to having directors with assistant managers who report to them. We also instituted a general manager structure a year and a half ago for each store. Prior to that we had not had general managers.
But you're right. Your people have to see you promoting from within along with a growing company. As we grow, we continue to add managers. I believe each manager can effectively manage a team of five to seven people.
Another thing that we do that helps us in this area is that we celebrate the accomplishments of our employees. We have awards banquets for the sales and service staff. We hold tech appreciation events and also have an employee of the month. Small things like that go a long way to help people produce. And everybody wants to produce above their objectives.
Are you looking for acquisition opportunities?
Well, the opportunity has to be right. Historically, we've always been conservative and paying down our debts. Any deal would have to go with our philosophy and be good for us long term. But if one comes up, we'll be prepared for it.
It's probably getting harder today to get a deal done.
Yes it is. As blue sky increases and the SAAR continues to increase, it seems the value of each store goes up daily.
It's interesting to see if some of the public groups are reaching their limit on the number of luxury franchises they can own in some of these brands.
I think you're right. I also think – and I really believe in and like the independent dealer that's not a public group – but what I think the publics have done for our industry is cause the independent dealer to be more accountable. They've created more competition which is great.
I love the market and watching the competition grow because it makes the market even stronger. And here in Houston, we have one of the best car markets in the nation.
You have a strong truck market there in Houston.
We do, but it's also a great car market overall. And with what our manufacturers have been producing the last few years, it's been fun to watch. Ford is doing great as is Mazda with product, while Honda has always been great.
With what Ford has been building, they've been able to increase car sales by 20% – 25%.
Mazda, I think, is a brand that's underappreciated and overlooked in the conversations of some of the great products today.
It's all about brand perception in America and creating that perception that Mazda is not a niche brand but is a brand for the masses is something they are working very hard on. And, as a manufacturer, it's been very supportive of its dealers.
I'm really excited about what they doing, but think the next 18 months to two years is very critical for it as a brand.
I'll tell you, I wouldn't be surprised if either the Mazda 6 or the Mazda 3 wins Car of the Year this year. Whichever one they offer up, I guarantee will be a finalist.
You mentioned Mazda being very supportive of its dealers. The same can't be said for all of the manufacturers.
For us, from all of our manufacturers – Ford, Honda and Mazda – I think we're seeing the best support we've ever had.
Ford is outstanding now as it's listening and communicating with its customers and its dealers. Alan Mulally's philosophy is filtering down throughout the entire company. It's the best time to be a Ford dealer. I'm excited about what's going on there.
And Honda has always been a great manufacturer. We've been a Honda dealer since the 1970's. Right now it's pushing hard to go after Toyota. To give you an example, look at how quickly they turned around the redesign of the Civic because they were listening to their customer. It defines what kind of brand they are.
So I'm extremely happy with the manufacturers we have. We couldn't have three better ones than the ones we have. And I wouldn't just say that.
The other thing is that during the downturn, they reinvested in their companies. They spent that money on research and development when others did not. And for Ford, that was a big risk. Look at Mazda which was losing money last year, but now is making good money. The investment has paid off.
What do you see is the greatest challenge to the industry over the next few years?
I think the biggest challenge is the stuff we're seeing from the government – the cafe laws and with how they are going after the profits in the F&I departments. Government isn't really communicating with the dealer – they are communicating with us in sessions.
That's why it's important for dealers to be involved with their associations – our voice needs to be heard. HADA and TADA here in Texas have been strong. Other states need to be as strong in making sure their dealers' voice is heard. We have to make sure we don't get run over by the bureaucracy that's coming down.
Talking about the state and local dealer associations –Texas dealers recently won a battle when the legislature effectively tabled legislation for two years that would have allowed a manufacturer like Tesla to sell direct to consumers.
He (Elon Musk, Tesla's founder) is getting a lot of free advertising with all of the stories about him, isn't he?
I'm a real strong advocate of advanced technology and helping to save our environment. I have three children and want them to grow up in a healthy world.
Musk is a great visionary but he needs to be more open-minded when it comes to dealers. Having dealers support his vision and be part of the process will create a better customer experience and create more competition which will lead to more sales for him.
But I think he's close-minded to that at the moment because he doesn't know us personally. You know he recently made some strong comments against dealers. But there are some dealers I know who are some of the best business people I've ever met that would strengthen his brand.
What are some other areas you see in the near future from a business perspective that are going to affect dealers?
One area is how price competitive the industry is becoming because of the Internet. I used to tell people the new handshake is the click of the mouse.
I think we also have to focus on increasing leasing in the industry if we want to grow our market share as individual dealers – and we have to communicate the benefits of leasing to the consumer. Here in the Houston market, that's been an afterthought for us.
I'll tell you, the dealers who were focused on leasing three years ago aren't having the same struggles as other dealers today — certainly in the pre-owned market where getting inventory has been tough the last three years.
Service retention is another area that has to be a high priority for dealers. Over the next several years getting that message out that we are as competitive as the independent shops are and that we can provide a better experience is critical.
We have to look at things we aren't providing the customer today – loaner cars, free pickup and delivery – ways we can make their lives easier. We have to think about them before we think about ourselves.
We also need to continually train our employees so we can run with fewer people and yet be as productive with less overhead.
I also think the F&I department will become a thing of the past where the sales manager will take the customer at the end of the sale all through the paperwork. If it comes down to us having our F&I profit minimized, dealers will be forced to make these changes. It will be better for those dealers who are proactive and are visionary that are already making those changes. We're talking about creating a better experience for the consumer.
I hadn't realized how much Russell & Smith had grown in the last couple of years. What you guys are doing is phenomenal.
I can tell you, when I'm at work I am so humble and grateful to be in this position. It's a gift given to me by the customers. I truly believe that and that makes me work extremely hard for them.
Author: