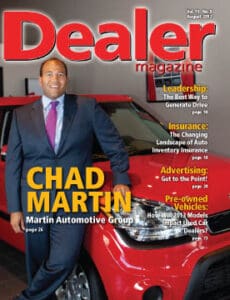 Chad Martin was a college junior when his dad, Cornelius, was killed in a motorcycle accident. Suddenly, new and unexpected opportunity faced the young man, who after graduation pursued a law degree and other commerce before returning to Bowling Green, Kentucky to step into his dad's shoes. It's been a big change – and it's change he's bringing to the 13-franchise, 14-store dealership group he now heads as dealer principal.

Click here to read the full story with Chad Martin and the rest of the 2012 August issue of Dealer magazine.
Your dad died in 2006. How had he prepared you for taking over?
That's right; he loved motorcycles, and unfortunately, he was killed in a motorcycle accident in June 2006. I was 21 at the time, and still in college. As a dealer's kid, I'd grown up around the dealership, prior to leaving for college. I worked for him part time, during the summers and the like, rotating through the various departments, but mostly in parts and service.
It was never a given that my siblings and I would move into the dealership business, at least with dad. He was adamant about us – including my sister, who owns a clothing store – going out after school and working other careers first. He didn't want any of us to feel pressured into going into the business. It wasn't as if he didn't want us to be part of the business, but he wanted us to know that we had other options.
Suddenly you had this decision to make….
Even then, I wasn't forced. Because we had a strong management team in place and my mom and sister were attending Dealership Academy, I was able to complete college and law school. During this time, I was also learning about the business. During my second year of law school, General Motors collapsed and we lost our seven Saturn stores, which was 45 percent of our business. When that happened, I decided I would return to the business full -time upon completion of my education.
Dad had had an excellent executive team behind him all along and they continue to be supportive and helpful to me as well. Today, they remain my core team.
So, Saturn goes "oomph" and you've lost 45 percent of your business. How did you respond?
We looked at almost every feasible option – other new car franchises and used car franchises. We talked about both options. The thought process was to try to fill every vacant building with some revenue-generating business because we owned these properties and I would not let them just sit not working for us.
Some of the options we tried worked, some of them didn't. "Focus" is a word we use a lot, which is a requirement of running a business. This meant putting this focus back on our core business, which was to replace this lost Saturn business with new franchises. This then meant winding down our used car franchise business, partly because managing a used car facility is quite different from managing new car operations and we didn't have the management to do both properly. Now that things have settled, we're back into the used business with a much more successful operation than before. In other words, now that we're able to focus on that business it's producing the results we need.
What is Martin Automotive Group today?
We have a Dodge-Jeep-Chrysler store in Bowling Green, a Kia store in Bowling Green and a new Kia store in Dayton, Ohio, replacing one of the Saturn stores. We operate three Subaru stores, in California, Tennessee and Ohio; a Hyundai store in Tennessee; and, a Chevrolet store in West Virginia. We also have Mitsubishi stores in California and Kentucky. Last year we retailed 3,882 new and 4,649 used. We also operate BMW, Harley-Davidson, Victory and Vespa motorcycle dealerships, and Polaris motorsport dealerships in Kentucky and Ohio.
What is it like, being 28 years old and running this whole operation?
I'm 27. Let's not age me too much. I want to enjoy it while I'm young. I will say, the business has aged me quite a bit. I think it does that with everyone. One of my first challenges, being young, dad's son and a newbie, is establishing my authority. There's a detriment to being young and there's a benefit to being young. I think what I, specifically, experienced, which I'm very candid about, is the sense that, especially when I first started, that I might not know what I'm doing. The business itself has been a good old boys' network, and many dealers feel that you have to be at a certain point in your life before you can really run a dealership or really even understand the business. That's something that I believe is really isolated to the car business, because outside the automotive business, you look at many other industries, there are many young people running very large sectors of Fortune 500 companies. So clearly, you can be young in today's age and still run a very successful business.
True, like an IPO of recent months.
Yeah, some young guy called Mark Zuckerberg, who became an instant billionaire. If you watch the movie about Zuckerberg and Facebook, The Social Network, there's a character played by Justin Timberlake who is actually
Sean Parker (Napster founder and Facebook's first president) who talks about this subject we're discussing. His point was that even in Silicon Valley, the belief is that "You come with a great idea, but don't worry, the adults will take it from here." In other words, when you're young and have a brilliant idea or do something notable the concept is there's somebody behind you who others really want to talk to. That had been my experience here when I first came aboard.
Your toughest operational challenges would be…
Every day presents new, smaller challenges: challenges like new vehicles and inventory management — meaning is inventory turning fast enough, are we ordering the vehicles that we need, are we getting the vehicles we need?
Used cars continue to be a challenge. Vehicles bought at auction cost us more and we must pass that along. That's the market system; things are always worth what people are willing to pay for them. Trying to get all that and seeing where the market really is going — managing the inventory right, new and used, is one of the biggest challenges that face our organization and using inventory tools like FirstLook is the best way to do that.
The other challenge is personnel. An issue for the industry, as a whole, is trying to attract new talent to the business. We lost many great people during the recession, and few people have an interest in entering the car business today — whether its women returning to the workforce after kids, or 22-year-olds out of college.
It's a tough business. It's easy to get hired and hard to make a good living today.
Well, we've created that environment. The automotive business has created an environment that we believe that the only way to have people do what we need them to do is incentivize them with money. Trust me; people work every day that are not incentivized by 'if you sell this many things, you get this much,' right?
We train to retain. We train our people and I guess that's one of the big opportunities, as I see it, for our company. We hired a corporate trainer who goes around to our dealerships and trains our new personnel, especially those who haven't been in the auto business before, on how to sell a car. If we're going to bring people in who haven't been in the car business before, you can't just say, "Come in here and sell a car." You have to train them and give them the tools they need in order to be successful.
OK, but it's the challenge for a green pea to remain long enough to build a good book of repeat and referral business. At today's typical dealership compensation packages — $100 minis on new cars, etc. – how can we expect people to stick around in the business?
Well, first and foremost, is training. I don't want to brush over that; people do not succeed in this business because, overall, we do a horrible job of training. If you go and work at Chipotle or Wal-Mart or Enterprise Rental Car, training is a key factor. Training is used as a tool to be successful and that's where we fail, overall, as an industry. We fail to train our people on how to be successful selling cars. So, first and foremost, as president here, I view training as being critical to success. So that when you take a fresh up, when you take a call, you're going to handle the customer properly and you're going to be more successful because now you have the tools in order to succeed.
We're gradually getting our sales people to comply with the way we want our business run, but I'm not pretending as if we're 100 percent there. We're making progress, and partners like AutoTrader are helping us. A training team from AutoTrader came in last month and engaged our teams in phenomenal training.
They covered how to handle phone ups, how to handle customers who are repeats, and how to understand the customer's wants and needs to get them into a vehicle. Our corporate trainer also works these basics with our sales teams, taking them through the entire process, from the meet and greet all the way to delivering them to F&I, so we are very cognizant of the things we want done. Because of this kind of training, our turnover has declined significantly.
One other thing the training has made us focus on is the proper use of our CRM system. Before training, people just thought of a CRM tool as just an optional thing; they didn't really think CRMs could help to sell cars, but CRM tools do help sell cars.
Whose CRM are you using?
We use three different types of CRMs. We use Reynolds & Reynolds CRM tool at one of our stores. We also use HigherGear, which we've had much success with, and we use ADP's CRM tool.
Focus on training and accountability is making a difference. What's different about your sales compensation plan?
We have two compensation strategies. One is a traditional small base and percentage of gross, which is the plan in most stores currently. In addition, we're piloting one program right now, which is a fairly high base — $10 to $15 an hour for an eight-hour day – and we pay additional dollars as steps to the sale are accomplished. For instance, X dollars to set up the appointment, X number of dollars if the appointment shows, X number of dollars if you get a credit app. We're talking $5 to $10 per step, but it rewards the right behaviors.
My goal with any pay strategy is to address what so many in car sales or those considering it struggle with, which goes like this, "I don't want to take the risk because one month I'm going to live like a king and the next month I'm going to live as a pauper, and I don't want that." Instead, with the pilot program, they're saying, "With these hours, I can go to work at someplace with more stability."
When I sit down for conversations with sales people about their goals, I recommend they keep a personal customer log and get to know their customers. I talk to them about the importance and power of good customer relationships — meaning when their customer comes in for service, they're back there too, talking with them, asking them questions about their car, and how they might serve others in their family.
I know building referrals and repeat business is ideal but in this market today where loyalty is falling off, the way people buy cars is much different. As people experience other brands – and they're all of high quality, safety and style today – they move from one brand to another. Clearly, this change affects the way a 15-year veteran salesperson and his customers are going to interact. He might have the best relationship with them and have never done anything to disappoint his customers, but these customers will still float to other brands that have caught their eye for their next vehicle purchase. 

You took over the reins there entirely in 2010. Caught your breath yet?
I learn more everyday about management and about managing people. I'm happy with where we are right now. We're going to increase our business this year by about 15 percent, so I'm very proud of that, but it takes a lot of work to do that. It's easy to say the number, but to go to work every day and work on doing it is very difficult.
So how did you do it?
It's about people and getting everybody to work toward a centralized goal. It's about focusing on areas in which we're deficient. We ask and then find answers to questions like: how do we improve and how do we fix it and what is our game plan? Dad always taught me not to fear trying new things. We change and improve by pushing ourselves forward, doing the best we can every day. We also pursue three long-term goals.
My number one goal is to increase customer satisfaction across the board. I'm working on the fixed side of operations and the variable side of operations, because I know that we're not completely satisfying our customers' automotive needs. I think we do a good job, a fair job, but that's because everybody does just okay too. The reality of the situation is that people don't expect to have a great experience when they go to a car dealer. It's just not expected. And, unfortunately, that's the way the business is, and I'm working very hard to try to correct that.
Number two goal is expansion and growth. I'm really focusing on what I call "emerging brands" and developing premium brand franchises like Toyota, Honda, BMW or Mercedes.
Number three is to find better synergies within our own organization. That means doing a better job in terms of capitalizing on technology for our corporate purposes to be more efficient. There's still too much paper. Overall, I'm proud to lead a progressive and well-respected company that my father founded. I don't take his legacy or my future in the business lightly.
Author: