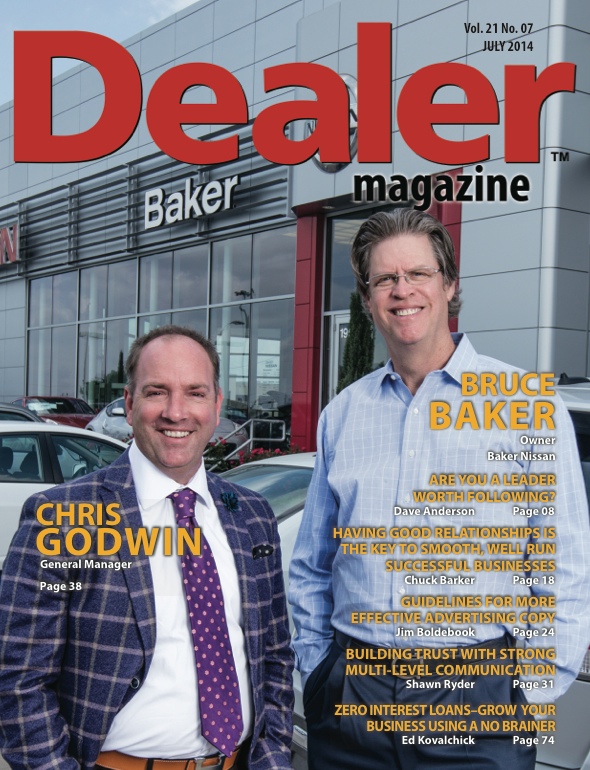 Baker Nissan in Houston, TX, is running on all cylinders. Owned by Bruce Baker, a one-time oil man and college basketball player, the dealership recently celebrated a grand reopening moving into a brand new 86,000 sq. ft. building located on 12 acres in North Houston.
Baker brought on Chris Godwin to be general manager in 2012. Along with Bruce, the two have transformed Baker Nissan into a dealership that's on the forefront of the retail industry.
The store was awarded Nissan's Reward of Excellence in 2013 – an honor given only to 172 of Nissan's 1,100 dealerships each year.
Even more impressive, is the Circle of Excellence award it received in 2013 – one of only 36 Nissan dealerships to reach that honor last year.
A thriving body shop, vibrant pre-owned business, and a move into its own rental car business propelled Baker into having the best year in its history last year.
The dealership is also on the cutting edge having done away with its Internet department and instead has trained all of its salespeople to sell using the Internet and the BDC. Its website traffic is up 300% in the last year.
Dealer magazine recently interviewed Bruce Baker and Chris Godwin about how they've transformed the business and become one of Nissan's – and Houston's – top dealerships.
A Dealer Magazine Exclusive Interview with Bruce Baker and Chris Godwin
Baker Nissan recently held a grand opening for a new facility?
Baker: That's right. We relocated right down the street onto about 12 acres and a new 86,000 sq. ft. facility. We had been in an existing store since 1990 when we bought the dealership but got to the point where we had outgrown it. We kept expanding and expanding and it just became more difficult operating there. We're selling a lot more vehicles today than we were in 1990. The entire process took about three years. It was exciting – and a little bit stressful.
I noticed you played college basketball for the University of Texas. Did you always want to be a car dealer?
Baker: No – not at all. I didn't have a clue about that. When I got out of school in 1976, I went into the oil field for seven or eight years.
But the oil field crashed pretty hard and I ended up with four different jobs in that last year and a half. Three of the companies just went broke. I had to find something stable because I had a wife and children to support, so I found a job leasing vehicles with Sam White Oldsmobile.
My wife and I thought we'd go broke because I had sold things like drilling fluids and had put together proposals but had never done anything like car sales. I didn't know I had the aptitude or the ability. But I found out I was good at it and was lucky too.
Walk us through the progression from starting on the sales floor knowing nothing about car sales to owning a dealership.
Baker: Well, I stayed at the store long enough to become general sales manager. After a while, I went to the GM, Danny Jackson who I had a good relationship with, and told him I wanted to be a GM. But he was a little bit older than myself and I didn't think he was going anywhere.
He told me he was looking for his own deal and we wound up going in as partners. We looked for about a year and half before buying the Nissan point on 290 from Charlie Thomas in 1990.
That was before Nissan really started taking off in the U.S.
Baker: It really was. At the time, it was $5,000 little Sentras and tiny pickup trucks.
When you bought the store, was it because of the brand or you just thought it was a good opportunity?
Baker: It was a combination of both. Like I said, we had been looking for a year and half. The dealership was actually a dual Nissan and Oldsmobile store, which was a good thing we thought, because we obviously knew Oldsmobile.
Little did we know that years later Oldsmobile would simply disappear and that Nissan would do spectacularly well.
This store is Baker Nissan North – is there a Baker Nissan South?
Baker: Yes, there was. We got an open point in South Houston in 1997. Danny retired in 1999. I turned 60 recently and the job satisfaction of going back and forth between the stores wasn't as good. We had just finished building the new facility here, moving, and was going to have to do a complete remodel at the other store.
I didn't want to go through that again so we sold the store last year to Ricardo Weiss.
How did you and Chris Godwin come to do business together?
Baker: Chris originally was from the North Houston area but had been in Dallas for about seven years. He decided to come back to Houston and looked me up. He had a need and I had a need and it ended up being the perfect for both of us.
The Nissan store obviously has grown tremendously through the years.
Godwin: You're right. This year Nissan is up 14% over the same time last year and has had its best year ever fiscally. But last year Nissan finished the year up 31% over 2012.
And for us, Baker Nissan had its best year ever in 2013.
Obviously for Baker, some of that is due to the industry coming out of the recession but still, you have to do the right things to grow like that.
Godwin: Certainly the new location helps as does the product, and then there's what the Internet provides and our ability to use that to drive traffic to the store.
What are some things you've done specifically to foster that growth?
Godwin: First, we concentrated on our people. We had our lowest turnover in 2013 since Bruce has owned the store.
Then, we started to put in processes and we managed those closely. The employees had a lot of input into what those processes were and what they would look like.
Thirdly, we focused on execution. We have daily, weekly, monthly, and yearly forecasts. Our executive team puts those goals together and we stay on top of them. Every two months we share with the various departments the results and provide awards based on our improvement and hitting our goals.
Let's talk about turnover. Dealers we talk to consistently say that is one of the biggest challenges. How did you reduce that?
Godwin: I think there is a couple of answers to that question. One, when people start making money, they don't leave. And the last couple of years have been great for us coming out of the downturn.
Also, when people feel like they are being trained properly as well as being held accountable – without the micromanaging, that's a factor. I think our people also understand the vision – and have the same vision that ownership and management has. As a result, they start to see they're at the right store selling the right brand.
Baker: The facility also has helped reduce our turnover. We have an air conditioned shop now where in the old facility we didn't. And that is important in Houston. We also have a modern and comfortable training area along with a separate area for the BDC. We have break rooms for each department. We have much better amenities and a much better facility today.
You mentioned training. I just read a quote from Richard Branson of Virgin Airlines in which he said companies need to train their people so well they can leave, but also train them so well that they don't want to leave.
Godwin: That is so true. We train extensively three or four days a week. I've been in stores where they train once a month – or worse – once every three months.
You also mentioned using the Internet to drive traffic to the dealership. Can you share some specifics on what you did with the Internet?
Godwin: In early 2013, we went to a "One Medium-One Message" strategy. The medium was radio and the message was "Why buy here? BakerNissan.com." Month after month, our advertising drove that home – we had BakerNissan.com three times in each message.
Over time, our web traffic increased 300%.
I'm glad to hear you say that. I think today the strategy isn't traditional versus Internet advertising – it has to be an integrated strategy. Using radio, TV, and Internet to drive traffic to the website. As your traffic went up, how did you convert it?
Godwin: We worked closely with our Internet manager to make sure we were using every available tool on the back end of the website to make sure the customer converts.
On our site, our vehicles are priced and have pictures. We have drop down menus that take you to customer testimonials, pictures of our staff, and specials. We constantly update our specials – sales, service, parts, and collision – all of them.
We also recently had Google Views come in and build a 360 degree view of our store so customers can virtually walk through the dealership. And we had 360 degree views of our vehicles.
Our online chat is important. We're letting our customers contact us the way want – either in person, or by chat, or email or by phone.
Bruce, I want to come back to you and your progression as a dealer. When you were a general sales manager, at what point did you say, "This is the business I want to be in."?
Baker: It was a natural progression for me. I was at the Oldsmobile store – and Olds, of course, was on the decline already – but we were still selling 300 to 400 new Olds a year. So it was a lot of fun.
And you mentioned my college basketball career. I think that correlates back to the car business and the competitive nature of it. Everyone is selling the same cars for the same price. We know it's not location because the number one dealers for various brands are located all over town.
It's about who has the best talent and who does the best job. That type of competition is just exciting.
I think our people have played a big role. That's one of the reasons we've turned it around here; our people have been with us a long time. Our parts manager has been here 22 years – almost from the beginning. Our CFO, who is an integral part to everything we do here, has been with us for 20 years. Recently, we've added Chris and a lot of innovative ideas. It's been a great blend for us.
So, you sold your other store and decided to focus on this one. You also spoke about the challenges of traveling back and forth between the stores. Tell us about that.
Baker: For me, I enjoy coming into the store every day, walking through the departments, and getting to know the employees and their families. The cool part is being able to watch their careers progress over the long term. It's easier to do that with one store.
You're in the Houston market. There's a lot of big groups there with probably deeper resources. How do you compete in a market like that?
Baker: You're right – everybody is here. AutoNation, Sonic, Asbury. Obviously, they do have deeper resources than we do and have some advantages when it comes to economies of scale. But in the end, we can be a little more nimble. It still boils down to people and execution. If we can get people in the door and execute well – those are things we work hard on, and those are advantages for us.
Baker seems to have a good name in the Houston market. The word 'integrity' has been used about you during recent conversations I've had with people in Houston.
Godwin: That's the compliment you want to hear, if you get one.
How do you maintain that type of reputation?
Baker: We talk to every single employee before we hire them and make sure they understand how this dealership is run. Then we stand behind that. There is no tolerance for issues involving character or integrity. It's just been that way and our employees understand that.
Also, we try to be real active in our community.
Godwin: He's a mentor in his church to new families and couples getting ready to get married. He won't say it so I will; Bruce walks the walk and talks the talk.
This business can be tough on families. How have you been able to negotiate through that?
Baker: I had a wife and children when we started the business. We worked 14 hour days and if you worked only eight hour days on Sunday, that was a break. My wife would bring me dinner and bring the children to say hello. So there were some sacrifices early on.
Today it's much better with Chris and the team helping to run it. We work real hard on scheduling so our folks can have a personal life. We try to make sure they are home on a regular basis having dinner with their families. It's one of the reasons we've been able to retain our people.
Chris, we talked a little bit about how you came to work at Baker Nissan. What made you reach out to Bruce to work here?
Godwin: I wanted to work for him because he's an independent dealer. I had previously worked with the Van Tuyl group and was a partner in two stores there in Dallas. I have an entrepreneurial spirit.
I had grown up in the area so the location was right, the brand was right, and had gotten a hint there might be a need.
I had other offers, but reached out to Bruce seven or eight times before he agreed to meet with me. He finally said he would give me five minutes. I showed up at the office with a resume and instead, brought a list of references. He told me he'd get back to me which he did after reaching out to some of those references.
What was it about Chris that made you agree to hire him?
Baker: I knew a lot of the people on his reference list and in every conversation the character issue came up. It was clear he was a standup guy with integrity and character. He was what I was looking for. I looked at it as almost fate bringing us together.
As you look to the future of our industry, what are you seeing and how are you preparing for it?
Godwin: I think the customer service standards that manufacturers have pushed the last several years have helped improve our industry and has given it some integrity.
As we move forward, transparency will become even more important. I believe it's going to become more like the housing industry in which customers won't be able to take control or delivery of a vehicle without everything being approved first.
Transparency will be the next phase in the automotive retail space. We're ahead of that now. We just recently upgraded to the Reynold's Ignite Dealer Management System. That allows us to implement a full disclosure process with the customer when we begin working the deal.
What about time of transaction?
Godwin: We recently set it up so we have three managers, each responsible for a team of five or six people. They are responsible for keeping the transaction time down.
We also have a time in-time out policy in the finance department in which they work on keeping the time in the finance area below J.D. Power's average.
Baker: We also limit the products we sell in F&I. Too many products and the process becomes too time consuming.
Do you see the industry becoming more one-price?
Baker: Not in the near future. Customers come in and ask for our best price and then they want to negotiate. Now the way we sell might change but that's dependent on the customers. They will dictate how the process goes. Today, they still want to negotiate but they don't want the back and forth; they want to talk to a manager or someone who is empowered to make decisions – and they want the conversation to be professional.
Godwin: We've modeled the store to meet the needs of a high-end customer. There are no dry erase boards with sales numbers or objectives. You won't find any paper laying around or any employee belongings. They each have a personal locker. None of the sales people have personal desks. They can use one of the shared circular tables when working a deal.
It's a very clean look.
How prominent is technology in the store?
Godwin: We use the Automotive Broadcast Network (technology) with large flat screen monitors throughout the store with messaging that reinforces the Baker Difference. Each sales manager has two flat screen monitors on the desk – so the customer can see everything the manager is doing.
We also have iPads in the store.
One thing that's different about our store is that we don't have an Internet department. Bruce put this process into place before I got here. I had never seen it work before I came here. But it's been great.
We distribute the leads – phone, online, email – to the sales team. It's based on performance.
Bruce, what made you move in this direction?
Baker: It's getting more difficult to make a living in this business if you can't do everything. We're trying to make available to our team all the various ways to sell and make money. It took a while, but our people are sharp and they figured it out. They're making the calls, responding to emails – it does help that we've been able to provide a comfortable environment for them to do those sort of things.
They like to go to the BDC area and make phone calls, and they get assistance if they need it.
How is the industry changing – especially with driving traffic to your site? Recently, AutoNation revealed its strategy of buying fewer Internet leads from the third party companies.
Baker: That budget hasn't changed all that much the last few years. But it probably is one of the more difficult areas to get our hands around. I remember years ago when we would spend $2 million a year on newspaper ads. We'd run the ad and we'd know by 11 am whether it was going to be a good day or not.
Now, there are so many ways to advertise and it's difficult determine what the return on investment is. I think you can be successful in different ways. We've just taken one avenue and have stuck with it.
Godwin: If they move away from third party leads, that will mean more for us. Those lead providers are a necessity for us. We're probably not as good at capturing traffic as they are. We can stick to what we do best and that is convert and sell that traffic.
What's the toughest part of the industry for you?
Baker: Employee retention. Especially with the sales personnel. Chris has done a fabulous job retaining our employees. It's an expensive proposition to keep hiring. Training is a time consuming effort but it's necessary to retain our employees. Life is so much easier when you can retain your team.
How about your efforts in pre-owned?
Baker: We are doing better and better – and Chris has helped us a lot there. We feel there is a huge potential in pre-owned. We're up more than 30% there. We're doing more bulk purchases in which we scour the country to buy more than one vehicle of a certain type.
Our inventory is turning at 1.5 times a month. Our philosophy is sell one-buy one. We replace what we sell right away. We don't wait for the auction next week. Today, there are resources available to do that.
Are you using your service department to sell vehicles?
Godwin: We do some of that but we believe there is a thin line between moving a customer out of their trade cycle and invading their space every time they bring their car in for service. Doing that hurts our CSI. Our CSI is very important to us. We led our district in 2013 and are leading again this us. We believe our customers will want to do business with us.
Godwin: Our biggest success has been in the rental car business. We have 80 rental cars in stock with 75% utilization and we can take those cars and move them into our rental inventory every six months. That's been huge for us. It's hard getting into it, but now we're making a profit.
You also have a vibrant collision service.
Baker: We built our collision shop from the ground up. The challenge is getting more of the insurance companies to use us. With the new body shop we have everything they require so there is a lot of opportunity there.
Thank you Bruce Baker and Chris Godwin for sharing your success with Dealer magazine readers.
Author: