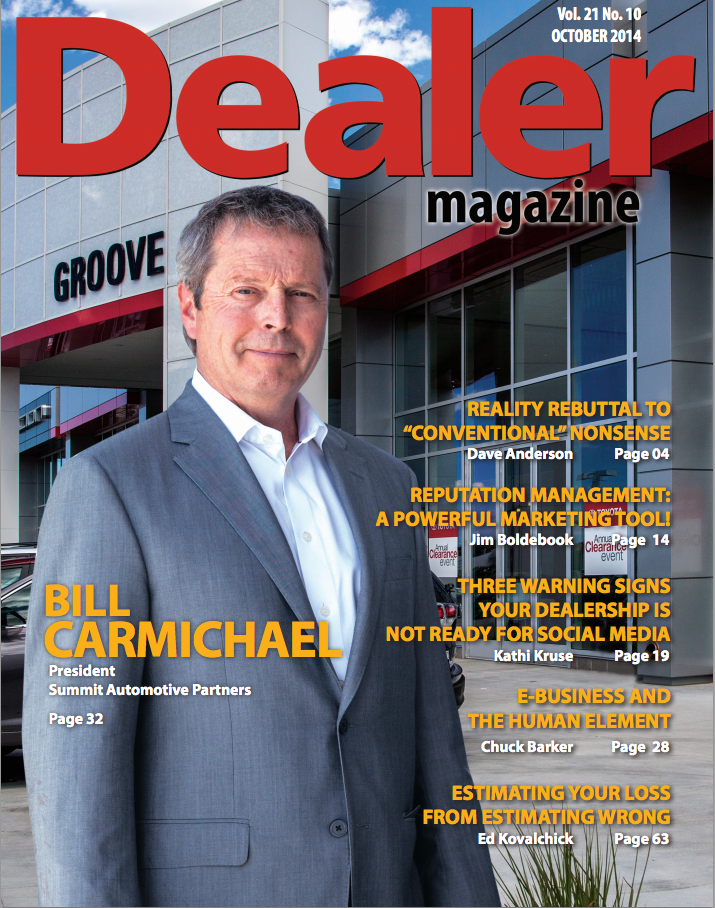 Bill Carmichael is Founding Partner, President, and CEO of Summit Automotive Partners, headquartered in Denver. Together with George Gillett, they have built Summit into one of the top 50 dealer groups in the country with 19 unique brands and 22 dealerships in 14 locations.
Carmichael got his start in 1990 selling cars at Metro Toyota (later to become John Elway Toyota) in Denver. In 1999 he was promoted to General Manager of the store following AutoNation's acquisition.
A great run at John Elway – AutoNation's most profitable Toyota store and seventh best- selling store – earned Carmichael the market president position overseeing 17 dealerships in the Denver area for AutoNation.
In 2007, he joined Rod Buscher and Gillett to build the Summit Automotive Partners Group.
Dealer magazine interviewed Carmichael on his perspective of the quickly changing automotive retail industry and how he is leading Summit to be at the forefront of the transformation.
An Exclusive Dealer magazine interview with Bill Carmichael
The Summit Automotive Partners is a fairly recent creation, Bill. How did it get started?
It began with George Gillett, who has owned over 200 companies, which in the past included the Montreal Canadians, Vail Associates, and Swift & Company. George decided he wanted to get into the automotive retail business with his sons. In fact, Alex Gillett, his son actively involved with the automotive business as a highly valued direct business partner, has his office right next to mine.
George is a brilliant man with an extraordinary talent for both starting and operating businesses. After a few attempts at buying some stores, George realized he would benefit by partnering with an experienced automotive management team to get a deal across the finish line. He contacted Rod Buscher, who had previously brought John Elway into the automotive business. Rod then contacted me. I was AutoNation's Market President in the Denver area at the time. We had a great dinner in August of 2006 and decided to move forward.
We started the company in January 2007. I often laugh because I was the COO of the company, but I was the COO of nothing because we hadn't yet acquired any stores. The car was tuned up and filled with gas with nowhere to go!
George had been looking for some time at the Berlin Automotive Group in New England – Maine, New Hampshire, and Vermont. We put that deal together in 2007. Not long after that, we completed the deal for Action Nissan in Nashville.
You acquired Berlin in New England. You're from Denver, so the Denver dealerships make sense. How does the Nashville store fit in with the overall plan?
In addition to the sports franchises he once owned, George had put together a large national portfolio of radio and TV stations while living in Nashville. He lived there for quite a while and was raising his family there. So there were connections to the community in Nashville.
We had planned to buy several more stores in the Nashville area, but as we rolled up the stores in Berlin and the one in Nashville, we had a lot of work to do. Many of the processes were top down and non-collaborative. We needed to build our team and inspire them to accomplish extraordinary things.
And then 2008 hit. Even at the beginning of the year, we could see the SAAR (seasonal adjusted annual rate) heading south.
Being a new company, we decided to conserve our cash and control our expenses. That really became a consuming process for us. As a result, we turned our attention from acquisitions.
And then you added the Burt Automotive Group?
Yes, they came up for sale at some point during that time. It made sense for us. I had lived in Denver since 1978 and had been in the automotive business there since 1990. We bought four of their stores and those ended up being a huge shot in the arm for us. (Editor's Note: Summit acquired Burt Toyota and Burt Subaru in 2009, then Burt Ford and Burt Mazda in 2010, along with Burt's brokerage business).
Buying those stores gave us access to talent and to people I had grown up with in the car business. Our cultures and philosophies were very aligned in how we focused on the customer experience and in developing our people.
The Gillett family prior to the founding of Summit Automotive Partners had also acquired a Chrysler Dodge Jeep Ram store and a Subaru store in Silverthorne, CO.
Are there more acquisitions in your future?
There will be. It's a feeding frenzy in the market now. Strategically for us, we are targeting new acquisitions in 2015 if the numbers work.
As the CEO and President of Summit, how do you manage dealerships that are spread out across the country?
We have two platforms – our New England platform, which includes the Nashville store, and our Denver platform.
Each platform is run by a Market President. We've assigned roles and responsibilities along with setting budgets and expectations.
I travel to New England each month and meet face-to-face with our management team. We do monthly reviews just like every other successful company – analyzing the previous month's numbers, celebrating successes and analyzing our misses.
However, in addition to the financial review, we invest substantial time focusing on the behaviors we exhibited and those we failed to demonstrate in hopes of finding new ways to achieve even greater results for our customers, employees, and the business going forward.
So there is accountability, but it's more of a collaborative accountability. I think it's rare when we would have to have a strong conversation with someone. We treat it as a partnership.
Our Market Presidents have latitude to do it their own way – but there are boundaries.
For us, traffic control, logging in customers, calling customers back– these have been the center of our business since day one.
If we can manage these fundamentals effectively we know we will create that truly exceptional customer experience. We're very high on closing percentages and customer follow up. We spend a lot of time on strategy – how to improve our behavior.
How did you get into the business?
I had a small manufacturing company that built safes for cars – Colorado Safe Company. We were undercapitalized, but still doing okay. I was running around building a distribution network.
My wife at the time was pregnant with our first child so she stopped working. I knew there was going to be a cash flow issue as the family started growing.
I wasn't sure what I wanted to do, but I had sold for several years. I knocked on some doors and ended up with Metro Toyota there in Denver in 1990. It was about a year before Rod Buscher and John Elway bought the store.
I sold cars for four and a half years. In that time, I think I had six General Managers. You could say I learned a lot about how not to treat employees and customers.
But John and Rod were both very customer focused so I also learned a lot of good things from them. During that time, I was fortunate to hit targets we all aspire to – things like becoming a top sales person.
At what point did you start moving up?
It was when AutoNation bought the store. The General Manager at the time resigned, and I was given the opportunity to run the store.
We were able to catapult the store to where it became the seventh best-selling Toyota dealership in the country – and AutoNation's most profitable. I think it's still the most profitable Toyota dealership in the country.
It was a wild success. We did it as a team, developing strong leaders – including eight General Managers that came out of that store.
After a while, there was an opening for Market President in the Denver area for AutoNation and Mike Maroone (President of AutoNation) asked me to take it.
It was much of the same thing, only more difficult because it was across 17 different dealerships. We focused on building common processes on how we managed and treated the customer.
In 2006, we started the year in 18th place among all AutoNation market platforms. We ended the year in second. We wanted first place, but still, we were proud of the changes we made and what we had accomplished.
It's not a complicated formula, but it requires patience – actually, being patiently impatient. You have to wait for things to click sometimes.
Let's focus on profitability. How were you able to drive that at John Elway Toyota? Being the top profitable store is impressive.
It was a lot of things. From a team perspective, I've rarely seen it done out of brute strength.
Everybody knows what their job is, be engaged and happy. And that means they have to feel they are being fairly compensated – good pay, but not extraordinary. With shared values, common processes, and common goals we created an exceptional outcome.
It's doing the right thing every day. But frankly, if you start doing everything right today, it could take four years to be operating at a prime level – that's part of being patiently impatient that I mentioned earlier. We've tried to carry these things forward at Summit.
When did you become president and CEO at Summit?
It was 2012 after Rod decided to move on for other opportunities.
Talk to us about the culture you started building at Elway and AutoNation, and brought to Summit.
We're really focused on developing our people from within. I believe in education. Most people will do as well as they can with the knowledge they have. Put more knowledge in their hands, and they'll perform at a higher level. I've seen great people with skill will always outperform great people without skill.
Let's go back to the profitability discussion. The customer is more savvy and knowledgeable today with advancements in technology.
Yes. But it still is about the experience. Quite frankly, if we do most everything right, the customer won't care about that last $100. If you don't do things the right way, you're not going to be able to sell that car cheap enough.
First, we have to stand for something in the market-place and we have to get agreement from our employees. It has to be something that's unique and valuable for the customer. For us, it's a great experience at a fair price.
And we have to live that every day. It's about our brand. It's how we sell – how we give the customer latitude to tell us how they want to proceed.
I think we have a unique position in the market. The truth is, from time to time things are going to go wrong and we will make mistakes. We look at those situations as opportunities to not only win a customer, but also as learning opportunities that help us improve our business.
I'll tell you this, we're not going to have customers go away angry. Our minimum standard is to do whatever it takes to make it right. In the end, we at least want people to believe we sincerely care. Sometimes that means customers leave feeling neutral about us, but at least they aren't going walk away mad.
That requires us to listen intently and be responsive. We have to do something that's noticeable to solve that problem. The customer has to know we value that relationship. Again, our business needs to be about offering a great experience at a fair price.
In today's world, there are people who want the best price and have no loyalty to the company, the product, or the human being they are doing business with. But that is a very small percentage of the population.
Most customers are in a hurry and want to get the deal done quickly. Or they just want a compelling reason to do business with us. That's all they're saying, "Tell me why I should want to do business with you."
A great sales person closes at about 30%. That means they receive negative reinforcement for great behavior 70% of the time. Think about it – you're doing everything right and the customer still tells you no.
So we do want to change our swing, if you will, at that 70%. But we have to be sure we're staying true to our processes.
As you look to the future of the automotive retail business, what kind of changes do you see happening?
I think the industry is at a tipping point. People will be able to buy their cars online in the very near future.
I agree with what AutoNation is doing – letting customers reserve the vehicle online and having it ready for them when they come to the store. Sonic is also changing their sales process to make it more seamless.
Customers don't want to go back in time to buy a vehicle. Today they can go on Amazon or any other shopping site, and have that seamless experience. The site knows who they are when they log in and has their shopping and buying history.
Customers' toleration for how they have to buy a car today is waning. They aren't going to tolerate it for much longer.
For us at Summit, we're fortunate that we've been able to spend so much time and investment on the customer experience. Having that foundation puts us in the position now of being able to look at ways we can automate that buying process. This is coming like a freight train – and it's going to happen quickly.
What areas do you think we as an industry need the most innovation?
Well, I think we need to rely on our industry partners for that – our manufacturers, out DMS vendors, our website and CRM vendors.
Certainly finance and insurance is one area we'll see some new things. Also how F&I will be presented and how the customer will purchase those products.
It needs to become more of a seamless experience and one that lets the customer decide what they want to look at and buy. I think we might be surprised at what products the customer chooses and at what frequency – if they were given the opportunity. We believe we can accomplish this by simplifying business processes and employing state of the art automation technology.
Your former company, AutoNation, is preparing to launch some innovative processes. What do you think about them?
The publics are growing and I believe as they get bigger, they're going to look at other areas of the business. I think it's the right strategy.
We're also seeing it with Sonic – in fact, the new pre-owned facility they are building is right next door to us. (Editor's Note: Sonic Automotive is launching an independent chain of pre-owned dealerships – the first of which is in Denver. The new brand is called EchoPark.)
I think the strategy is spot on. Consider how many used vehicles independent operators sell and how much opportunity there is for the new car dealer. For most dealers, there's a new-to-used ratio that's hard to break. (Editor's note: In 2013, dealers retailed 9.9 million used cars compared with 15.5 million new cars. Another 7.6 million were wholesaled.)
It's like the sound barrier – it's very hard for dealers to break through that and sell as many used cars as they do new. What Sonic is doing – disconnecting the method of selling – the location – is pretty smart. How well you execute on this concept will ultimately determine your success.
To sustain a competitive advantage, we need to continuously reevaluate our profit centers and cost centers, as well as be willing to rewrite the play books when necessary.
The next few years are going to be interesting.
You're right. Think about it. As an industry, we have traditions that are fine. But there are trends that we have no power over.
Customers are moving in directions we can't control. We should capitalize on that – not resist it or shake our fists at it. Let's see what customers are doing and what they are asking for, and then figure out as an industry how we can play in that space.
It's going to be a revolution, but our customers are asking for it. And really, it is a great opportunity for us. We've been doing transparency for years; we've adopted soft sales processes, so providing that easier and seamless experience is a natural next step.
Thank you Bill Carmichael for allowing us to interview you, and best of luck in your future endeavors.
Author: