NASHVILLE, TN – Experts from Google, Facebook, Yelp, SCVNGR and Zappos will share their insights on Internet marketing with automotive dealers and managers at the 11th Digital Dealer Conference & Exposition, Oct. 5-7, at The Mirage, in Las Vegas, NV.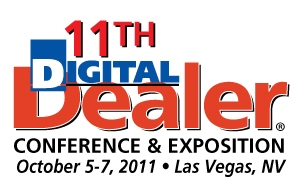 These experts from the giant companies in the online world will provide a broad perspective on the very latest online retail marketing strategies.   They will focus on new trends in consumer behavior online, local business outreach through digital channels, use of online and mobile gaming technologies, enhanced customer service and the sweeping impacts of social media on society in general, and, in particular, on consumers in the automotive marketplace.
Joe Maciariello, a senior account executive on the automotive vertical team at Google, will present:  The Zero Moment of Truth – Understanding the Digital Engagement of Today's Car Buyer: What actions do car buyers take online before visiting a dealership to purchase a vehicle.  Maciariello is responsible for developing multi-channel advertising strategies for many of the company's Southern California-based automotive clients and agency partners.
Keith Watts, who leads Facebook's auto dealer advertising team, will discuss Leveraging Facebook to Drive your Business Forward.  Facebook is the world's largest social media platform with over 750 million active users worldwide.
Darnell Holloway, Yelp's Manager of Local Business Outreach, will discuss Yelp and your Business: How to get started with Yelp's free tools for business owners.  He meets with local business owners across the country to educate them on the value of engaging with their Yelp listings, and joining the conversations happening about their businesses. He also works with Yelp's Small Business Advisory Committee to deliver constructive feedback from the business community to the different divisions within Yelp.
Alex Rosenblatt, who heads up SCVNGR's automotive vertical, will present: The Game Dynamics of Engagement. SCVNGR, a Google-funded gaming company out of Cambridge, MA, provides turn-key marketing and promotional solutions that leverage SCVNGR's state-of-the-art location-based gaming (LBS) platform. SCVNGR events provide powerful, customizable engagement in fun and innovative ways.
Jim Carrillo and Duke Cajala, Customer Loyalty Team Managers for Zappos, the leading online shoe retailer, will present:  Building a Customer-Focused Culture.   They will discuss how Zappos.com grew their gross merchandise sales from $1.6M in 2000 to over $1 billion in 2008 by focusing relentlessly on customer service.   Jim Carrillo oversees Zappos' Leadership Training and Development team for the Customer Loyalty team leaders and Live Chat department.  Duke Cajala oversees Zappos' on-boarding program and the group responsible for continuous training and development for the contact center team.
Social media expert Erik Qualman will be the keynote speaker for the 11th Digital Dealer Conference & Exposition. Often called the Digital Dale Carnegie, Erik Qualman is the author of Socialnomics: How social media transforms the way we live and do business. Socialnomics made Amazon's #1 Best Selling List for the US, UK, Canada and Germany.  To learn more about Erik Qualman, visit: http://www.socialnomics.net/about-erik-qualman/
Dealers and managers who attend these experts' presentations will learn:
How customer demographics on Google affect behavior across the entire buying cycle.
Best practices for creating and managing the dealership's Facebook page.
How to diplomatically engage with your customers using Yelp's review response tools.
Five new ideas on how to use game dynamics offered by SCVNGR.
How Zappos wows customers every day and the power of repeat customers and word of mouth.
How companies and individuals are achieving success in social media.
All these speakers will join leading automotive dealers and industry experts on digital technology for automotive dealerships who will be sharing their expertise and best practices on the latest digital tools for sales and marketing, fixed operations, F&I, and pre-owned departments.
The 11th Digital Dealer Conference & Exposition features more than 90 workshops, 90 exhibits, and peer networking roundtables.  The complete agenda can be downloaded at: www.DigitalDealerConference.com
More than 1,000 dealership owners, General Managers, Internet Directors, e-Commerce Managers, BDC Managers, CRM Managers, Pre-owned Managers, F&I Managers and Fixed Operations Managers attended the 10th Digital Dealer Conference & Exposition in April in Orlando, FL.
Even more automotive retail professionals from dealerships nationwide are expected to attend the conference in Las Vegas this October.
To register for the 11th Digital Dealer Conference & Exposition visit: http://www.DigitalDealerConference.com
ABOUT THE DIGITAL DEALER CONFERENCE & EXPOSTION  
The 11th Digital Dealer Conference & Exposition is the ideal learning and networking venue for Dealer Principals, General Managers, Internet Sales Managers, e-Commerce Directors, BDC Managers, CRM Managers, Pre-owned Managers, F&I Managers and Fixed Operations Managers. The conference is owned and operated by Dealer Communications, the leading multi-media information source for franchised automotive dealers and managers.   Connecting with these dealers and managers over ten million times per year, Dealer Communications publishes the monthly print and online editions of Dealer magazine and Digital Dealer magazine. Online weekly newsletters include Dealer; Digital Dealer; Dealer Fixed Operations; Dealer Pre-Owned; Dealer F&I, and Dealer Sales and Marketing. To see all that Dealer Communications offers, visit www.dealer-communications.com
Author: