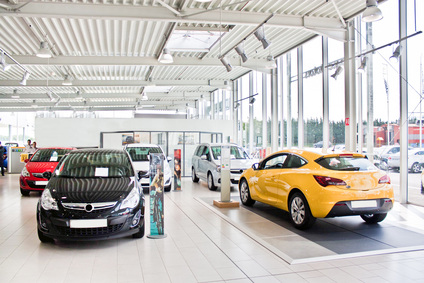 Car sales are up, but only slightly. According to International Business Times, Chrysler and Nissan sales are up 11 and 15.8 percent respectively, but all of the other "Big 8" automakers are down compared to the previous February. The relatively steady sales aren't necessarily hurting dealerships, but dealers who want to get a more lucrative piece of the pie need to fight for new customers. If you are ready to take your dealership to the next level, here are three innovative ideas for you to try:
Diversify Your Inventory
If your current inventory isn't attracting enough foot traffic, mix things up a bit. Offer products that will get people in the door and near your inventory. Try matching your new inventory to interests that are popular in the area.
If you own a dealership in an affluent area, for instance, consider bringing in antique cars or luxury driving accessories. If you have a dealership in an area where a lot of people ride motorcycles, stock your floor with a few motorcycles and a range of accessories. Moves like this can be lucrative, especially if there are no other stores in the area offering those products.
Before jumping into anything, however, do a bit of number crunching to see how lucrative it could be. Check out websites that sell motorcycle accessories and calculate the profit margins for everything from driving gloves to aftermarket parts.
Ditch Commissioned Sales People
It may sound like a completely crazy idea, but if you want to attract more people to your dealership, consider getting rid of your commissioned sales people. Contemporary shoppers don't want to haggle with a commissioned salesperson, and most of them are so car savvy that haggling simply isn't as lucrative as it used to be.
Shoppers can easily use sites like Edmunds.com or TrueCar.com to find out what a vehicle is actually worth. They can also spend hours online reading vehicle reviews to determine which car is right for them. Thanks to the Internet, shoppers don't need to visit your dealership to learn about cars. Thus, you need to draw them in.
Follow the lead of Nissan of Manhattan, and draw new clients in with greater information and exemplary customer service. According to the Wall Street Journal, this dealership replaced its pushy commissioned sales people with product specialists. These salaried employees answer questions about the vehicles and guide shoppers through the selection process. If people know that the staff at your dealership is informative and not pushy, they will be more likely to close their laptops and visit your store in person.
Get Online
Your prospective clients are browsing for the next best thing online, and you need to be sure that you are there as well. List your vehicles on online databases with a link to your main site, and ensure your website is optimized for mobile and desktop browsing. According to the Small Business Chronicle, if you optimize your site for mobile devices, you won't lose customers who are shopping on their phones.
Link everything to your social media account and offer rewards and benefits to encourage more likes and exposure. For instance, let everyone who follows you enter in a drawing to win a free gas card, or use Facebook as a platform to advertise a test-drive incentive. If everyone who test drives a car in your dealership gets a free movie ticket or another prize, people are more likely to come in and try something new.
Author: