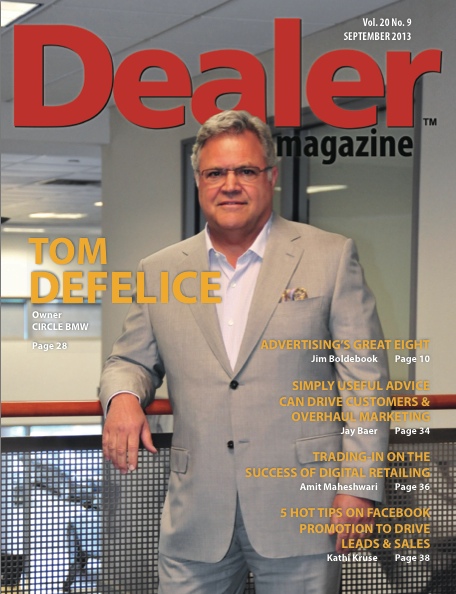 In 1980, Tom DeFelice bought a small BMW franchise in New Jersey that had sold 25 vehicles the year before.
With 2 employees, 12 parts bins and 1 service bay he went to work and tripled the BMW store's sales in the first year – 75 cars sold.
Today, Circle BMW, with 96 employees, in Eatontown, NJ is a 55,000 square foot facility built in 2005, selling approximately 1,800 vehicles a year.
Outside of a brief foray as one of Infiniti's charter dealers in 1989, DeFelice has remained singularly focused on the BMW brand and Circle BMW. He has built it into one of the country's most successful single-point family-owned dealerships.
Dealer magazine recently talked with Tom about his more than 40 years in the business and how he grew Circle BMW to become a powerhouse in the Northeast region.
Tom, after growing up working at Circle Chevrolet, which was owned by your grandfather, father and uncle, you decided to buy a BMW franchise?
You're right. It was combination Chevrolet BMW store located in Matawan, NJ. I bought the BMW franchise from them and moved it to Shrewsbury, NJ. And that was in 1980. We incorporated in 1981.
Why BMW?
Well, I liked the cars. Of course, I didn't have that much exposure to the cars while I was I was growing up because my father was a Chevrolet dealer. But I had a roommate in college that had a BMW 2002 (Editor's note: the 2002 series were built from 1968 to 1977) and loved driving it around. So that's how I got my first introduction to BMW.
Liking the product is a good reason.
Yes, it is. At the time, I was selling Chevrolets – and had been since 1974. I remember doing vehicle swaps with other Chevy stores, including the one I eventually bought the BMW franchise from. They had BMWs in their showroom. I used to look forward to going to those places that were dualed with BMW. And while I was waiting for my swap I'd scope out the BMW vehicles, sit in them and dream.
So when when the franchise became available, when the owners — two brothers — were retiring, I bought the franchise.
You moved it to Shrewsbury. Did you have to build a facility or did you move it into an existing facility?
I was fortunate that I was working for my family at the time, and was able to persuade them to let me rent space from them.
And BMW was okay with that?
Well, it was a different time. BMW wasn't that particular back then. And they were happy to have a nicer showroom, which we had. I had one place on the Chevrolet showroom to put a BMW vehicle. And I had 12 parts bins and one service bay.
Wow. I bet it looks different today.
Definitely. Let's see, I have a 50,000 sq. ft facility today with 32 service bays and a 20 car showroom. And of course, we're not with Chevrolet anymore.
How many employees do you have today?
Ninety-six.
How many did you start with?
Two. I started with one salesman and a technician who was also the service manager and the parts manager. They were both experienced BMW people — unlike myself.
At what point did you begin to grow?
Oh, in the first year. We tripled the sales from what the prior dealer had done the previous year. I think they sold something like 25 cars in 1980 and we sold 75 in 1981.
So how many are you on pace to sell this year?
We're probably on schedule to sell approximately 1,800 vehicles this year.
What were some of the challenges in those early years?
For one, the cars were not built like they are today. The 320i — which was the entry level vehicle when I started — didn't have air conditioning as standard equipment. It was a dealer installed add-on. So you can imagine, I literally had to learn how to install them myself, although I had someone that could do that. It was things like that where I kind of delved into and learned how to do them in those early days. I had to do that because I didn't have that many employees. Fortunately I never had to install an air conditioner but I needed to learn just in case.
And selling the cars was different then. If a customer wanted a different color interior you had to change it from one car to another. We would swap the seats and the door panels along with everything else, thus avoiding a dealer swap.
I would imagine you had challenges as you began to grow.
The challenge was that I actually had to keep up with the demand in service. We grew in service quicker than sales because of all the units in operation in our and the fact that I had a recognized service guy working for me who had a great reputation. So we grew in service by leaps and bounds. That's where I hired next — two technicians before the end of 1981.
I eventually hired a parts manager who was also a BMW Master Technician. So he used to chip in with technical work as well as running the parts department. And as we grew the wholesale business I hired a parts counterman. By the end of 1982 we probably had 12 or 13 people working at that point.
Also in those early years, there was a unionization attempt that stemmed from being associated with the Chevy store and an employee the union had planted in the dealership. It was challenging but we handled it and managed to avoid that as our technicians voted against it.
How did you do that?
I've always had that element of trust with my employees. We trust each other. I have an open door policy and I manage by walking around. We talk to each other and if they have any concerns they know I'm approachable.
We also pay union-scale or better here. And I believe the management staff has a lot to do with it also. You can't have managers that are tyrannical. I don't hire those types of people.
I want to explore your leadership style a little more. Circle BMW has grown remarkably the last several years and has the reputation of being a great place to work.
Well I try to hire the best people I can find and I pay them competitively. I check around and research to see what people are earning at that level elsewhere and I try to meet that or exceed it.
Also, I've always tried to evaluate employees and give them a raise before they ask for it. And certainly if they deserve it. People know when they're earning merit and when they feel like they might be entitled. And usually I feel the same way.
I make sure they're well-trained, and that's very important. I also believe our benefits package is important.
You asked about my management or leadership style. I'm not much of a numbers man. Obviously, I do watch the numbers but I don't walk around with a composite all day looking at what we've done on a daily basis. I think that takes personality out of the management style.
But my management style? I guess you might call it wandering around and being available and not really missing much. I try to catch things that may go wrong before they go wrong. And I train our people to be proactive.
I guess I'm a perfectionist and an absolute realist in the way I manage. I do try to instill that philosophy in our company. Dealing forthright with our employees and customers is very important to me. The satisfaction of my employees is really paramount because without satisfied employees you can't have satisfied customers. People can read dissatisfaction on an employee's face and sense it in their attitude.
What are some of the challenges today in owning a dealership?
Government intervention and regulation. The government didn't create us and certainly doesn't help us. As a matter of fact, government makes operating a business difficult and more expensive. takes a lot of time and additional employees just to comply with government regulations.
Trying to afford employee benefits is another difficult challenge. For instance, the price of health care keeps escalating. And that's going to continue with the new Affordable Health Care Act — which I think has been named incorrectly as it certainly will not become more affordable. Once everybody figures out all of its implications I'm sure the cost is going to escalate. These issues complicate the operation of any business large or small.
And then, we do live in a in a time where social media plays a huge role. We have reputation management that we have to deal with.
You have to monitor it daily.
Yes, we have to monitor it constantly. We retain a third party to do that along with our marketing people who also monitor it for us. So that's a challenge.
And I think dealing with new ways to advertise and promote our business digitally is another area we have to stay on top of. It changes constantly. For example, we're just starting to learn how to deal with Instagram and how to market ourselves on Facebook, Twitter, Instagram, etc.
Have you adjusted your marketing spend to where you're spending more online and less on print, T.V. or radio?
Sure. We've significantly reduced our print budget. We are in one newspaper and maybe one or two magazines. We used to be in every newspaper. But print really doesn't do much good for us anymore, especially when people are shopping online. And now it's not just the computer but their mobile devices.
And in many cases prospects have their mobile device and they're shopping while they're sitting in front of our salespeople. Obviously, that never happened in the 1970s or 80s, that's for sure.
You've stayed with BMW as a brand. You had a brief, a foray with Infiniti when it first came on the scene, correct?
Yes I did. I was one of the charter Infiniti dealers, I think it was in 1989. At the time, I had two dealerships that I was running simultaneously. I had good employees in both but my splitting the time was not something I really wanted to do. I wanted to focus on the BMW brand. I don't regret selling it.
I've been committed to BMW for 33 years and they've been committed to me.
Is dealing with the manufacturer more of a challenge today?
Well, I think that's the case with most brands. It's more of a challenge trying to be profitable selling new cars while chasing the programs and incentives that the manufacturer creates to achieve higher volume.
As a dealer, how did you adjust for that pressure on your margins? How do you make it up?
We sell value. We've always been profitable in the service and parts business. I built a strong service department at the beginning. I learned that from my forefathers – my father, grandfather and uncle – as you know, I worked for them. And they believed in a strong fixed operation. We've always been profitable there and we continue to be. Our fixed coverage or absorbtion through our fixed ops averages 85 percent and is much higher than the average BMW dealer.
Is your business primarily lease-driven driven?
Of course. In new car sales, we're about 80 percent of our deliveries are leases.
Does that help in retaining the customer?
Yes, it certainly does because when they are happy with their with their car and with the our service they'll lease another car. And we try very hard to make sure they are happy so every three years they're back here again for a new lease.
We try to build and maintain a relationship with our customers so they really don't want to buy anywhere else.
When you talk about building a relationship, Tom, what are some things that you do specifically at the dealership to do that?
We greet our customers properly here – for example, we'll valet their cars for them. We have to make them comfortable and make it as painless as possible when they come in for service. It's like going to a Ritz Carlton when you come here.
That's what I've used as my template for how we deal with customers. As I mentioned, We valet our customer's cars. We make sure that there's a service advisor available so they don't have to wait.
And we get them into a loaner car as quickly as possible. For parents with small children, we change their car seats and we have them watch how we do it. But we let them make that final buckle – it's just going that extra step because we take that responsibility seriously. Again, it's making it as easy as possible for our customers to deal with us.
Another touch we've added is a gym for our employees and customers. It's not huge, but it has the basics – quality gym equipment along with a shower.
Does the gym get used often?
Actually, it does get used. Customers can come early in the morning, drop off their car and use the gym and shower before work.
We also have an Internet Lounge with Wi-Fi, coffee and refreshments. It's a quiet space to work. We've found many people bring their car in for service and work right here in our lounge while they wait.
Probably one of the most important things we do is once the vehicle is ready, we get them back into the vehicle quickly. You know, customers don't want to wait for their car when it's finished. Nobody wants to wait in line to pay their bill so we try to be attentive in that area. But we add some nice touches such as washing the vehicle for them and leaving mints and water for them in the vehicle.
Paying attention to that type of detail is what we have to do to hold onto our customers. I look at it as a demonstration of how much we appreciate their business.
Tom, you mentioned the government earlier. Right now, the Consumer Finance Bureau is looking hard at the automotive space and seems to be focusing on the retailers and the F&I practices. As you read those reports and see those stories are you as an owner of a dealership already looking and trying to figure out ways to compensate for what may end up being a loss in some of the profitability in the F&I department?
Well, the first thing to note is that we don't charge excessive interest rates. Whatever our buy rate is if we add a half a point to it or a point to it we're happy with that. We're not looking to hurt anybody. It's just bad business if we're playing those games. If we take advantage of someone they're going to remember that. We operate by the Golden Rule.
For us, we focus on selling value in the F&I Department. I'll give you an example. In New Jersey, we have some rough roads with a lot of potholes. For a BMW customer, it would be a disservice not to offer tire and wheel insurance and explain the benefits of that to a customer. A product like that is a great product that offers real value.
I try to find products to offer that I would feel comfortable selling to my family or friends. I know, it's not hugely profitable, but it does help to improve lean on the front end of the sale.
So I'm not quite sure what they're (government) going to take away from us. I will worry about that when it happens. So I haven't really adjusted the way we do business.
Once again, the Golden Rule prevails and that's what I expect of my staff.
Let's look to the future, Tom. What are a couple of changes you see affecting the retail business in the next few years?
Well certainly digital marketing and the way people purchase cars will change quite a bit, I believe. Now we're selling to Generation X and Generation Y. Millennials will soon be our customers. And as BMW goes down market with its entry-level vehicles, we'll see more of the Millennial customers.
So that's going to be different because the younger kids — and my children are that age now – in their early to mid 20s. They do all their research online and they buy what they can online rather than in the stores. They don't want to spend as much time buying a vehicle.
I'm a Baby Boomer — 61 years old and we are a generation of workaholics. I've been working since I was 14 and I've never stopped. And consequently I have no golf game and I'd rather be on someone else's boat.
That's changing today. If my children ever got into this business — my son's a lawyer and My daughter just graduated from college, neither of whom have an active interest in the business at this point. But if they did they'd probably run things differently.
The point is, I think we're going to have to find new ways to market and sell to this new generation. We have to recognize how they consider the value of their personal time. But, I believe, people will still come in to the showroom and want to establish a relationship with us. I don't think they're going to buy a vehicle and have it delivered to their house by truck.
Another area that's changing now – and we talked about it earlier – is the government regulations. Our HR manager must stay abreast of labor relations and federal and state laws. And it is getting overwhelmingly complex.
There's a lot of talk about the electric vehicle today. Will that become more than a niche market in the future?
It will make more sense if we can figure out how we're going to actually fuel them without any carbon footprint, because even electricity is generated by something that created a carbon footprint.
But I see people's interest in electric cars to a certain extent. I think their interest is there provided the vehicle is affordable. And they don't do that much traveling, or the vehicle actually has the ability to extend its charge because it has a hybrid feature. BMW is coming out with a line of plug-in electric cars that will have an optional small gasoline fueled motor to help generate electricity and extend the range. But it's predominantly electric. We will start seeing them in more volume at this time next year.
Both the i3 and the i8 are cool looking vehicles with great performance, handling and acceleration. They are true BMWs and we're excited about them.
Another trend I see with BMW – and this I think would probably be a good thing – is a move toward more of an ordering system and less of a buying out of stock. Of course, we'll always sell what's in stock, but I don't see inventories being as important in the future. It's expensive to floorplan hundreds of vehicles and the reality is we never seem to have the exact one in stock that the customer wants.
It's easier to do with a brand whose customer base is primarily leasing. People can order their new vehicle before the end of the lease on the current vehicle is up.
Author: