Social has become search marketing and search has become social marketing. The two giants, Google and Facebook, are competing for the each other's audience, which means each company has developed several new marketing opportunities and ways to increase your leads. The new marketing opportunities provide progressive profiling and insights of a customer's behavior to specifically target based on interest, stage of life, lifestyle, and for as little as $0.91 per lead. The new tools that are available today will drastically increase your sales and service leads. Paul Potratz, COO of Potratz Advertising, will explain how you will get started, whether you want to do it yourself or ensure your marketing firm is doing it correctly. Paul Potratz is sharing his expertise with you.
What will you learn and what action items will you take back to the dealership?
1. Learn about new trends and marketing tools.
2. Learn how to implement the new tools into your strategy.
3. Learn what creative and artwork has shown to perform best.
4. Learn how to create a budget and measure performance.

Paul Potratz, COO of Potratz Advertising, is an industry leader and speaker in digital, behavioral and social media marketing for the automotive industry. He has been interviewed by and contributed to The New York Times, NY Post, CBS, Wall Street Journal, Automotive News, J.D. Power and Associates, NADA, NCM, F&I Industry Summit, and Digital Dealer.  Potratz is also a contributor to several newspapers and radio talk shows on topics specific to Internet marketing, social media and consumer behavior. Potratz presents real life examples showing how his dealerships have become rated the top 100 in the country by adopting his e-commerce marketing strategy with a focus on his four e-principals: Educate,  Entertain, Engage and Entice. Single-point and multi-point dealerships across the country have implemented his unique social and Internet e-commerce techniques, resulting in tremendous sales success and cost savings. He delivers his strategic Internet, social, and behavioral marketing philosophies in a workshop style format, so dealerships just starting out with Internet and mobile marketing, as well as advanced dealerships, can learn and immediately start implementing his strategies with their dealership. Potratz hosts a weekly video series, "Think Tank Tuesday," which reaches over 42,000 automotive professionals across the United States, UK, and Canada.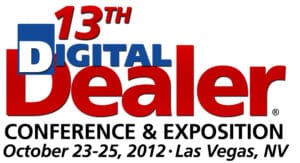 A 13th Digital Dealer® Conference & Exposition Featured Speaker: Paul Potratz presents:  New Trends in Search and Social Marketing: Learn how to implement the new tools and increase your sales and service leads substantially.
We're building out the agenda, selecting speakers and topics for more than 100 sessions that are laser-focused on all things digital.
The Digital Dealer Conference & Exposition is the premier educational conference and expo dedicated to Internet and technology solutions for automotive professionals. Digital Dealer events deliver the largest array of speakers, peer to peer opportunities, and exhibit hall offerings – all carefully designed to impart cutting edge business strategies. With an audience of the industry's most progressive dealers and managers and the most innovative conference format, Digital Dealer provides the ultimate learning and networking environment.  For more information, visit:  www.DigitalDealerConference.com
Author: