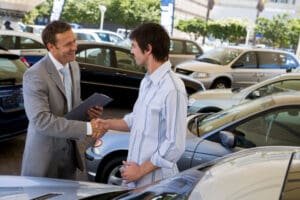 WESTLAKE VILLAGE, Calif. — Satisfaction with the new-vehicle sales process has improved notably from 2010, according to the J.D. Power and Associates 2011 U.S. Sales Satisfaction Index (SSI) Study(SM).
The study is a comprehensive analysis of the new-vehicle purchase experience and measures customer satisfaction with the selling dealer (satisfaction among buyers). It also measures satisfaction with brands and dealerships that were shopped but ultimately rejected in favor of the selling brand and dealership (satisfaction among rejecters). Among buyers, satisfaction is examined across four measures (listed in order of importance): working out the deal (17%); salesperson (13%); delivery process (11%); and dealership facility (10%). Among rejecters, satisfaction is examined across five measures (listed in order of importance): salesperson (20%); fairness of price (12%); facility (6%); inventory (6%); and experience negotiating (5%).
Overall sales satisfaction averages 648 on a 1,000-point scale in 2011, improving by 13 points from an average of 635 from 2010. This gain suggests that, as market conditions improve, automotive manufacturers and dealers are placing renewed focus on and investment in providing buyers with satisfying retail experiences.
All measures improve notably from 2010, with the greatest gain in the delivery process, despite the fact that the average length of time to complete the delivery portion of a new-vehicle sale has increased by four minutes to an average of 32 minutes in 2011, from an average of 28 minutes in 2010. Overall, the average length of time a buyer spends at the dealership has increased by 11 minutes, to an average of 4.3 hours in 2011 from 4.1 hours in 2010.
A primary reason for the lengthened delivery process is the increasing proportion of buyers who are receiving more in-depth demonstrations of technology in their new vehicle (including audio, entertainment, navigation and communications systems). Approximately 88 percent of buyers in 2011 say they received a technology demonstration at vehicle delivery.
"Although technology demonstrations add time to the delivery process, those explanations substantially improve satisfaction, as well as customer loyalty and advocacy," said Jim Gaz, director of automotive research at J.D. Power and Associates. "It would intuitively seem that buyers are most satisfied when the sales process is completed in the shortest amount of time possible. However, buyers actually appreciate it when sales staff spends additional time with them, as long as that time provides them with added value."
According to Gaz, an increasing proliferation of technology demonstrations may also help improve perceptions of new-vehicle quality. The J.D. Power and Associates U.S. Initial Quality Study(SM) (IQS) has found that rates of owner-reported problem incidence with audio/entertainment/navigation technology systems have increased steadily between 2009 and 2011. Some of these perceived problems may stem from users not understanding how to operate features, so technology demos provided by sales staff can be a powerful tool in lowering problem rates and improving satisfaction with vehicle design.
Lexus ranks highest among luxury brands in satisfaction with the new-vehicle buying experience. Cadillac and Mercedes-Benz follow in the luxury-brand segment rankings. The luxury brands with the greatest improvement from 2010 are Lincoln (moving from ninth rank position to sixth) and Audi (moving from 11th rank position to ninth).
MINI ranks highest among mass market brands for a second consecutive year. Buick and GMC, respectively, follow MINI in the mass market segment rankings. The mass market brands with the greatest improvement from 2010 are Volkswagen (moving from 13th rank position to fourth), Scion (moving from 11th rank position to fifth) and Nissan (moving from 18th rank position to 12th).
The 2011 U.S. Sales Satisfaction Index (SSI) Study is based on responses from 24,045 buyers who purchased or leased their new vehicle in May 2011. The study was fielded between August and October 2011.
Luxury Brands

Sales Satisfaction Index Ranking
J.D. Power.com Power Circle Ratings
(Based on a 1,000-point scale) 
For Consumers
Lexus
715
5
Cadillac
713
5
Mercedes-Benz
701
4
Porsche
696
4
Land Rover
690
3
Luxury Segment Average
688
3
Lincoln
681
3
BMW
677
2
Infiniti
676
2
Audi
675
2
Acura
673
2
Volvo
666
2
Included in the study but not ranked due to small sample size are Jaguar and SAAB.

Mass Market Brands

Sales Satisfaction Index Ranking
J.D. Power.com Power Circle Ratings
(Based on a 1,000-point scale)
For Consumers
MINI
723
5
Buick
682
4
GMC
672
4
Volkswagen
660
4
Chevrolet
655
4
Scion
655
4
Subaru
655
4
Mazda
653
3
Chrysler
647
3
Ford
645
3
Toyota
643
3
Mass Market Segment Average
642
3
Honda
636
3
Nissan
636
3
Mitsubishi
630
3
Hyundai
629
3
Dodge
622
3
Kia
614
2
Ram
609
2
Jeep
606
2
NOTE: Suzuki is included in the study but not ranked due to small sample size.
Power Circle Ratings Legend:
5 – Among the best
4 – Better than most
3 – About average
2 – The rest
About J.D. Power and Associates
Headquartered in Westlake Village, Calif., J.D. Power and Associates is a global marketing information services company operating in key business sectors including market research, forecasting, performance improvement, Web intelligence and customer satisfaction. The company's quality and satisfaction measurements are based on responses from millions of consumers annually. For more information on car reviews and ratings, car insurance, health insurance, cell phone ratings, and more, please visit JDPower.com. J.D. Power and Associates is a business unit of The McGraw-Hill Companies.
About The McGraw-Hill Companies
McGraw-Hill is a leading global financial information and education company that helps professionals and students succeed in the Knowledge Economy.  Leading brands include Standard & Poor's, S&P Capital IQ, S&P Indices, Platts energy information services and McGraw-Hill Education.  With sales of $6.2 billion in 2010, the Corporation has approximately 21,000 employees across more than 280 offices in 40 countries.  On September 12, 2011, the Corporation announced its intention to separate into two public companies – McGraw-Hill Markets (working name), primarily focused on global capital and commodities markets and McGraw-Hill Education focused on digital learning and education services worldwide.  Additional information is available at http://www.mcgraw-hill.com/.
Author: