It's no secret in the auto industry that profits on new vehicle sales have been nonexistent the past several years. In fact, according to the National Automobile Dealers Association, automotive retailers have lost money on new vehicle sales for five consecutive years, including losses of $180 per vehicle in 2010.
Despite the downward pressure on profits from new vehicle operations, most dealers were able to stay afloat with profitable used vehicle and service operations. However, with new vehicle sales dwindling the past few years, there will be fewer used vehicles available to meet future demand. This will cut into profits for used vehicle operations.
A similar fate might impact future service business as well. Because of lower new vehicle sales, the number of vehicles under warranty dropped by 18.6 percent in the past two years, according to information from Experian Automotive's Vehicles in Operation (VIO) database. In Q2 2009, 16.7 percent of all vehicles on the road were under warranty. This dropped to 13.6 percent in Q2 2011.
The disparity in vehicles in operation versus vehicles under warranty is particularly acute for Ford and Chevrolet dealers. Ford has approximately 44 million vehicles in operation, with only 9.6 percent of its vehicles currently under warranty. Chevrolet accounts for approximately 40 million vehicles in operation and only has 10.1 percent of these vehicles under warranty.
On the other side of the coin, you find Hyundai and Kia. Because they were among the first manufacturers to offer a 100,000-mile bumper-to-bumper warranty, and because they have seen large sales increases in the past few years, 48.2 percent of all Hyundai and Kia vehicles in operation today are under warranty. This gives Hyundai and Kia dealers a significant competitive advantage over other automotive retailers. With more vehicles under warranty, Hyundai and Kia retailers are able to more easily attract service customers from their existing owner base.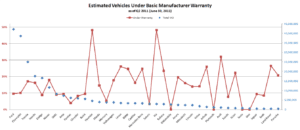 There are significant implications for the steep drop in vehicles under warranty. As vehicles drop out of warranty, they are much less likely to come into a dealership for service. This puts automotive retailers into direct and intense competition with a multitude of automotive service offerings, such as the local mom-and-pop mechanic, the national oil change chains and even the do-it-yourself mindset.
All of these entities are fighting it out for a slice of the multi-billion-dollar automotive service business. Automotive retailers who have been able to rely on in-warranty vehicles to fill their service bays now must compete harder than ever to get vehicle owners into their dealerships.
Of course, the good news is that capturing even a small slice of the service business from owners of out-of-warranty vehicles can lead to a significant increase in revenue. Think about it: With nearly 40 million out-of-warranty Ford vehicles on the road, just capturing 1 percent would add 400,000 service customers to the Ford dealer network!
Obviously, for a Ford or Chevrolet dealer, the glass is half full. With millions of Ford and Chevrolet vehicles on the road, there is a natural pool of customers who are likely to be predisposed to a service offer from someone who knows their vehicle. No one is better equipped to meet the service needs of a Ford or Chevrolet vehicle than a Ford or Chevrolet dealer.
As automotive retailers put their marketing strategies together for 2012, it will be smart to add the expansion of service business from owners of out-of-warranty vehicles near the top of the list. There are many tools available to help automotive retailers better understand their markets and determine where to reach the owners of these out-of-warranty vehicles. Once retailers obtain this local market knowledge, they can begin the task of getting these customers into their dealership. This will have two very clear benefits. One, it will drive service business, and two, it will help to create a better relationship with customers who are already predisposed to liking your brand. Who knows? Maybe you can turn them into new vehicle customers while you're at it.
The dip in vehicles under warranty is certain to cause some pain in the industry. However, with proper planning and local market insight, savvy retailers can take steps now to turn this negative into a positive.
Author: