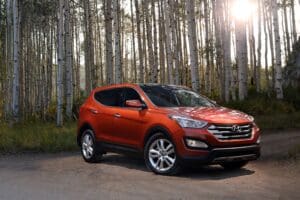 New 2013 Santa Fe Sales Up 16 Percent, Elantra Up 12 Percent
COSTA MESA, Calif. — HyundaiMotor America today announced sales of 50,271 vehicles in October, a four percent total sales decline compared with the same record-setting period a year ago.  Sales are up 8.2 percent through the first 10 months of the year versus 2011.
"October was a somewhat challenging month for us and the industry," said Dave Zuchowski, executive vice president of sales.  "It appears industry volume may have temporarily stalled due to a blend of an extremely tight and undecided Presidential race, lingering economic uncertainty tied to 'fiscal cliff' anxiety, and the devastating impact Hurricane Sandy had on our dealers and millions of residents along the Eastern seaboard."
The all-new Azera and the Elantra family continued to gain, with sales up 1,949 percent and 12 percent, respectively, over last October.  The all-new 2013 Santa Fe, recently crowned the "2012 Compact CUV of Texas" by the Texas Auto Writers Association (TAWA), saw sales gains of 16 percent.  Hyundai fleet sales and mix remained low at a 10 percent mix for the month and nine percent year-to-date, among the lowest in the industry.
"The good news is that as we head into the last two months of the year, our Hyundai dealers have improved availability of our three best-selling models — Sonata, Elantra, and Santa Fe – thanks to the hard work of our U.S. manufacturing team," said John Krafcik, president and CEO. "We'll also continue to work with our dealers in areas impacted by Sandy to ensure vehicles lost to the storm are replaced as quickly as possible."
CAR

LINE

OCT/2012

OCT/2011

CY/2012

CY/2011

ACCENT       
3,373
4,833
54,811
45,603
SONATA
16,773
18,192
192,119
192,953
ELANTRA    
14,512
13,000
167,087
160,922
SANTA FE
6,022
5,199
56,983
63,180
AZERA
840
41
6,833
1,448
TUCSON
3,451
3,777
41,295
38,673
VERACRUZ
343
749
7,683
7,585
VELOSTER
2,464
3,724
30,802
4,558
GENESIS
2,175
2,602
29,191
27,826
EQUUS
318
285
3,281
2,568
TOTAL
50,271
52,402
590,085
545,316
HYUNDAI MOTOR AMERICA   
Hyundai Motor America, headquartered in Costa Mesa, Calif., is a subsidiary of Hyundai Motor Co. of Korea. Hyundai vehicles are distributed throughout the United States by Hyundai Motor America and are sold and serviced through more than 800 dealerships nationwide. All Hyundai vehicles sold in the U.S. are covered by the program, which includes the 5-year/60,000-mile fully transferable new vehicle warranty, Hyundai's 10-year/100,000-mile powertrain warranty, and five years of complimentary Roadside Assistance.
For more details on Hyundai Assurance, please visit www.HyundaiAssurance.com
Journalists are invited to visit our news media website:  www.hyundainews.com
SOURCE Hyundai Motor America
Author: