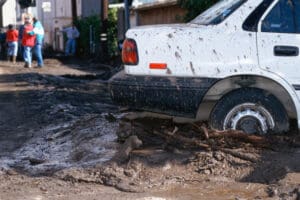 DES PLAINES, Ill. — As East Coast residents begin to rebuild and recover from Hurricane Irene and its aftermath, the National Insurance Crime Bureau (NICB) wants consumers all across the country to be alert for flood vehicles that could begin to appear on the used car market.
From Maine to North Carolina, an analysis of insurance claims processed by NICB member companies shows that during last August alone, 11,789 flood vehicle-related claims were processed.  This compares with 994 processed in August of 2010.
New Jersey generated the most claims—4,121—followed by New York (2,809) and North Carolina (2,585).
Although a flood-damaged vehicle can be an attractive purchase for a savvy consumer, it can lead to costly repairs and, potentially, life-threatening injuries. Most consumers do not have the training or the experience to spot flood vehicles.  Moreover, their judgment may be swayed by a price that is just too good to pass up.  But, like the old saying goes, if it sounds too good to be true, it probably is.
The one word that separates a good buy from a scam is disclosure.  As long as a seller discloses the fact that a vehicle is a flood vehicle, then there is no fraud.  The trouble comes when a seller hides the fact that a vehicle has been declared as such and that fact is hidden from prospective buyers.
People who fraudulently traffic in flood vehicles are good at cleaning them up and presenting them for sale as perfectly fine used vehicles.  To entice buyers even more, they are priced well below retail.  That's a clue for you to slow down and get some expert advice.  It's always good to hire a trusted technician to examine any used vehicle you intend to purchase—particularly if the sale is from a private party advertising online.
After Hurricane Katrina devastated New Orleans and sections of the Gulf Coast, NICB created VINCheck(SM), a free consumer protection service aimed at preventing this kind of fraud.  VINCheck allows anyone to check a vehicle identification number against the millions of claim records processed by participating NICB member insurance companies. If the vehicle was ever declared as salvage, a flood vehicle, or is an unrecovered stolen vehicle and reported by a participating insurer, you will be advised of that information in seconds.
In addition, consumers are encouraged to use additional sources of vehicle history information, including the National Motor Vehicle Title Information System (NMVTIS) which was designed to protect consumers from fraud and unsafe vehicles.  NMVTIS can be accessed at www.vehiclehistory.gov.
It's worth repeating that flood vehicle sales are perfectly legal when all parties are aware of the flood history.  Many people buy them knowing that they will need to rebuild or replace affected parts.  Yet even after that kind of post-sale investment, consumers can have a very good vehicle for a lot less than retail.  But you have to know the vehicle's history.
NICB recommends that consumers follow these tips to avoid getting ripped off by flood vehicle fraud:
Select a reputable car dealer.
Inspect the vehicle for water stains, mildew, sand or silt under the carpets, floor mats, headliner cloth and behind the dashboard.
Check for recently shampooed carpet.
Inspect the interior upholstery and door panels for fading.
Check for rust on screws in the console or areas where water normally doesn't reach.
Check for mud or grit in the spare tire compartment, alternator crevices, behind wiring harnesses, around the small recesses of starter motors, power steering pumps and relays.
Check inside the seatbelt retractors by pulling the seatbelt all the way out and inspect for moisture, mildew or grime.
Check door speakers as they will often be damaged due to flooding.
Have a certified mechanic inspect the vehicle prior to purchasing it.
Ask about the vehicle's history.  Ask whether it was in any accidents or floods.
Inspect the title and ownership papers for any potential salvage fraud.
Conduct a title search of the vehicle.
Look under the hood for signs of oxidation.  Pull back rubber boots around electrical and mechanical connections and look for these indicators:

Ferrous materials will show signs of rust
Copper will show a green patina

Aluminum and alloys will have a white powder and pitting.
Trust your instincts.  If you don't like the answers or the deal sounds too good to be true, walk away!
If you suspect flood vehicle fraud, call the NICB Hotline at 1-800-TEL-NICB (1-800-835-6422).  You may also text your information to TIP411, keyword "FRAUD" and remain anonymous if you so desire.
About the National Insurance Crime Bureau: headquartered in Des Plaines, Ill., the NICB is the nation's leading not-for-profit organization exclusively dedicated to preventing, detecting and defeating insurance fraud and vehicle theft through data analytics, investigations, training, legislative advocacy and public awareness.  The NICB is supported by more than 1,100 property and casualty insurance companies and self-insured organizations.  NICB member companies wrote over $319 billionin insurance premiums in 2010, or approximately 80 percent of the nation's property/casualty insurance.  That includes more than 94 percent ($152 billion) of the nation's personal auto insurance.  To learn more visit www.nicb.org.
Author: