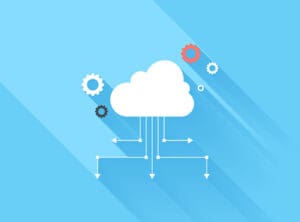 How Will You Use Big Data in 2015?, from Business 2 Community.
Big Data includes everything that makes it to the Internet. Structured data stored in databases is there, but so is unstructured data, including text messages, Tweets, Facebook status updates, items you have purchased on line – or even added to your shopping cart. As more things get connected to the "grid" via the internet (Internet of Things) those data are also available, for example, GPS coordinates from your cell phone and data your car sends to the manufacturer via OnStar or other services.
The Cloud
The Internet is often referred to as the cloud. So in its widest sense, the cloud consists of all of the servers and computers on the network that is the Internet. Because the data is not found in just one place, it can be diagrammed as a large, constantly changing (and growing) cloud.
We used to store our information on hard drives and buy floppy disks (and later CD's) to upload the software we needed. Today, we are often using multiple devices (smart phones, tablets, desktops and laptops) and, in order to be productive, we need to access our data from all of them. This necessitates storing our data somewhere offsite – in the cloud.
Today's cloud-based software can store massive amounts of information and allows the user to develop the programs needed to manipulate, analyze and retrieve it to accomplish specific goals – and access it from any connected device.
Click here to read the entire article >>
Author: