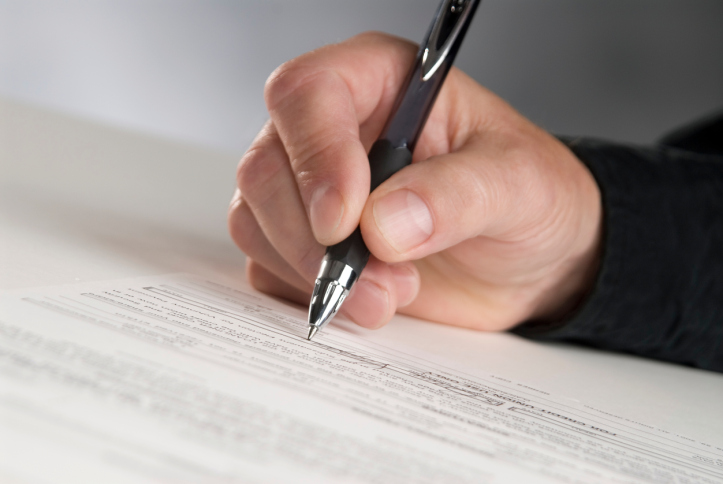 Prenuptial agreements, often times, is a topic of discussion that arises from the diverse nature of succession planning when addressing the variety of issues that impact succession planning . These discussions generally amount to deep dives into the dark side of family communications and harmony where only the brave and/or foolish care to venture. Of course anyone who proclaims themself a succession planner is brave. If they weren't, they would have chosen a profession without land mines and rocks hiding all sorts of vermin. As to the foolish, not only do I occasionally demonstrate that I underestimate the task at hand, I can also certify that there is no shortage of over confidence and naiveté among prospective successors and their anticipated spouses. The above is demonstrated in this short and hopefully instructive story regarding one of succession planning's most radioactive issues.
This prosperous client was operating two stores with his three sons. His middle son "Brad" was a reliable producer in the F&I department and recently engaged to a lovely young lady who was a staff accountant at a local accounting firm. It was apparent through my five year coaching relationship with Brad, that he was a novice in the social arena and was unaware of how most of the odd pieces of our society's social puzzle fit together. Prior to meeting "Sandy" at a church's young adults outing, his idea of a good Saturday night was playing internet games with a few friends. On the other hand, his fiancée Sandy was outgoing, socially experienced and by no means an accounting nerd. Brad's parents and siblings also thought that she was a bright, pleasant young lady from a good family.
While on a regularly scheduled succession facilitation visit to this family, I dropped in to see Brad.
"Congrats Brad, how does it feel to be the first G3 to plan a wedding?" We continued with small talk and then I hit him with my motive for the visit. "Have you thought about a prenuptial? Your parents and siblings are concerned about the loss of a portion of the business if your marriage does not work."
"Dude, there you go with that buzz kill again!" he retorted with a smile as we had become good friends. "Can't we just celebrate that I have found someone who will tolerate my bizarre interests? And why should they be concerned as the Operating Agreement you created gives them the option to call my Membership," he responded as though he had already given this some thought.
"Dude, I am impressed! Frankly I did not think you were listening when we discussed the real estate LLC, but kudos, you are not just the world champion at Grand Theft Auto. However, the LLC transfer restriction is designed to be a fallback position in a divorce. Who knows what a cynical judge may do especially in a community property state. It would just be helpful if we had an understanding of how gifted family wealth would be treated in the event your marital bliss falls on hard times."
"OK, no biggie; I'll call her when I finish this deal, and I am sure she will agree. I'll see you at dinner tonight but have to get back to work as the office is all over me to finish this," and immediately he returned his attention to the task at hand assuming I was leaving. "Just have Dad's attorney draw it up and we'll sign it. We've got plenty of time; the wedding is nine months out."
I did not move as he continued to work. Quickly he realized that I was not leaving and looked up at me with confusion as his fingers continued tapping the computer. "Brad stop," I asserted. "Give me your attention for just a minute. Please don't try to explain a prenuptial agreement to Sandy. This can be a delicate issue, and it is always a much more complex issue than anticipated. I suggest that you let me take the lead; let this issue be my idea and you just go with the flow."
"Man! This cannot be any more complex than that Operating Agreement I signed. Sandy's smarter than I am, so she'll get it, we'll sign it and it will be behind us."
"Bradmeister, you are just going to have to trust me on this, a prenup can make an Operating Agreement feel like a ninth grade term paper. Would you ask her to go to dinner with you and me next Thursday? Tell her that I am the family succession planner and I want to discuss prospective stock gifts and your parent's estate planning."
"OK, I get it. This is a big deal. I will check with her and confirm our dinner next Thursday," he responded and moved his attention back to his work as I departed.
The following Monday I received a call. "How's it going Brad? Are we on for Thursday night with Sandy?"
The delay on the other end was deafening. "Loyd, I don't know if we can meet Thursday," he muttered in an unusually repressed voice." I'm afraid I have said the wrong thing and I'm not sure we will ever discuss this topic again," he concluded with remorse.
"Did you tell her what I told you to say?" I responded.
"Yes, and she started asking me a bunch of questions and then I went on to say that a prenup was just a document saying what's mine is mine and what's yours is yours."
"Oh no! You didn't say that?" I replied in frustration. "That is the worst thing you could say to a fiancée and it comes as no surprise that she is upset. Have you not heard of the female property concept, what is mine is mine and what is yours is also mine?"
"Loyd, I cannot handle this. I am not going to let this come between me and Sandy," he asserted. "Do I really have to have a prenup?"
"No, you are both adults and a prenup is not required for you to get married. However, I can assure you that from a family business perspective your marriage will be different if you don't have a prenup. Your parents are not going to subject their generosity and the harmonious operation of the business to the uncertainty of a marriage which they have no control over."
"So are you telling me that my parents will disinherit us if we don't have a prenup?" he responded with a tone of disbelief.
"No Dude, of course not. But let me clarify to you without any misunderstanding that your parents accept Sandy partially because she appears pleasant and respectful but foremost because you have presented her to them as the love of your life. They hope to learn to love her but that will take time. So there is currently no 'us' as it pertains to gifts or sale of stock. If you don't have a prenup, the nature and form of gifts to you will be very different. They will not take the chance that one of you decides marriage is not your thing and have Sandy try to leave with some of the family jewels."
"Oh I am sorry I said anything. She is really upset; this is the first time I have seen this side of her. I don't know if she even wants to continue with the wedding," he lamented with a touch of self pity.
"Brad, stop that! Of course she is upset because you just dropped her in an ice bath. But she's smart, she knows what a prenup is and she will warm up. A prenup has never caused a problem, but I have seen a prenup reveal a few problems if motives are not pure. However, I am sure that's not the case here. If you will keep your mouth shut and get me in front of her I will explain to her the cow and milk story."
"Your family has a wonderful cow that will produce enough milk to support a wonderful lifestyle for you, Sandy and your future children. And the cheese you produce with that milk will all be marital property. However, your parents do not want you and your siblings to be forced to divide the cow. They want you to enjoy the milk while protecting the cow. They are not looking to make hamburgers! If you refuse to do a prenup, you are thereby putting the cow in jeopardy. Your parents will make prudent adjustments to their gifting and estate plans in order to protect the cow. They will continue to provide you security, but they will restrict your control over the cow and the flow of milk which will no doubt impact the development of your cheese."
"I'm getting your drift Loyd but do you think Sandy will buy into your cow, milk and cheese story?"
"Sure do," I replied immediately."She is a smart woman; an accountant who can do milk math. If you can get her to the table, I believe I can convince her that unrestricted milk is better than the best hamburger she could ever imagine."
Author: