About a year and a half ago, Moore & Scarry Advertising, Inc. did a webinar with Google and Yahoo on how search engines have revolutionized the auto shopping process. One of the key points of the presentation is that search and auto shopping is evolving at such a rapid process, and the way people shop for a car is dynamically changing between the time they purchase the last vehicle and their next one.
With that in mind, Moore & Scarry went back and looked at that presentation and updated the facts and figures. Incidentally, it's changed exponentially since Moore & Scarry last made this presentation. Here's how search is revolutionizing the auto industry according to the presentation from Moore & Scarry Advertising, Inc.:
Search Is Exploding Faster Than You Know It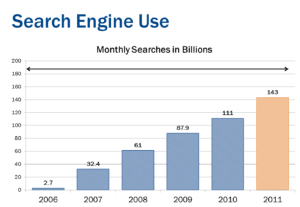 Estimates put the 2011 monthly search volume at 143 BILLION searches per month. That's up from a mere 2.7 billion in 2006 – an increase of over 5200% in just six short years. Combine that with JD Power's report that the average age of a trade-in is 6.2 years, that means that the way a consumer is shopping for a vehicle today, is drastically different than the way they did the last time they purchased.
Search Marketing is Bigger Than You Think
Go to a trade show or a seminar and you'll hear about a lot of different digital marketing outlets from social media to email, mobile phones and more. The simple fact of the matter is that 54% of all digital advertising dollars go to search marketing – close to $19 billion. After that, display advertising (banner ads) makes up the next 32%. Put those together and 86% of all digital marketing is either search marketing or online display. Major marketers are putting their money where customers are.
The Internet is Replacing Newspaper
In 2000, 52% of all dealer advertising dollars were devoted to newspaper – which made it the number one dealer advertising outlet. Today, more dealer advertising dollars go to the Internet than any other single medium (Internet 23.7% newspaper 22%, television 20.10%, radio 16%, direct mail 9.7% and other mediums 9%). If you look at the trends over the last ten years, almost all the mediums stay in line with the exception of newspaper. Newspaper lost about half of it's share to the Internet.
Customers Select Dealerships Online – Not in Person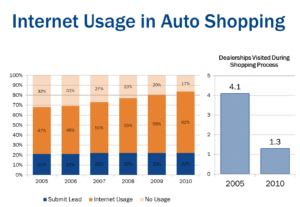 It's a really scary concept to wrap your head around, but the simple fact of the matter is that most consumers select the dealership they're going to do business with online and they do it with little or no interaction with the dealership. JD Power reports that in 2005 the average customer shopped 4.1 dealerships when purchasing a vehicle and today a customer visits just 1.3. That means, on average, a customer buys from the first dealership they walk into. What does this mean? They're selecting the dealership they want to do business online. Furthermore, they're doing it with little to no interaction with the dealership. In the past six years, Internet usage in the auto shopping process is up 16%, while lead submissions are up only 2%.
Google is Destroying the Organic Space
If you take a look at a SERP (search engine results page), you'll see that the organic results are actually the minority of results. On a typical SERP, you'll have 1-3 top search ads, several to the right or bottom, a map result and a Google Places listing. In many cases, there will be only a single organic result on a SERP. There's good reason that Google would want to do this. Google generates 96% of its revenue through advertising – and Google is a business with a market capitalization of close to $200 billion – and the majority of it is generated through those little ads wrapped around search results.
Google is More Important to the Auto Space Than the Market at Large
It's well known that Google is the dominant search engine in the space – comScore reports that Google garners a 65% share of the search market. However, independent research shows that in regard to traffic to dealership web sites, Google accounts for close to 77% – close to a 20% increase.
Search Marketing Crushes The Competition
While most advertising agencies don't want to admit it – advertising is an incredibly wasteful effort. Let's compare: The Superbowl, which is the highest rated program of the year, pulled a 34 rating last year (34% of the population viewed it). Let's assume there will be 19 million units of inventory sold this year through franchised dealers (12 million new and 7 million used). If you multiple 19 million by 34% and then divide by 12 to get the number of people who will buy a car  a Superbowl commercial reaches – you get an astonishing number of 0.17%. If someone types 'honda accord' into a search engine – what's the likely hood they want to buy a Honda Accord? Let's say it's just 50% – compare that to 0.17%. Result: search marketing is incredibly targeted.
All Those Great Features on Your Web Site? They're Basically Useless.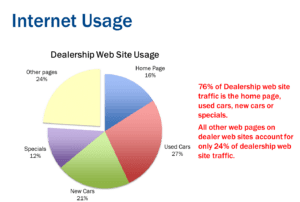 You spent a lot of time selecting and working on your web site – guess what – it's useless. People really just go to your site to find inventory. Take this statistic: only 24% of your web site traffic visits a page that's not your inventory or specials.
So What Do You Do?
Increase your search marketing budget – big time. Our average customer spends $3,200 on search marketing, $21,000 on television or radio and $62,000 overall. If someone were to take $2,100 from their television or radio and move it to search marketing it would do the following: increase a medium that's 50% targeted by 65%, decrease a medium that's 0.17% targeted by 10% – and not change your advertising budget a single penny. Make sense?
Author: